We are approaching a vital moment in modern human history when solar energy overtakes coal in the global share of power capacity. According to the International Energy Agency (IEA), solar will be the world's biggest source of power by 2027.
But the IEA has also insisted that "the exceptional growth" in solar power deployment must continue in order to achieve net zero emissions by 2050. While that involves policymaking at various levels, companies such as Samsung C&T Trading & Investment Group are playing their part.
An bigger and broader approach to solar energy
As we track its progress over recent years, we can see that Samsung C&T has certainly recognized the need to accelerate the diversification of its solar power business portfolio, which began in 2008, through the creation of a 1,369 MW renewable power complex in Ontario, Canada, specifically focusing on its "solar power development service" business model.
While initially concentrating on a form of solar power known as photovoltaics (PV), the company has been broadening its focus to solar energy storage systems (ESS). PV converts sunlight into electrical energy, while ESS stores that energy and therefore helps to ensure the efficient distribution of solar power.
Since 2018, Samsung C&T has expanded its role in the North American region's solar power development, mainly in the U.S., securing a cumulative 15 GW solar power and ESS pipeline project in California and Texas. Meanwhile, as of September 2022, the company has begun solar power development operations in Australia. So, as well as incorporating ESS, we have seen the company's geographical expansion.
Understanding the model from site discovery to power generation
As Samsung C&T Trading & Investment Group has been increasing its responsibilities for more of the solar power development value chain, we can see that this typical solar power business model is surprisingly complex. The group's solar power development business mainly performs steps 1-4 as shown in the infographic below, which demonstrates the whole process from conception to completion.
It begins by identifying an appropriate site for a solar project. Previously undeveloped, or greenfield, sites are ideal because they offer greater value right from the start of the development chain. Next, it is vital that an earmarked site is thoroughly vetted to ensure that it is practical from a power system connection perspective and also that it is free from objections on environmental or social grounds. Beyond this stage, Samsung C&T traders must also handle extensive paperwork to acquire land use rights as well as various licenses and permits before negotiating a power purchase agreement (PPA).
In other words, the group plays the role of business developer until the start of solar power plant construction, seeking to create and monetize a kind of intangible asset that we might refer to as a 'solar power business right'. Through this process, Samsung C&T is recognized for its role as a solar developer by demonstrating its unique business development and risk management capabilities.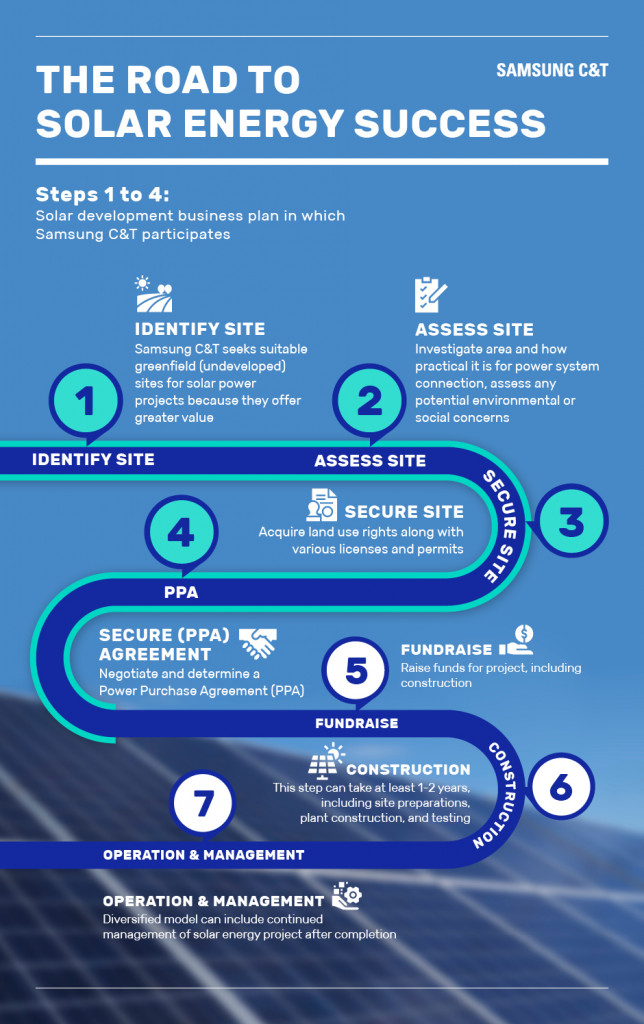 Given the importance of solar energy globally, it is a key part of efforts to protect the environment from fossil fuel power generation.
Yet there are also other aspects of Samsung C&T Trading & Investment Group moving to shift its portfolios towards eco-friendly businesses. For instance, we recently looked at promising areas such as clean hydrogen and battery recycling. In recognizing the needs of these other sectors, along with the value and expertise it can offer them, the company understands how essential it is to continue to develop a range of businesses that can together contribute to a cleaner world with fewer environmental stresses.