Winter is a time when construction sites are vulnerable to hazards and accidents, so it should make us all the more mindful of the importance of safety. Samsung C&T Engineering & Construction Group is striving to make its safety systems even more rigorous by conducting internal inspections to check compliance with laws and emergency simulation training to prevent accidents before they occur. Furthermore, the group has made significant expansion of its organizational safety structures its top management goal in 2022.
Expanding and reorganizing the safety organization
Samsung C&T Engineering & Construction Group has expanded the number of internal safety organizations from two to seven teams. The present composition is the Safety and Health Policy Team, the Operations Team, the Support Team, the Environment Team, and three Safety and Health teams for each business unit. These safety organizations are in charge of establishing and implementing enterprise-wide safety and health policies. To head this new organizational structure, the position of Chief Safety Officer (CSO), at the level of vice president, was newly appointed.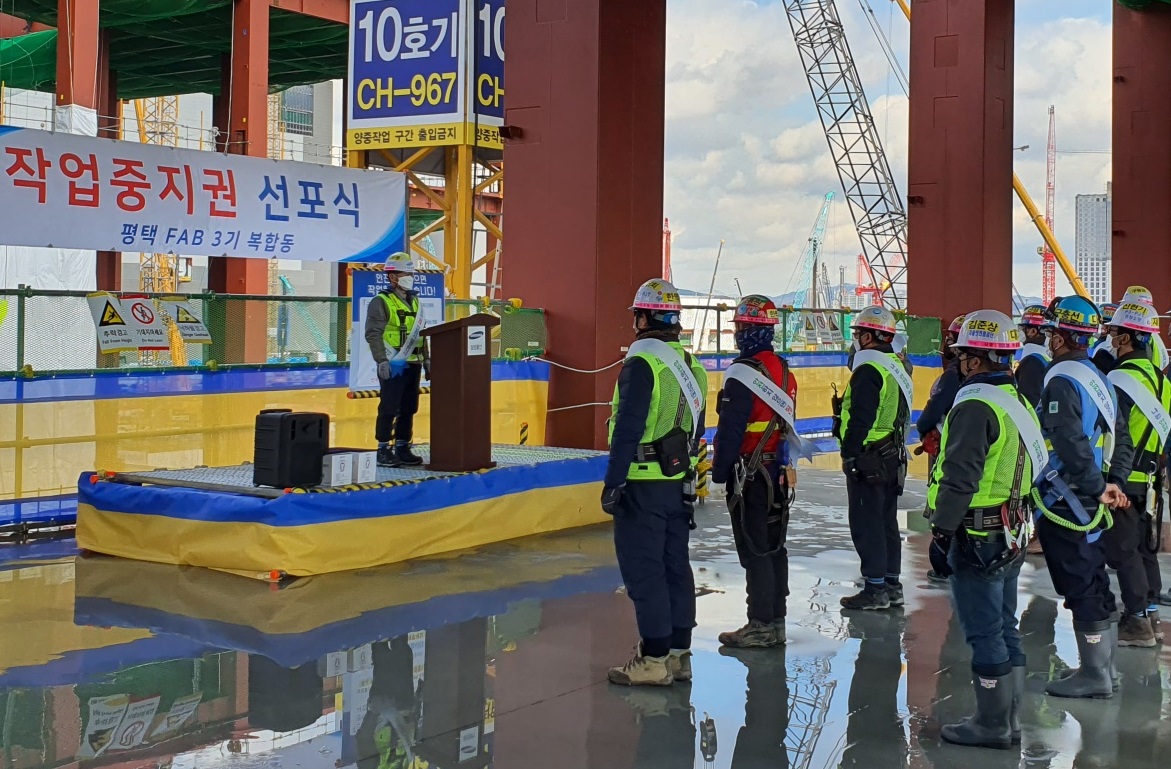 Safety does not become strengthened by itself, and as techniques and work methods change, research is needed to constantly develop safety controls. That is why Samsung C&T Engineering & Construction Group has established its own Construction Safety Research Institute and formed a Safety Advisory Committee, two organizations fully dedicated to safety and its implementation.
The Construction Safety Research Institute is responsible for equipment safety, design for safety, and worker education. It takes the lead in the development of solutions to create safe construction sites and also conducts safety management consulting to improve the safety and health of its partners.
Meanwhile, the Safety Advisory Committee evaluates safety levels throughout the whole company from an objective perspective and derives possible improvement measures from that process. Committee members are internal and external experts such as professors in safety-related fields and together they serve as an advisory body to the CSO.
Top management goal for 2022
Public focus on and pressure for safety management at construction sites have been steadily growing and are now higher than ever. Against this background, Samsung C&T Engineering & Construction Group has sets its 2022 management goal as the steady and continuous bolstering of the company's safety and health management levels.
To spearhead such an endeavor, Samsung C&T E&C in 2021 already introduced a series of measures to lead safety culture in the construction industry, such as fully implementing the stop-work authority system and mandatory application of design safety reviews.
With the noble aim of developing and maintaining the best safety management system in the construction industry, Samsung C&T E&C Group will continue to be unstinting in researching, designing and implementing the most stringent safety systems across its construction sites, not just in winter but all seasons.