On January 18th, international clothing brand Juun.J debuted its 2019 Fall/Winter collection as part of Paris Fashion Week at the revered Palais de Tokyo exhibition and performance space.
In a stand-out runway presentation, Juun.J introduced their latest collection concept: 'Synthesize (synthetic)', a nod to the mixing of the brand's iconic outerwear with more tailored styles that dominated the looks on display. The presentation also heralded another exciting announcement – Juun.J's upcoming collaboration with venerated outerwear brand Canada Goose.  
Sophisticated Sporty Styling and Transformed Tailoring
Since the announcement of their first full womenswear collection at their S/S '19 presentation, expectations have been high for Juun.J's latest collection. The 40 brand new looks showcased on the runway at the F/W '19 show, 18 male and 22 female, did not disappoint. Under the headline of 'Synthesize (synthetic)', the looks in this collection blend formal, tailored silhouettes with the oversized aesthetics of sporty outerwear – a best of both worlds for any style-savvy individual braving year-end temperatures.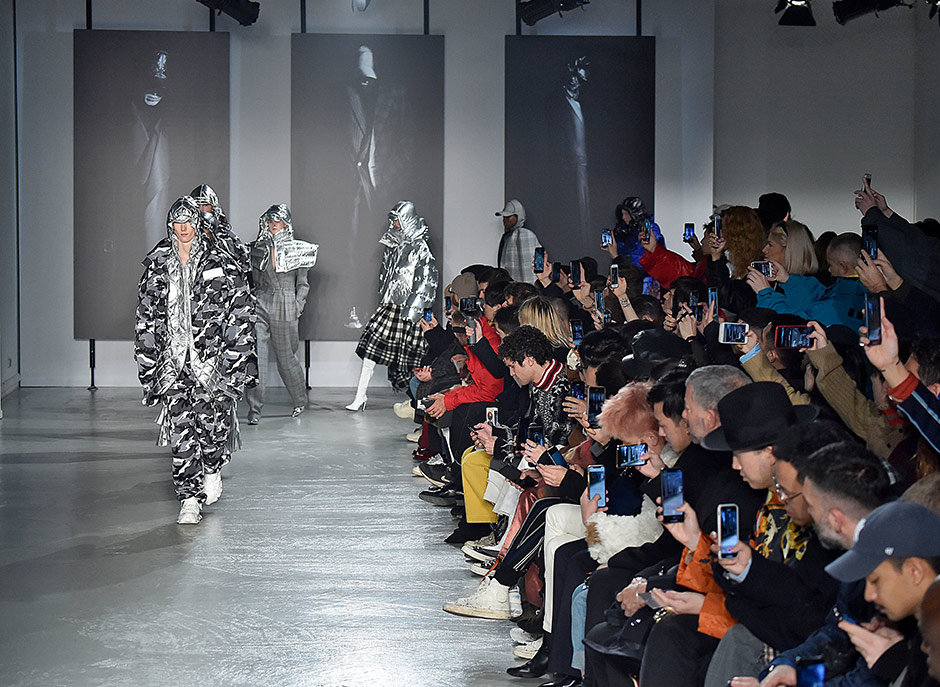 This blending of silhouettes, materials and patterns was the collection's creative centerpiece, with the grittier aesthetics of the brand's trademark sports-inspired outerwear clashing brilliantly with the more refined, restrained shapes and colors of traditional tailored styles.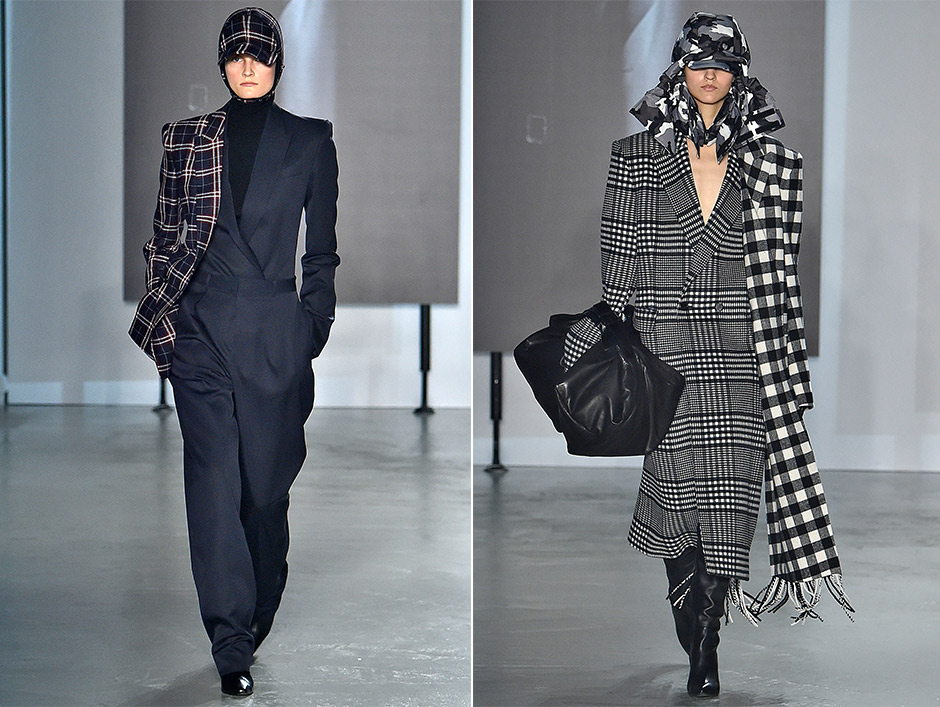 This 'synthesis' was taken as far as creatively possible to unique effect with the application of specific athleisure features – such as detachable, waterproof hoods – to otherwise formal pieces. By combining that which is often considered 'high end' with more popular styles, Juun.J succeeds in this latest collection at bringing the sophistication of formalwear to everyday styles and the trendy flexibility of casualwear to formal aesthetics.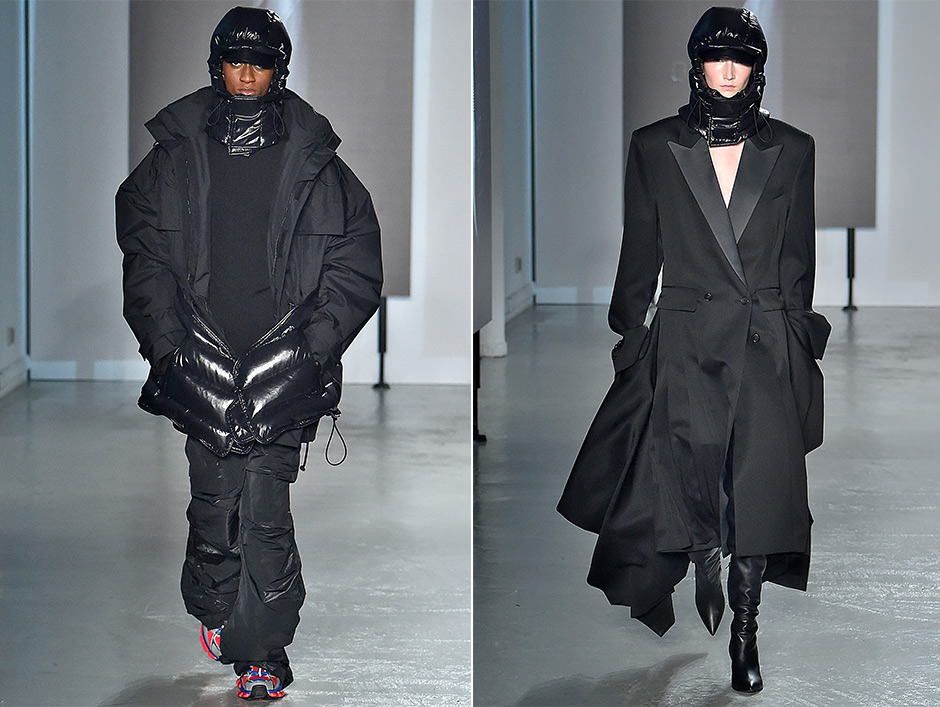 Seamless Mix-&-Match Materials
A key feature of this 'Synthesis' concept and collection is the 'dual coat', a two-pattern look made up of two aesthetically contrasting materials to striking effect. A wide range of styles and elements was on display, often combined with disparate others, including (but by no means limited to) Oxford shirts, denim shirts, waterproof parkas, padded items, striped jackets and check jackets.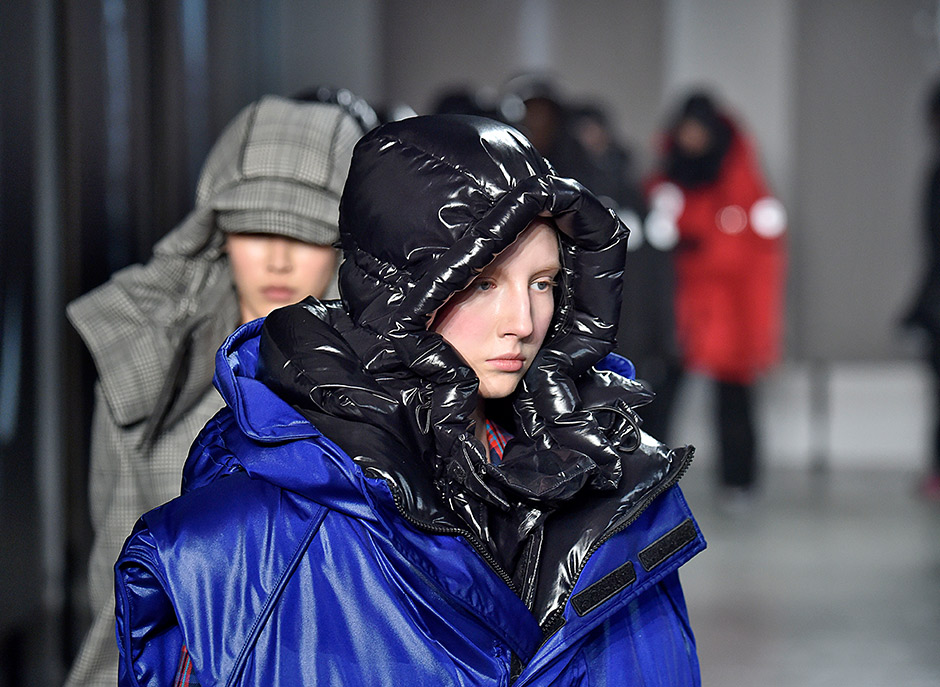 For the womenswear looks on display, the line between 'outerwear' and 'skirt' was blurred as per the thought-provoking collection concept of 'synthesis', but along with their notable length, skirt styles featured a dynamic asymmetric flare thanks to unexpected yet considered silhouette and pattern choices.
Furthermore, the sheer potential of this latest collection as a whole was demonstrated in the diverse range of details each look featured, including fringing, detailed lapels, Juun.J's iconic 'check' patterning and silvery metallic elements. A particular stand-out for attendees of the F/W '19 runway presentation was the prevalence of the camouflage pattern across the collection.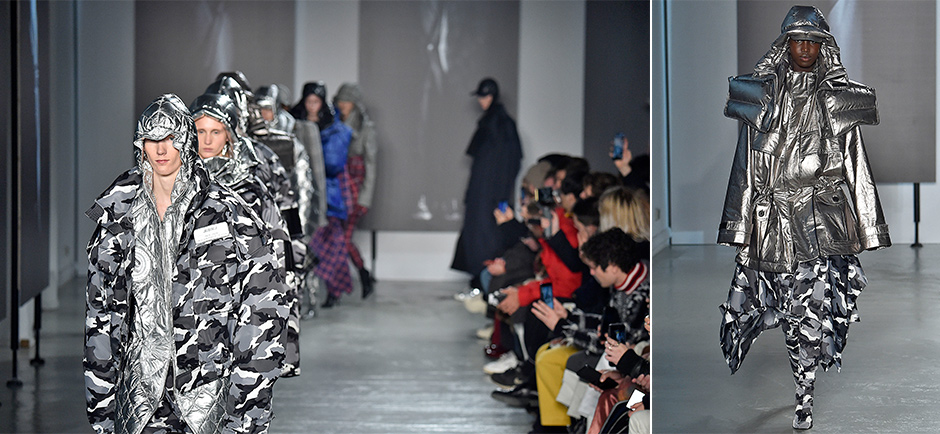 Canada Goose Receives A Creative Reworking
By far the most talked-about takeaway from the Paris Fashion Week presentation was the announcement and preview of the brand's collaboration with Canada Goose. The full outcome of this coming together of two renowned brands is due to be released in the second half of 2019 and will involve some of Canada Goose's signature products, including outerwear and sweaters. This limited-edition collection will be on sale at various global Canada Goose stores (including their Beijing, Tokyo, New York and London locations) and some 20 department and other select stores around the world.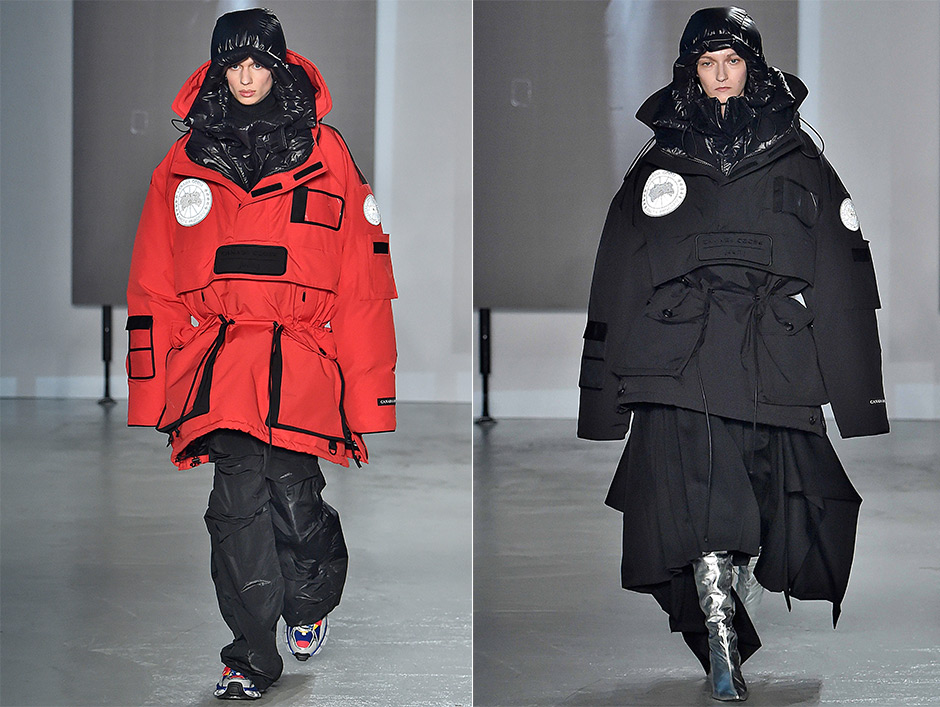 Last year saw Juun.J collaborate with UMBRO for a collection that set out to combine UMBRO's 'soccer' style identity with the creativity of the high-fashion runway.  This year's collaboration in turn takes Canada Goose's trendy outerwear to new levels in quintessential Juun.J fashion, resulting in looks that are both sophisticated and practical.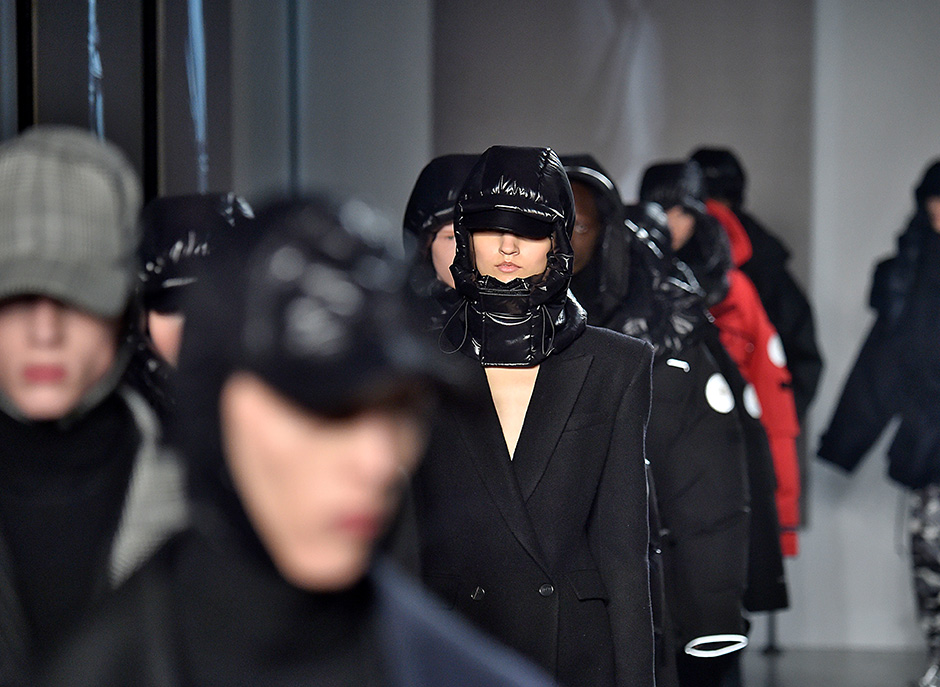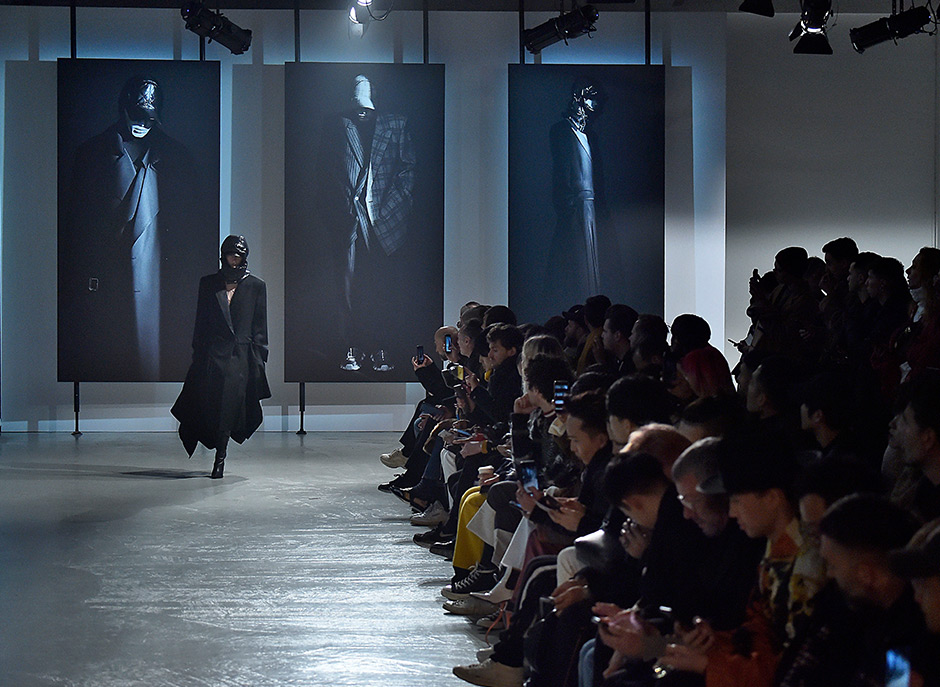 The collection presentation, the brand's 24th presentation at Paris Fashion Week since 2007, also featured the iconic 'image board' backdrop that Juun.J's presentations have become famous for. The end of the show saw the models standing in front of the image boards in a unique '2-dimensional meets 3-dimensional' presentation of the brand's latest offerings.
Juun.J's first full womenswear collection for S/S '19 is officially launching this spring. Furthermore, following the continued success of several pop-ups, Juun.J is soon to open its flagship store, 'Juun.J Dosan', which will offer consumers the chance to shop in full the brand's menswear, womenswear and lifestyle options.