From efficiency to ease of build, it's no wonder why modular construction has taken the industry by storm. Billed as both a cost and time saving measure, the technique has been applied to a wide variety of construction projects. As technologies have evolved to expand the possibilities of modular construction, industry leaders are now making big bets that it will play a major role in the future of the construction industry. 
Samsung C&T's Engineering & Construction Group, for example, announced the opening of a modular shop in Cheonan, South Chungcheong Province, South Korea on December 12, 2018. The shop aims to develop technology and equipment needed for high-tech module production. The move signals Samsung C&T's dedication to leading the way as the construction industry shifts towards new smart technologies. But just what is modular construction?
The Modular Construction Movement
Unlike traditional methods of construction, modular construction begins off-site. In a controlled shop or factory, pre-fabricated modules or units are manufactured according to specifications and then installed on-site.
Modules are typically made of either wood, concrete, or steel depending on the type of structure being built. As modular construction grows in popularity, and is being used for increasingly larger structures, lightweight steel has become the material of choice thanks to its durability, security, and sustainability. Due to its fire-resistant properties, building compliance allows for modular steel structures to have larger footprints and to be built taller.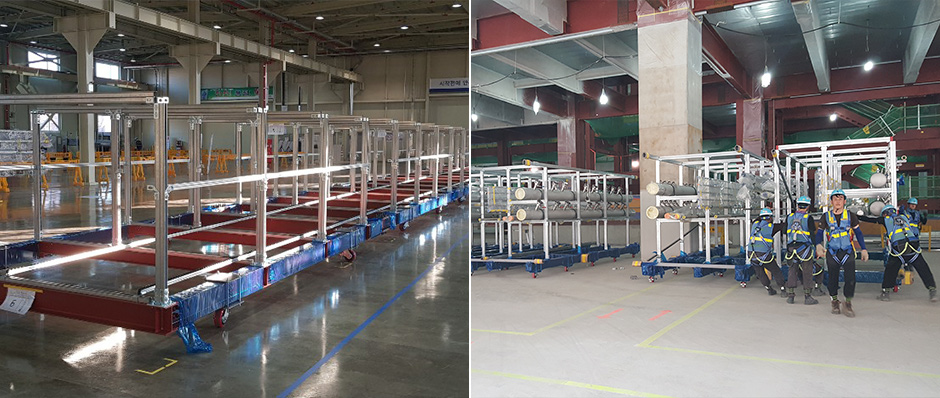 Whatever the material being used, modular construction allows companies to take advantage of faster speeds, quality control, and economies of scale making it an increasingly attractive option. The factory-controlled process allows resources to be recycled, generating less waste and reducing site disturbances such as poor air quality. Since the modules can be manufactured in parallel with site work, and their manufacturing is not hindered by weather delays, projects can be completed in half the time of traditional construction methods. Increasingly the method has been used in the hospitality industry in the development of hotels, residential buildings, hospitals, and retail facilities.
Trends in Modular Construction
Promising a wide range of incredible benefits, the modular construction industry is projected to grow at a compound annual growth rate of 6.9%, reaching $157 billion by 2023. The industry's growth is thanks in large part to rising construction activities in emerging markets and a broader concern for sustainable construction methods.
The rapid urbanization and industrialization in emerging markets is compounded by increasing demand for complex structures at more affordable rates, making modular construction ripe for innovation and further development.
Companies are increasingly turning to modular construction to erect taller buildings, with project sizes as much as tripling over the last three years. While taller modular buildings have always been possible, other trends in the construction industry are driving a willingness to use modular construction for more complex projects. A lack of skilled labor, a lack of affordable housing, rising material costs, and pressure to deliver on time and on a budget are all factors affecting the growth of modular construction.
While almost 40% of low-rise office buildings worldwide now incorporate modular construction in some capacity, it is the housing sector that will lead demand for modular construction through 2023. The Asia-Pacific region will lead this growth as an increasing number of new eco-friendly and cost-effective housing units, and large investments into infrastructure will see increased demand for modular construction.  
Samsung C&T and Modular Construction
Samsung C&T first forayed into the modular construction market in 1991 after completing its first precast concrete factory. The company then used precast concrete to build the World Cup Stadium, a semiconductor plant for Samsung Electronics, and apartments under the Raemian name.
Recognizing that Korea's precast concrete market was still far behind European countries and other advanced nations around the world, Samsung C&T built a second factory in 2011 with a 400% higher production capacity than its predecessor. With the opening of Samsung C&T's Precast Concrete Factory 2, the company had a greater capacity to research techniques for producing high-quality, low-cost precast concrete.
Samsung C&T has since used modular construction in a variety of projects including the Sinwolseong Nuclear Power Plant where the technique was used to build the Containment Liner Plate (CLP), reducing the construction time by 24 days.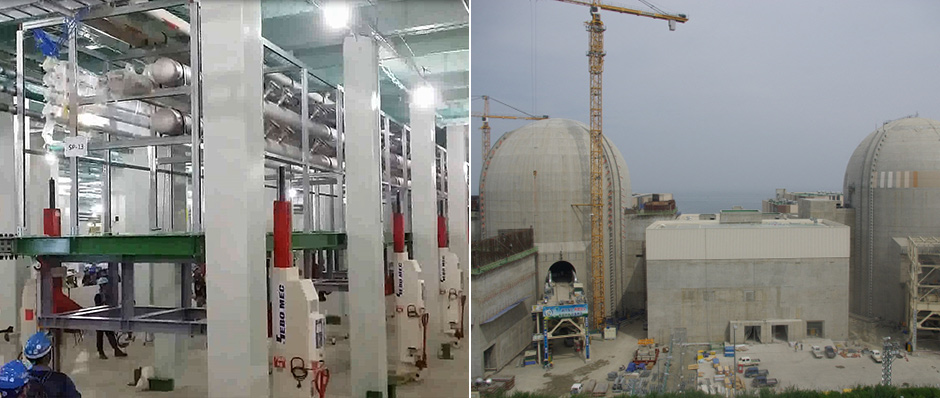 The Cheonan-based module shop represents Samsung C&T's efforts to bring its modular construction capabilities into the future. The shop allows for the standardized and automated production of FAB modules as well as for the development of equipment needed to move and install the modules on site.
The shop, which is divided into a raw materials warehouse and an assembly room, mainly produces FAB modules in partnership with Hanyang ENG, a construction and engineering company. To date, the facilities have supplied the Pyeongtaek project site with plans for further expansion to projects in Hwaseong, Cheonan, and Asan.
In addition to supplying more projects, the facilities will be used to expedite the development of new module development technologies with a target of improving quality and upgrading automated productivity by 30%. With the development of new innovative modular construction methods, Samsung C&T aims to be a leader in the high-tech construction field.