Fall and winter has a way of sneaking up just as you're enjoying those last beach days and poolside chill sessions. But sneakily or not, as each season changes the colors and weather, fashion trends also change with them, and different styles come to the fore.
Color is always a key powerhouse of fashion trends. One notable trend this fall/winter is the "earthy look" of nature-inspired neutral colors that are reminiscent of the soil and trees. Brown, beige or khaki are good examples. Since earth tones match easily and reflect a desire to connect with nature, it is understandable that fashion influencers have been celebrating warm earthy neutral tones. In fact, the beige revolution of recent months has caught on enough to attract more than 125,000 Instagram posts under the #beigeaesthetic hashtag.
In addition, the fabric trend for this fall/winter season features a variety of outerwear with luxurious warm surface textures. "This winter season, we are reinterpreting KUHO's own minimal and luxurious sensibility as trendy items," explained Kim Hyun-jung, design director of KUHO. "In particular, we recommend outerwear made of special wool materials with luxurious warm surface textures such as cashmere, camel, alpaca, raccoon, and so on."
Take a look at four of the most interesting items in KUHO's 2019 fall/winter collection below.
19FW Beige Hooded Cape Coat
This beige hooded cape coat captures the earthy look while also expressing KUHO's own sensibility with a relaxed silhouette. It features alpaca wool blend materials, and the coat's length makes it a warm winter option. Further earthiness is added with a unique brown leather pocket and trim on the hood and zipper line.
19FW Camel Blended Boucle Zip-up Coat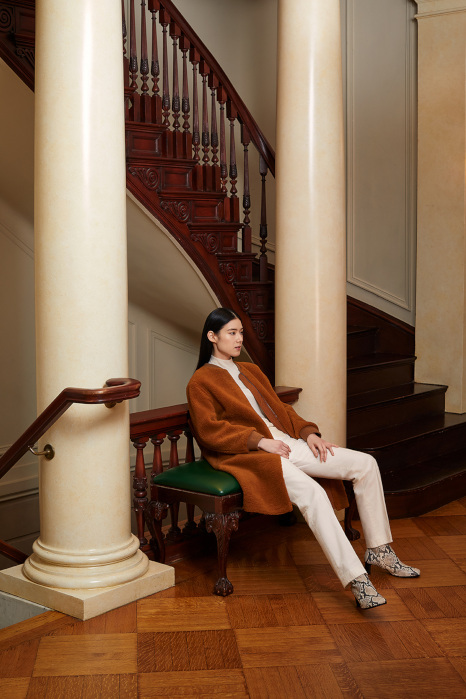 This voluminous warm coat features soft camel wool blend boucle fabric. It's also solidly finished with a knit patch on the sleeves and neckline. It adds luxury with a quality label patch on an internal fastener. The front zip detail makes it easy to open and close, and it is a warm and trendy item for a unique look in the winter.
19FW Dark Green Short Padded Jacket
KUHO has interpreted casual outerwear in a feminine way by coordinating this dark green short padded jacket with a long black sheer skirt. The jacket offers extra comfort with a goose down filling through the sleeves and back.
19FW Cashmere Blend Shawl Collar Coat - Navy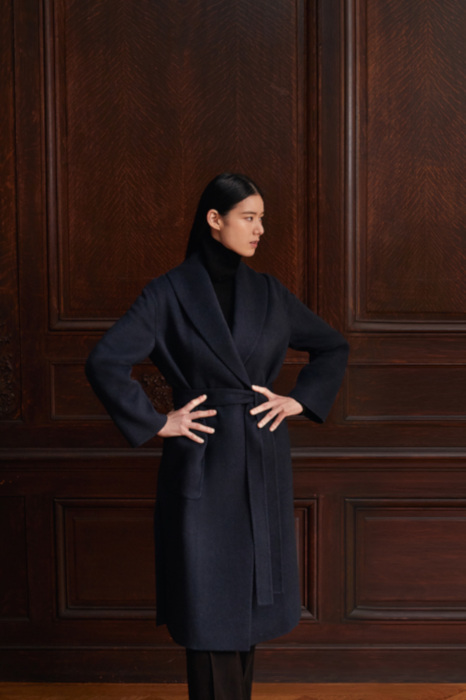 The understated elegance of this handmade cashmere blend shawl collar coat offers it a timeless look that is likely to survive numerous winters. Yet, it also presents an elegant, feminine silhouette and a soft curved take on the shawl collar.
Earlier in the fall, KUHO also successfully operated its first overseas pop-up store in Soho, Manhattan from Sept. 6-29, establishing its position as a global brand by informing New Yorkers of its brand identity.
You can browse KUHO's entire collection by clicking here.