As we are adapting to a new normal, our minds turn towards a new look for the warmer months of the year. This spring and summer, men's fashions will be dominated by a practical turn following the last season, as well as different colors to lift the mood.
Lim Ji-yeon, head of the Samsung Fashion Institute, said, "Men are now approaching clothes from a new perspective," adding, "With the emergence of a strong psychological urge to get back to our normal daily lives, clothes that exude hope through their color and practicality are hot."
Colors to chase the blues away
With the extension of the pandemic into this season, more and more stories are being told about people feeling increased fatigue and sadness and looking for something to give them hope.
The effect of colors on human moods must not be forgotten. This is why global color institute Pantone selected Ultimate Gray and Illuminating, that bright yellow, as this year's colors, expressing both stability and hope. The fashion industry also knows this effect better than anyone, as the Samsung Fashion Institute chose Avocado Green as a trend color for this season, standing for recovery and regeneration.
The use of vibrant colors inspired by nature has grown in men's fashion offerings this season.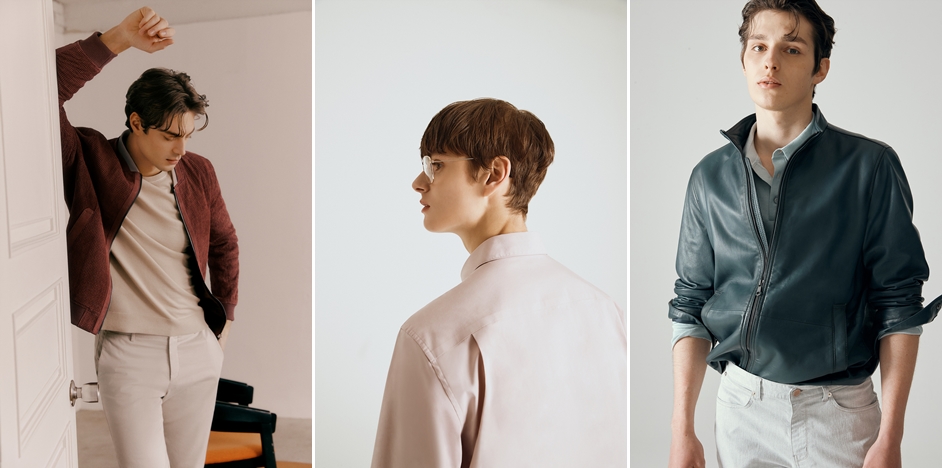 Pants are where styling begins
Distinctions between all the different activities and occasions of daily life have been eroded by this extended era of staying at home and social distancing. With the decrease in the number of in-person meetings, men can afford to be more practical when choosing pants. As a result, pants that are easy to care for, made of stretchy material and feel good and comfortable to wear are a big item this season.
This trend is also giving a renewed boost to ever-comfortable denim. A pair of denim pants always pairs well with any item, such as a jacket, knitwear, or shirt, and has the advantage of creating a completely different look depending on the cut of the pants. This season we are being reminded that denim does not always have to be blue, with khaki, gray and even oatmeal on offer.
Practical set-ups the hot items
With the freeing up of the work environment – sometimes in the office, sometimes at home, or in a nearby café – the popularity of pants that are both comfortable and practical has given birth to multi-purpose officewear that focuses on efficiency and function and that is optimized for the wearer.
This also means that tailoring is experiencing a shift away from showy displays of social status and formality, and more towards a means of expressing one's elegance. This season's jackets make use of comfortable stretchy materials as they take into account a modern man's multi-faceted lifestyle. Pants with silhouettes that can be adjusted with a zipper or drawstring are also rising in prominence.
Accordingly, various set-up configurations make a good replacement for suits. Pants of different lengths and fits can be styled effectively with jackets, blousons and shirts.
You can explore more ideas at SSF Shop, Samsung C&T Fashion Group's online shopping mall.