Originally opened as Yongin Farmland, Korea's largest theme park Everland has been setting Korea's leisure trends for almost a half-century. A total of 257 million people have visited Everland since its opening, which means that, on average, the entire nation of South Korea has been to the theme park more than five times each.
Marking its 45th anniversary, in the first half of this series, we looked at the early decades of the park. This second half concludes the review of some of the major milestones in Everland's journey.
Evolution into a theme park
The 1990s marked the evolution of Yongin Farmland into a full-blown theme park. Eagle Fortress, the world's fourth and Asia's first suspended rollercoaster, was introduced in 1992 to give visitors an experience of the world of nature and adventure, as they seemed to fly through and over the grassy fields. It quickly become seen as the best ride in the park and attracted long lines of eager flyers.
An element of storytelling was added to give rides a little extra flavor. Korea's first outdoor rapids ride Amazon Express is a typical example. More than just a wet and wild ride in a circular raft, visitors were given the feeling of exploring the Amazon rainforest while floating down the majestic river, giving them a thrilling experience to take them out of their daily lives for a spell.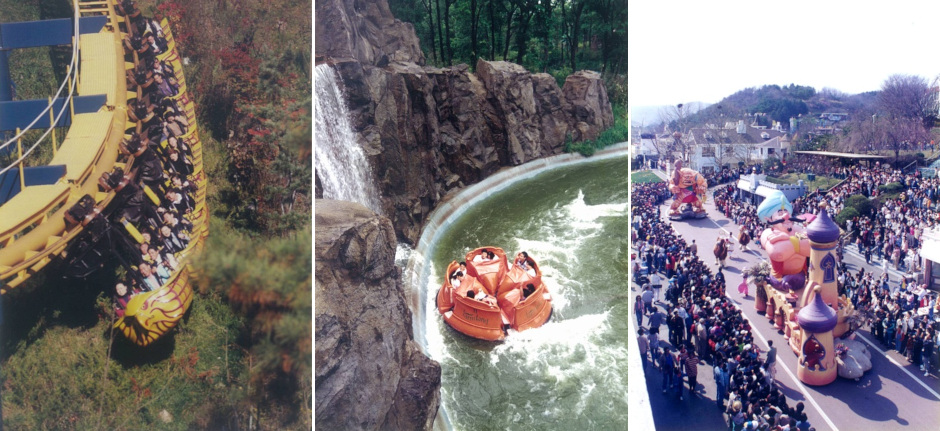 With its well-known animal characters and mascots, the "Fable Fantasy Parade" was also more than just a normal marching procession. Marking yet another milestone in the history of Korean theme parks, the parade depicted scenes from well-known stories such as Gulliver tied up by the Lilliputians, Hercules fighting the many-headed Hydra, and Don Quixote tilting at monstrous windmills. Upon its introduction in the mid-1990s, the Fable Fantasy Parade immediately became Korea's largest theme parade, and some visitors visited the park just to catch it.
In 1996, to mark its 20 years as Korea's top theme park, Yongin Farmland was reborn as Everland, to show the outside world its new aspiration to become a world-class resort. The new name Everland combines "ever," capturing the themes of eternity and the cycle of life, with "land," embodying nature and warmth, to mean a space of both nature and dreams.
The era of water parks makes a splash
In 1996, the same year that Yongin Farmland marked 20 years of existence by its rebirth as Everland, the world's first simultaneously indoor and outdoor water park opened: Caribbean Bay. Looking like it was built in the 17th century as a Spanish-style coastal fort that buccaneers and pirates might have called home, Caribbean Bay transported visitors to an imaginary world of excitement and beauty where they can enjoy scenery and experiences that are far from their daily lives.
Caribbean Bay passed the one million visitor mark in just about 13 months, outgunning the record of Disneyland's then number 1 water park Typhoon Lagoon.
T-Express drops into Everland and gives the park a lift
In 2008, the park launched T-Express, the first wooden roller coaster in Korea and only the third in Asia. It has proven especially popular with young visitors with its world-class thrills, dropping riders from a height of 56 meters at an angle of 77 degrees, which is equivalent to the height of Niagara Falls. It also gave Everland a boost in its competitiveness by twice being voted as the World's Best Roller Coaster in the industry's most credible Mitch Hawker's poll.
Ever moving forward, with the past also ever present
Everland now celebrates 45 years of existence by sharing memories of its past with various events and special seasonal features, including a retro Farmland homage garden. But while the theme park is grateful for the past, it doesn't live in the past: Everland is ever present, and ever looking to the future. We look forward to seeing the new changes and developments that Everland will experience in the next 45 years!