Almost 40 years have passed since John Travolta and Olivia Newton-John sang about the joys of their "Summer Nights" in the movie Grease. But at Everland, Korea's first and most-visited theme park, every single summer night is full of excitement, fireworks and more.
Extended opening hours at Everland offer yet more visiting options – and added nighttime fun. Neighboring water park Caribbean Bay, home of the Mega Storm, will also be opening late for the next few weeks. In fact, Everland will allow visitors the opportunity to stay at the park until 11pm through August 14, while Caribbean Bay opens until 10pm up to August 15 – perfect for people looking to make the most of Korea's long, balmy summer evenings.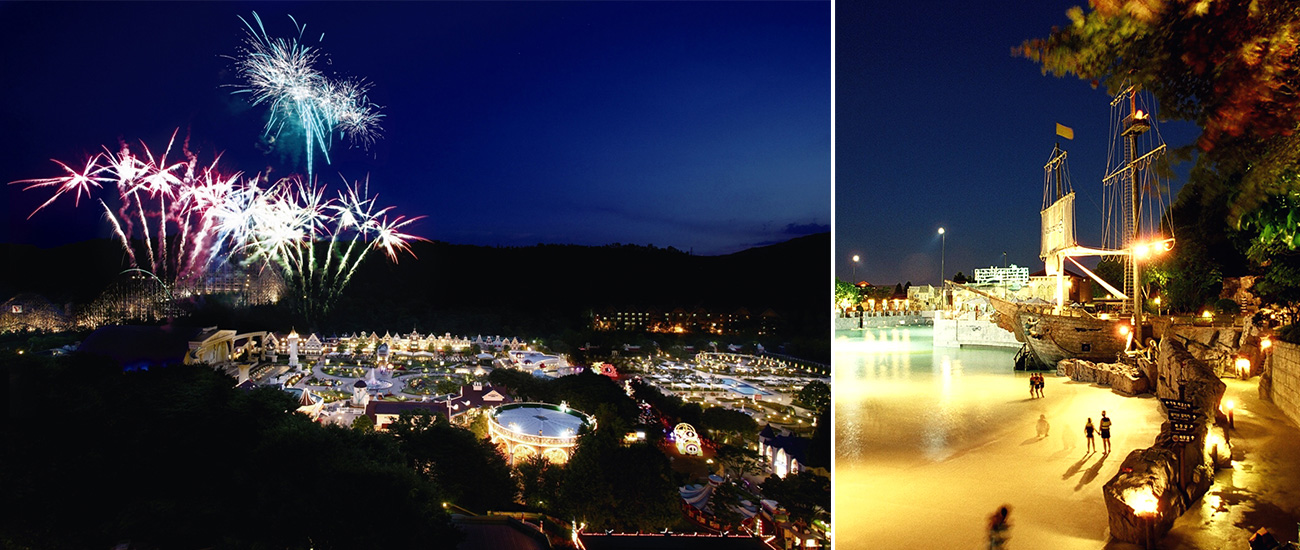 Park officials say that people coming to the resort in the evening can expect shorter lines for rides, and will run into less congestion on the roads afterwards. Better still, night visits allow you the chance to check out a whole host of special attractions.
Things That Go Bump in the Night
Recently opened Horror Maze 1 is a spook-fest especially for the brave of heart. Everland sources say some 30 percent of visitors find it too scary to make it all the way through.
Dark dungeons, creepy hospitals and more ghoulish stops await on a walking path that promises to shock all five of your senses.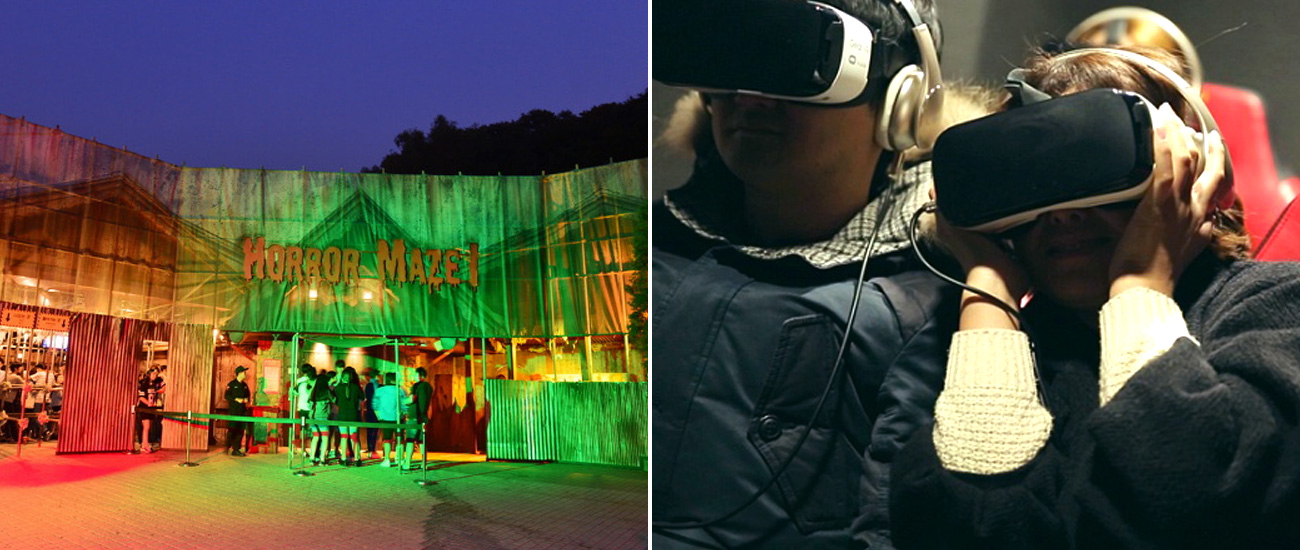 If you'd rather experience a Virtual Reality tour of Horror Maze 1, hi-tech wonders await in the VR Adventure Experience Zone, where VR headsets and 4D chairs will help you lose yourself in the immersive action.
Yet more good news is in store for horror-junkies – Horror Maze 2 opens in September, providing a perfect build-up to Halloween 2016.
What happens when night falls on the Serengeti? Do giraffes need their beauty sleep or are they up at night, looking for midnight snacks? Does the king of the jungle turn in when the sun goes down, or does he prowl the plains?
The answers to all these questions and plenty more await animal lovers at both the Lost Valley Safari and Safari World, also opening late until mid-August. It's a rare chance to see nocturnal animals like you've never seen them before.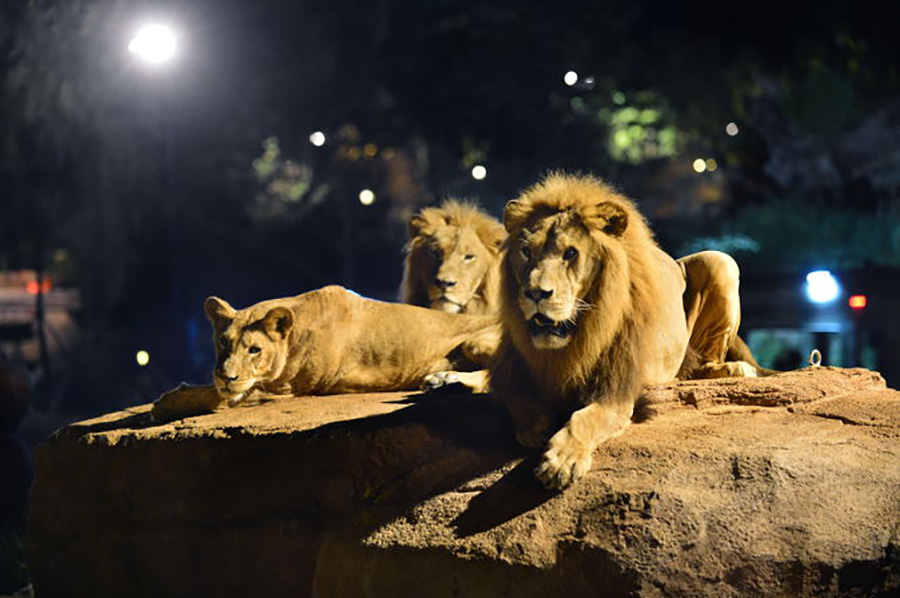 Fireworks are even more fun with the luminous Lenny Crown hairband, a special commemorative item created to celebrate the resort's 40th anniversary.
Its lights flash on and off, changing color in time with the Play Your Memory multimedia show. Play Your Memory itself, meanwhile, incorporates not only fireworks, but also a lightshow and a series of live performances.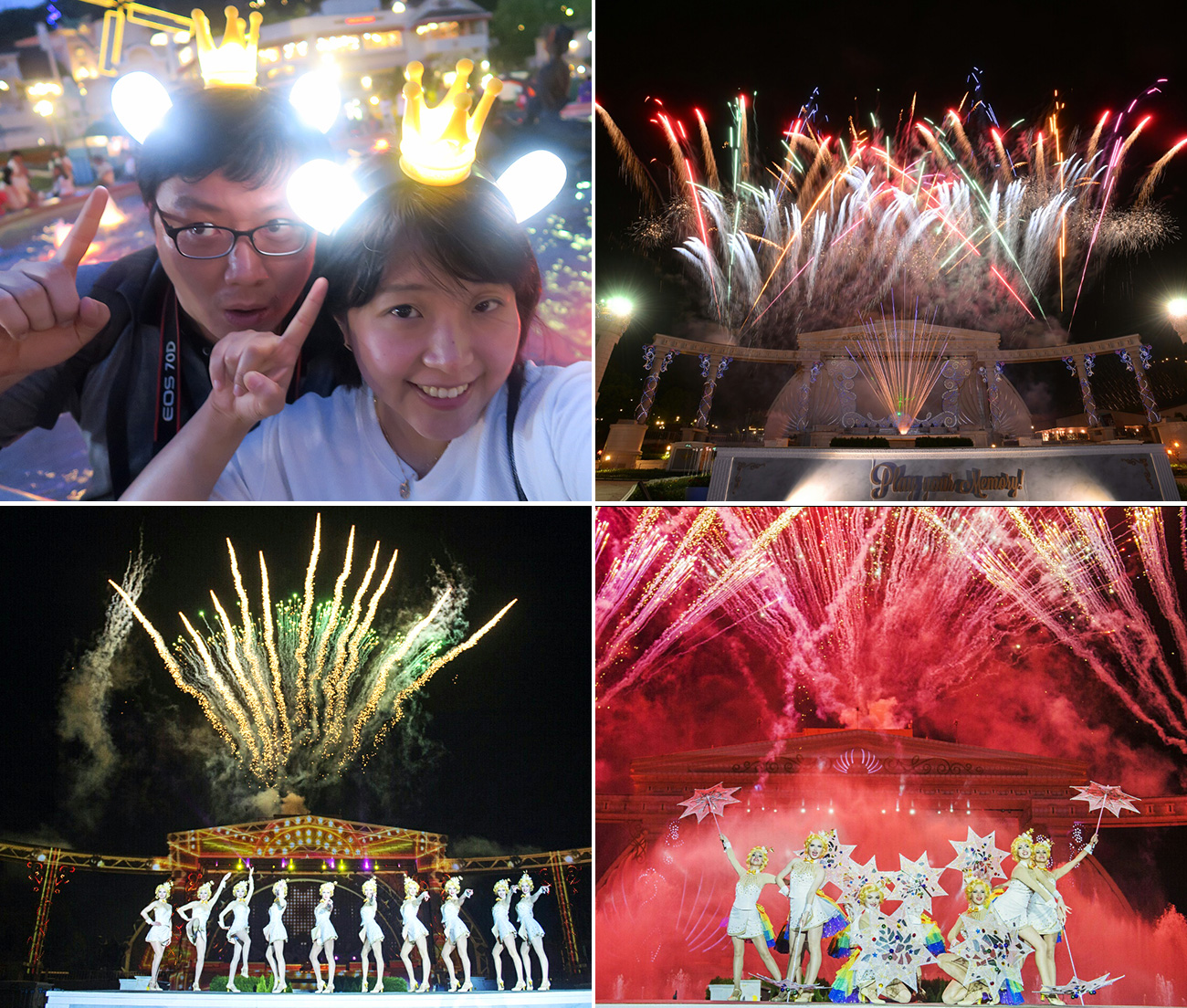 At the LED Musical Rose Garden, 12,000 LED roses shine brightly while lively musical accompaniment fills the air. Music lovers will also want to head to Holland Village, where you can catch live outdoor music from the multinational Holland Street Band.
You can take in the Moonlight Parade, too. This features 640m of floats, lit up with 1 million brightly shining bulbs. The parade takes around 30 minutes to run its course.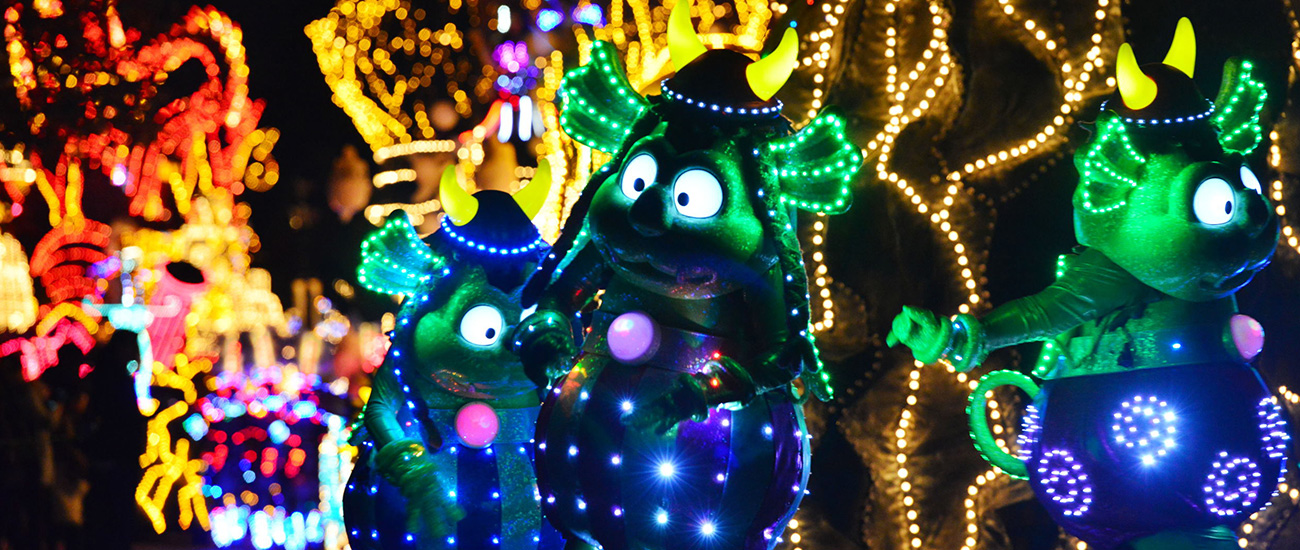 If cooling off is your aim, Caribbean Bay offers a range of watery fun late into the evening. Floodlit excitement awaits at a selection of the resort's signature attractions.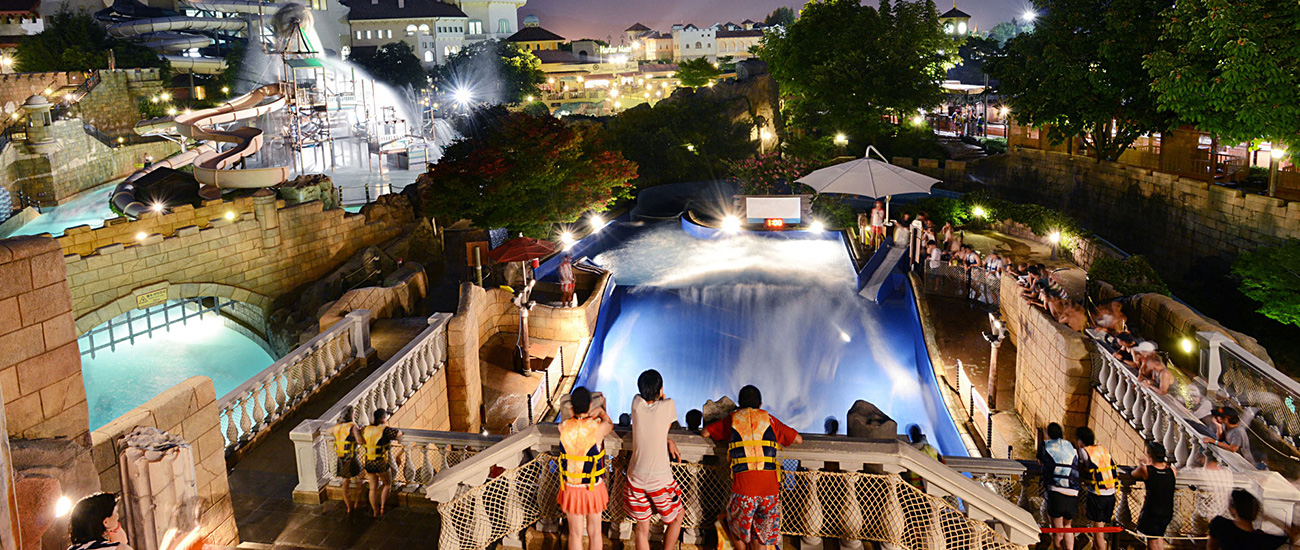 These include Mega Storm – three minutes of gravity-defying tube racing for up to six riders. Hurtle 37m above the ground through 355m of labyrinthine tilts, turns and more – an even more thrilling experience at night.
More tube action awaits in the form of Tube Ride, with one- and two-person tubes available.
Also open late are three of the Wild River section's most popular rides. Tower Raft promises to give you a soak with ice-cold water, ideal on a sticky, humid evening. Wild Blaster shoots up to two riders through tunnels and more. Tower Boomerang Go, meanwhile, sends you and your raft rushing down a twisting 19m descent before launching you up a near-vertical slope.
In addition to the thrills and lights of Everland summer nights, brilliant, high-tech displays also provide you with a dose of late-night culture.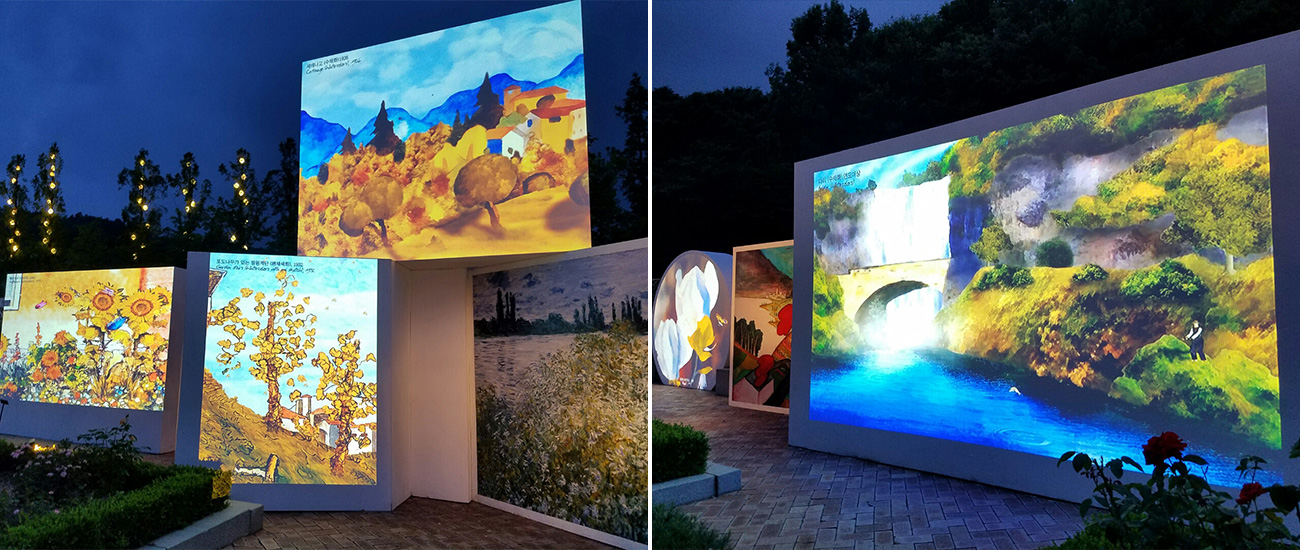 Don't miss out on the Light Museum, where visitors can see renditions of paintings by impressionists like Monet and Van Gogh come to life through dynamic motion graphic videos. In total, 36 works of art are on display here on 12 screens. High-resolution beam projectors provide a distinct and dazzling 3D-like effect.
Whether your thing is fireworks, paintings, high-tech innovations, watery fun or post-twilight frights, this is a resort with plenty in store for everyone.
So why not join the night owls at Everland and Caribbean Bay this summer? You'll have a hoot!