From season to season there is one constant truth in fashion – it remains a lucrative industry. The global apparel market is expected to generate around USD 1.65 trillion dollars by this year, up from its market valuation of about USD 1.39 trillion in 2017. Looking at it from another perspective, the McKinsey Global Fashion Index predicts that the industry will continue to grow at 3 to 4 percent in 2020.
So, where does Samsung C&T Trading & Investment Group come in? Its key role is managing fashion infrastructure, giving partner brands the best chance of success. Samsung C&T offers services to partners based on potential without forcing them to give up equity. It also performs tasks like shipping, inventory purchasing, warehousing, logistics, invoicing, and collection of payments due. This allows partners to focus on what they do best – design, sales and marketing.
Helping partners focus on their main competitiveness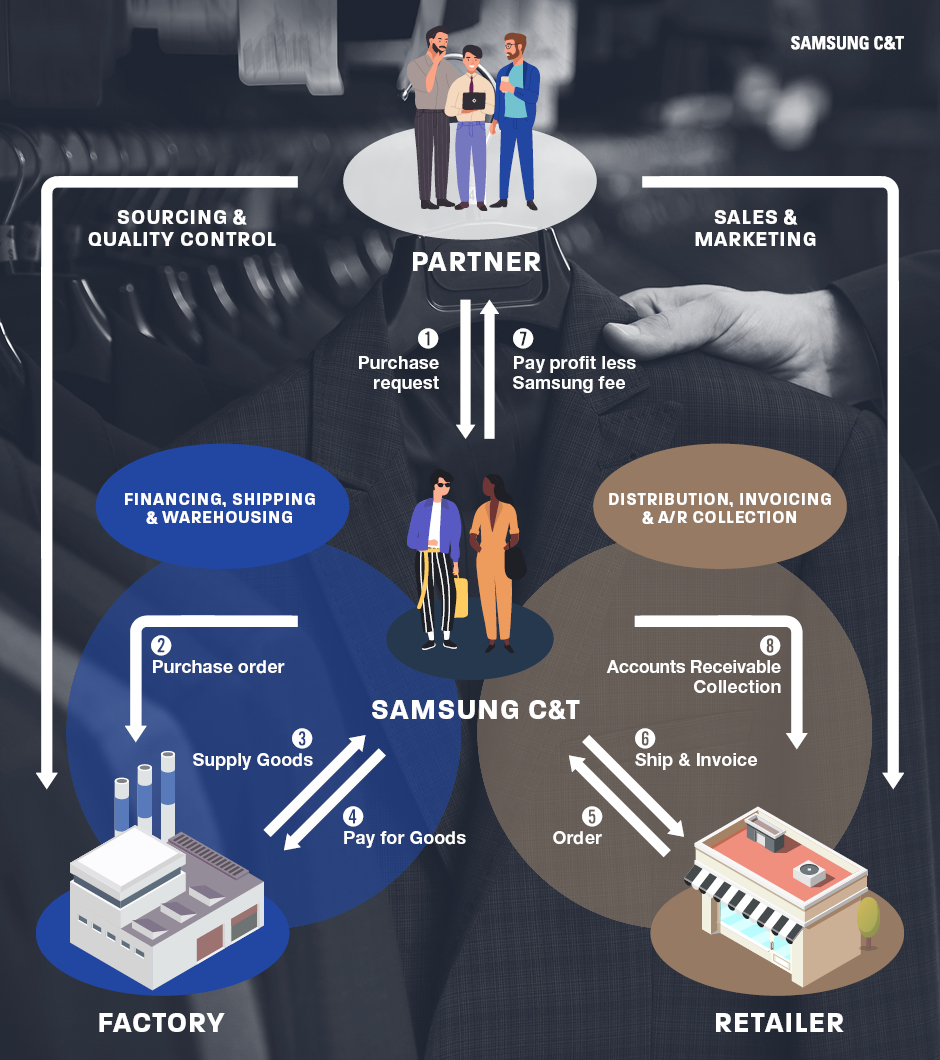 Samsung C&T partners with growing fashion brands with sales of USD 5 million – 20 million or more and provides total back-office infrastructure. Brands that partner with Samsung C&T can enjoy various advantages while focusing on their main competitiveness – without the financial problems that can hold back business growth or other issues related to logistics, credit, and systems.
How does it work then? Once a partner requests a purchase, Samsung C&T places the order with a factory. The factory supplies the goods while Samsung C&T handles the payment. After the goods are ready to be shipped, Samsung C&T manages the logistics process, storing received inventories in one of its warehouses until the partner is ready to ship them to the customers. After the sales stage, Samsung C&T handles the accounts receivable and manages chargebacks.
So, Samsung C&T provides back-office services including logistics functions, a 24/7 order management system, purchasing inventory, shipping, warehousing, managing AR collection, and issuing profits minus a partnership fee – and this all creates an environment in which fashion brands can focus on their own businesses.
The benefits are ready: fashion brands' path to success
By partnering with Samsung C&T, fashion brands benefit from a limitless cash flow for faster growth while being able to leverage a better choice of vendors as well as more flexibility in purchases and payments. They can also generate new opportunities through the services that Samsung C&T offers. As Samsung C&T takes responsibility for ordering products, brands can maximize credit approval when they gain orders from the retailers and use Samsung's brand value to help get new opportunities.
Samsung C&T's fashion brand partners gain these advantages while being able to concentrate on quality control, merchandise design, and marketing strategies. They are able to focus on sales and marketing in the direction of retailers rather than complicated logistics processes and inventory management, while also being able to choose factories for sourcing and quality control.
These services offered by Samsung C&T have helped support the success of several fashion brands, including Q4 Designs, the outerwear licensee of Reebok and DKNY, as well as footwear company Genesco, which has earned brand licenses from Levi's, GH Bass and others.
Thanks to its innovative service business model, Samsung C&T has been able to play an important role in fashion infrastructure since the 1990s.
Its fashion infrastructure business takes on back-office functions while allowing brands to flourish in the market according to their potential. During times of uncertainty, business models like this are particularly helpful for fashion brands seeking to step up to new heights.