There are few materials in the world that inspire as much strength and endurance in people as steel does. For Samsung C&T's Trading & Investment Group, steel is taken very seriously as one of its major trading commodities.
In fact, the company engages in a range of global steel trading operations, running coil centers and stainless steel plants across the world. It also trades in a host of products, including automotive steel, plate steel, and hot and cold rolled variations of the material.
It is primarily in steel that Principal Professional Kang Se-uk has developed his career since joining the company more than 30 years ago. Let's discover how he has built his expertise and how he has been able to learn from steel itself.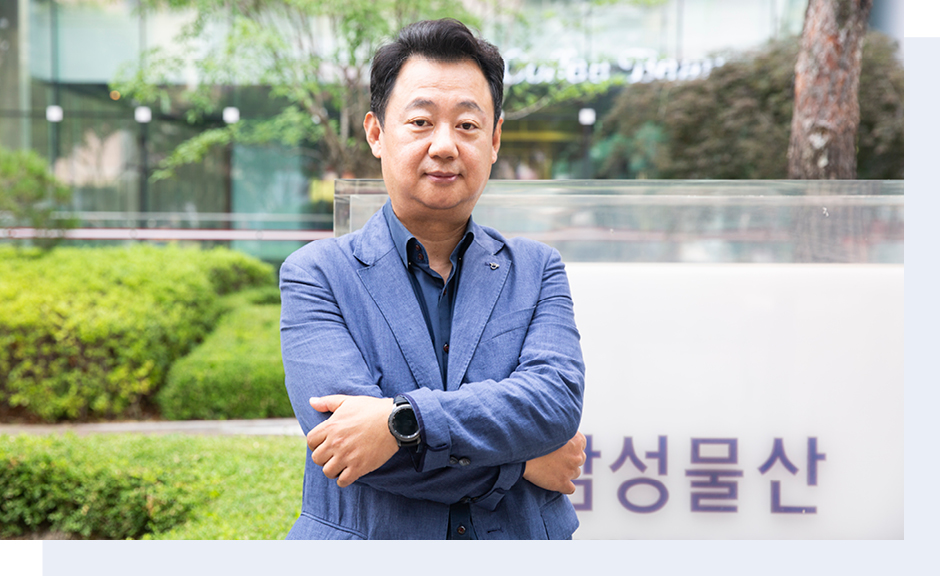 A career forged with steel
It was a briefcase that first inspired Kang to join Samsung C&T back in 1988. "When I was a university student, I happened to see a poster of Samsung C&T for open competitive employment. I was charmed by the image of the businessman in the poster who was holding a black 007 style briefcase," Kang recalls.
Kang began working in the steel industry for Samsung C&T in earnest in 1992. "When I joined the Steel Team, the atmosphere of the new team seemed very strong to me – probably because of the word 'steel.' However, as I began working in the steel business, I realized that it was only a fixed idea. There are numerous kinds of iron and steel, and the steel used for car parts requires 0.1mm delicateness. So, I would like to say that steel is not only strong but also delicate."
Like many other sales professionals, he was also excited about the prospect of working overseas, although he faced many challenges while positioned as a rotational employee in Japan for five years from 2004. He has continued to expand his expertise in the area of cold rolled steel, successfully developing various business models and a wide global network.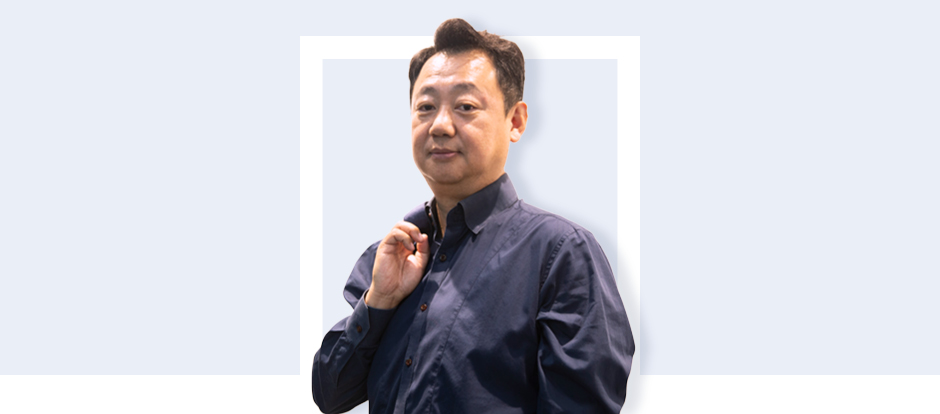 Learning how to endure like steel: bonding with partner companies
Kang says steel has been a "a teacher" for him, as he has experienced many joys and sorrows while dealing with the material over the last few decades, learning through trial and error. He has become a stronger and harder professional in the process, as he emphasizes that "a businessperson must have strong endurance."
Kang recalls the difficulties of the global financial crisis in 2008. During that time, he tirelessly traveled between South Korea and Japan, trying to ensure the successful flow of business, minimize losses, and develop new partners. It was not unusual to travel two to three hours for a single 10-minute meeting in Japan. This is what he means by "strong endurance."
Naturally relationships are also important to Kang: "Once a good relationship has been established, it will last for a long time unless there is a serious problem."
"Through frequent meetings, we are able to establish a consensus not only in business but also in private matters. In addition, our close understanding of each other is very helpful to solving problems and achieving win-win growth," he adds.
Stronger with the support of colleagues
Kang has learned about the importance of internal communication too, making sure his colleagues know he is on their side. This includes connecting with younger recruits and overcoming any prejudices that might exist due to generational conflicts.
"New employees have a different view of the world from the senior generation, but it doesn't matter as long as they are qualified and have the mindset necessary for international business."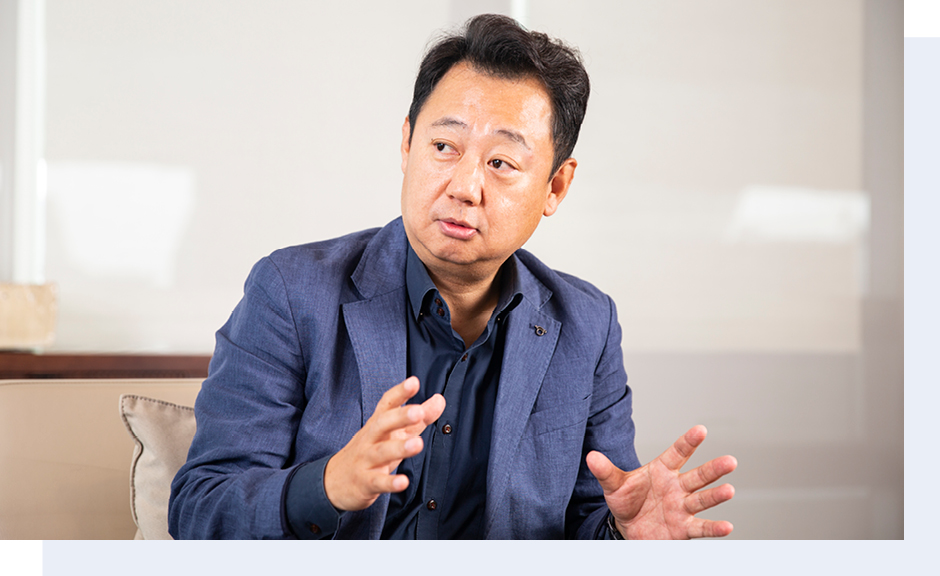 'An important time of change'
Samsung C&T trades in coils of cold rolled steel sheets and galvanized steel produced locally and overseas while pursuing profitability by exploring overseas markets as far away as Europe and Latin America.
The good news is that the market outlook is positive. For example, cold rolled steel coil prices have been steadily rising since 2016, while the market is expected to grow from a 2020 valuation of USD 119.8 million to USD 147.7 million by the end of 2026, expanding at a CAGR of 3 percent from 2021 to 2026.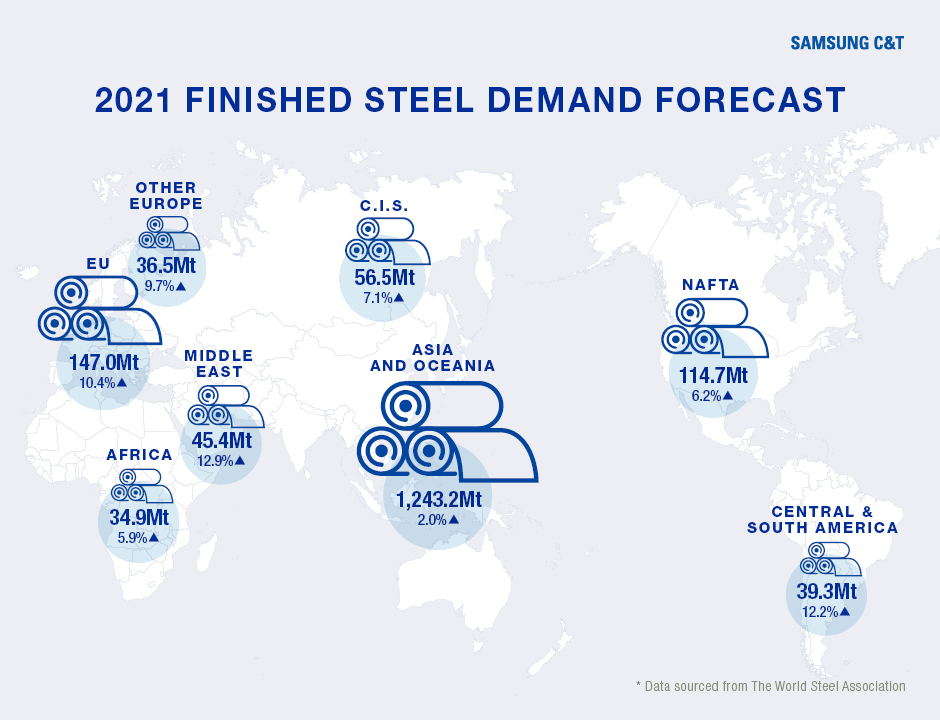 As the lessons from dealing with past challenges remain just as relevant in 2020, Kang says that it is now a "very important time of change."
He is sure he and his team can perform well by continuing to foster mutual trust and cooperation, adding with a tone of gratitude that the growth of the business so far "has been made possible 100 percent by the hard work of colleagues."
If it is true that steel grows stronger when heated, then the industry has also gained endurance through the fire of difficulties.