An old Chinese proverb says, given enough time, dripping water can drill a hole right through solid rock. This means that consistency and perseverance over time will lead to amazing things, and in today's story we introduce you to a colleague who demonstrates the veracity of this statement. Say hello to Manager Abu Seena from Plant ENG Team's Piping ENG Group.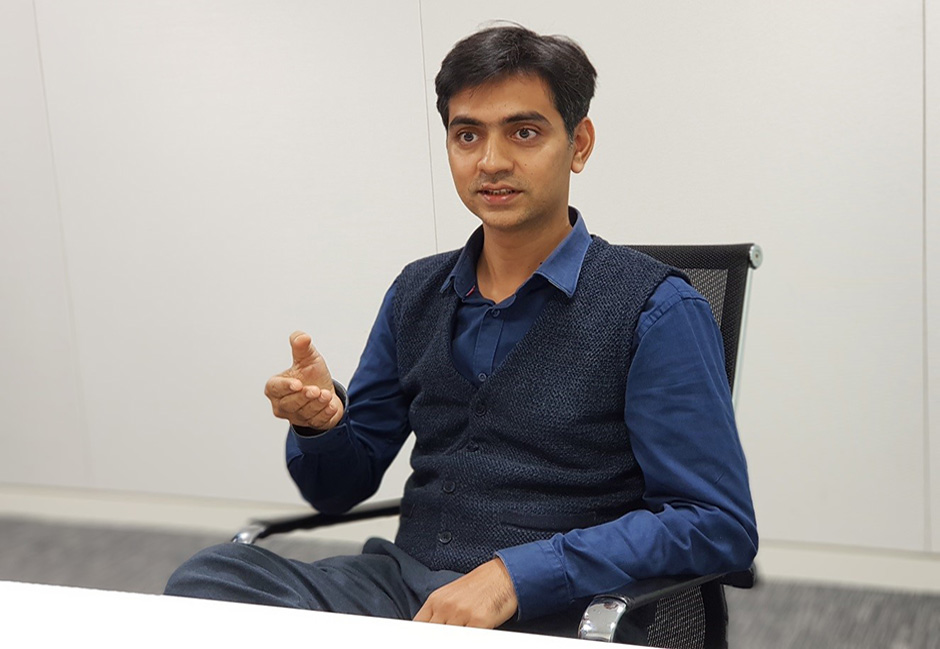 Q. Please tell us a little bit about yourself.
SEENA: My name is Abu Seena, and I am a manager here at Samsung C&T. I joined the company six years ago in 2012 after receiving my doctorate degree from KAIST and have been doing stress-analysis work as a member of the Piping ENG Group ever since.
Q. You mentioned you belong to Piping ENG Group. Please explain to us what Piping ENG Group's role is.
SEENA: Piping ENG Group has a wide range of responsibilities, but the group's most important function, as its name suggests, is overseeing all engineering-related aspects of piping systems found in power plants. These include things like determining the thicknesses and materials of different piping elements and designing the piping routes. Piping ENG Group also supervises the placement of machines and structures inside the power plant, which is very important because the layout of machines and structures affects everything from the construction cost to the construction schedule and even the operation of the plant itself. Piping engineers constantly study other disciplines such as machinery, construction, electricals, and instrumentation and communicate with colleagues from other departments precisely to get this placement right. Other than that, Piping ENG Group is also responsible for coming up with technical solutions to problems that manifest at the site during the construction stage and for helping persuade the client.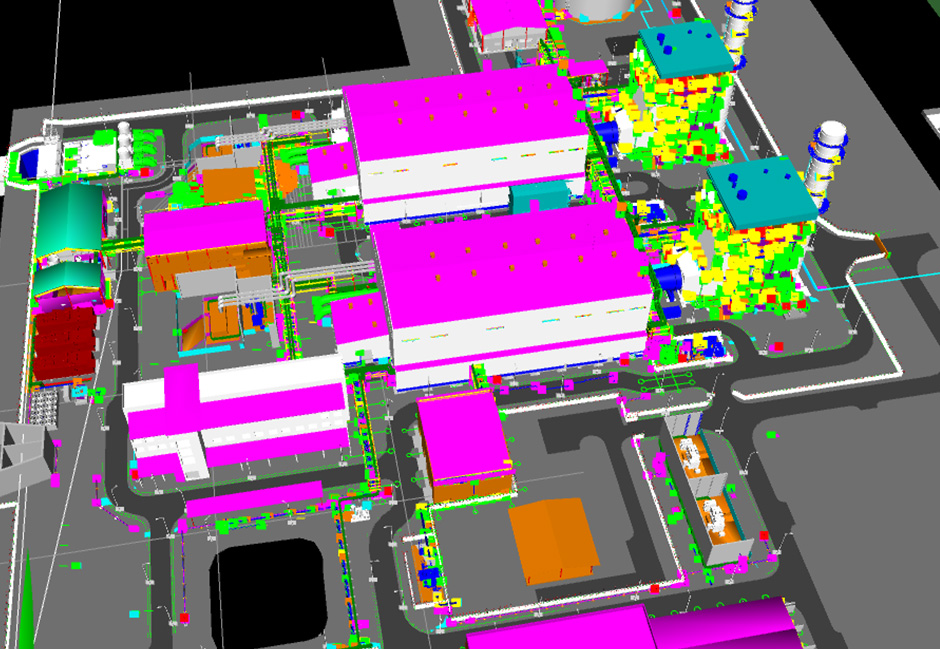 Q. What are your specific responsibilities within Piping ENG Group?
SEENA: While a power plant is in operation, the piping system coursing through that plant is subjected to a variety of forces. The pipes can expand due to heat and be stressed by the movement of fluids flowing inside. Earthquakes, wind, snow, and even vibration can also affect the pipes. If the pipes cannot withstand these loads and stresses, they will be displaced or, in severe cases, become damaged. Piping displacement or damage can then cause the affected machines or, worse yet, the entire plant to shut down. This is where I come in. My job is to design piping systems in consideration of these external factors and validate the designs so that the systems will be able to withstand whatever loads and stresses they will be subjected to.
More specifically, I use a technique known as Finite Element Analysis to study the potential loads and stresses and present a sensible design for a piping system that is strong and stable enough to withstand the identified loads and stresses. I take great pride and feel a great sense of responsibility in the work I do because I understand what kind of direct impact it has on the operation of power plants. Other than that, I also track and analyze related issues from past projects and assess the applicability of the latest engineering solutions and techniques in my field.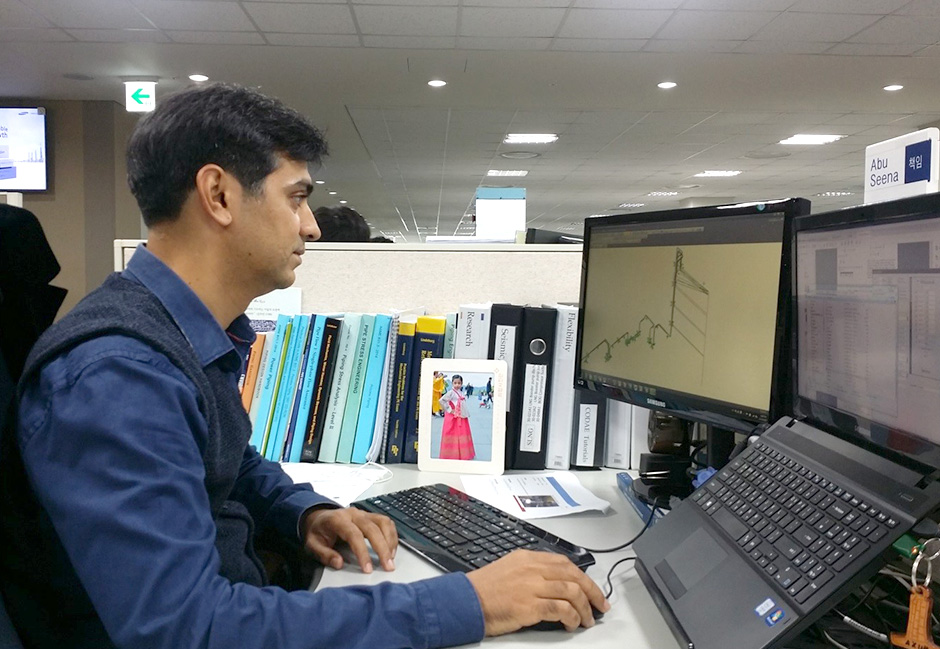 Q. I understand congratulations are in order, that you've been inducted into ASME. Please tell us about ASME and how you became a member.
SEENA: ASME stands for American Society of Mechanical Engineers, a US-based organization that establishes codes for engineering, manufacturing, and testing boilers and pressurized vessels. All the power plants Samsung C&T has built so far were constructed in full compliance with ASME codes. These codes are the de facto law when it comes to power plants and provide specific standards for each category.
I have about 18 publications in international journal and 5 conference papers.  The recent paper on surge loads in pipes submitted it to ASME gain quite attention in scientific community and was largely based on my analysis and research using data from our past projects. I was asked to present the paper at an ASME conference in Hawaii in July. As a result of that presentation, I received attention from academic organizations and journals specializing in piping. Looking at my contributions to piping community with peer reviewed publications I was inducted as an official member of ASME B31.3 (Process piping) in September. Currently, there are only two ASME members based in South Korea, and I am one of them.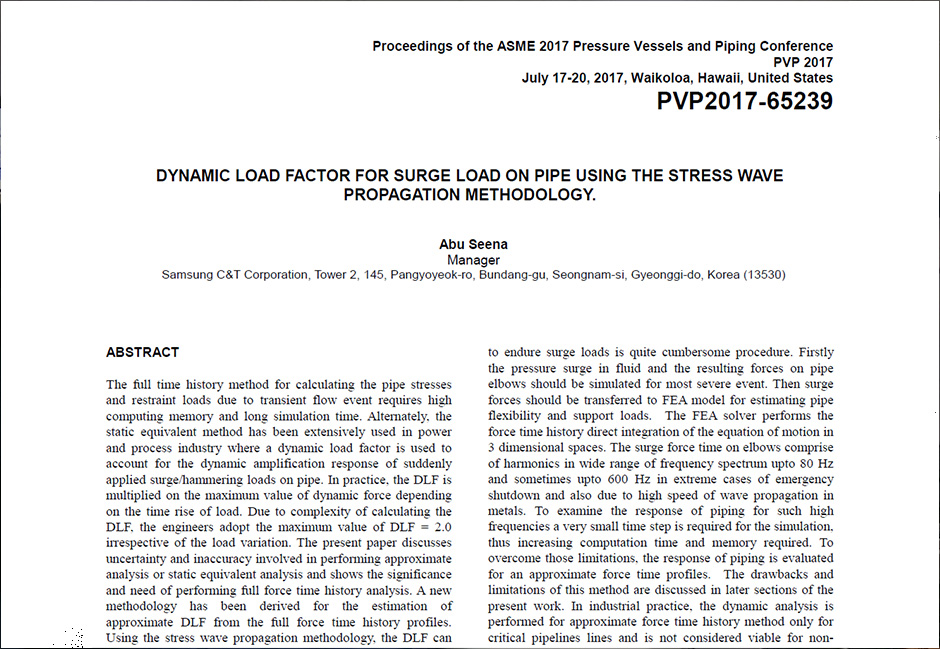 Q. What are the advantages of becoming an ASME member?
SEENA: As an engineer, it is first and foremost a great honor. I will have my name included in future versions of ASME B31.3 (pressure piping), be able to network with leading experts from a wide variety of fields, and be able to tap into an immense source of information and knowledge to solve a wide variety of engineering and construction problems. I will also have early access to new code revisions before they are published.
My induction as an ASME member is beneficial for the company as well. When engineering firms like ourselves talk to a client about building a power plant, we literally speak in codes. Codes are the standards and the language everyone understands in that world, and having one of our own serve as an ASME member shows our clients that Samsung C&T Engineering & Construction Group not only speaks this language but is fluent in it. As I mentioned previously, the company will also have early access to the latest techniques, developments, and code changes and have opportunities to implement these ahead of the competition. Ultimately, my membership with ASME will help us make greater contributions to the welfare and safety of the public and instill greater a greater sense of confidence and satisfaction in the hearts of our clients.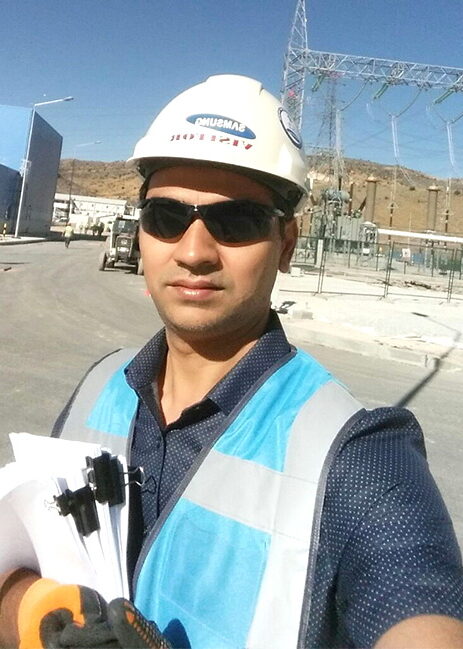 Q. Do you have a message for your Samsung C&T colleagues?
SEENA: The Samsung C&T I have come to know and understand since joining the company has been and continues to be an amazing organization. The company ranked 20th in Engineering News Record's list of top 250 constructors of 2017, and one of the main reasons why we constantly achieve such enviable results is that we have an environment that encourages individuals to draw on their project experiences to constantly learn and grow as specialists and experts in their respective fields. My advice to colleagues is to put their experience and expertise to good use. Turn them into tangible assets by documenting them and share them with the world by getting involved in major associations and competitions in your area of expertise. Doing so will earn you the recognition you deserve and lead to even greater opportunities. Everyone I have had the pleasure and honor to work with has what it takes to become the authority in their field.