Although the majority of modern roller coasters feature cutting-edge designs and are constructed with strong, shiny steel, the love of traditional wooden coasters amongst ride fanatics remains strong. Perhaps a touch of nostalgia for some, there's something about a wooden ride that can't be captured through modern engineering and steel.
Wooden roller coasters attack your senses in a different way than steel coasters do – from the smell of the wood and the slow clicking of the chain lifting the trains, to the unmistakable roar emanating from the trains as they speed around bends and turns, wooden coasters are just fun.
Take a look below at our list of 5 amazing wooden roller coasters found across the world.
#1. World's Tallest Active Wooden Roller Coaster
"T Express", Everland, Yongin, South Korea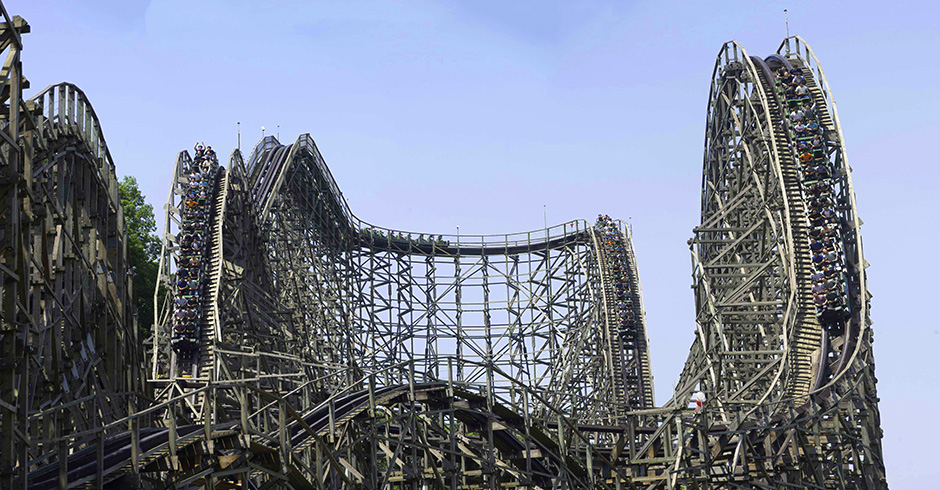 T Express is Korea's first wooden roller coaster and also happens to be a marvel of modern wooden coaster engineering. Designed to evoke the mountain railways of the Jungfrau in the Alps, its height of 56 m (184 ft) puts it in a 2-way tie with the Wildfire wooden coaster in Sweden for the tallest active wooden coaster on the planet.
The ride has seen visitors flock to Samsung C&T Resort Group's Everland theme park in droves to ride its 1.64km course, and has gained international recognition by claiming top spot on Mitch Hawker's Best Wooden Roller Coaster Poll twice. For riders who want to experience the terror all over again at the comforts of their homes, T Express offers the chance to buy a full HD video recording of their ride. Advice to the bravest thrill-seekers: sit at the very back of the train for maximum adrenalin!
#2. World's Most Impressive Wooden Drop
"Goliath", Six Flags Great America, Illinois, USA
The behemoth wooden roller coaster known as Goliath certainly lives up to its name. This hair-rising wooden machine holds the record for the longest (55 m) and steepest (85°) drop, and is the world's second fastest, reaching speeds of up to 116 km/h.
Featuring 2 inversions, nearly 1km of track length, and a duration of 1 minute and 45 seconds, Six Flags Great America's wooden Goliath is sure to impress!
#3. World's Fastest Wooden Coaster
"Lightning Rod", Dollywood, Tennessee, USA
The world's fastest wooden roller coaster – Lightning Rod – is located in the foothills of the Smoky Mountains of Tennessee at the infamous Dollywood theme park. The ride is the first 'launched wooden coaster' and boasts a top speed of 117 km/h, 1.2kms of track length, and over 3 minutes of ride time!
And despite the wicked twists and turns of this magnificent wooden speed machine, the Lightning Rod maintains a surprisingly smooth ride throughout its duration. Be sure to seize the opportunity to ride the Lightning Rod if you can!
#4. World's Longest Wooden Coaster
"The Beast", Kings Island, Ohio, USA
Despite the thrilling speeds reached by some roller coasters, many riders are disappointed by how quickly they come to an end. However, The Beast, located at King's Island amusement park, has plenty of ride length.
The Beast, which opened in 1979, is still the longest wooden coaster, featuring some 2.24 kilometers of track length and a ride length of over 4 minutes! Be sure not to miss out on one of the world's favorite wooden roller coasters!
#5. World's Oldest Wooden Coaster in Operation
"Leap the Dips", Lakemont Park, Pennsylvania, USA
Number 5 on our list is an oldie but a goodie. Lakemont Park's Leap the Dips wooden coaster is a designated National Historic Landmark, having first opened to the public in 1902! The ride ran continuously until 1985, but was closed from 1985 until its grand re-opening in 1999.
Leap the Dips is a family friendly affair, featuring a height of 12 m, a drop of 2.7 m, and a total track length of 443 m. Roller coaster enthusiasts the world over won't want to miss a chance to ride a piece of wooden coaster history.