World-famous K-pop group BTS is appearing virtually each evening at Everland. "Over the Universe," a one-of-a-kind multimedia show featuring BTS, is on nightly until late August on the outdoor stage of Everland's famous Four Seasons Garden.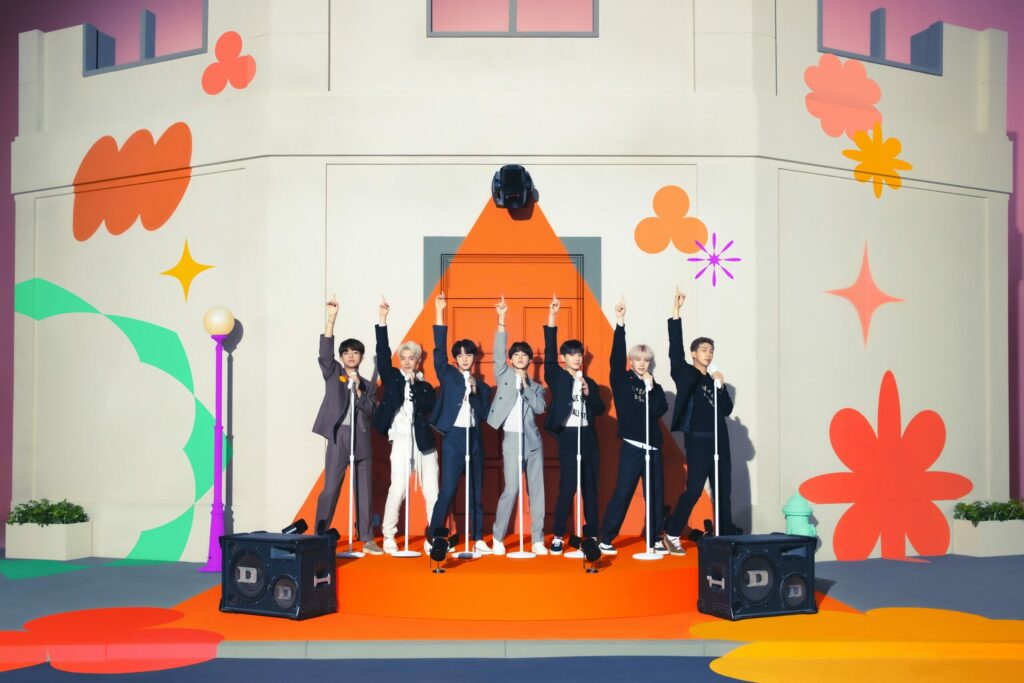 For the first time ever, the hit songs of BTS, whose large global fanbase is known as the ARMY, can be experienced in the form of a multimedia show with special effects including video, sound, flames, and lighting effects.
A quarter hour of songs to delight fans
Over four months, Everland has worked together with BTS' record label and talent agency HYBE Corporation, formerly known as Big Hit Entertainment, to prepare this immersive extravaganza that offers a message of hope not only to people in Korea but also around the world to beat the COVID-19 pandemic.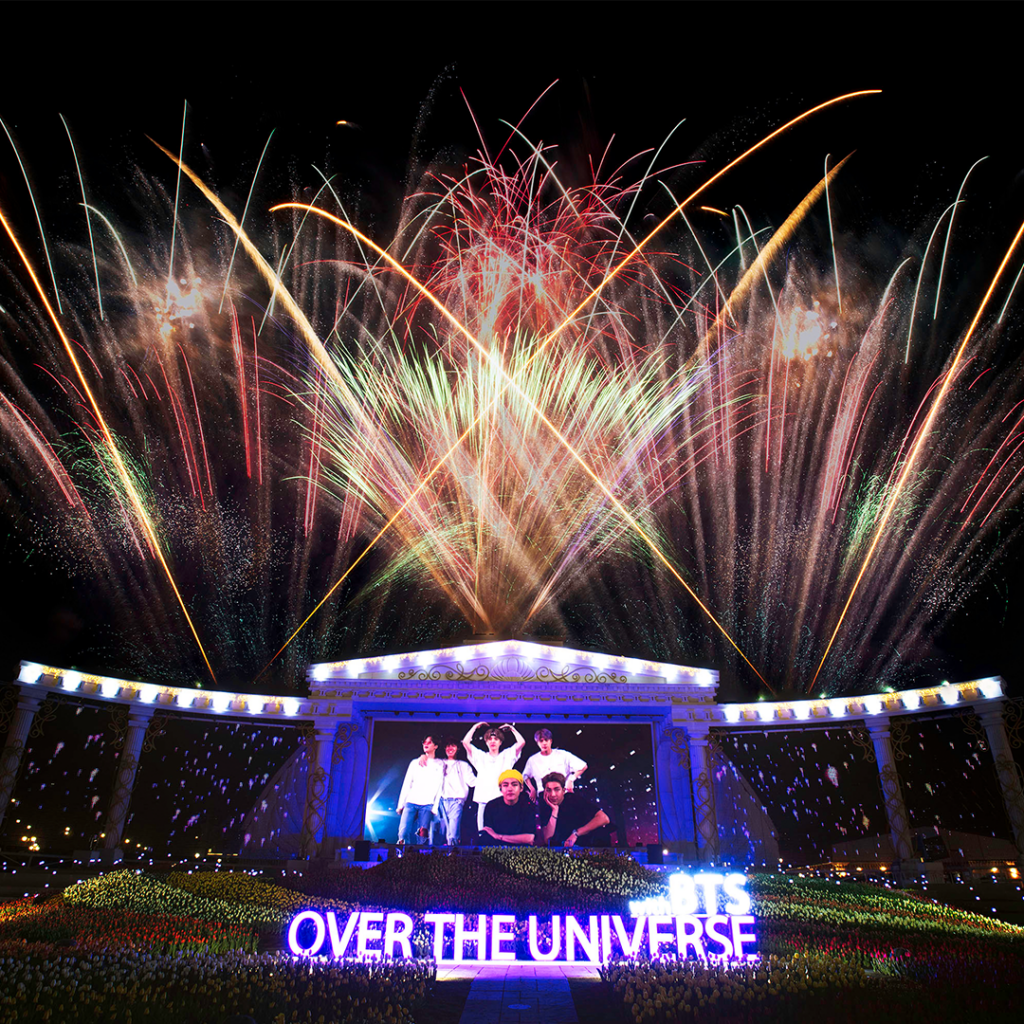 Each evening at Everland, for approximately 15 minutes, fans can vividly enjoy seven of BTS' global smash hit songs afresh through newly re-edited music videos.
The shows feature a mix of BTS numbers, including Dynamite, the first Korean song to reach the top of the Billboard Hot 100 chart, Butter, which topped the Billboard Hot 100 for the most weeks in 2021, as well as Permission To Dance, Dope, DNA, Spring Day, and Make It Right.
High-tech adds an immersive touch
What makes this BTS multimedia show special is that offers an overwhelming sense of immersion to audience members through the scale of Everland's huge stage and state-of-the-art audiovisual equipment.
The new BTS music videos not only show off the group's powerful dance moves but also display the hopeful, upbeat lyrics, and will be screened on an LED screen that is 24 meters long and 11 meters high, visible from anywhere in the 10,000 meters-square Four Seasons Garden.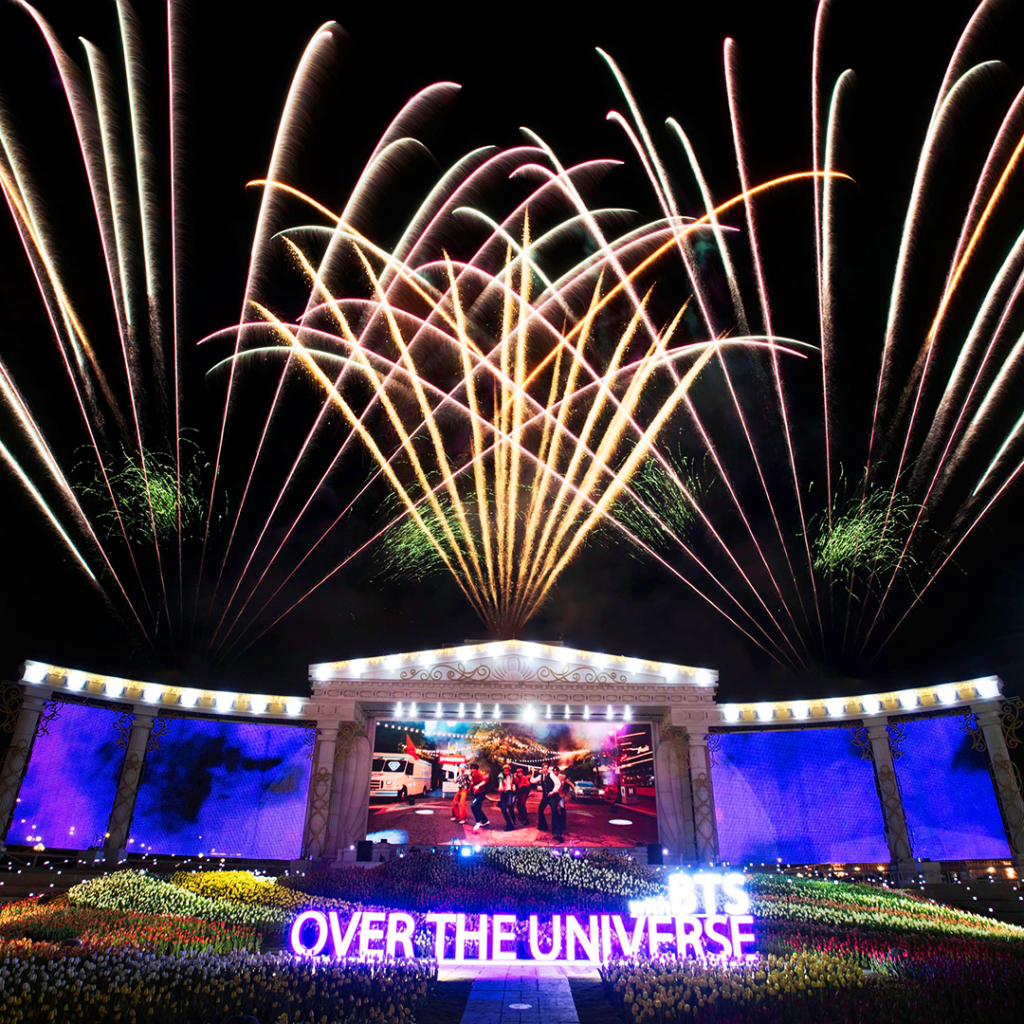 A range of special effects such as searchlights, lasers, flames, and fireworks add to the majesty, fusing with the songs throughout the show. During the finale song Dynamite, the music video of which was filmed at Everland, more than 5,000 fireworks light up the night sky.
Everland has also installed a new immersive sound system that provides the maximum immersive power to provide a visitor experience that is as close as possible to being present at an actual live BTS performance.
The BTS multimedia show "Over the Universe" will be available free of charge to all comers on the Four Seasons Garden outdoor stage every evening until August 28.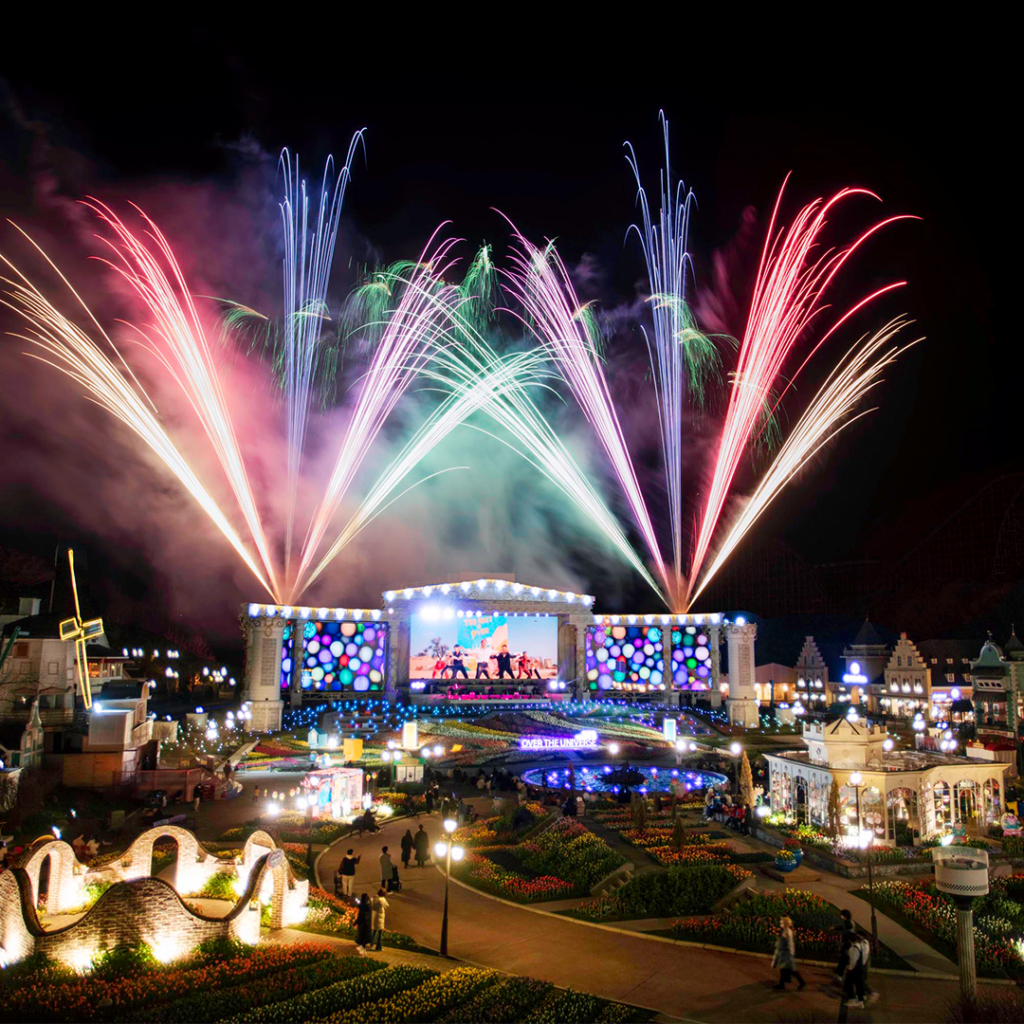 A spokesperson from Samsung C&T's Resort Group said, "We look forward to the recent successful BTS Seoul concert at Seoul Jamsil Olympic Stadium experience being extended here to Everland," adding, "We hope that the exciting songs and dances of BTS as experienced through these multimedia shows will give hope and comfort to people in these difficult times of COVID-19."
Everland is preparing additional shows with other HYBE Corporation artists starting in May. Check out the video below to get a taste of the "Over the Universe" BTS multimedia show!