As the world strives for carbon neutrality, hydrogen is earning a brighter spotlight as a growing energy source for the future. Hydrogen is odorless, invisible, and can be produced in a variety of ways without any concerns about depletion or regional differences.
Hydrogen's potential as an energy source expands to all sectors, including home, industry, and transportation – best of all, its use leaves behind only water vapor and warm air.
While all hydrogen burns the same, there are some important factors to consider. Depending on how it is produced, hydrogen can be described according to a color classification – gray, brown, green, blue, and so on. As we shall see, even though hydrogen itself has no color, this classification is essential when describing how clean its production is.
Around 99 percent of the hydrogen produced today for industrial use is gray hydrogen, which means it mainly comes from fossil fuels and leads to further carbon emissions. Brown hydrogen is also problematic because it is made from lignite, often referred to as brown coal – this is how hydrogen was sourced for centuries in the past.
Blue hydrogen shares the same source as gray hydrogen, but it includes carbon capture and storage. And green hydrogen only requires electricity to separate the elements of water – obviously the source of that electricity matters, but in theory it can be a completely carbon-free process using renewable energy.
If hydrogen is going to be part of a clean, sustainable future, the best option is seen as green hydrogen, which is expected to rise in popularity as renewable energy prices fall.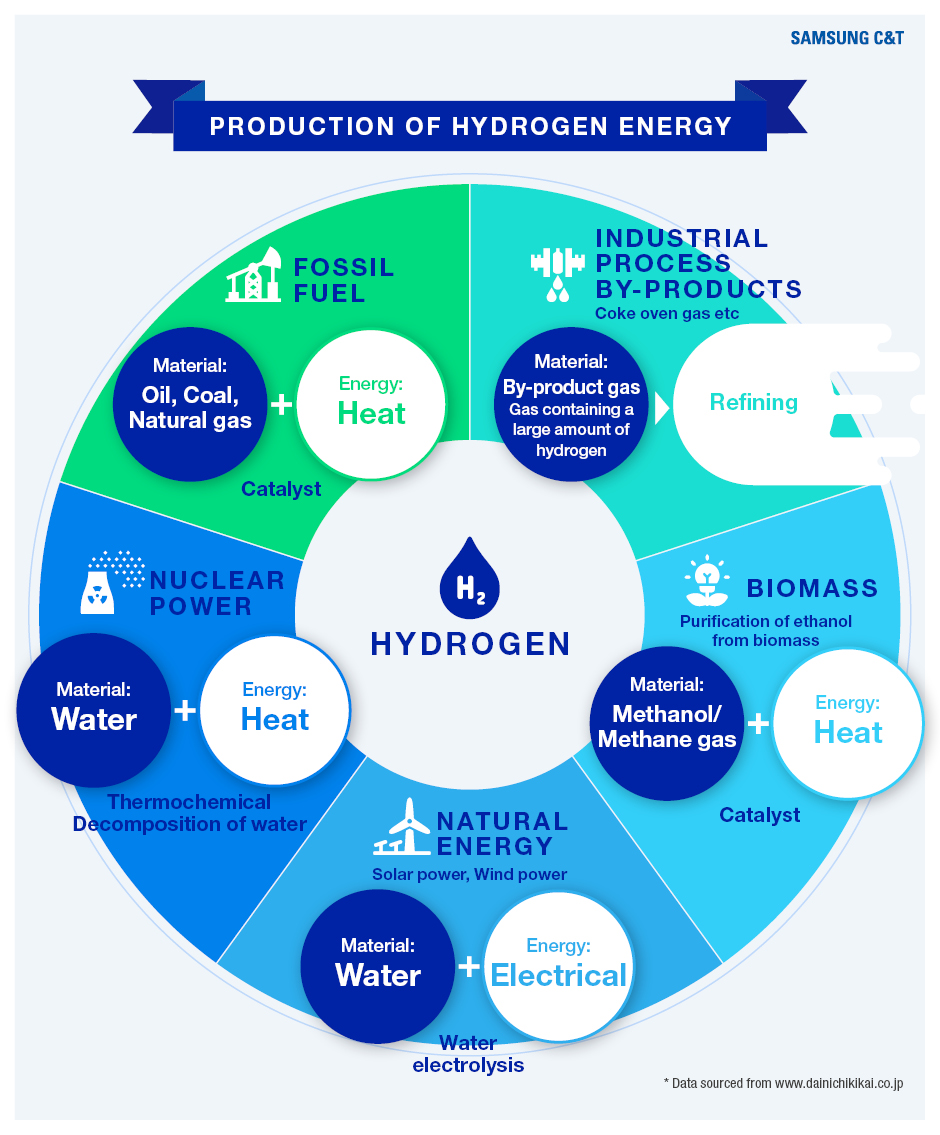 An expanding hydrogen marketplace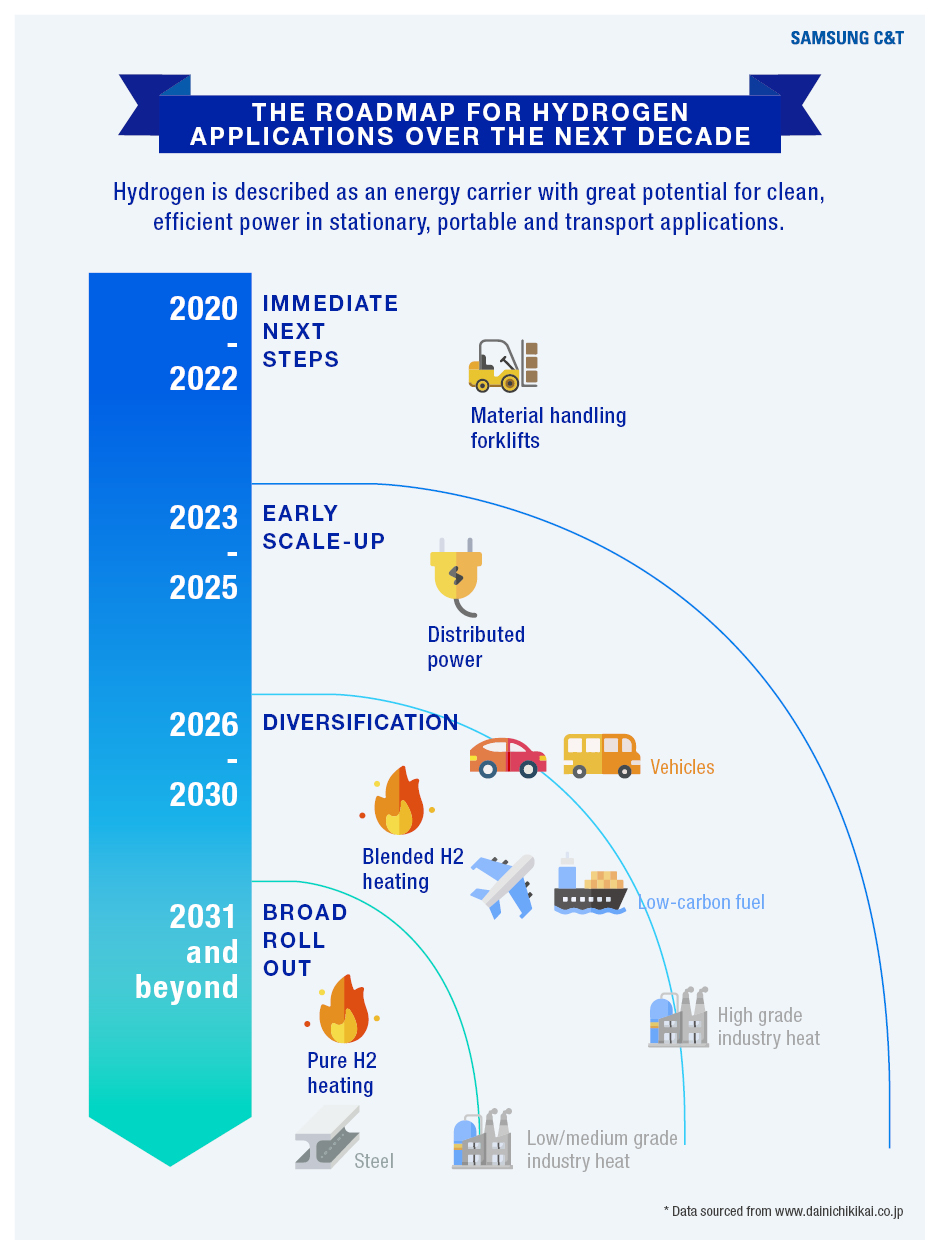 What's Samsung C&T's role?
Samsung C&T is actively seeking opportunities in the hydrogen sector. For instance, amid South Korea's efforts to grow its hydrogen economy, Samsung C&T Trading & Investment Group recently signed an MOU with Namhae Chemical and Korea Southern Power Co. (KOSPO) to import clean hydrogen to be used as eco-friendly fuel. Samsung C&T will be responsible for the development of the entire business model, starting with the production of clean hydrogen abroad and then moving on to importing and utilizing it.
Samsung C&T also has joined five other parties to establish the HyStation company, which aims to construct and operate hydrogen refueling stations to service public transport bus fleets in South Korea. The plan is to build six convergence hydrogen charging stations that can charge 72 hydrogen buses per day. It is expected that these efforts will boost the hydrogen commercial vehicle market as well as contribute to reducing air pollution and carbon emissions. Through this project, Samsung C&T will accumulate the information and business experience necessary for the establishment and operation of convergence hydrogen charging stations. It will diversify its portfolio of new businesses in the hydrogen field by utilizing its global network and various business experiences and know-how.
Samsung C&T has joined hands with S-Oil to develop a hydrogen ecosystem such as clean hydrogen and ammonia production, infrastructure construction, and distribution models. The two companies will also plan to cooperate in all value chain hydrogen businesses to introduce carbon-free ammonia and hydrogen. Moreover, Samsung C&T is expected to accelerate its entry into the carbon-neutral and new energy sectors through the agreement.
C&T was South Korea's first nonfinancial group to declare an exit from coal and continues to expand its portfolio of green businesses ranging from solar to renewable energy.