With the United Nations Climate Change Conference (COP26) has wrapped up in the U.K., world leaders have been outlined their climate goals. One of the main shared targets is to achieve carbon neutrality by 2050 and to keep the global average temperature increase within 1.5 Celsius.
Amid the general drive to reduce carbon dioxide emissions, companies like Samsung C&T have long recognized the importance of investing in new, clean, and renewable energy sources – including solar, wind, and hydrogen power. For now, let's take a closer look at the solar energy situation.
A sunny outlook for solar energy
Solar energy harnesses the immense power of the sun to provide us with thermal and electrical energy here on Earth. The sun has obviously been shining above us as long as human beings have existed, but there have been tremendous strides in terms of accessing its power for practical energy applications since the discovery of the photovoltaic effect in the 19th century.
Now there is enough solar power generated in the U.S. alone to power 18.9 million homes, with solar installations ranging from large-scale solar power generation facilities to small rooftop systems. Moreover, the U.S. has set a goal of reducing solar energy generation costs by 60% over the next decade to achieve decarbonization in the power sector by 2035. And according to the International Energy Agency (IEA), solar power generation will increase to 162 GW every year by 2022 and will continue to break new ground.
Regarding COP26, it set the stage for India and the UK to work towards a multinational solar power grid in the hope of solving solar power limitations. And the global solar energy installed capacity is set to rise from 728 GW to 1,645 GW by 2026, growing at a CAGR of 13.78 percent up to 2026.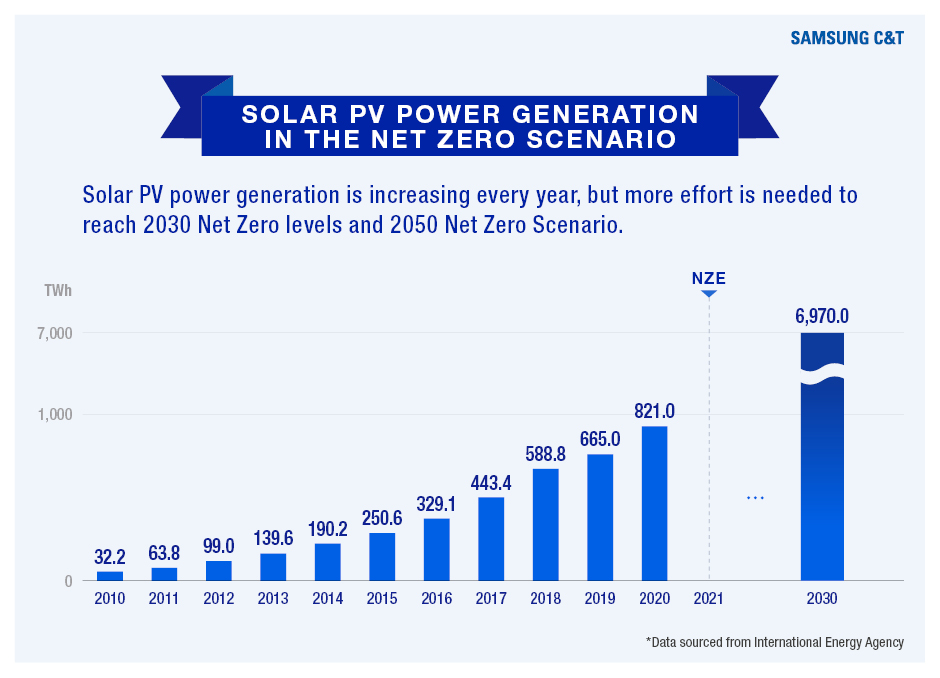 A principal reason why solar energy holds so much promise is because it does not leave behind any air pollution or greenhouse gases, but there have been past concerns about viability. This is changing because it has become cheaper than other alternatives and related technologies continue to improve. In particular, multinational solar power grids have been mentioned in COP26 as one of the global climate solutions. This is because the sun does not shine everywhere all of the time, but cables crossing international borders could overcome this limitation by constantly sharing the power of our most abundant energy source right up there in the sky.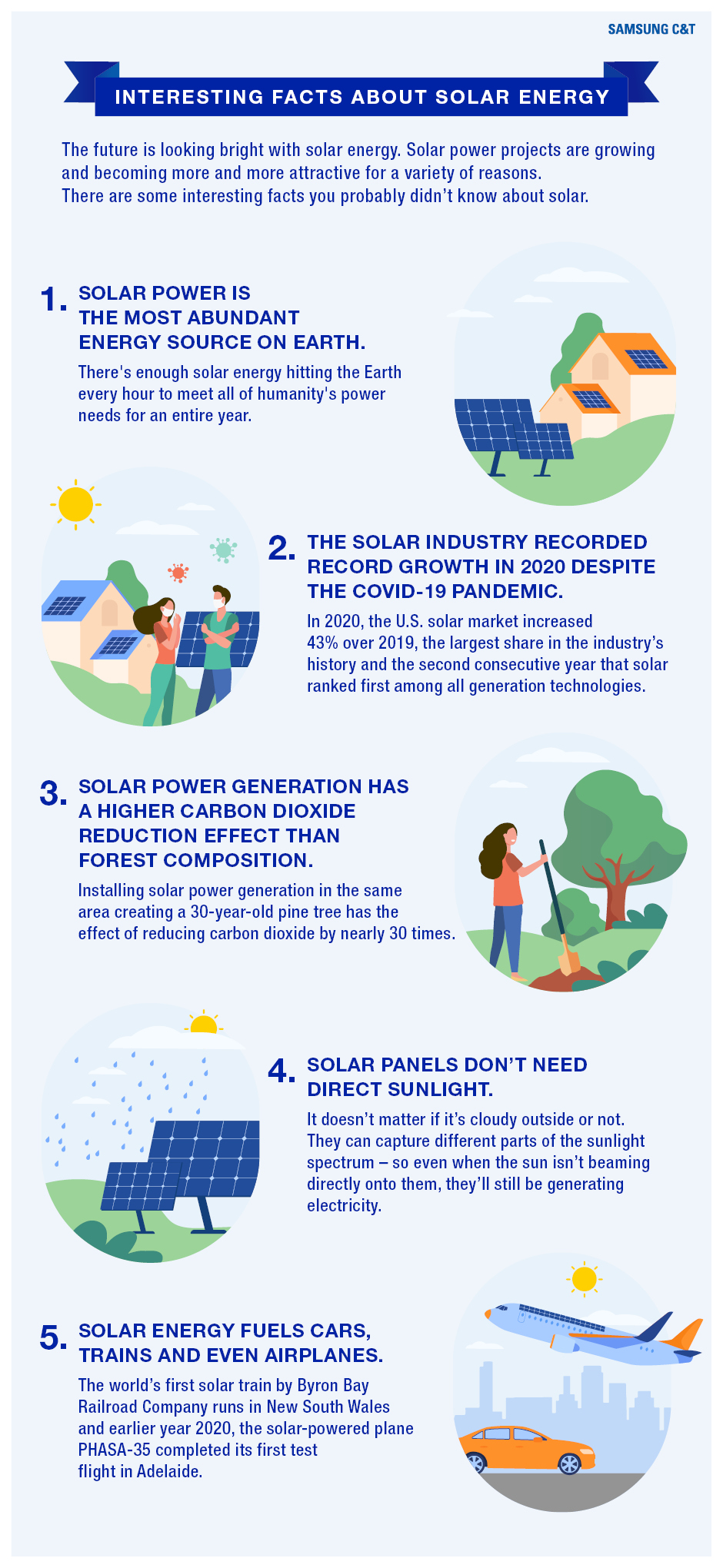 Samsung C&T's place under the sun
Samsung C&T Trading & Investment Group is making efforts in the solar power generation sector, focusing on North America, to reduce global carbon – and is closely watching market changes.
For instance, a major project carried out by the company has seen the creation of a 1,369MW wind and solar power complex in Ontario, Canada. Samsung C&T also has a total of 6.5 GW of solar power development pipelines across the United States, viewing the solar energy business as a new growth engine. From an environmental standpoint, the company's solar pipelines have the impact of reducing carbon emissions.
Samsung C&T is expected to continue its growth by actively developing promising fields for the future such as solar energy, hydrogen, e-commerce, and electric vehicles – using eco-friendly, digital, and mobility-related activities as a new growth engine.