How was the past year? That's the question many of us will ask ourselves as 2017 comes to a close.
Samsung C&T has brought meaningful changes to hundreds of thousands of people around the world over the past 12 months. From innovative construction projects to cutting-edge entertainment, our business network around the world has brought new ideas to diverse fields.
With 2018 just around the corner, let's take a look at some of our most memorable moments from 2017.
Celebrating Juun.J's 10th Birthday at Paris Men's Fashion Week
Since debuting his namesake label in 2007, designer Juun.J has been pushing the boundaries of menswear, gaining legions of fans worldwide that includes celebrities such as Kanye West, Rihanna and Drake.
A decade after the label's critically acclaimed debut, Juun.J celebrated its 10th anniversary at Paris Men's Fashion Week by unveiling the "Archive" collection. Drawing on past collections, the designer reworked some of the label's most iconic pieces for the F/W '17 show, while also breaking new ground by including 11 female modes in the lineup to bring to life his "genderless" design philosophy.
Altering Your Sense of Reality at Everland
Being headquartered in South Korea, a global technological innovation hub, Samsung C&T has always sought exciting ways to use the latest technologies.
In 2017, the company expanded the boundaries of theme park entertainment by literally taking visitors to another dimension. Everland, South Korea's largest theme park, turbo-boosted many of its rides using the latest Virtual Reality (VR) technology. Over 100,000 visitors rode Robot VR after it opened for just 6 months, while Gyro VR and Haunted House VR gave many an unforgettable adrenaline rush.
Opening the First Korean Built Power Plant in Chile
After nearly 3 years of construction, the Kelar Power Plant in Chile was successfully completed on May 26th.
Located in the port city of Antofagasta, Northern Chile, the power plant was constructed by Samsung C&T and KOSPO (Korean Southern Power Co., Ltd). Its completion was a significant milestone as the facility is the first private power plant constructed and operated by Korean companies in the country.
The 517 MW gas-fired combined-cycle power plant supplies energy to BHP Billiton's copper mines in the region. It's also expected to replace coal-based power generation in Chile, offsetting up to 1.5 million tons of CO2 emissions per year.
Winning the Annual HSE Performance Excellence Award for Worksite Safety
Onsite safety is a value Samsung C&T brings to all its construction projects. And no project represents this commitment better than the liquified natural gas (LNG) terminal in Pengerang, Malaysia.
Dubbed RGT-2, Samsung C&T was contracted by Malaysian oil and gas giant Petronas to build the sprawling LNG terminal in just 27 months – a considerable feat for a project of this scale. Even in the face of such a tight timeframe, the company has not neglected workers' well-being. From novel construction methods to engaging drills, Samsung C&T adopted a holistic approach to ensure safety at the construction site is maintained at the highest level.
Samsung C&T's forward-thinking approach to safety has set an example for others in the industry to follow, as the project secured the annual HSE (health, safety, and environment) Performance Excellence Award from Petronas on October 12.
Completing One of the World's Greatest Infrastructure Projects
Spreading Positivity through Guardians of Hope
Giving back to communities is a principle which Samsung C&T firmly believes in. That's why the company has engaged in numerous corporate social responsibility projects over the years with the aim of sharing the profits of growth and supporting the next generation. Guardians of Hope, a project run by volunteers at the company's Caribbean Bay water park, captures this principle precisely.
Over the past year, 23 lifeguards at the water park have been providing vital underwater rehabilitation to handicapped children weekly. The volunteers helped the children relax and play in the water park's facilities, giving them opportunities to overcome physical and psychological difficulties.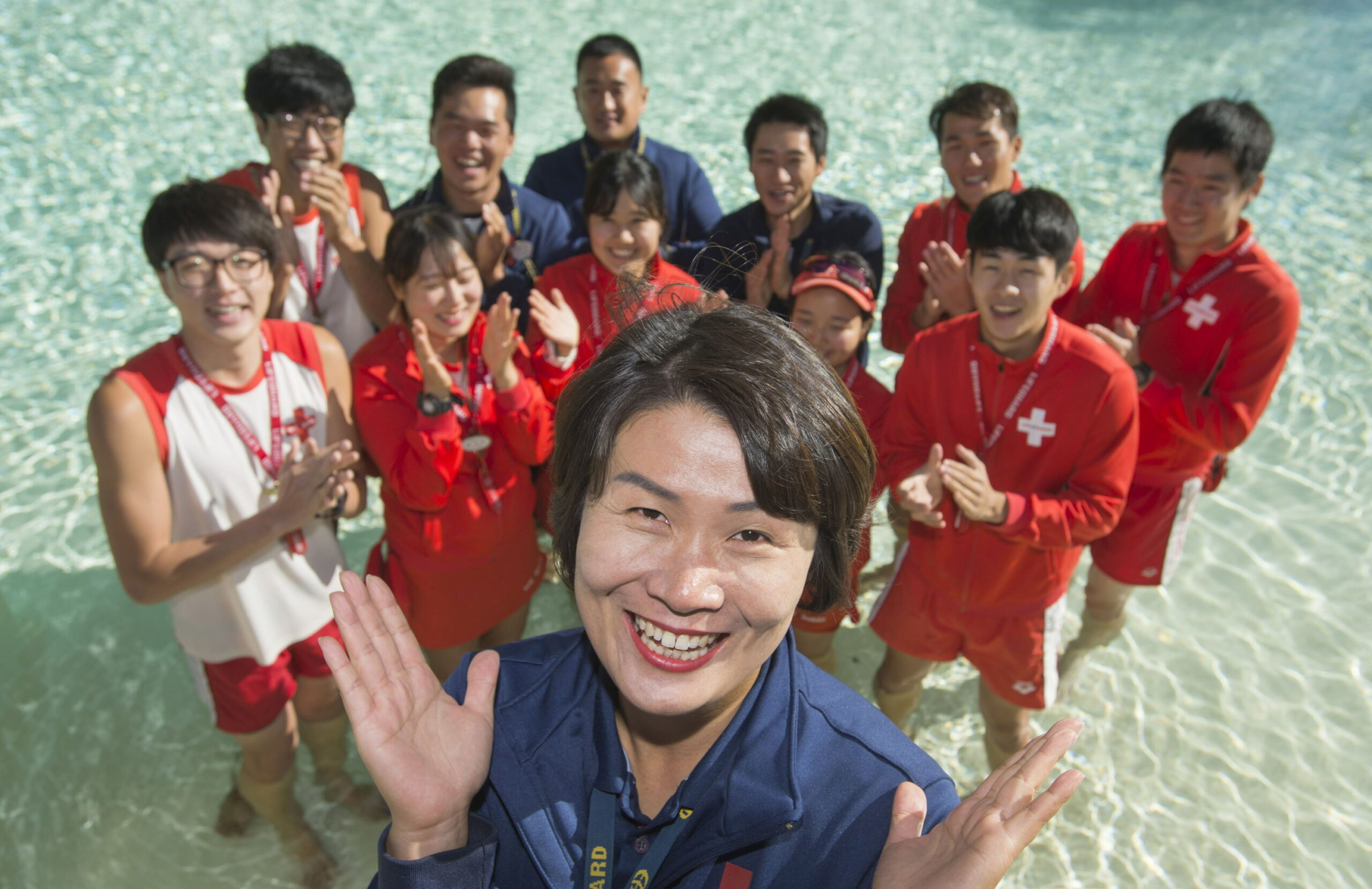 Building A Greener Future with Summerside
Our Favorite Golfer Topping the World Rankings
Training Our Guide Dog School's 200th Graduate
A special friendship was born when visually impaired university student Eun-san Cho met Se-um, his new canine companion. Not only will Se-um provide Cho with plenty of joy, but as a guide dog, he will also help the visually impaired student lead an independent life.
Se-um was the 200th graduate of Korea's largest guide dog training center, which is run by Samsung C&T in collaboration with Samsung Fire & Marine Insurance in the grounds of Everland. Since 1993, the facility has been preparing guide dogs to serve the visually impaired. Se-um was one of the 11 guide dogs that were presented to their new owners at a special ceremony on 13th November. As the new year rolls around, the school hopes to train many more puppies to help their human companions.