On the construction site, there is no such thing as a minor mistake. Even a small lapse of concentration could result in a serious injury.
That is why at Samsung C&T, safety is not just a high priority – it is a core value.
Samsung C&T has over 30 ongoing projects in the Asia-Pacific region, including countries such as Singapore, Malaysia, Indonesia, Vietnam, the Philippines, Thailand, India, Australia and Mongolia. Although all of these sites are very different, one factor unites them all. At each and every one, upholding safety standards is of paramount importance.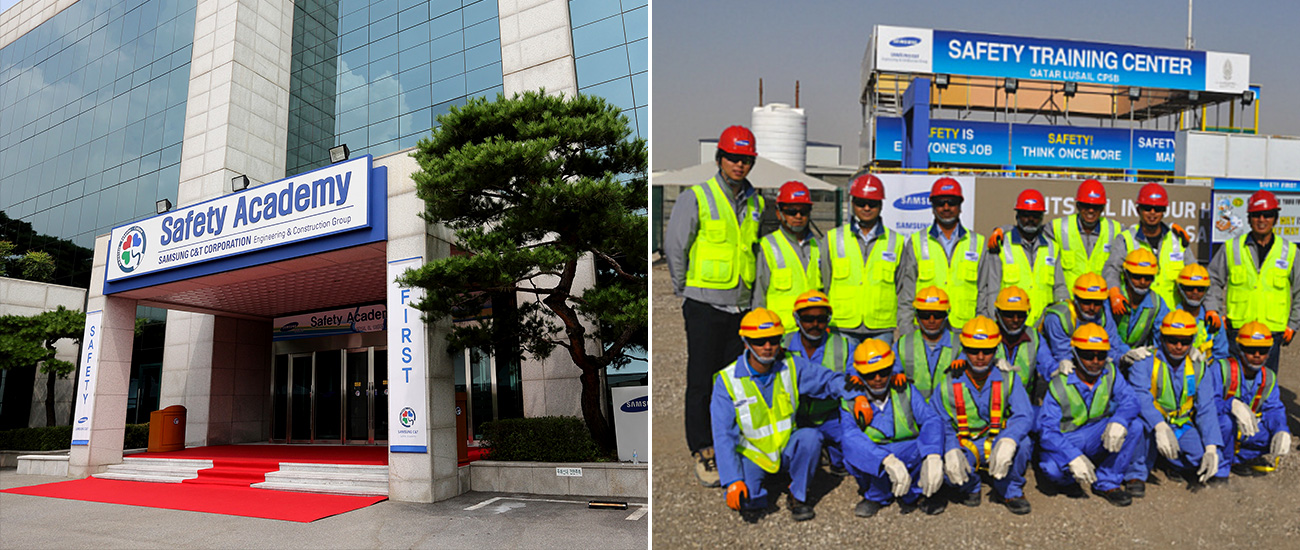 As staff members explain, however, health and safety is not just about a set of rules and regulations. It is about instilling a culture that permeates every single aspect of the construction process.
The Importance of Training
There can be no substitute for effective safety training in the building industry. This is why Samsung operates a safety center in Singapore and a comprehensive Safety Academy in Kiheung, Korea. Every month, the centers provide training on the prevention of occupational hazards for scores of employees.
As part of their time at the centers, workers get hands-on experience in the form of simulated construction-site scenarios. This teaches them how to prevent accidents resulting from falls from height, working in confined spaces, dropped objects, fires and electrocution.
By going through each accident scenario, workers learn the importance of preventative methods, including using situation-appropriate safety gear. Trainees also learn how to safely handle frame scaffoldings, temporary structures and proper rigging and lifting techniques.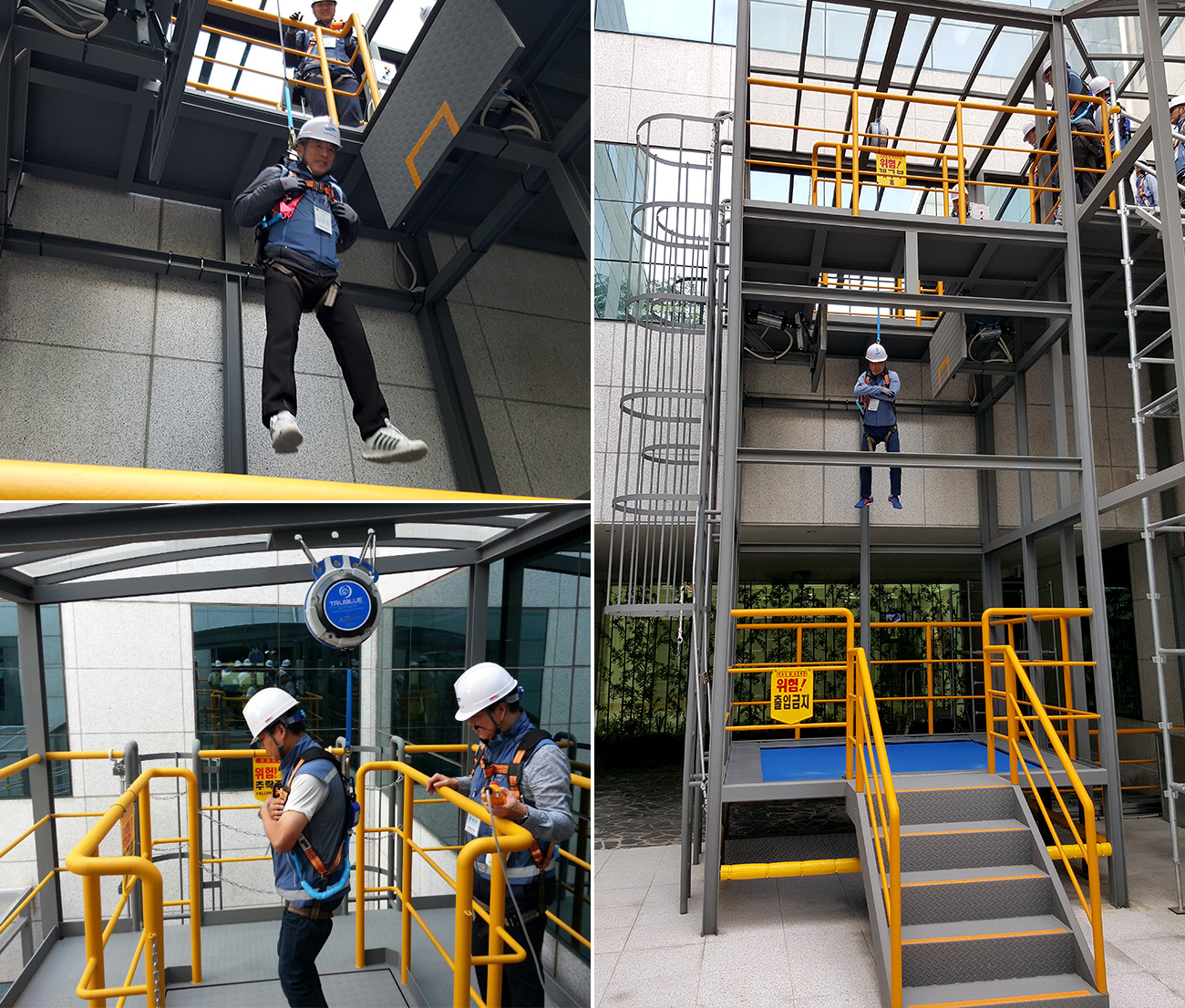 In addition to its safety training facilities, Samsung C&T also requires that trainers and senior managers provide visual demonstrations and practical training pertaining to different aspects of worksite safety. As construction projects vary a lot, experts can often provide specific help regarding the unique safety requirements needed to perform a given task.
Samsung C&T also regularly produces educational materials, such as brochures and videos. And as the company operates projects all over the world, these materials are translated to cater for the linguistic needs of its international workforce.
These resources are shared through the company's intranet, meaning employees can get their hands on up-to-date safety education wherever – and whenever – they need it.
Dae Young Chung, Executive Vice President of the construction group's HSE division, explains, "We focus on improving relationships to foster trust between our employees. That helps safety culture spread across all of our sites."
The company has also built an internal communication system, which allows employees to notify each other and share news regarding safety issues.
Staff members everywhere can immediately log accident reports and register "near miss" cases via the company's messenger system. This allows for a transparent post-accident management process and helps prevent future accidents.
In addition, Samsung C&T has worked hard to improve its on-site facilities, including dormitories, bathrooms and recreational rooms, with health and safety issues at the forefront. Every month, the company holds Safety Day, where awards are handed out to employees who have demonstrated exceptional practical knowledge of safety procedures.
Safety as a Company Value
Last year, as part of continuing efforts to maintain the highest safety standards, Samsung C&T hired safety guru Brian Spraker.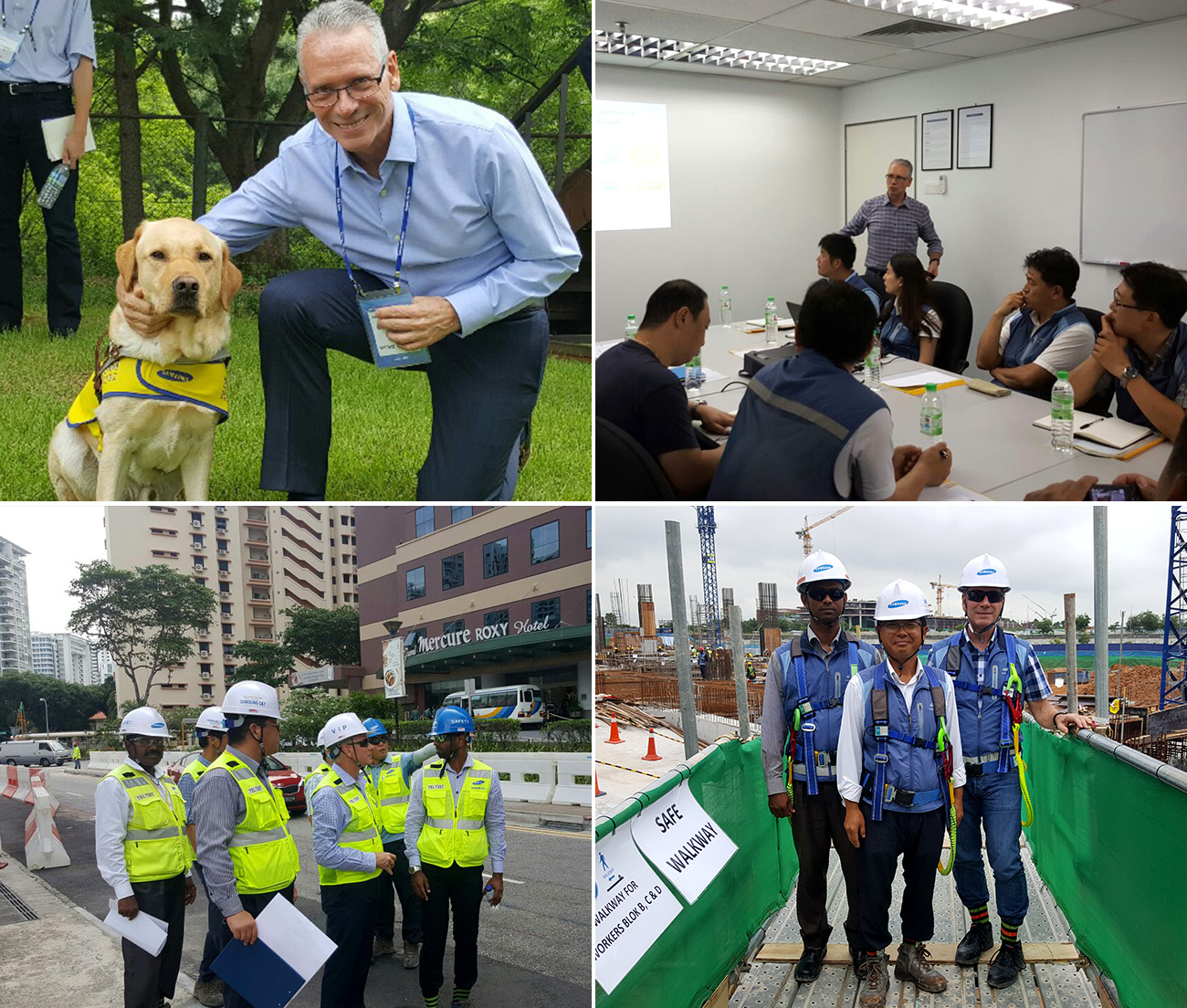 Brian leads the Overseas HSE Improvement Team, which is based at the company's headquarters in Korea. He has over 25 years of experience working on a variety of construction projects around the world, including refineries, chemical plants, steel mills, power plants and commercial building projects.
Originally from Idaho, he has lived and worked in over 15 different countries including China, Australia, India, Nigeria and the UAE. Brian says that he approaches every new project by first asking the on-site construction manager a question: "Is your site safe enough that you would feel comfortable having your child or parent work here?"
If managers think of staff as family, they will do a better job of ensuring safety, Brian insists. He explains, "If a company really holds safety as a value, then no one questions taking a little longer, or spending a little extra money, as long as that makes the site a safer place to work.  If safety is truly a value, people will automatically do things the safest way. They will never consider any other way."
Brian understands that safety is not only a moral responsibility, but also good business. "There is an ethical and moral element to safety, meaning that it's obviously right to protect our employees," he says. "But it's also good business in that it leads to efficiency, better morale, increased productivity, and a better company image."
International Recognition
Maintaining the highest-possible safety and quality standards is its own reward, but in recent years, the company has received international acclaim for its work in this area.
Samsung C&T was presented with a Grand Safety Award by the Hong Kong Construction Industry Council and Development Bureau for its continuing work on the new Shatin-Central railway link project in June of this year. This marks the second year in a row that the company has won the prize.
The Hong Kong Economic Times praised Samsung C&T's work on the tunnel as "an exemplary model that needs to be followed on future mega-projects built in dense urban environments."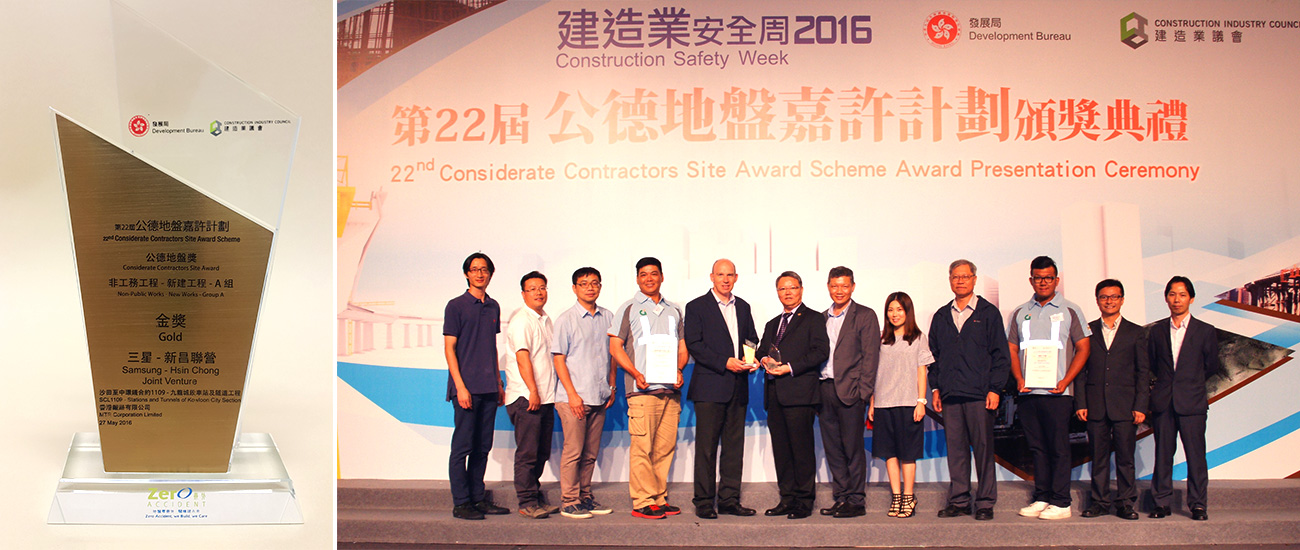 In May, Samsung C&T was also recognized by Singapore's Land Transport Authority for maintaining a zero accident record during the Marina Coastal Expressway project, which began construction at the end of 2008, and took over 10 million work-hours to complete.
In the past, construction was seen as a high-risk industry. By emphasizing health and safety as a top priority, however, constructors strive to minimize the chance of experiencing accidents in the workplace.
Investment, training, experience and improved communication can help staff and managers enjoy a safer day at work – and the peace of mind that goes with it. When safety becomes a company-wide culture, absolutely everybody benefits.