Green building is no longer a mere buzzword in the construction world. Contractors are having to adapt fast to meet the needs of customers and governments who want their homes and offices to be both sustainable and eco-friendly. For example, McGraw Hill claims that in 2005, only two percent of new residential construction projects were green. By 2018, however, that number is expected to hit the 40 percent mark.
This remarkable turnaround is particularly noticeable in Asia, where green growth projects are becoming increasingly common. Indeed, 21 percent of the World Green Building Council's member states hail from Asia-Pacific, while analysts say that the region is leading the world's green building material market.
So what does green construction growth look like in Asia? Here are a few recent (and future) projects from the region that show how far sustainability drives have already come.
1. Korea's National Institute of Ecology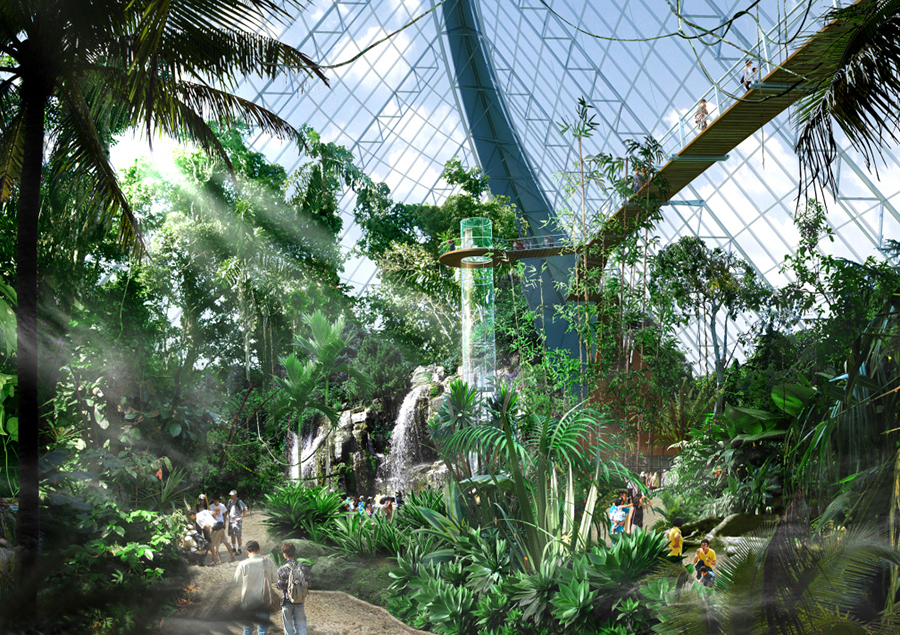 Samsung C&T's brand-new National Institute of Ecology, in Seocheon, South Chungcheong Province, features an Ecorium that combines research, education, conservation and leisure facilities. It was built in conjunction with Korea's Ministry of Environment, and offers visitors of all ages a very different kind of day out. Housing 4,500 species of animals and plants, the new attraction allows scientists to work on conservation research projects while children and adults alike investigate five climate halls: a tropical jungle, a desert, a Mediterranean zone, a temperate area and a polar section. In the desert section, for example, visitors can see nine species of reptiles, along with over 450 species of cacti and other desert plants. The institute is also home to the Children's Eco-library, with over a million ecological science books available for young learners' perusal.
Constructors built the Ecorium's triple-glazed windows with a view to maximizing natural light sources. This step reduces the need for indoor lighting and heating in winter – and allows plants and animals to bask in the warm rays of the sun all year round. Engineers also incorporated green building techniques for the project, aiming to use 70 percent less energy than conventional construction projects. To meet this goal, Samsung C&T used solar and geothermal power, as well other forms of renewable energy.
2. China's Vertical Forest
The twin, vegetation-covered Bosco Verticale towers have become a landmark in Italy's Milan since opening in 2014. But Nanjing's Pukou District is now set to go one better, with an ambitious new project built by the same architects – but rising to almost twice the height. At 200m tall, the towers will house over 1,100 trees and 2,500 cascading plants, and cover a total of 6,000sqm. Designers say the plants will produce 60kg of oxygen a day. The project, slated to open next year, will feature offices, a museum, a green architecture school and a rooftop club, in addition to a 247-room hotel, a shopping center and even a conference hall.
3. Vietnam's Tree Hotels and City Halls
Green projects are springing up fast in Vietnam to meet the demands of the country's fast-expanding tourist industry. Last year, the city of Hoi An unveiled the Atlas Hotel, whose façade is clad with locally sourced sandstone and covered in lush greenery. The plants not only provide solar shading, but also help ventilate the hotel with cool air. With perforated stone walls, air flows into the hotel freely, helping the building to dramatically reduce its air conditioner usage. Companies are also turning to sustainable bamboo as a primary building material on a range of new projects, while an ambitious new city hall plan in Bac Ninh City aims to turn a busy urban space into a vertical park. Analysts claiming the project could become a "catalyst for future green developments in the area."
4. Japan's Kyocera Green Curtains
Japanese IT firm Kyocera this year marks the 10th anniversary of its Green Curtains project this year. The initiative was launched in 2007 at a factory in the Nagano Prefecture, in conjunction with the government and environmental NGOs. Its aims to reduce the factory's environmental impact, and saw staff cultivate a network of climbing plants that covered the building like giant, organic curtains. Since 2007, the company has expanded this initiative to a total of 27 sites, claiming that if laid end-to-end, its Green Curtains would stretch out for a combined 710m. The company also says the climbing greenery absorbs a total of 10,000kg of carbon dioxide per year.
5. Thailand's Vertical Village
One Bangkok, slated to open in 2021, will be Thailand's first Leadership in Energy and Environmental Design (LEED) platinum-certified residential project. Located near Bangkok's Lumpini Park, the 16.7-acre mixed-use development includes luxury amenities and public spaces, as well as homes. The complex will feature considerable amounts of green space and will make use of permeable materials that retain rainwater, reduce runoff and facilitate absorption – helping replenish groundwater resources. With centralized energy and water-management systems helping maximize efficiency, the development will also feature cascading green terraces and sky garden networks.