Is the day coming when the mobile phone replaces the mortar trowel as the most important tool on the building site?
The idea may sound farfetched to some. But to those at the very forefront of construction IT innovation, recent developments have made it appear very plausible indeed – and arriving sooner than we think.
Already, smart mobile devices like tablets and phones have become vital pieces of equipment in the field, affording workers the ability to communicate faster and view interactive 3-D models, no matter where they are.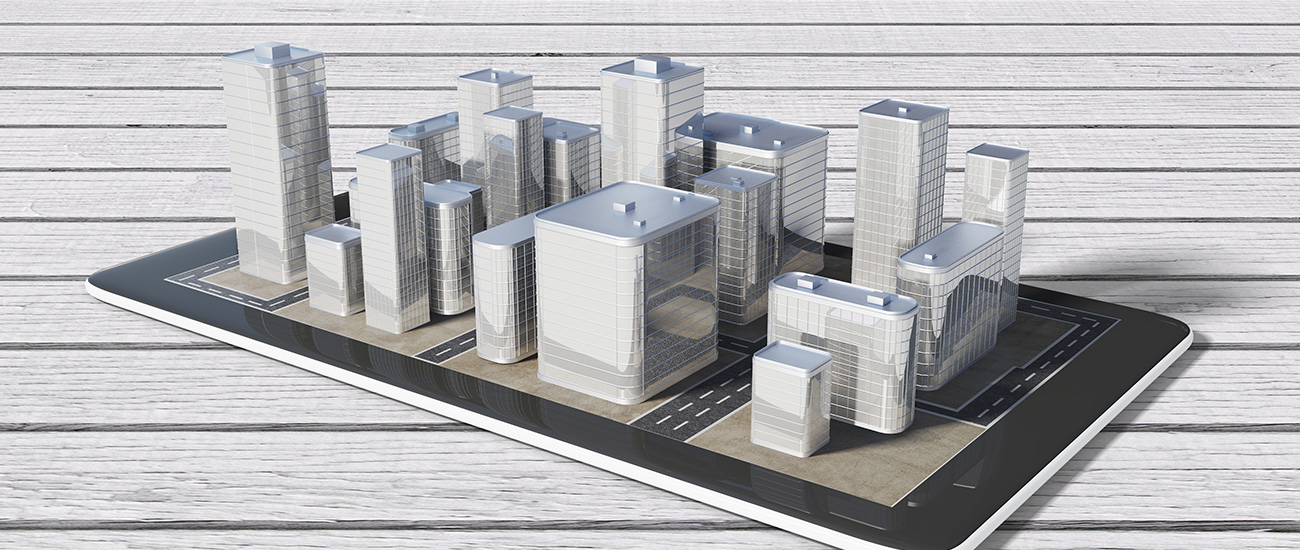 However, smart apps mean that unlike conventional hardware, modern mobile devices are almost infinitely customizable. Construction companies have realized this fact, and are thus now looking for ways to introduce smart, digital technology into what was once a strictly analog industry.
Most construction software advocates focus on apps' ability to help reduce the use of paper documentation. But although digitizing the construction site does help reduce waste and improve efficiency, some developers and constructors are hoping to achieve much more than this.
Indeed, the latest construction apps allow architect-partner-subcontractor collaboration, real-time bidding and even offer advanced Building Information Modeling (BIM) software access.
Some new apps even feature advanced tools that convert home images into interactive 3-D models. Contractors can use solutions like these to take measurements or to show clients elements of proposed exterior design features. Drone engineers have also unveiled apps that allow builders to capture 360-degree aerial footage of building sites using drone-mounted cameras, allowing for faster and more efficient surveys.
Meanwhile, researchers at New York University have recently unveiled an augmented reality (AR) app that can operate robot swarms via Wi-Fi. With technology like this, builders might one day be able to automate hazardous tasks and work faster than ever – using existing smartphone hardware.
It is not just third-party developers and engineering researchers who are making headway in the construction app game. Some contractors, like Samsung C&T, have even begun commissioning or developing their own mobile-enabled app solutions, with a view to improving their on-site operations.
Samsung C&T, for instance, in 2015 unveiled its WE app, a multi-function solution created to help eliminate inefficiency, boost overall quality and lessen the environmental impact of construction. The W in WE stands for Work, but the E has a triple meaning – it stands for Efficiency, Elaborately and Eco-Friendly, underlining how far-reaching this app is intended to be.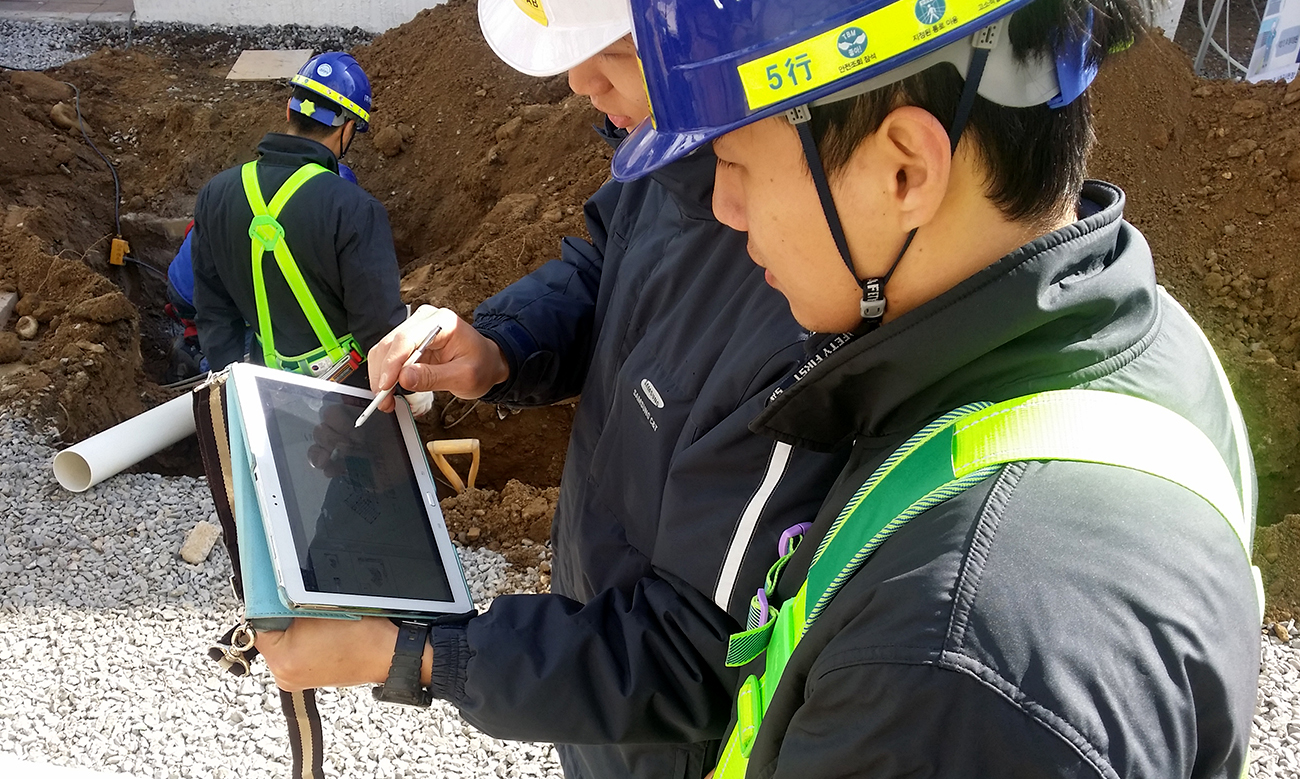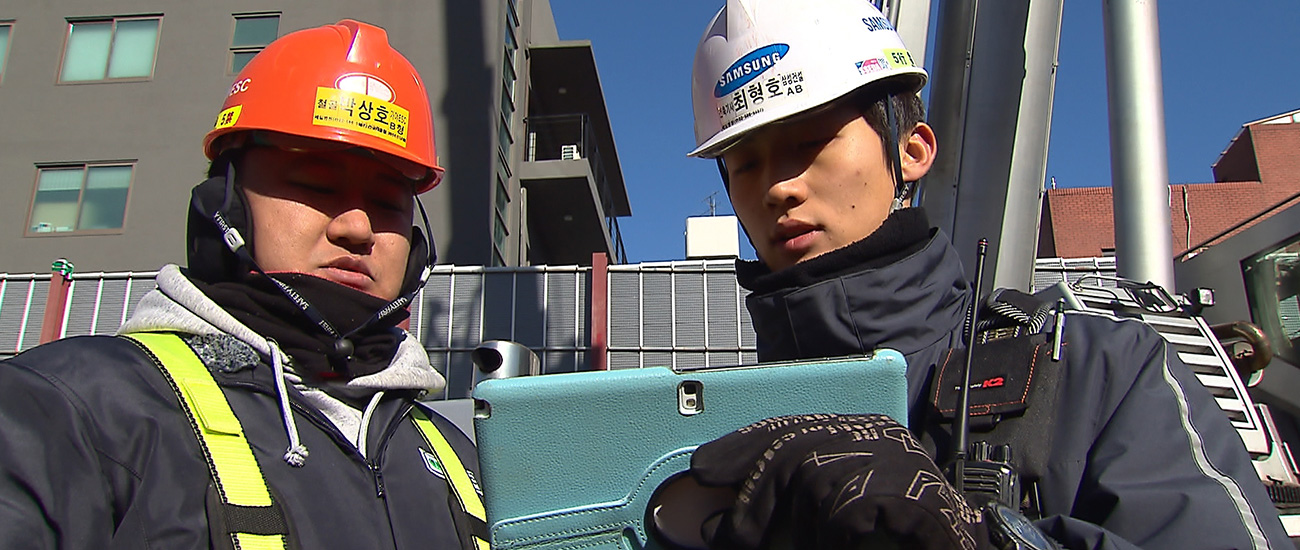 Like many mobile-based construction software platforms, WE acts as a video-enabled communication interface for staff and subcontractors. While not its only feature, this alone is a major benefit for sites, as technical assistance and multi-site meetings can be conducted online, saving a great deal of travel time between sites and reducing decision-making time. Additionally, through features like Site-Edu, live or recorded training sessions can be conducted right in the field. This gives employees needed information on the spot, allowing them to apply their new knowledge immediately.
In addition, WE also acts as a one-stop database for plans and timesheets, reducing the amount of paper needed onsite – ideal for paperless building site projects. WE can issue detailed work orders which then are immediately forwarded to suppliers, who then can fill orders faster and more accurately.
But WE's developers have added further functionality to the app. Its safety management menus allow managers to conduct self-inspections, provide updated information to onsite staff and share updated work plans.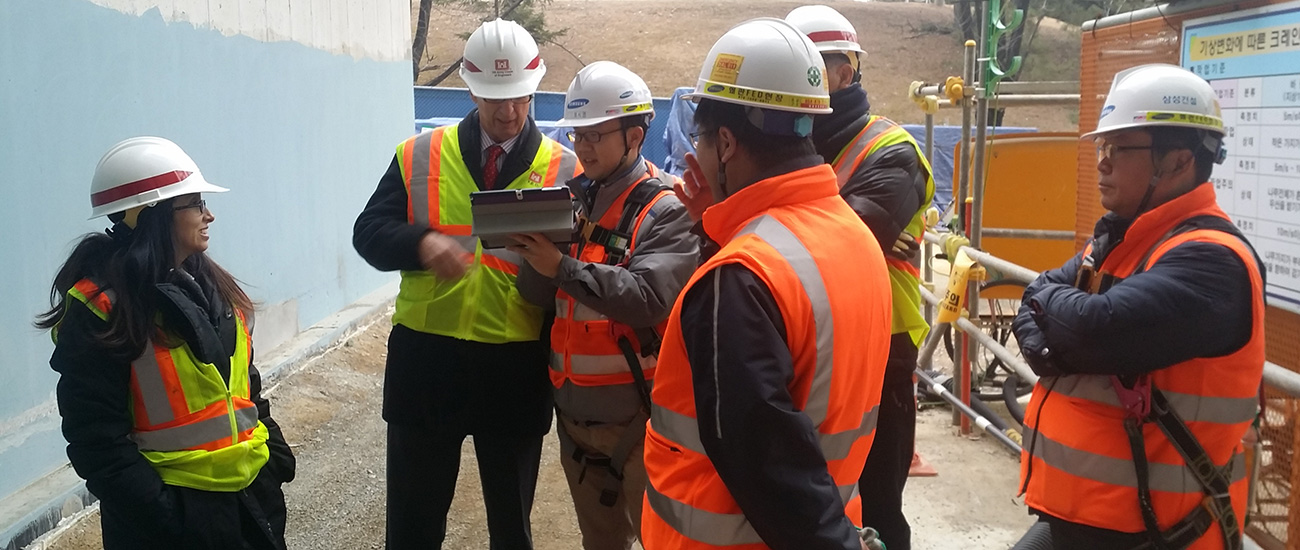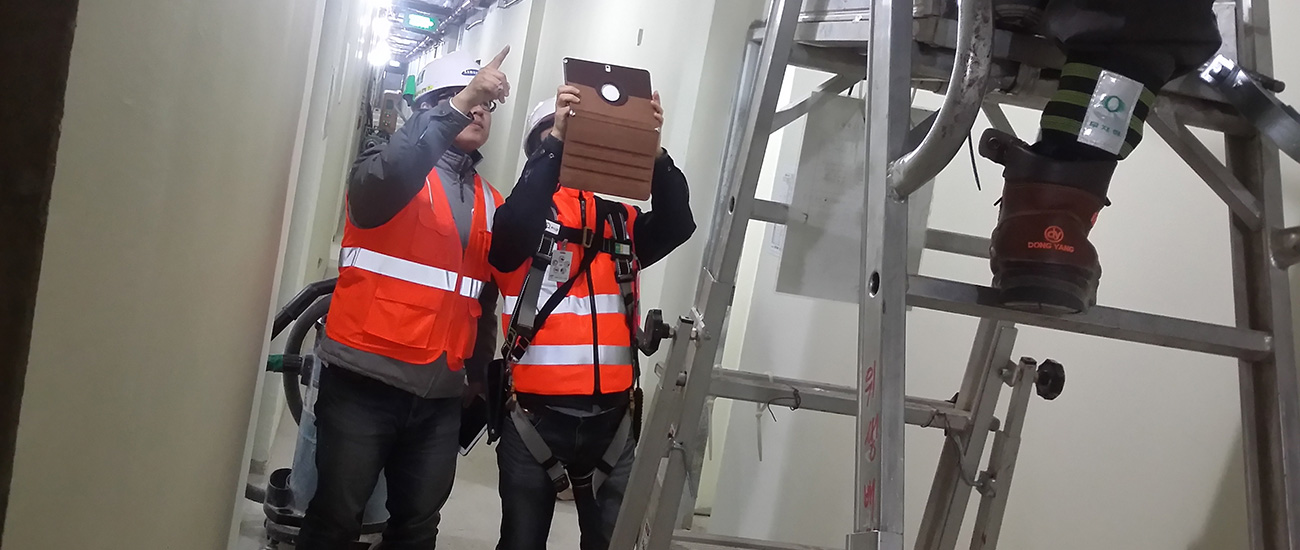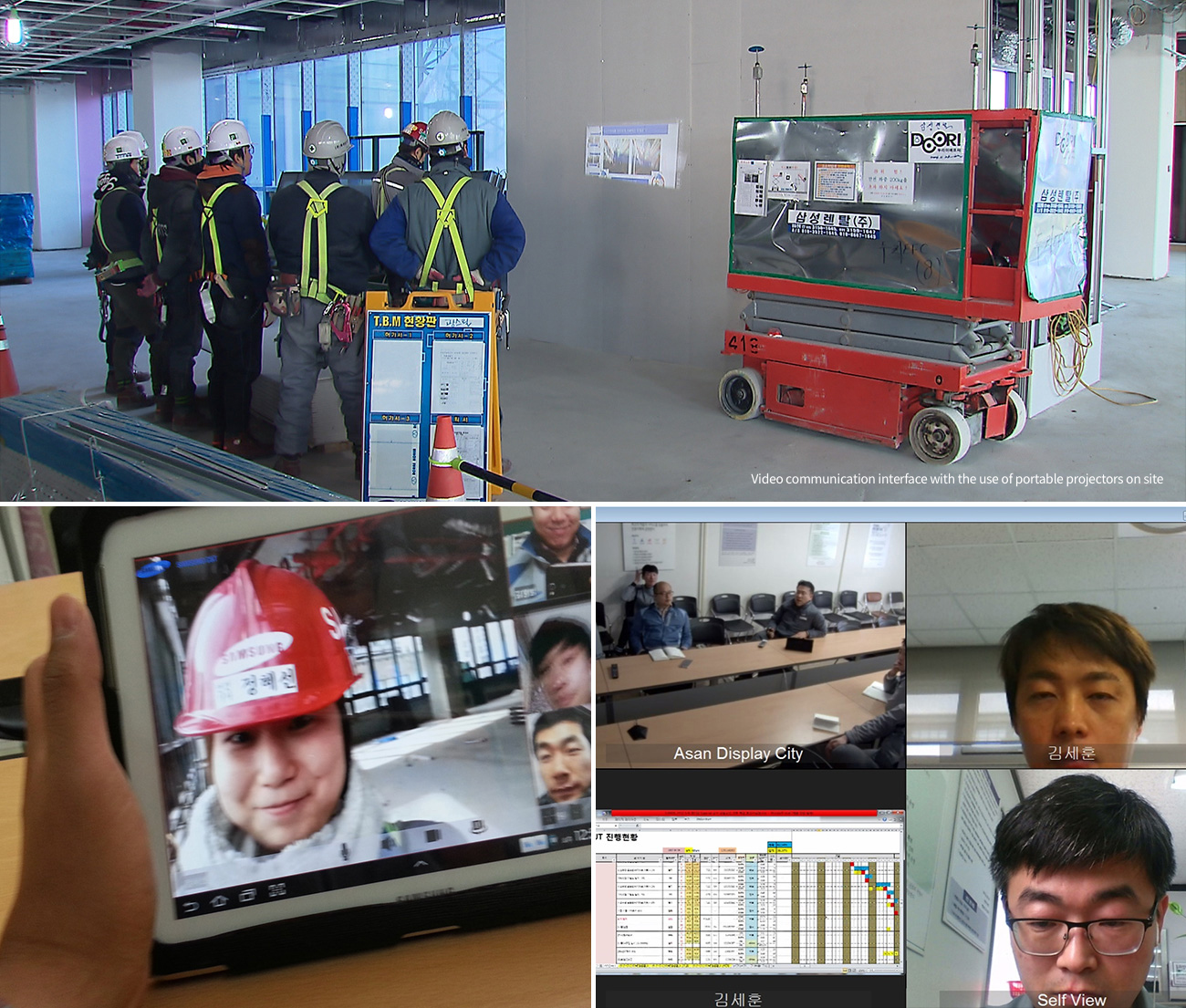 Hyungho Choi, a construction site Safety Enginner at Samsung C&T, uses WE applications for a digital experience at the project site because they make it easier to update and work with floor plans.
"Unlike before, with all the plans and information uploaded onto [my] tablet PC, measurements can be done on the spot and floor plans can be transferred and shared real-time. The best thing about it is that I don't have to carry floor plans around anymore. And I can go over any issues about floor plans without leaving the site. That is why I recommend this app."
It is still early days for the WE app, but its creators remain optimistic about its future. WE has already been successfully deployed on a range of Samsung C&T building sites, including large-scale residential projects. And developers are now working on adding new layers of functionality for future updates.
The number of new apps available for mobile platforms continues to rise by the week. So it is safe to bet that in the years to come, we will see a lot more construction apps released, not only from third-party developers, but also from contractors.
Phones have already become indispensable on the building site, but now their software is starting to follow suit. As the construction app race continues to pick up pace, the industry will see even more new features and innovations in how projects are managed – and builders and sites will see the benefits.