Under the tightly packed streets of Singapore lies a subway system that connects a population of 5.6 million on the island-city every day.
The sprawling underground network is expanding, with additional legs being added here and there. Digging tunnels for trains and platforms underground is by no means simple. The potential of disrupting the foundation of surrounding buildings, water pipes, telecommunications lines, and everything else hidden from public sight, makes the mission exceedingly complicated.
It's the responsibility of construction designers like Daphne Yip at Samsung C&T's Singapore office to ensure all the moving parts are fine-tuned to perfection. She coordinates every aspect of the project influenced by design – in many ways acting just like an orchestra conductor.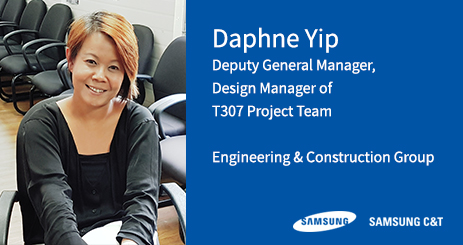 Design Manager Yip is part of Singapore's Thomson-East Coast Line (TEL) T307 project, which centers on the construction of the Marine Parade station and its connecting tunnels in the densely populated southeastern district.
Yip worked at consultancy firms specializing in geotechnical design for 12 years before joining Samsung C&T in 2012. She first worked at the Seoul headquarters for four years, which gave her a close-up view of main discussions and decision-making procedures, before she was sent back to Singapore for the subway project.
"Becoming the design manager for T307 was a major step for me. I was unsure if I'd be capable of embarking on this new adventure, since it was my first time to be on a construction site," Yip recalled.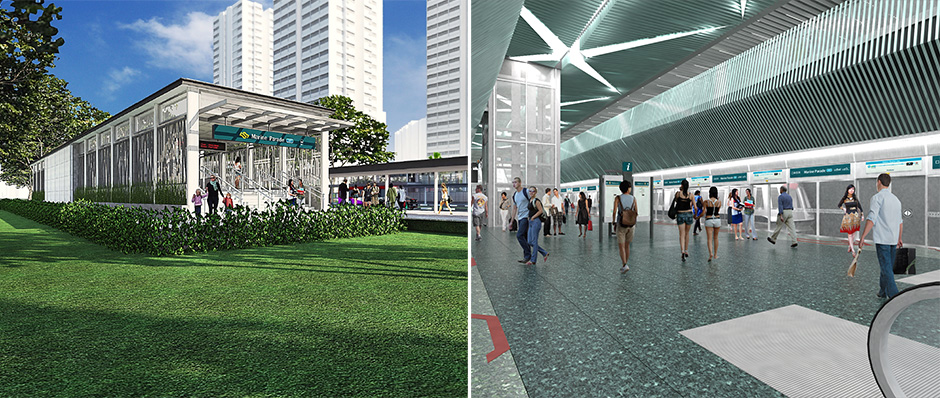 The most important task for a construction designer, especially when it comes to working on a major project like T307, is to develop and modify designs to quickly accommodate evolving needs on site.
This is why Yip says it makes sense for the design lead on the tender to extend that role into the field once the project swings into motion. "It reduces the time required for people to understand the project in the early mobilization stage, which is critical in getting work on site going," she explained.
As the project moves forward and the team encounters new variables, Yip finds herself facing an ever-evolving to-do list that demands the following: providing advice on design related changes in construction methodology, offering cost estimations, finding ways to meet government regulations pertaining to design and safety, all while ensuring work progresses according to the given timeline.
Her role is in many ways all-encompassing, as the boundary of design blends into all other aspects of the project from beginning to end.
"Whenever I'm given the responsibility to perform a certain task, I believe I should do it wholeheartedly with the mindset of giving my all. If there is any part of selfishness within me that develops during the course of my work, it would hurt our teamwork, which neither benefits the company nor me," Yip said.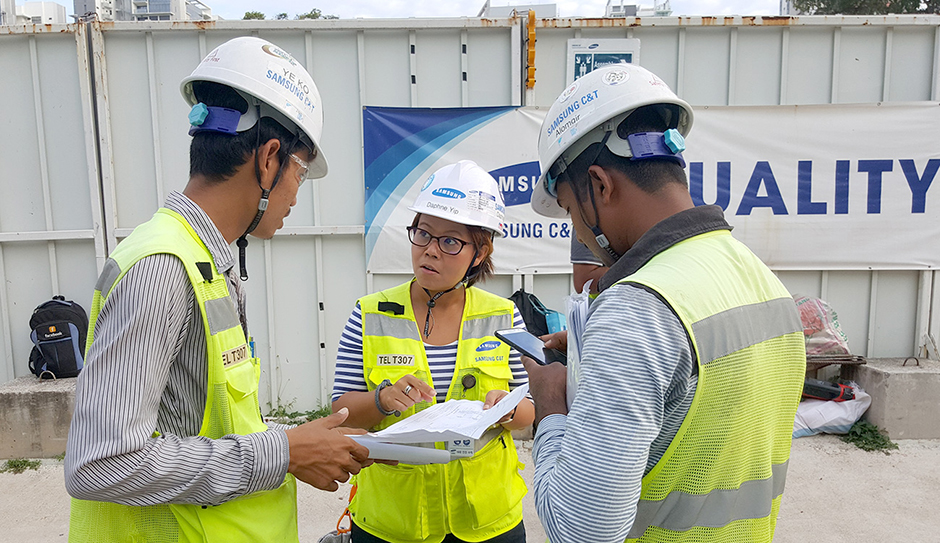 On top of the existing complexities, Yip says, what makes underground projects uniquely difficult is the fact that there is only so much planning that can be done in advance. Never can a plan be considered complete, given that no one can look at every element hidden underground in one sweeping view.
"Because we're unable to ascertain what kind of obstructions are present underground, this may result in scenarios that we could not have foreseen during the tender stage, increasing our risks and costs," Yip explained.
She says to minimize the unexpected, extensive ground investigation is crucial in projects such as the T307. Boreholes are used to determine the ground conditions and the environment specific to the site. Studying other cases from the past and using them as guidelines can also help with better decision-making.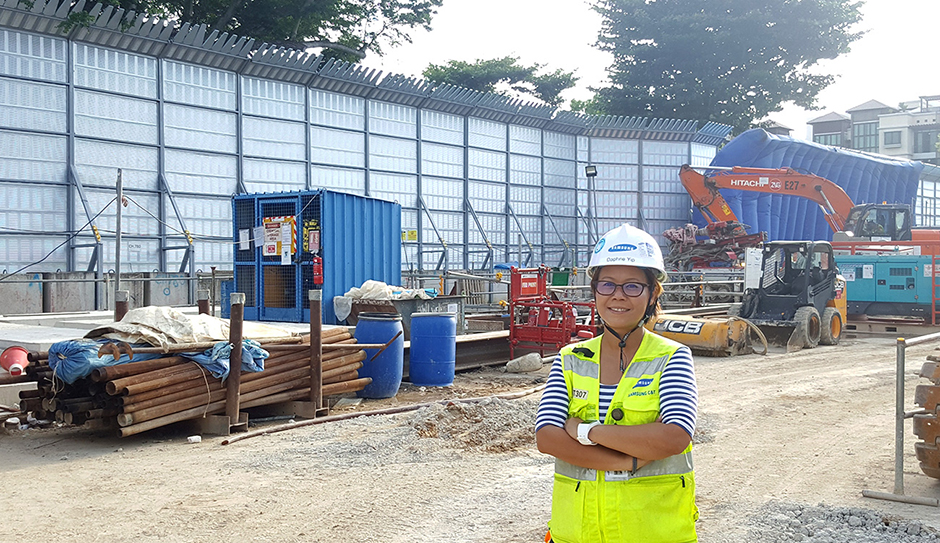 Juggling Different Interests
Despite all the preparation, the work has still been challenging. The T307 drainage diversion had to be completed before construction of the main station could commence. However, the team faced numerous complications as it ran close to many adjacent property ingresses and egresses as well as existing utilities.
To divert all this, more time would have been required. Facing this hurdle, the team on site proposed temporarily closing off a major junction, which would help propel the project forward. Yip and her team members were tasked with securing approval from the traffic management agency, and explaining to the public why the shutdown was required, using 3D building information modeling (BIM).
It took a long eight months to obtain approval, but Yip said there's always something to be learned in the process.
"We could see that every project site comes with its own difficulties in one way or another, but more importantly that teamwork is required to overcome the difficulties for every site," she said.
Coordinating with external parties such as those from surrounding buildings and working with authorities to ensure the designs meet regulations and safety standards are all moving parts that Yip juggles on a daily basis. These responsibilities have turned her into an avid mediator, who's good at listening, balancing the needs of each party, and bringing them all together.
"The challenges I face on site vary each day. Because my job involves a lot of meetings and discussions every day, it requires me to have effective communication skills, whether it be with internal or external parties," Yip said. "If we understand the other party, it's much easier to work with them and come up with solutions that best benefit the project and company."
It's probably this quality that makes Yip popular with her colleagues. After all, she understands that for work to be enjoyable, everyone needs to have an open mind. "Even if a certain situation or decision is not really acceptable to me, I try to respect the situation itself," she said.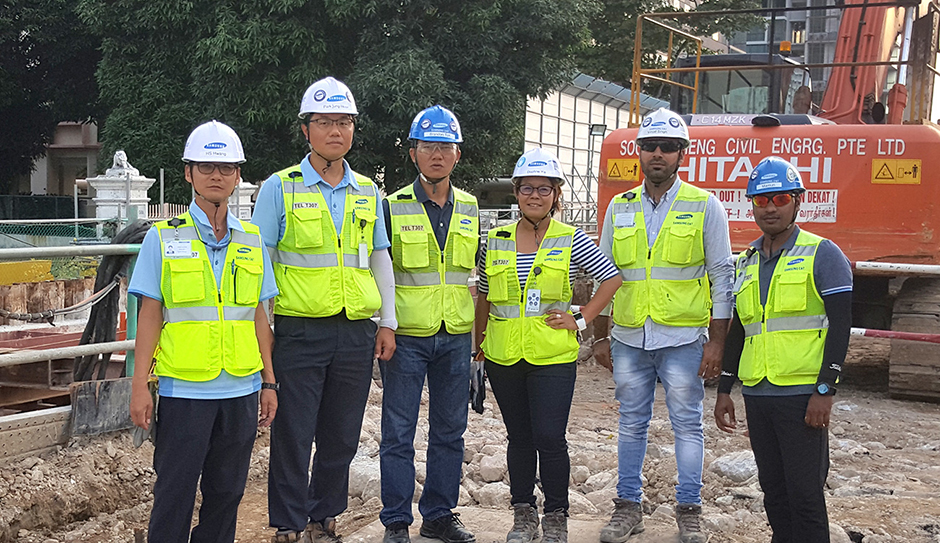 The T307 is a US$393 million project awarded to Samsung C&T back in 2015, when Singapore's Land Transport Authority (LTA) rolled out a total of 11 tenders for the East Coast Line. Out of the five bids Samsung C&T took part in, it secured two: the T307 and T313, both in which Yip participated as design lead.
Most impressive about this major coup was the fact that the company nabbed the T307 contract despite having the highest price among all six bidders – a result largely attributed to the innovative approach that pledged to reduce disruption and inconvenience for related parties.
The project involves creating an 800-meter-long drainage system and launching three tunnel boring machines (TBM), which are massive tunnel excavation machines, to create a 1,936-meter stretch underground as well as a main station.
There's still a long road ahead for the completion of the multimillion dollar project, but Yip says she's looking forward to the many challenges coming her way, especially when it comes to the phase of constructing the main station.
Once the station is built and trains are connected to other networks crisscrossing the country, instead of rushing out, Yip will likely take a step back inside to admire the endless hours of work poured into the T307 project.
"I'm the sort of person who needs to see physical output from my work in order to gain satisfaction. This is the part I like most about my work," she said, adding, "In terms of personal development, I would like to be able to experience assignments on other teams in the future so that I can develop a holistic career in the field of engineering."