The arrival of robots and automated technology on construction sites is no longer science fiction. Their adoption in the building industry solves several issues at once: They increase work efficiency, improve the working environment, make construction less labor intensive, and reduce environmental impact. Samsung C&T's Engineering & Construction Group is leading the way in introducing robots and automation to the construction industry by developing its own technologies and applying them to its work sites.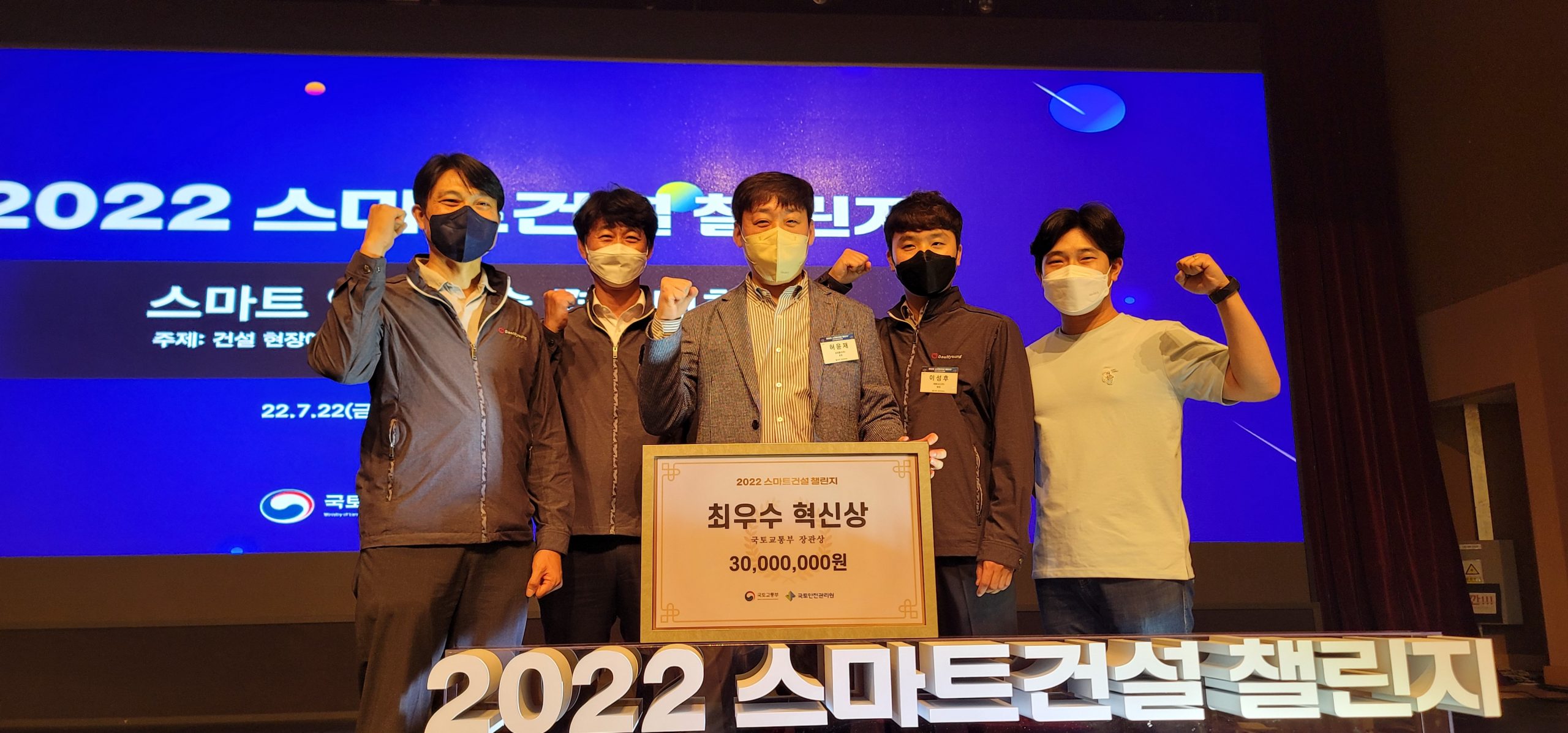 Two Awards at the Smart Construction Challenge
The annual Smart Construction Challenge held by South Korea's Ministry of Land, Infrastructure and Transport is a contest to discover innovative smart construction techniques that incorporate digital technology and support the adoption of the best practices. This year, Samsung C&T's Engineering & Construction Group picked up two awards: the Grand Prize for Innovation Award for its construction anchor robot and the Innovation Award in Smart Safety Technology for its weld spatter prevention tool.
In his award acceptance speech, Yun-Jae Heo of the Group's Construction Robotics Team said, "I am delighted that Samsung C&T Construction Robotics technology is being recognized, and the thought occurred to me that I should quickly create technologies to meet the needs of construction sites."
Meanwhile, Kee-beom Park, head of the IT Automation Technology Team at the Samsung C&T E&C, proudly declared, "With this award, I feel that our company is leading the construction industry in terms of safety and automation," adding, "It makes me want to develop technology that can be easily adopted on work sites."
Samsung C&T E&C Group submitted a total of three technologies to the smart safety management part of the contest. Let us find out more about them.
Robots that do overhead drilling and anchor installation
Overhead drilling and anchor installation are inevitable at construction sites, but these jobs are at high risk of falling accidents as they are done from high locations. Such work also causes musculoskeletal stress because of repeated bursts of drilling above the head with a heavy hammer drill.
When robots carry out these tasks, therefore, it is possible for it to be done safely and accurately while reducing risk of accidents or harm to human workers.
The first-generation Samsung C&T anchor installation robot was introduced in 2019 and 2021 saw the arrival of the third generation. Developed for the purpose of installing anchors on concrete ceilings to hang sprinkler pipes and lights in underground parking lots, this robot is now being used in the field with a safety certification based on KCs autonomous safety check report.
Samsung C&T E&C's Construction Robotics Team plans to harvest operational data through continuous monitoring to increase the degree of accuracy and applicability across various types of work sites.

Preventing fires by blocking weld spatter
Each year, countless large and small fires are caused by weld spatter created as a byproduct of the welding process. Weld spatter temperature ranges between 1600 and 3000 degrees Celsius. Depending on wind speed, direction, and height of the welding work, weld spatter can reach up to 11 meters from the welding site.
A weld spatter prevention tool could prevent fires caused by spatter. On average, welding blankets and spatter sheets worth hundreds of millions of won are used on each construction project. But once such a shield is used about 5 times, it develops rips that let welding slag through and must be discarded.
The IT Automation Technology Team of Samsung C&T developed both manual and automatic weld spatter prevention tools in collaboration with the with construction firms and other specialists.
These tools have been in use at Samsung C&T high-tech sites since 2019. It is expected that further refinement of this technology will make the tools small enough to not affect the welding work, to be easily carried by the welder, and to be lightweight enough that installation and disassembly are easy.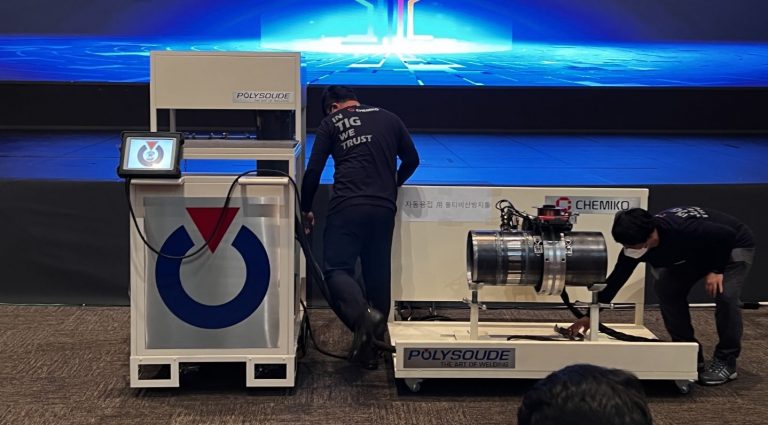 All modern buildings have several kilometers of cabling for electricity, internet, control systems, CCTV, etc. The job of laying cables is one of the most labor-intensive parts of the electrical work done in a new building. In addition, it also carries with it the risk of injuries and falls because it is done at elevation. Therefore, if this task can be automated, it will reduce the risk of on-site accidents and improve the overall work environment.
Together with an electrical engineering partner company, Samsung C&T E&C's IT Automation Technology Team developed a cable laying cart that secures driving power by creating a cogwheel shape on the tray side rail of the equipment. With cameras in both the front and back of the cart, it is possible to monitor progress immediately before and after installation in real time, satisfying both safety and quality standards.
Samsung C&T plans to develop a system so that multiple robots can move sequentially, working as a team. And this equipment will be lightened and presented as a prototype soon.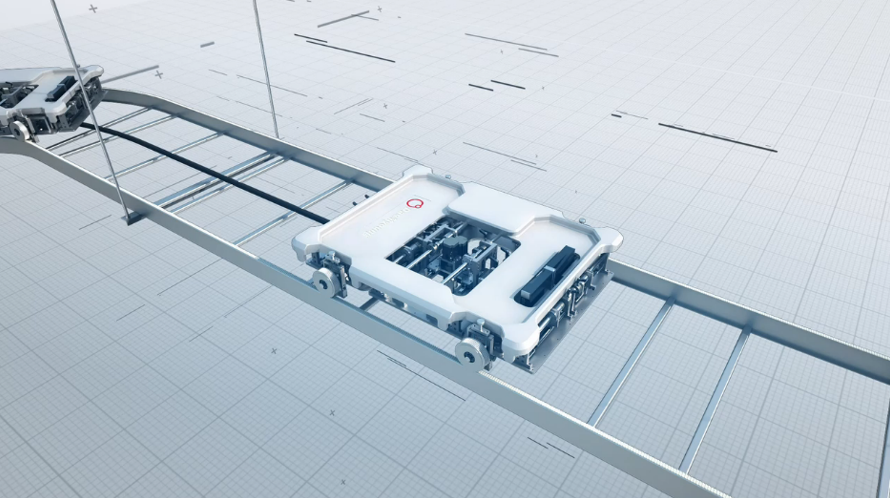 Efforts to improve safety awareness
Like all industries, the construction industry will undergo increasing digitalization and automation. At the end of July this year, Samsung C&T signed a business agreement with a Korean robotics specialist firm to create smart and safe work sites.
Samsung C&T's Engineering & Construction Group plans to build a construction robot ecosystem through close collaboration with government agencies, partners, and academia, constantly striving to create safer construction sites.