2018 is drawing to a close, and with it, another exciting year in fashion for Korean brands – particularly on the international stage. Two up-and-coming brands have especially seen their international stars grow this year: REJINA PYO and BLINDNESS, the joint winners of this year's Samsung Design & Fashion Fund (SFDF) awards. This recognition has been awarded due to both the innovative brand concepts and dynamic growth the two have shown over the last year.
The SFDF awards were established in 2005 to provide systematic and practical help to up-and-coming Korean fashion designers to grow their talents and blossom on a global stage. Each year, Samsung C&T's fashion division judges a varied pool of the brightest Korean talent to decide the winners of the SFDF awards.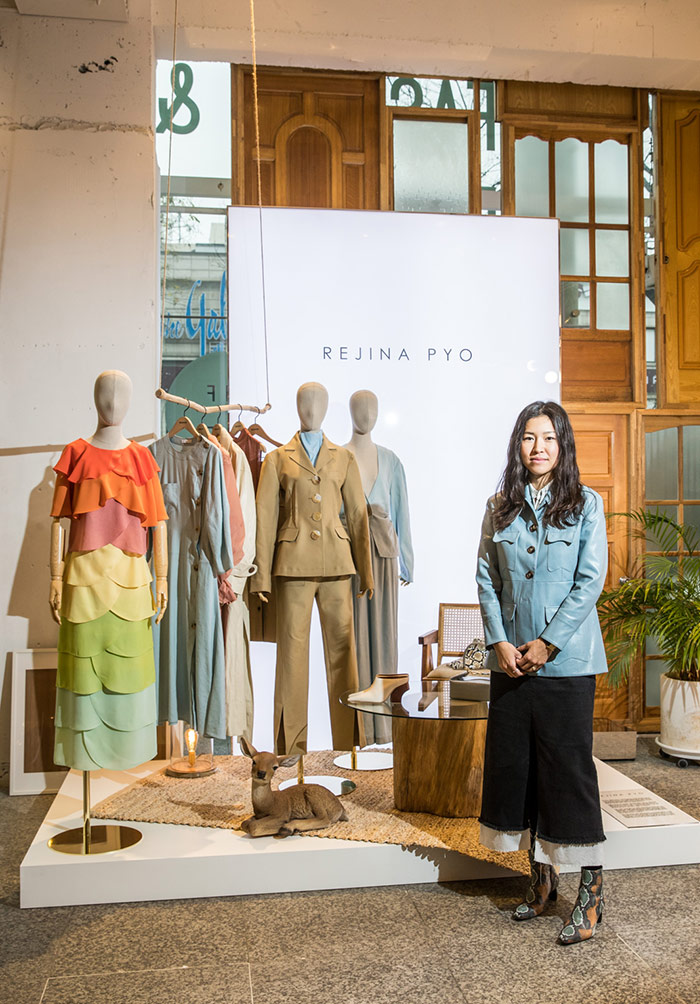 This has been an exciting year for Ji-young Pyo and her brand, REJINA PYO. 2018 marks the second time Pyo has been a SFDF winner, with the remarkable international growth demonstrated since the brand's win last year winning over the judges for a second time.
The womenswear line is known for its distinctive style made up of feminine, simple yet carefully crafted silhouettes, enhanced by a broad color palette to suit all styles. Having developed her contemporary aesthetic whilst studying for a graduate degree in Womenswear at the prestigious UK art school Central St. Martin's, Pyo has always been developing her brand with a mind for the international fashion industry.
Over the past 12 months, the brand has marked some significant milestones. PYO was featured on leading fashion website WWD's "40 of Tomorrow" list; the brand participated in London Fashion Week for the third year running; and, most impressively, REJINA PYO saw its sales double from 2017. Furthermore, 2018 marks PYO's fifth year lecturing students at CSM and London's Royal College of the Arts.
REJINA PYO is currently hosting its first pop-up shop in London's shopping mecca, Covent Garden. With the support and investment granted by this year's SFDF win, there is no doubt the brand will continue to grow.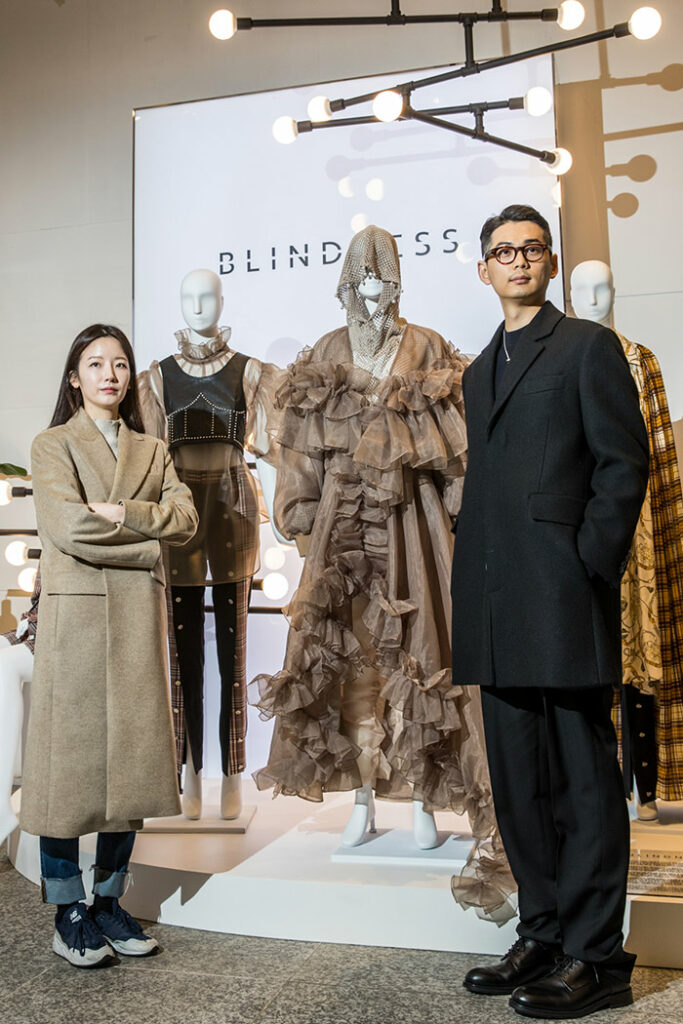 BLINDNESS was founded by fashion graduate Kyu-young Shin and became a joint venture when furniture design graduate Ji-sun Park joined shortly after. The combination of these two dynamic creative minds has since led to BLINDNESS being recognized as one of the most promising global brands, thanks to its unique and highly original identity.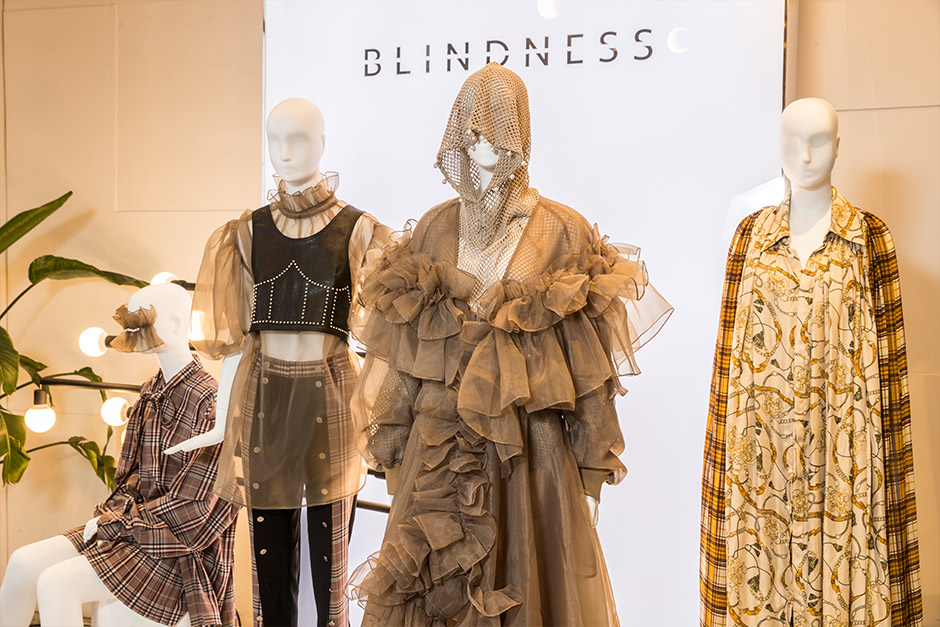 The brand is known, from Seoul to London to New York, for its androgynous approach to men and womenswear that breaks gender stereotypes. In their pieces, all manner of materials, cuts and shapes come together to eclectic yet innovative effect for looks that are as striking on the runway as they are on the street.
2018 saw BLINDNESS's star continue to rise, as they both debuted in the S/S '19 London Fashion Week thanks to a recommendation from the London Fashion Association and presented their 7th runway at Seoul Fashion Week. The brand was also selected as one of the brightest Korean fashion talents by '10Soul' for the third time running – this year having the opportunity to travel to New York City and showcase their latest collection to a truly global audience.
Nurturing the Brightest Talent
As winners of this year's SFDF awards, Rejina Pyo and BLINDESS will receive $100,000 towards their creative pursuits and international growth, along with professional business support to help them reach all corners of the globe. Since its inauguration, SFDF has been supporting 22 brand teams to the tune of $3.01 million. "It is very impressive to see the SFDF winners showing good performances in the overseas market," notes SFDF Director Hang-seok Cho. "SFDF will continue to explore and support Korean fashion designers with unlimited potential for their leap into global fashion."
Alongside each November's SFDF awards, the sfdf awards (specifically for brands less than five years old) were established in 2017 to provide invaluable help to budding designers looking for a foothold in the fashion world, both at home in Korea and abroad. Distinguishable from the SFDF awards by its stylization in lower case letters, each June sees these emerging but no less talented designers awarded by judging panel and public vote, as opposed to the awarding by judging panel alone of the SFDF awards.
For those interested in checking out these award-winning brands, both Rejina Pyo and BLINDNESS's latest collections are available at the Beaker Cheongdam Flagship Store until December 4, 2018. Be sure to keep an eye on what exciting things they get up to in 2019.
For more information, please contact Senior Global Communication Manager Bae Jisook (cnt.pr@samsung.com)