For those thinking that Caribbean Bay is the only way to escape the soaring mercury this summer, think again! Every summer Everland also boasts an extensive lineup of summer activities to keep fun levels high and body temperatures low. From water-gun battles with guests to overhead waterfalls soaking show spectators, Everland has upped its summer-game for 2017 by launching a new summer festival called 'Summer Water Fun', on now and running until September 3rd.
Everland has been offering cool summer activities since 2005, and this year the park seeks to increase participation of guests by facilitating a more fun and interactive experience for visitors. Let's take a look at some of the ways to get you soaked!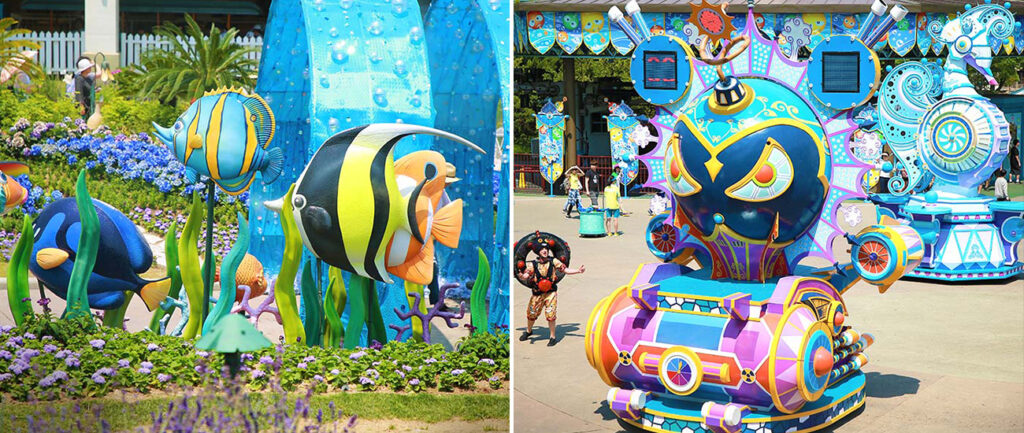 A Water Battle for the Ages
The darling of this year's summer festival is the all-new, water battle show entitled 'Shooting Water Fun', which will run 2 to 3 times per day at the Carnival Plaza.
This interactive show features a fight to protect the world's precious cool water resources from the evil 'Bomb-bomb Man' who seeks to ruin the planet with his heat-filled greed. Except, instead of just watching, the audience is expected to fight too!
The show features some 50 performers who will clash with audience members with water guns during a 30-minute battle.
The Carnival Stage – also known as the battleground – has been reimagined as a supersized gameboard for shooting the enemy with a giant water-pistol and features 5 newly installed waterfalls above the stands that pour water down onto unexpecting audience members.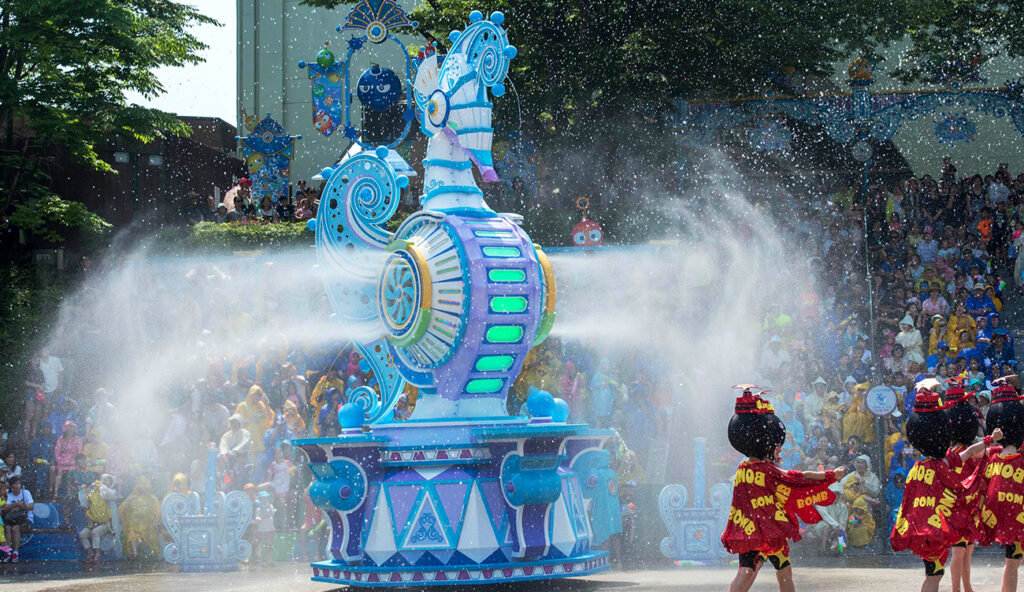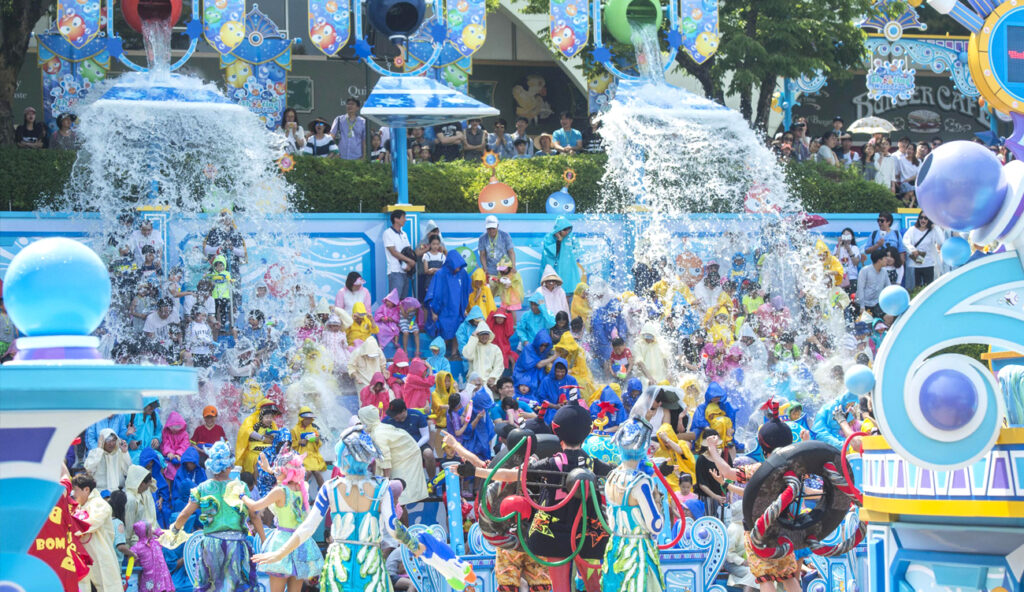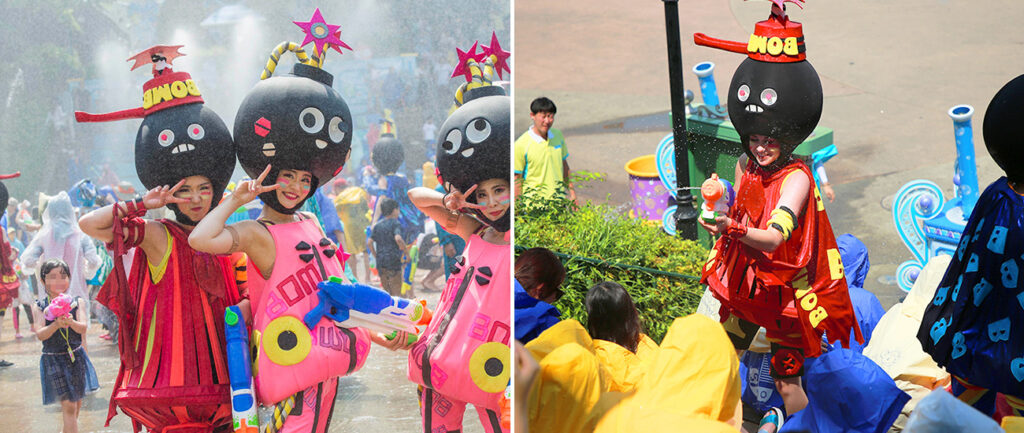 Get Involved to Stay Cool
This summer Everland has organized a stamp rally event where parkgoers can complete fun missions to gain stamps, and collect a prize after they have collected all the stamps. Missions include target practice on an interactive LED shooting board which will require the use of a water gun, and taking pictures with the Bomb-bomb Man character at designated mission points across the park.
Registration for the event can be found onsite next to the Four Seasons Garden' Windmill where the first 200 lucky registrants will be able to participate at no extra cost.
Park guests should also be on the lookout for the Bomb-bomb Man's sudden flash mob dance/battle where guests should to be ready to fight back with their water guns! Remember, never let your guard down this summer at Everland!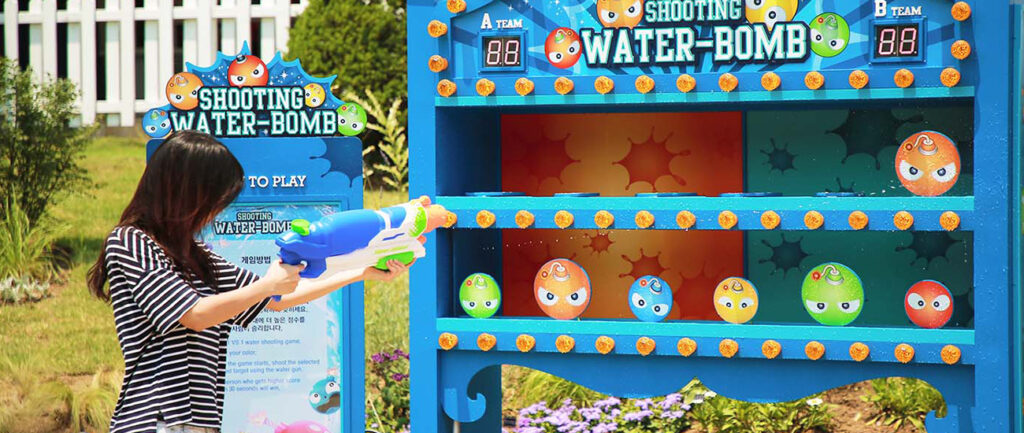 After getting wet and staying cool all day, stick around the park – open to 10pm all summer and 11pm during the festival – after sunset to experience the unique 'LED Water Graffiti' show, which fuses water, music and LED lighting, 3 times per night, every Friday to Sunday, for from July 7th to July 30th.
Also included is an interactive art experience where park-goers can take one of the provided brushes and 'paint' shapes onto water, which will then be illuminated onto a 23m by 2m LED screen installed in the Rose Garden.
Be sure to also check out the black light experience zone for kids at Flanders Restaurant for several hands-on experiences including drawing pictures and reading fairy tales under a black light!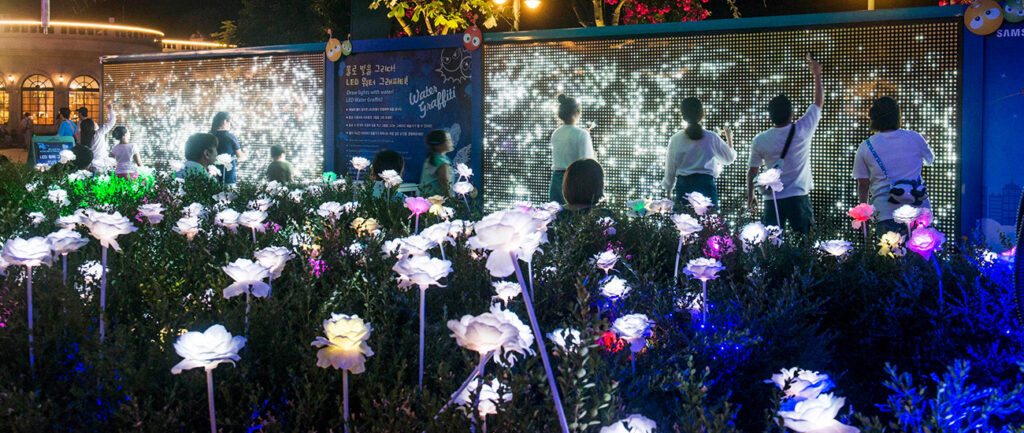 Summer Nights Under Summer Lights
To light up the dark summer nights, check out the fantastic 'Moonlight Parade' or the multimedia fire show 'Jukebox Let's Dance' at the Four Seasons Garden, which features sizzling dances such as the tango, twist, and the flamingo.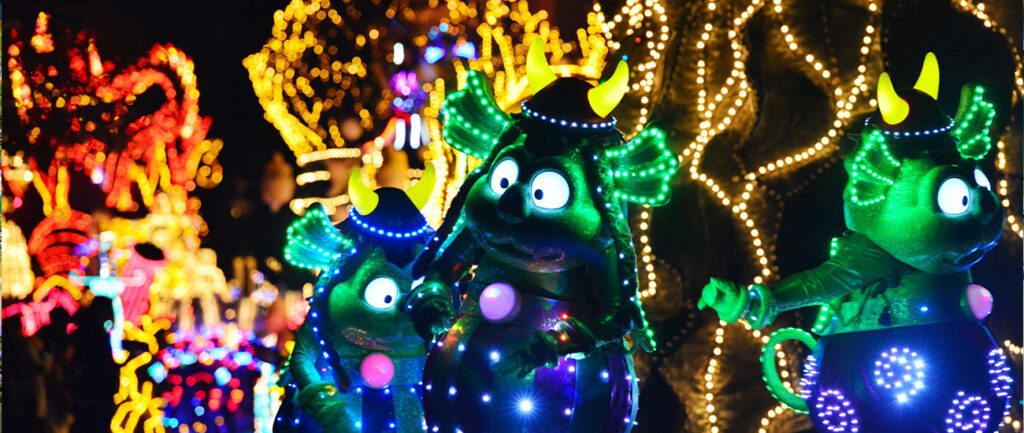 If dancing isn't really your thing, consider visiting the 'Cool Aqua Garden' lit by several uniquely shaped Hanji lamps, reincarnated as deep-sea objects, including fish, octopus and sea weed.
Summer Gives Us Plenty of Reasons to Smile
For those who love to smile, Panda World will run a 'Smile Battle' where a massive, newly installed screen and camera will allow users to have a 'smile-off' with their friends, family or that special someone! The camera will rate your smile and give you a score based on a smile index, and top scorers will be awarded with a unique souvenir.
Be sure to break out of summer's hot prison and cool off at Everland. From early morning to late into the evening hours, there's always plenty to do at Everland all summer long.