Summertime may be nearing its end, but there is still time to make every day count. What better way to wrap up your summer vacation before fall arrives than by taking a two-day trip to Everland and Caribbean Bay, where you can enjoy another round of refreshing excitement?
1. Thrill-seekers Tour: The best spots to get the wildest thrills at Everland
2. Family 'n' Kids Tour: See the wonder and magic of Everland as a children's paradise with these amazing stops
After a full day of thrills and magic, Home Bridge makes a great place to stay within walking distance of Everland. Home Bridge is a collection of Alps-themed log cabins in the summer woods that is perfect for relieving the fatigue from an exciting day.

Home Bridge operates a free shuttle bus that travels to the Everland main gate, then to other nearby hotels and Ho-Am Art Museum, before going back to Home Bridge. The shuttle is a very convenient way to get to Everland and Caribbean Bay for not only Home Bridge guests, but also those staying at nearby hotels. There are different shuttle time schedules for peak and off-peak seasons, so please check with the information desks at Home Bridge or your hotel before you plan for the next day.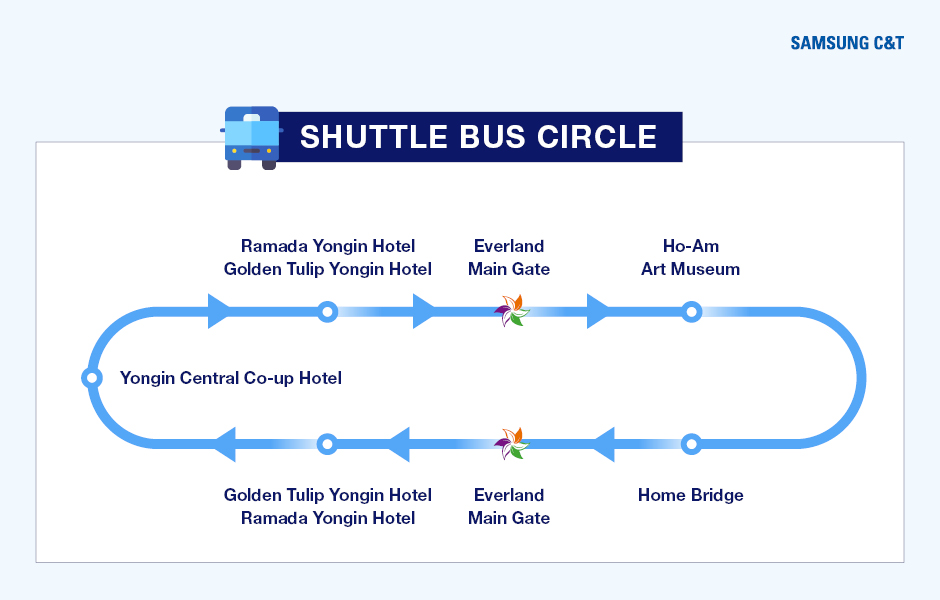 1. Thrill-seekers Tour: Find the wettest thrills, spills, and chills for the bravest of hearts
2. Relaxation Tour: Discover the new heights of relaxation that water can provide
For those who want to condense the experience by visiting Everland and Caribbean Bay in one day, Samsung C&T Resort Group offers an opportunity to enjoy both using only a Caribbean Bay ticket until Aug. 25. You can get soaked in the water first, and then move on to the excitement of Everland from 1pm or 5pm depending on the type of Caribbean Bay ticket you have.
But if you are planning your adventure for after Aug. 25, don't be disappointed! You still have an option for a more affordable visit – Combi Tickets. They come in two kinds: a 1 Day Combi for one-day Everland and Caribbean Bay visits, and a 2 Day Combi for two days of fun.
Also, if you are visiting Everland and Caribbean Bay from outside Korea, your flight tickets will come in handy this year. Until Dec. 31, presenting them at ticket offices will give you a 20-25% discount depending on the airline.