Note: What makes Samsung C&T so successful? A diverse team of talented people. In the final edition of our culture award series, we look at employees that go above and beyond for our customers.
Anyone who has worked in customer service has heard that cliché saying a thousand times– "the customer is always right!" They also know how difficult it is to earn and keep the trust of clients. Whether a retail clerk, or a business facing sales of raw materials, winning the hearts and minds of customers is crucial to a company's success.
At Samsung, we always strive to earn the trust of our business partners and ensure their satisfaction. In the final part of our three-part New Culture Awards series, we're highlighting the individuals that have shown acumen for customer service.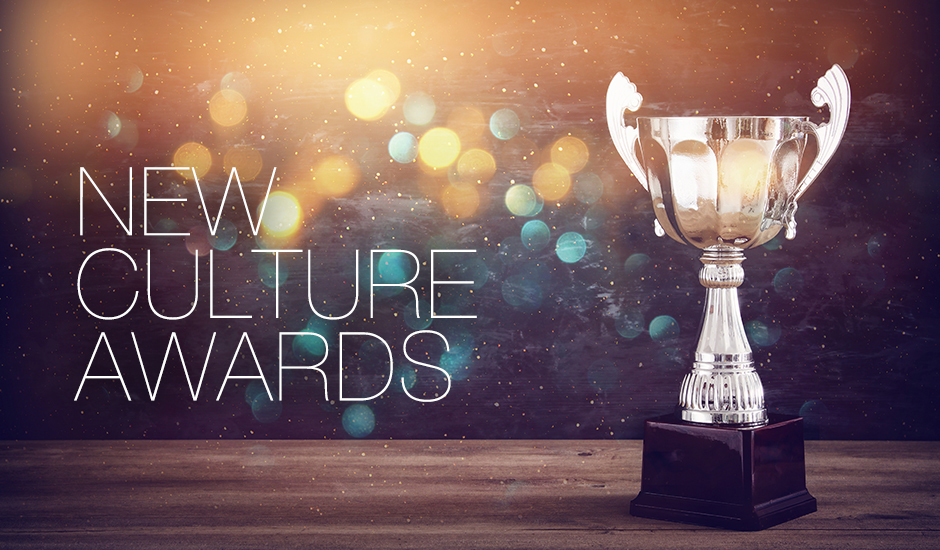 Moving Beyond Limitations
While customer satisfaction remains a challenge to every salesperson, Youngil Ko, seems to have found the key.
 "I believe an opportunity is created when we persistently contemplate on a client's needs instead of dwelling on our limits," said Ko. "What's most important is a continuous effort to understand a client's situation and position so that our results are not short lived."
This insight and patience earned him the trust of his clients and was the catalyst that brought him to be his position as a manager in the Corporate Planning department. After 8 years on the Natural Resources Team's coal department, his reputation among his colleagues for having a customer-oriented mindset and speedy communication are now being put to work planning business strategy for the Natural Resources Team.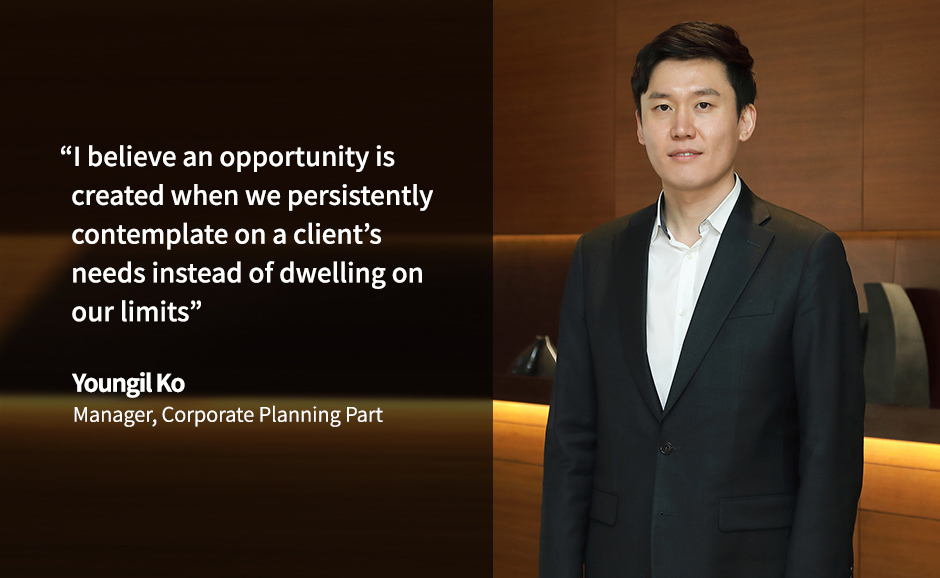 Ko's accomplishments include building a relationship with a large coal mine in Indonesia and subsequently winning a contract to supply the Korea Electric Power Corporation (KEPCO), which has a reputation for a difficult bidding process. He credits the success to building an airtight customer satisfaction strategy, but it was no easy task.
"Even after we won the first bid, I was worried right until the very first day of shipment," said Ko. "Everyone involved, including RE/GEs at the Jakarta office and personnel in Seoul agonized over ways to satisfy the [client's] quality control standards."
The result was winning a contract that was previously exclusive to major mining companies. Faced with such stiff competition, Ko says he isn't the only one that deserves the reward and stressed his gratitude for his colleagues.
"It was a joint achievement of our team head, many seniors and colleagues involved, and the REs and GEs of the Jakarta office," he said. "I'd like to tell them I feel bad to be the only one receiving this award, and that I'm truly grateful for their efforts."
Sometimes customer satisfaction means knowing what your clients want before they know it themselves. Jungwon Lee, an assistant manager of the Electronic Equipment and Components, has taken that philosophy to heart.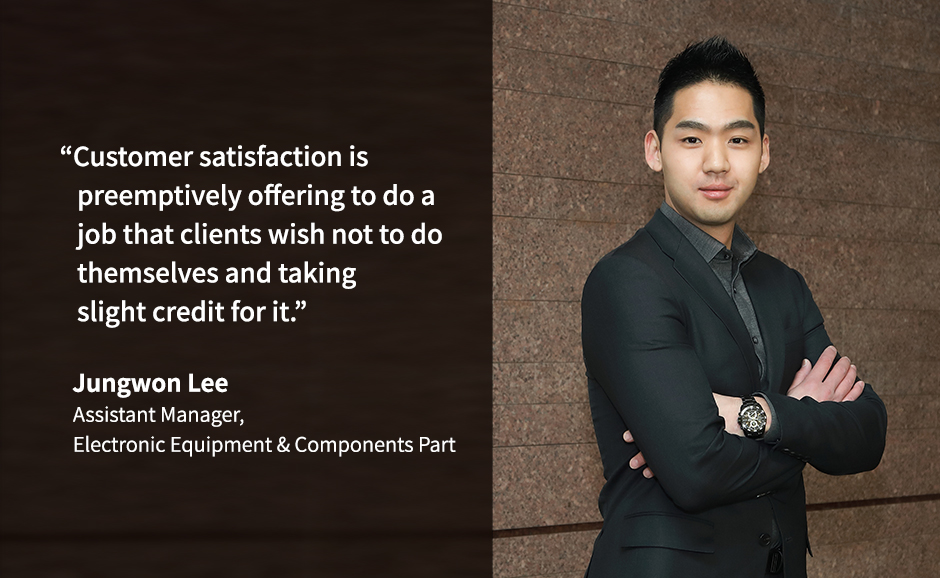 Working mainly with projects involving idle equipment, Lee is known for being polite and courteous go-getter. Working day and night, and even on weekends, his eagerness has earned the trust of his clients. He says customer service is all about being able to predict your clients' needs.
"Customer satisfaction is preemptively offering to do a job that clients wish not to do themselves and taking slight credit for it," said Lee.
It's also about sticking through tough circumstances. One of Lee's most memorable projects is when he was sent to work alone in Cheonan, a city just south of Seoul. Early days and stressed out clients made for a difficult project, but Lee found reward in building relationships with his clients.
"Back then, there was no established work procedure, so I had to take care of everything on my own, from fine-tuning the entire project schedule to handling small issues that arise from the site. There were at least a few unexpected situations on any given day," said Lee. "Employees from the client company were stressed out from their work, but one night they cheered me up while sharing a late-night snack with me. I don't think I'll ever forget that moment."
The Difference a Smile Makes
With a big, friendly smile, Kyoohak Kim is known by his colleagues as someone that can help when a project takes a left turn.
The Senior Manager of the Corporate Logistics Planning department is famously known as the "Smile Man" among his coworkers for always having an approachable demeanor and a sense of humor. When asked why he smiles so much, Kim answers, "I'm not handsome, so I look better when I smile."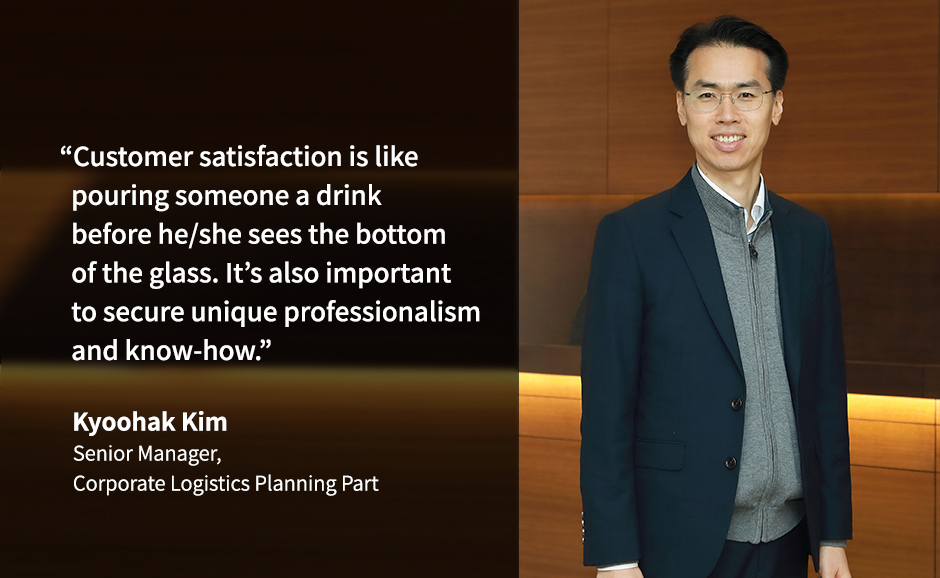 Prior to joining Samsung C&T, Kim worked in shipping and trading for over 15 years. His hands-on experience is now helping inform corporate logistics as he works in chartering ships for steel trading. It's this knowledge and expertise that informs his approach to customer satisfaction.
"Customer satisfaction is like pouring someone a drink before he/she sees the bottom of the glass," said Kim, referring to a Korean custom to show a caring nature when drinking with friends. "It's also important to secure unique professionalism and know-how."
With such a positive outlook, it's no wonder Kim receives praise from so many people. Armed with the knowledge he has accumulated over his years of work, Kim communicates with his colleagues and extends his help before being asked as he leads his team.
"I spend a lot of time having conversations with salespeople to understand their situations," he said. "I plan on combining my experiences and know-how with the insight I gained from recent business trips to major ports of the world to realize maximum utilization of the network that foreign logistics companies have. I hope my efforts can aid in learning the logistics situation and chartering ships."