When people around the world imagine what a trader does, they might think of different jobs. For instance, some would think of financial asset trading, perhaps inspired by the tense drama of movies or TV shows.
But when we refer to traders at a trading company like Samsung C&T's Trading & Investment Group, we are talking about a very different role focusing on physical items, moving them where they are needed, and handling the logistical challenges that creates. To get a fuller sense of what these traders do and how they approach the job, we have been looking inside Samsung C&T.
Exchanging, buying, and selling physical goods and raw materials is the original form of trading, originating in basic human needs for food and other essential items. As global human interactions have become more complex, trading has also diversified significantly.
But it can still be defined as "seizing opportunities in the market and creating value," according to Samsung C&T trader Ryan Kang, who works for the Chemicals Division's Fertilizers 2 Group, moving fertilizers from Korea to other parts of the world.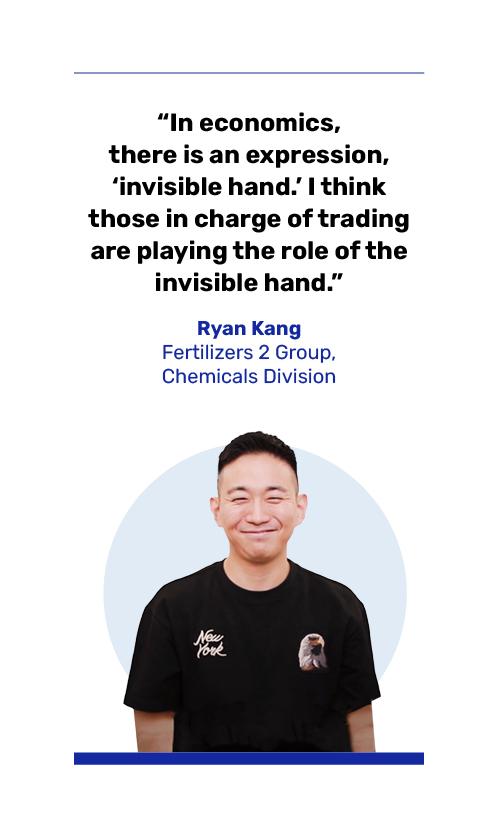 The "invisible hand" of Samsung C&T's Trading & Investment Group extends across the world, with nearly 5,000 employees based in 70 offices across 42 countries. The company engages in global trading of chemicals, steel, energy, materials, and future growth drivers including those supporting sustainability.
The Korean drama "'Misaeng: Incomplete Life" about an intern who struggles to adapt to work at a large trading company, was very popular in Korea. But we shouldn't expect TV shows to show the lives of traders. Clara Kim from the Steel Division's Hot Rolled Steel Group exports wire rods from Korea to Europe, the Americas, Taiwan, and Southeast Asia. She came to see this drama after joining Samsung C&T, but says that the life of a real trader is not as dramatic as the drama.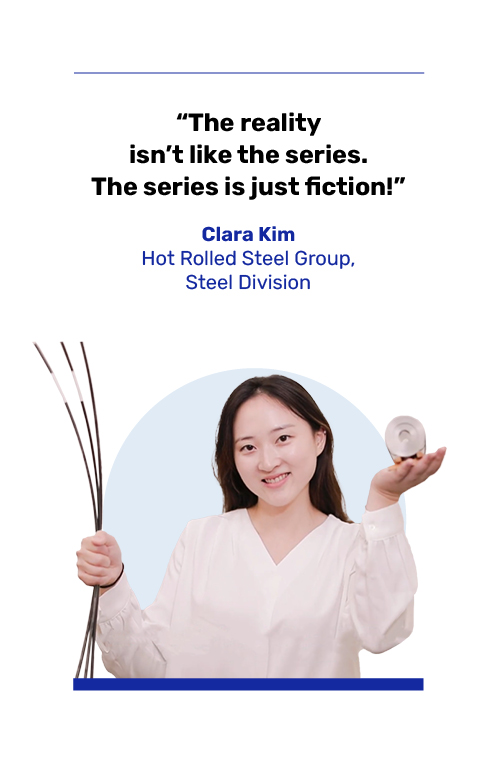 The role of a trader at Samsung C&T requires building special knowledge in particular areas. They acquire expertise through experience, information sharing within their team, and constantly remaining curious about their business. They need to communicate frequently with colleagues, supply partners, and customers. And they need to have a good understanding of supply chains, routes, prices, and the intricacies of logistics such as customs procedures that vary from country to country.
Traders also need to develop certain personality traits.
"I believe handling each partner differently is important," says Dave Byun from the Materials Division's Concentrate Group, an intermediary trader who sources concentrates from South America.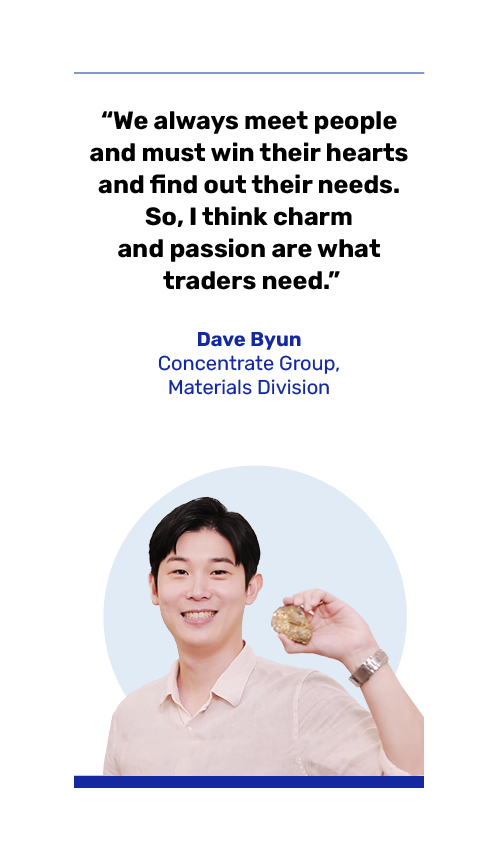 Kang also prizes persistence, saying "people take interest in those who keep knocking on their doors and contacting them."
Trade winds and high hopes
The pandemic has presented a painful example of how difficult trading can become. "Limitations make us more creative. After the outbreak of COVID-19, there were a lot of logistical issues and the market was very unstable. Fortunately, I was able to suggest a new way to resolve these issues and both parties' needs were satisfied," says Kim.
Even without a pandemic, problems can occur. It may be that companies cancel orders suddenly or do not pay on time. Traders need to become experts in risk management in order to negotiate these pitfalls. "It's helpful to think of the worst-case scenario. I've learned that even if a deal seems perfect, it's important to prepare alternatives to manage risks," insists Byun.
All three of these Samsung C&T traders remain optimistic about the future. "We will keep buying and selling products. Now, we handle steel, chemicals, and concentrates. But, in the future, we might deal with different items. This is the strength of trading," says Byun.
"Trading itself has existed for a long time. And it won't disappear in the future. This is where our value comes. We are contributing to society," reflects Kim. Kang also finds positive energy from that sense of purpose: "As demand for food grows, demand for fertilizers will also increase. In a way, I'm contributing to the world. With this sense of mission, I'm doing my job."
You can also check out a video of the interview below.