Samsung C&T's 80-year history has been momentous. During its eight decades, the company has grown from its roots as a small store in the Korean city of Daegu into a modern, multinational, multi-industry group that operates across a wide range of communities. In fact, the needs of communities remain at the heart of everything Samsung C&T does – and the company has always looked to develop, nurture and support the communities in which it operates.
In recent years, Samsung C&T has carried out several notable community-centered volunteer projects at locations all over the world.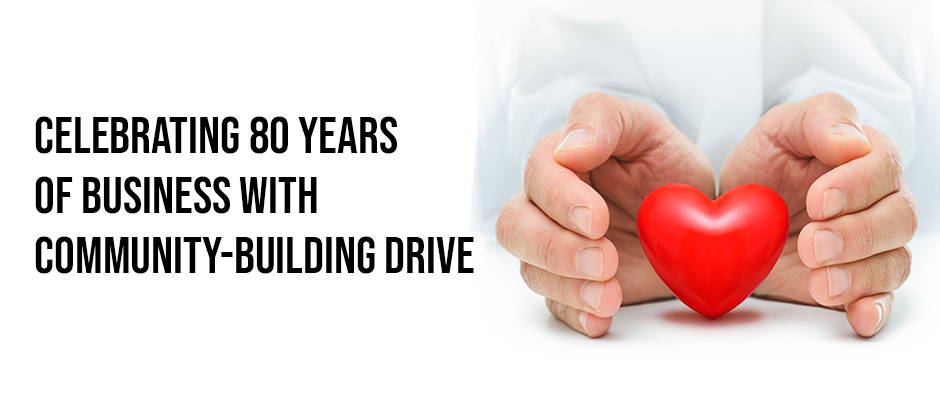 Springtime is beautiful in Korea, but clement weather conditions often lead to a rise in air pollution on the peninsula. Air purifiers are widely available, but can be prohibitively expensive to purchase and operate for low-income households. That is why, in March, the Trading Group embarked on a month-long initiative to build air purifiers, distributing them to disadvantaged residents in Seoul's Songpa District.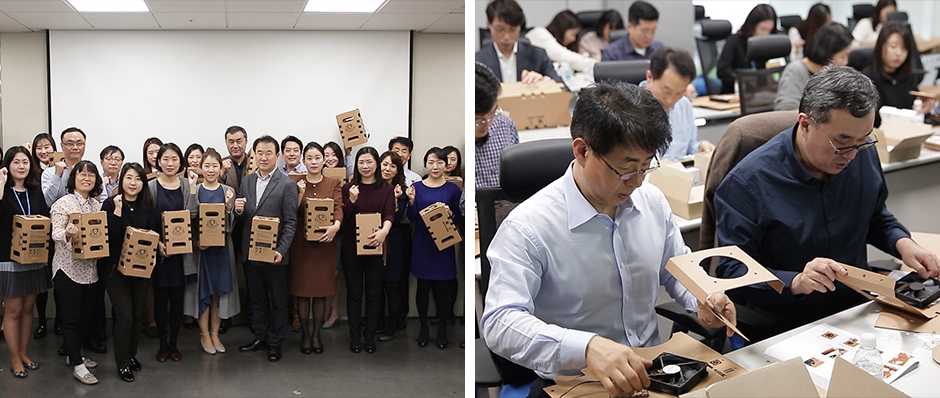 Volunteers joined forces with Songpa local government authorities to assemble purifiers made from paper, recycled container boxes, fitting them with simple fans and filters. The purifiers consume just 2.4W every eight hours, meaning they cost a mere US$ 0.50 a year to run. Thanks to the team's efforts, cleaner air is no longer an unaffordable luxury for low-income households in Songpa.
Jie-eun Chung, Senior Associate of the group's Fine Chemicals Part and one of the volunteers, says, "I'm grateful to have had the opportunity to do something for a good cause. Working side-by-side with colleagues on this project was a delight."
Employees who missed out in the air purifier drive were able to join the Share Lunch Concert, a classical music recital held during the company's lunch hour. Staff members were invited to listen to melodies and make donations to charities providing school uniforms to children from low-income households.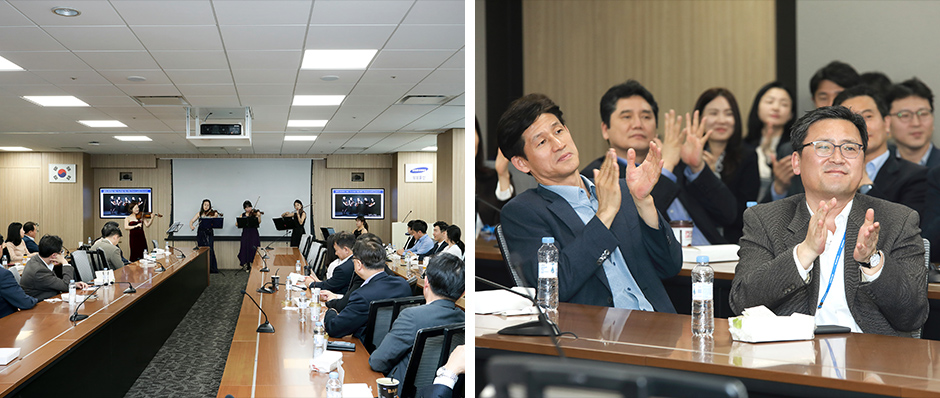 As the weather warms up, Koreans wash and put away their thicker winter blankets until December comes around again. But for senior citizens living on their own, this can be a daunting challenge. Thick blankets can be heavy, and washing them can be quite a chore.
The Construction Group decided to lend a hand. A number of the group's employees helped elderly residents of the Gangdong-gu District of Seoul with their spring cleaning efforts. They collected blankets and other hard-to-wash items.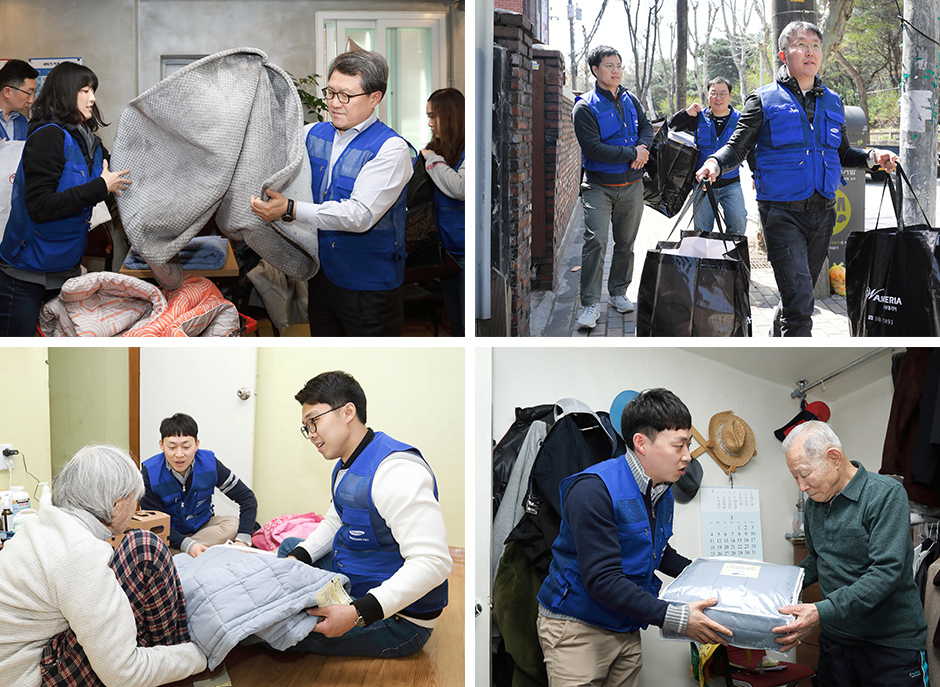 The group took these winter items to a special washing facility, hand-washed them, dried them out and returned them, ready to be stored until the frosts return.
Samsung C&T CEO Young-ho Lee was one of the volunteers. Lee says, "I know everyone at the company is very busy, but it's great that we all found the time to give something back to the local community and help those in need. It's great that everyone got involved – from executives to recent hires."
Construction Group employees also took part in an air purifier-making drive. Like the Trading Group, the Construction Group staff made purifiers that cost relatively little to operate, and used recycled materials. They then delivered these to elderly residents, along with their clean blankets.
Spring is also a time to enjoy some of nature's finest bounties – flowers and blooming buds in lush green gardens. However, if you live in the heart of Seoul, one of the biggest cities in the world, it is not always easy to see budding trees and sweet-smelling flowers.
Gangnam has won a reputation for being one of the chicest and most affluent parts of the entire country. Many of its apartment complexes feature ornate, well-kept gardens and flower beds. Unfortunately, not all of Gangnam is as affluent as many people think.
Indeed, at the Daechi Apt Complex in Gaepo-dong, some 50 percent of residents live in low-income households, and the upkeep of the apartments' gardens and green spaces can often be too much of a financial – and physical – burden for its residents.
The Fashion Group, however, was at hand to help this year, planting seasonal flowers and renovating the complex's green garden spaces, in conjunction with the Gangnam Social Welfare Center – just in time for spring to set in!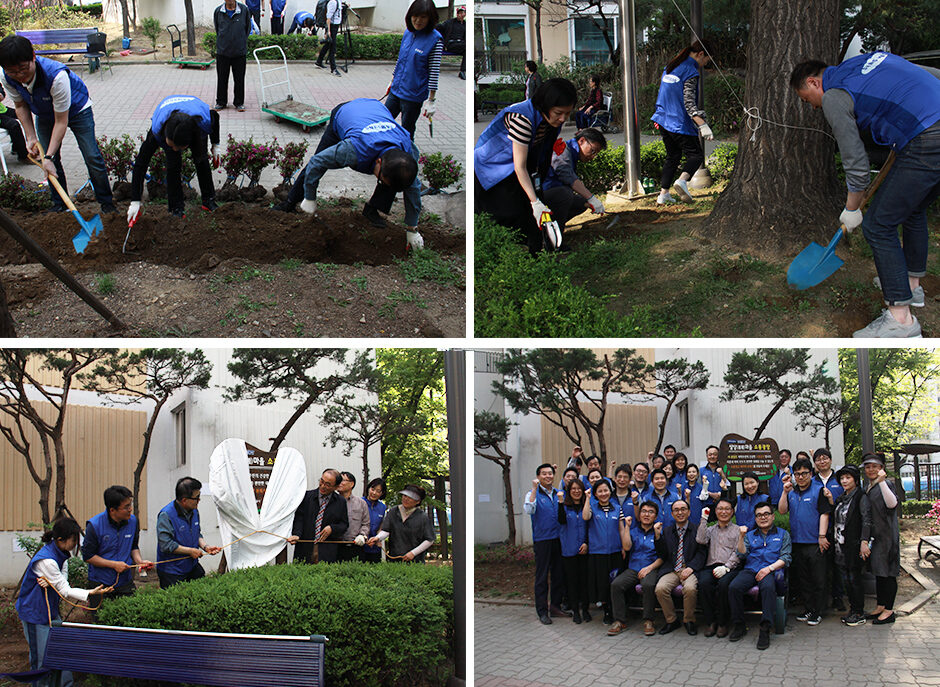 Dozens of Fashion Group employees took part, with executives and junior staff all lending a hand. Cheol-kyoo Park, the Executive Vice President of the group's Merchandising Unit, explains, "This was a very meaningful day. I hope the garden we created for the local community today will serve as a comfort-bringing rest area for residents."
Springtime gardening was also the theme of the Resort Group's March project. The group has been working with the Cultural Heritage Administration of Korea for five years. A grand total of 2,066 employees have helped on preservation and restoration efforts at some of Korea's biggest historical landmarks, including four former royal palaces and two notable shrines.
In the warmer months, Seoul residents (including many young students) flock to these important historical sites to learn about their country's past. This year, they will be able to appreciate floral delights as well as historical wonders, thanks in no small part to a group of 50 Resort Group employees. The workers joined their CEO Keum-yong Chung to put their landscaping expertise to good use, planting trees, trimming hedges and laying flower beds.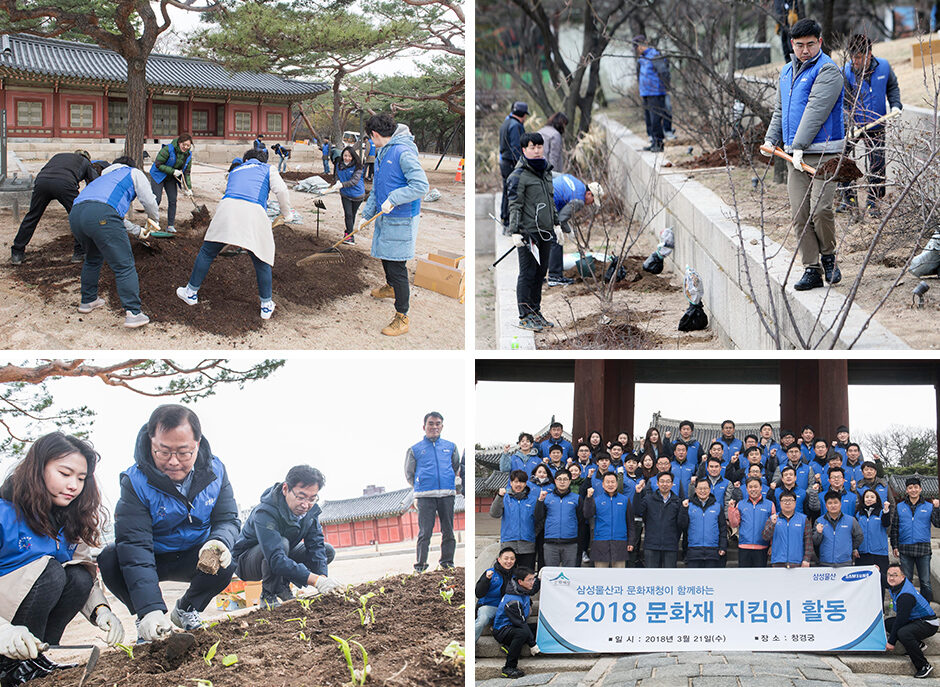 In-choul Choi, Senior Manager of the Operations & Services (Landscape) team, says, "It was cold out, but our efforts made me feel warm inside. We worked here last year, too, so it was amazing to see how the flowers and trees we planted in 2017 have grown. Preserving our precious cultural heritage is vital – I hope we can keep participating in this sort of important project."
Samsung C&T employees are modern people who know supporting and developing communities is an essential part of responsible modern business. This ethos permeates the entire company, from root to head. It has been crystallized in the form of a cross-group CSR Committee, whose role involves insuring that no matter where the company does business –at home or abroad – communities always reap the greatest benefits.
With ongoing, employee-led volunteer efforts, fostering community spirit comes naturally – not just for participants, but also for community members everywhere.