For the employees at Samsung C&T's Asia-Pacific Regional Office (APRO), protecting the environment has become a daily habit. From setting waste reduction targets to switching off lights during lunch, the work routine for APRO staff is filled with actions that make their office eco-friendly.
That status was confirmed on June 26 when APRO was recertified under the Project Eco-Office initiative by the Singapore Environment Council, Singapore's largest environmental NGO, and sponsor partner City Developments Limited. First launched in 2002, Project Eco-Office aims to help companies recognize the importance of an environmentally friendly workplace. The initiative assesses criteria such as the management of energy, water and waste.
Having been recognized as an Eco-Office in 2016, APRO received the highest possible award this summer based on an enhanced scheme, Eco-Office Plus, which measures staff engagement on top of the original initiative's assessment. APRO is among just three companies in Singapore to have been ranked Eco-Office Elite. So, how did they do it?
Green Champion leading the eco-friendly drive
APRO's staff participation has clearly been a decisive factor in creating an eco-friendly office, where stickers and posters remind them of their green objectives.
This effort has been led by Global Business & Operations President John Chang, who is the office's designated Green Champion. Chang heads up APRO's ECO Committee comprised of members from every department. They meet regularly to discuss and share eco-related news and developments as well as organize staff training sessions.
The ECO Committee is proving itself to be an effective way to introduce and debate eco-friendly ideas. Suggestions are put to a vote, meaning they are chosen based on merit and in-office applicability. It does not hurt that there is also extra motivation to suggest ideas, as the best ones are rewarded with gift vouchers.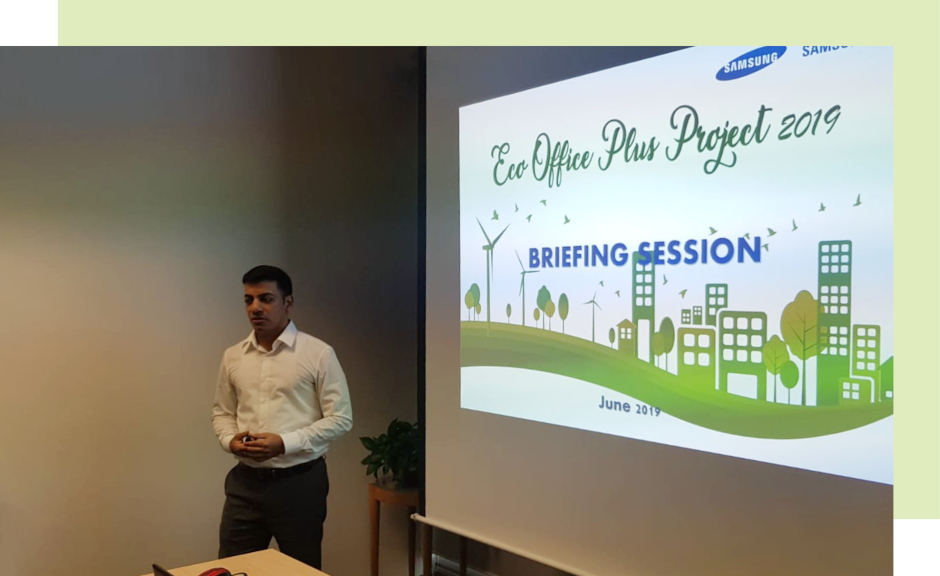 Shrinking APRO's energy footprint
APRO has had to meet a long list of targets in order to be ranked at the level of Eco-Office Elite. It is a case of lots of little things adding up.
For example, staff turn off their monitors and power strips when they are not in use. The building's temperature is set at 25°C, but staff can also control the air-conditioning system and choose to use fans. When employees hold meetings, they do so in smaller spaces that require less energy to keep cool. Electrical equipment for the office, including printers and PCs, has additionally been purchased with eco-labels in mind. Lighting is also an interesting issue, as APRO is striving this year to install LED bulbs throughout the office.
One of the most striking initiatives has been the staff's Lunch-On-Lights-Out initiative, which encourages employees to switch off lights during their lunch hour to save on electricity consumption. This has the added benefit of ensuring that they get a full hour's rest to come back to work refreshed.
APRO's Green Champion has personally spearheaded another initiative to encourage staff to trade in their old mobile phones for cash, which he provided personally, before the devices were then reformatted and sent to a church in Nigeria for distribution to needy parishioners. A further example of an eco-friendly CSR initiative was the use of plastic boxes from overseas courier parcels being used as water-resistant storage containers during home makeovers, thereby creating a truly cyclic economy.
The outcome speaks for itself: a more efficient, productive workplace where staff can feel good about their efforts, and hopefully a little more refreshed too!