Samsung C&T has maintained its place among the world's largest companies while navigating the COVID-19 pandemic after being listed on another major list of global firms this year.
On Aug. 2, the Fortune Global 500 was unveiled, showing the world's largest corporations by revenue over the last fiscal year. For a fifth consecutive year, Samsung C&T was included – rising to a rank of 473 from 481 last year.
It follows May's announcement that Samsung C&T was also listed on the Forbes Global 2000, placed 427th.
'Adapt, evolve, and reinvent'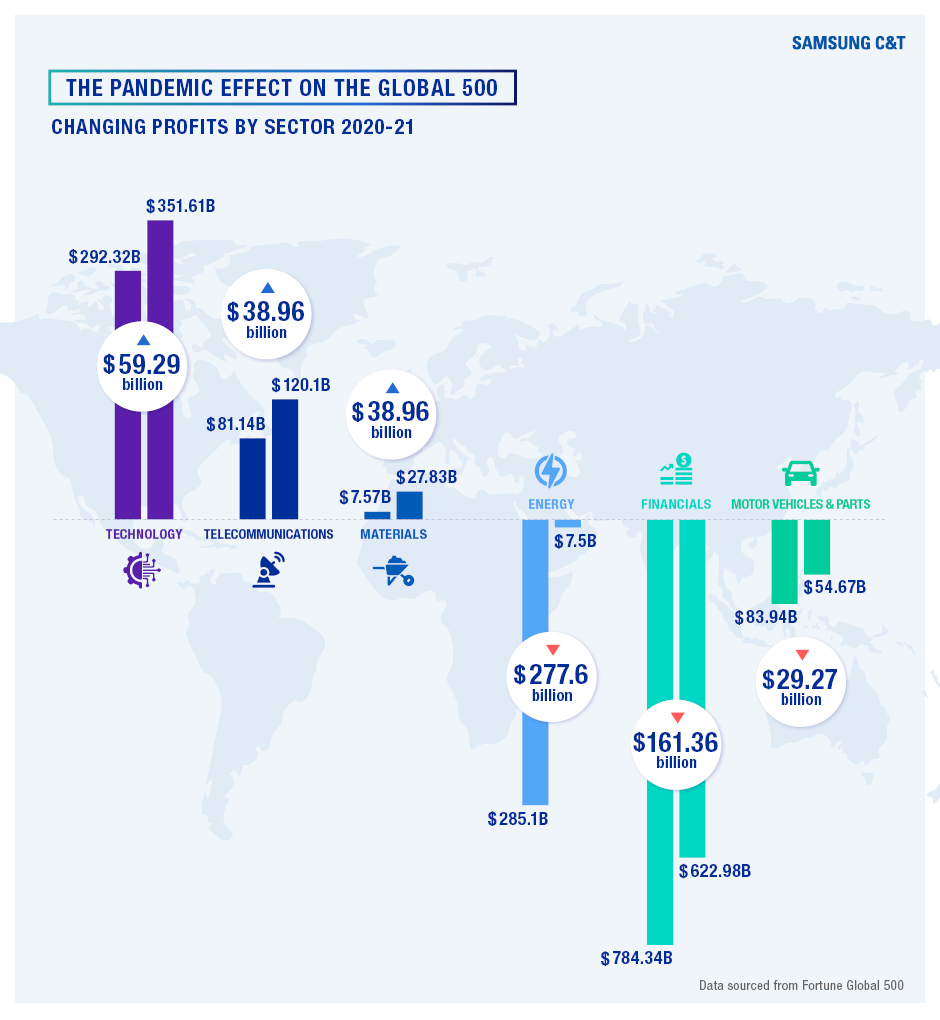 The impact of the pandemic is clear when we look at the shifting fortunes of particular industries over the last year. Only 6 out of 21 sectors enjoyed a rise in profits, led by technology, telecommunications, and materials. That leaves 15 industries that performed worse than the year before, with energy, financials, and motor vehicles and parts being particularly hard hit.
Overall, the top 500 companies around the world saw their revenues fall 5 percent and profits drop 20 percent. Another signal that 2020 witnessed the transformation of the global landscape was that 45 new companies joined the Fortune Global 500. Together, the 500 firms were responsible for employing 69.7 million people worldwide.
"The radical changes the pandemic has wrought will have long-term implications for businesses worldwide. Using it as a catalyst, the Global 500 showed the world how to adapt, evolve, and reinvent themselves," Fortune List Editor Scott DeCarlo said.
This same point was highlighted by the Forbes Global 2000, which uses four equally weighted metrics to score firms – assets, market value, sales, and profits. As pointed out by Forbes back in May, "World business leaders faced impossible decisions a year ago."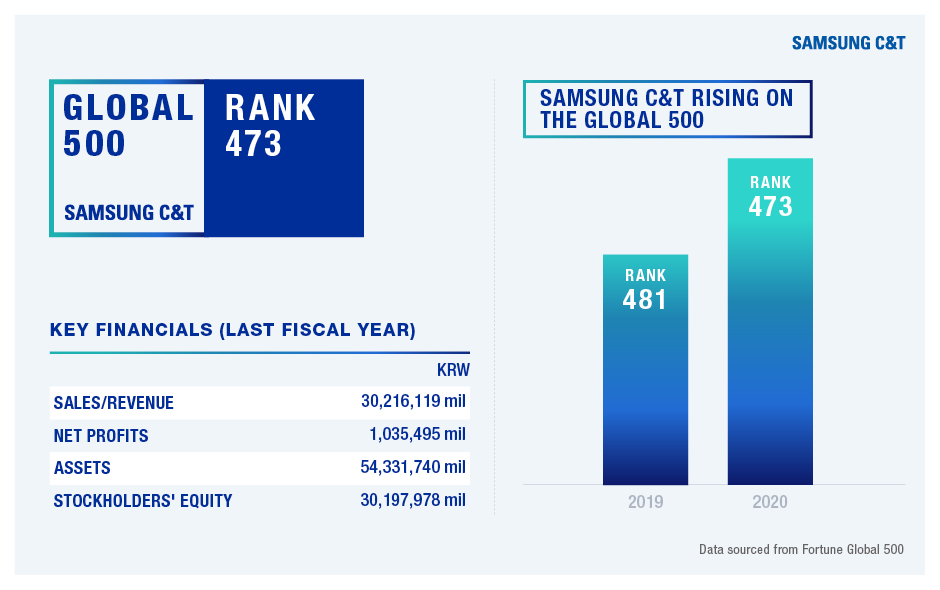 Given the overall landscape, it was clearly an achievement for Samsung C&T to maintain its place among the world's top firms. The company's revenue of just over US$25.6 billion and profit of US$877.8 million were only slightly down from last year.
Moreover, Samsung C&T is showing signs of continued strength this year, having posted year-over-year growth in both revenue and operating profit in the second quarter.
Of course, the effects of the pandemic are not over yet. But with numerous interests reflected by its main groups – Engineering & Construction, Trading & Investment, Fashion, and Resort – Samsung C&T is seeking to further strengthen the competitiveness of its businesses and devise strategies in line with an evolving business environment.
This is after all a world that is placing more emphasis on factors such as commitment to protecting the environment, social responsibility, and corporate transparency than ever. With the establishment of its ESG Committee earlier this year, it is a major positive for Samsung C&T that we have been able to document continued success on these fronts this year.