A much-needed sip of water to quench thirst, a place to keep warm on a cold night, and a clean toilet free to use when needed – these are some things most people take for granted, while far too many people around the world still lack basic access to.
Since 2013, Samsung C&T has been building hope for those in developing countries by providing villages with homes, sanitation facilities and schools. The Samsung C&T Village Project, part of the company's 'Dream for Environment' CSR program, brings out the best of the company's know-how and expertise as it focuses on improving residential living environments as well as providing education on construction and disaster management.
Both voluntarily built by Samsung C&T employees, Village 1 in Pasir Halang, Indonesia and Village 2 in Chargaon, India, are examples of extraordinary differences collective efforts can bring to communities.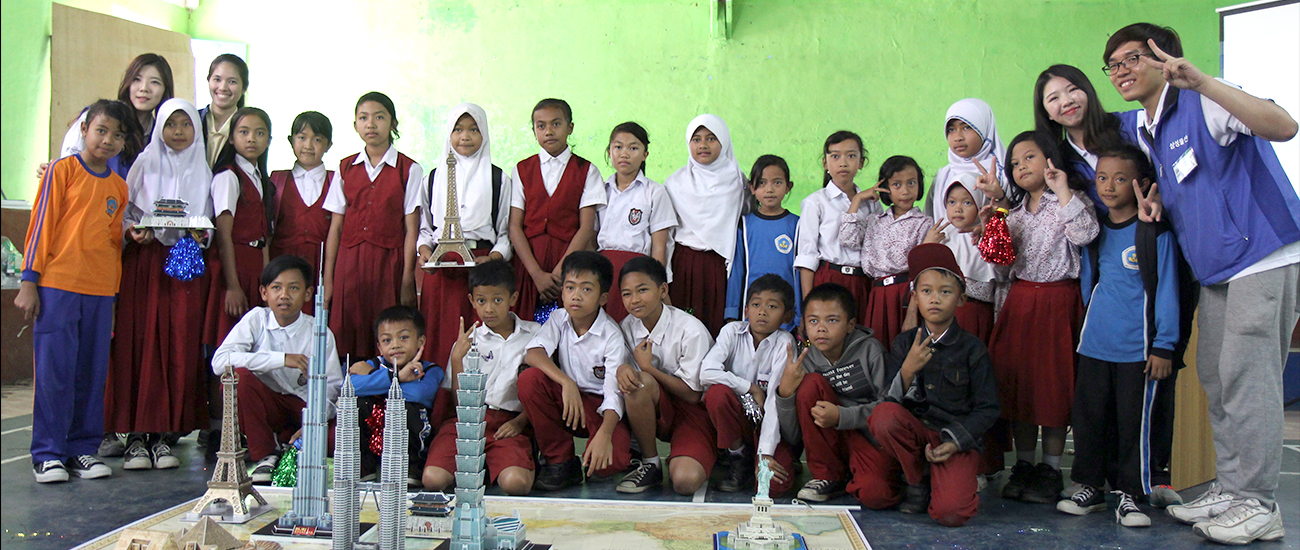 First Steps to Making a Difference
Pasir Halang, a beautiful agricultural village settled on the slopes of Mount Burangrang, was chosen as the first destination for the Samsung C&T Village Project and was a joint effort with Habitat for Humanity.  Residents of the village were struggling from unstable income that solely depended on crop production, while the lack of clean water was also causing unimaginable difficulties on a daily basis.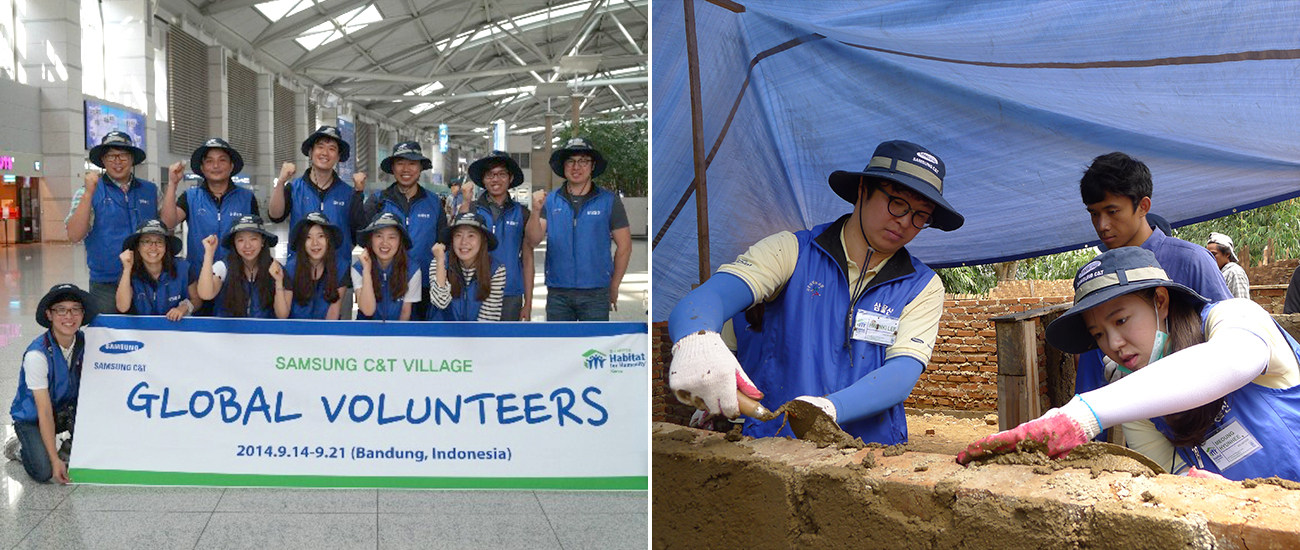 On a warm afternoon in September, volunteers from Samsung C&T traveled to Pasir Halang to renovate water facilities, build stronger homes and to create safer sanitation facilities. The goal was to focus on the necessities that would make a difference in the daily lives of those in the village. Along with the construction came educational programs that trained residents on the basics of living in a shared community.
By the end of the project, 110 families welcomed new homes with sturdy walls, ready to block out the harsh wind and let in the warm daylight. The entire village could finally enjoy the comfort of having a clean water system as well as a safe public bath facility. Over 300 residents were educated on topics such as disaster risk management, sanitation and agriculture, which are essential parts of maintaining a sustainable living environment.
"With the new water distribution facilities and piping, we have clean water in our home. Even in dry season, we still have water thanks to Habitat for Humanity and Samsung C&T," said Odang, a Pasir Halang resident.  
The support from Samsung C&T has made a reality out of what used to be just a dream for local residents of Pasir Halang. In total, some 700 villagers have benefited from these changes that have made Pasir Halang a safer place for families.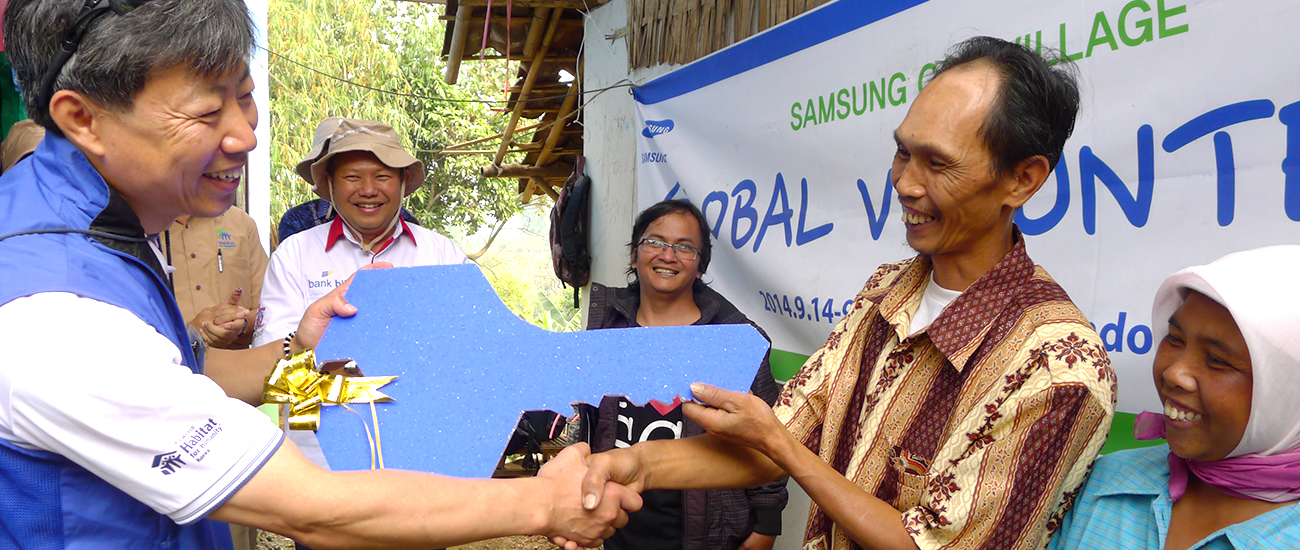 Jeong Jin Han, who works for Samsung C&T in Indonesia, says, "Samsung C&T firmly believes in mutual growth with communities and will continue to contribute to the development of Indonesia."  
Coming Together for Chargaon, India
Settled at a three hour distance from Mumbai, India's largest city , Chargaon is a small village named as Village 2 of the Samsung C&T Village Project.
For 18 long months, employees helped transform Chargaon from a rural village full of houses built with wooden frames and cattle dung, to a welcoming community boasting a total of 50 houses, 81 bathrooms along with brand new IT classrooms set up in two local high schools.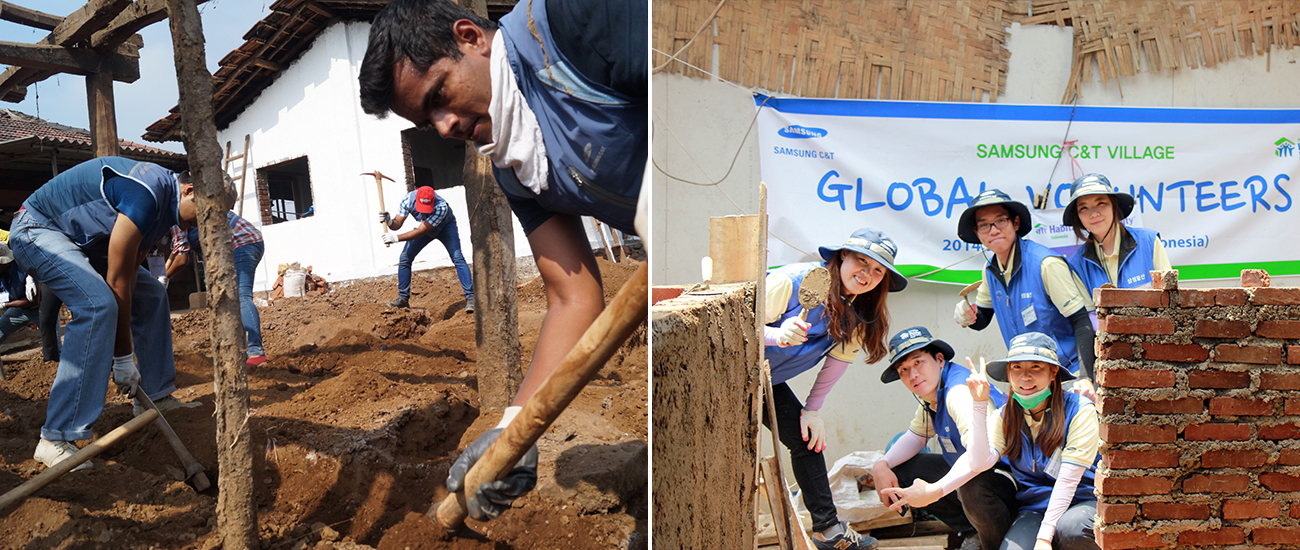 Every month, the Chargaon Village enjoyed regular visits from C&T employees working at the Worli Mixed-Use and DAICEC projects who were ready to help in whatever way possible. At one point, 14 employees even flew in from Korea to lend a hand for the building. Whether support for the village came from local project sites or from abroad, everyone who participated in the project clearly considered it a meaningful one that was poised to make a true difference to the lives of the residents.
"I want to thank the volunteers from Samsung C&T for literally building us a new home brick by brick," said Kavita, a 26-year-old woman from Chargaon who received a new home. "They are angels sent to us from heaven." 
With a third Samsung C&T Village Project about to take off in Vietnam, the company is more than ever focused on building a shared future inspired by the mutual growth of communities.
"The Samsung C&T Village Project is unique to Samsung C&T, being one that highlights the company's strengths as a construction company," says Jae Boon Shim, a CSR representative from the company. Shim added, "Each project is distinguished by the demands and needs of local residents, but are tied together with the common aim to build a better future for those living in disadvantaged areas."
The project offers a chance for employees to experience and understand the difficulties facing those in developing countries. Focused on giving back and making the world a better place, the Samsung C&T Village Project sheds light on the true values of a construction company and Samsung C&T's vision towards building a shared future.