Forging a new landmark is a lot more challenging than it may seem. In a city such as Seoul, where tall buildings dominate the horizon in all directions, simply building high will not do. New and inventive construction projects spring up every day in the city, so creating novelty is no easy task.
Nevertheless, the Dongdaemun Design Plaza (DDP for short) has quickly turned into one of Seoul's most easily recognized sights. Last year, National Geographic called it a "centerpiece in a city increasingly known for its style," and upon its launch in 2014, CNN instantly dubbed it a "landmark."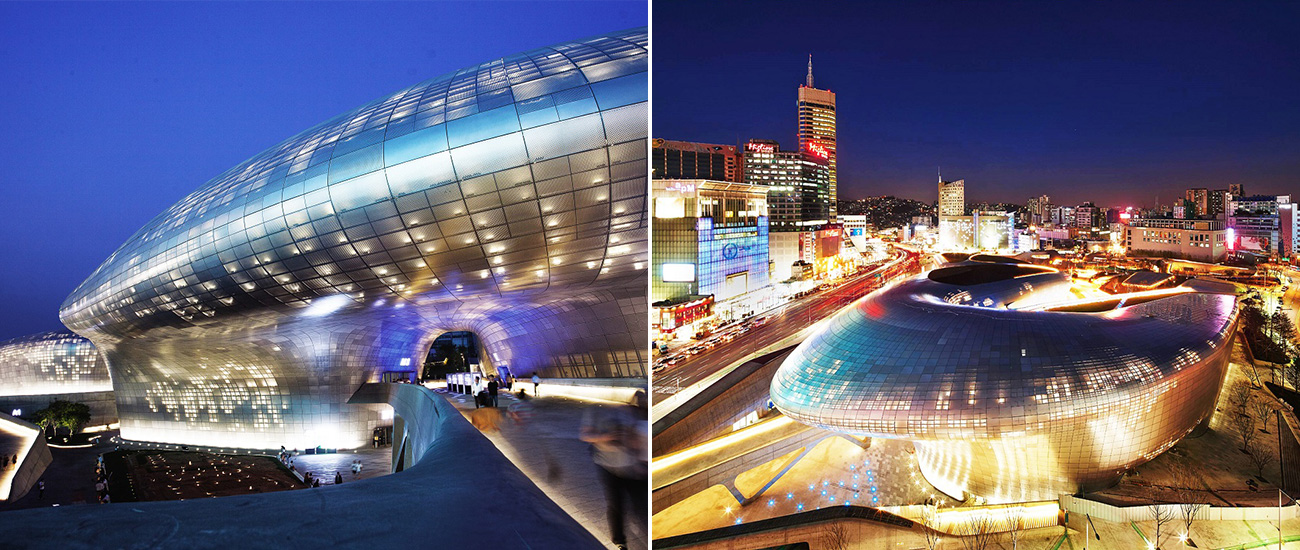 Located in the city's bustling commercial Dongdaemun district, the DDP was built on the site of a former baseball stadium. When it was revealed that renowned architect and Pritzker winner Zaha Hadid would be involved in the development, architecture followers around the world sat up and took note.
But more than a mere structural wonder, the DDP has shown the ability to enchant a broad range of visitors. Even though it was unveiled to the public only two years ago, it is already Korea's most-tagged-on-Instagram site. This year it was also chosen as a Traveler's Choice Award Winner by Trip Advisor – proof if it were needed of the building's global appeal.
The DDP's unique shape and structure causes many visitors to stop in their tracks and ask themselves, "How was this built?"
Hadid wanted to feature distinctive and irregular curves, which presented plenty of challenges for the constructors. Sang Gyu Lee, Project Control Manager at Samsung C&T, told media outlet Chosun Biz, "We did not really have many resources we could use as a reference since such a structure had never been built before."
To find solutions, Samsung C&T had to think outside the box. The company looked at how shipbuilders, aerospace engineers and automobile makers deal with contoured, irregular-shaped panels and thought about ways to incorporate these into construction.
The exterior, made of thousands of differently-shaped aluminum panels, proved particularly tricky to execute. The company also made use of four extra-large steel trusses, or mega trusses, which are usually created to construct structures like bridges. This allowed for a more aesthetically pleasing interior, fitting in neatly with Hadid's vision for the plaza. Samsung C&T also used space frame techniques to this end – the same kind of technology in the building of the Eden Project and the Louvre Pyramid.
Advanced building techniques like these also allowed Samsung C&T to construct the building with smooth, high curves, and avoid the use of pillars, giving its interior particular allure.
It seems only natural then that culture vultures, business owners and fashion professionals have rushed to fill the DDP with some of Seoul's most creative indoor attractions. The plaza's three Cs – culture, commerce and haute couture – have just as much capacity to amaze as its façade.
Time Out calls the DDP "a cultural playground that operates 24 hours," and it is not hard to see why. There is almost always some sort of exhibition going on at the plaza. Recent events have included the Seoul International Cartoon and Animation Festival, and the inaugural Chungmuro International Musical Film Festival.
Fine art fans are also flocking to the DDP's Design Museum to check out a display of Korean figure paintings dating back to the Joseon Dynasty (1392-1910). The showcase runs until August 28 this year.
Parts of the DDP's Design Shop, Art Hall and its incredible pillar-less Design Exhibition Hall are available to rent – something that organizers of theater productions, press conferences and film screenings have already taken advantage of.
The space is the country's biggest design platform, and its unique aesthetic appeal has led the producers of hit Korean drama series, such as My Love from the Stars, She Was Pretty and Producer, to film memorable scenes here.
According to the New York Times, the DDP has already "helped transform the area around it into an international design hub."
The DDP is not just about fine art and design. It is also one of Seoul's leading draws for keen shopaholics and foodies.
The Design Marketplace boasts a wide range of beauty and cosmetics stores. The Concierge Zone, meanwhile, is a retail and service resource for tourists. For those in need of refreshment, there are plenty of options. The DDP has more than its fair share of cafes, health drink stores, milkshake vendors, pubs and tea shops.
Meanwhile, gourmets can take their pick from traditional Korean fare, fusion food, Japanese eateries and buffet restaurants.
Source from 'Seoul Fashion Week 2016' Official Youtube Channel
The Dongdaemun region has always brought in fashionistas in their droves, both from home and abroad. The area's textile markets are well-known throughout Korea and beyond, while clothing markets, fashion superstores and night markets provide ample shopping fun.
It is little wonder, then, that the DDP itself has also managed to position itself as a fashion destination in its own right.
Seoul Fashion Week will be held at the DDP in October, following a successful turnout last year. The showcase is the Korean fashion industry's premium event, and unfailingly catches the eye of international fashion gurus.
Visitors keen to delve into the world of the DDP can join a self-guided tour program comprising of an audio package and a guidebook that examine the history of the site and information about its design collection. The tour also entails some fascinating insights into the unique construction methods Hadid and Samsung C&T used to create the DDP.
Source from 'DDP Seoul' Official Youtube Channel
Hadid once said of the DDP, "Its design is the specific result of how context, local culture, programmatic requirements and innovative engineering come together – allowing architecture, city and landscape to combine in both form and spatial experience – creating a whole new civic space for the city."
Although the DDP's exterior has made it one of the Korean capital's most noteworthy landmarks, what awaits visitors indoors is equally intriguing. Its three Cs mean the plaza has plenty to offer, whether you are a Seoul newbie or a Dongdaemun veteran.