The Dutch have a popular expression: "God created the Earth, but the Dutch created the Netherlands." Indeed, centuries ago, the modern city of Amsterdam was covered by the North Sea. So how did it – and much of the rest of the country – come up to surface?
The answer can be found in a process called land reclamation, one of mankind's most inventive ways of increasing the amount of habitable land available on the planet.
It is hard to say when land reclamation first began, but archeological evidence shows that large areas in Mesopotamia, ancient Egypt and India were drained and irrigated from around 5000 to 3000 BC, using techniques that foreshadow modern methods.
The Dutch began reclaiming land on a large scale in the 11th Century as a response to a sudden population increase. They did this by building dikes in marshlands to prevent settlements from flooding. After windmill technology was pioneered in the late Middle Ages, builders began to drain deep lakes and provide yet more land for building and agriculture.
This led to the development of the Netherlands' remarkable polder system, which consist of tracts of land enclosed by dikes – still in use today. During the Industrial Revolution, steam engines eventually took over, advancing the process so that even areas without natural drainage could be reclaimed.
In modern times, land reclamation techniques are used to create beaches and artificial islands, such as Dubai's remarkable leaf-shaped Palm Jumeirah. They can also provide new uses for landfill sites, helping to build parks, golf courses and even office buildings on what were once garbage dumps.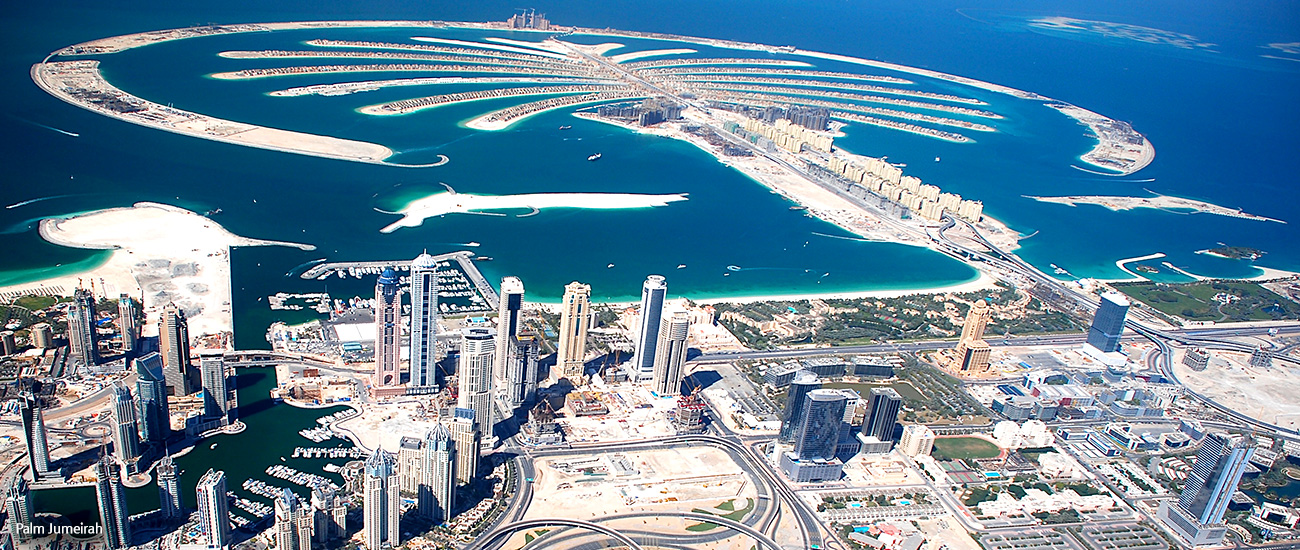 According to Liu Hongbin, a professor at the Ocean University of China, "reclaimed land can result in a ten to hundredfold profit" – making it a very financially valuable building technique indeed.
Although some still express concern over its environmental effects, constructors in Europe and elsewhere are now working on ways to make land reclamation more sustainable and environmentally sound.
Politicians and historians, meanwhile, point to the fact that this technique has in the past been effectively used for peacemaking in the Middle East, with cooperation on this front resulting in the quelling of tensions between Israel and Egypt.
In other areas, land reclamation is needed in order to save entire cities from sinking into the ocean or swampland. The Indonesian government has recently green-lighted a plan to conduct reclamation projects near Jakarta to prevent the country's capital from vanishing off the map.
Yeoun Ike Kang, Deputy General Manager at Samsung C&T's Civil Sales Team – Proposal Group, explains that there is a particular need for land reclamation work in certain parts of Asia. He says, "Most land reclamation work takes place in East and Southeast Asian countries, and demand for the process continues to grow there. Various business developments necessitate it, including construction work on industrial complexes, ports, and harbor facilities such as LNG and container terminals."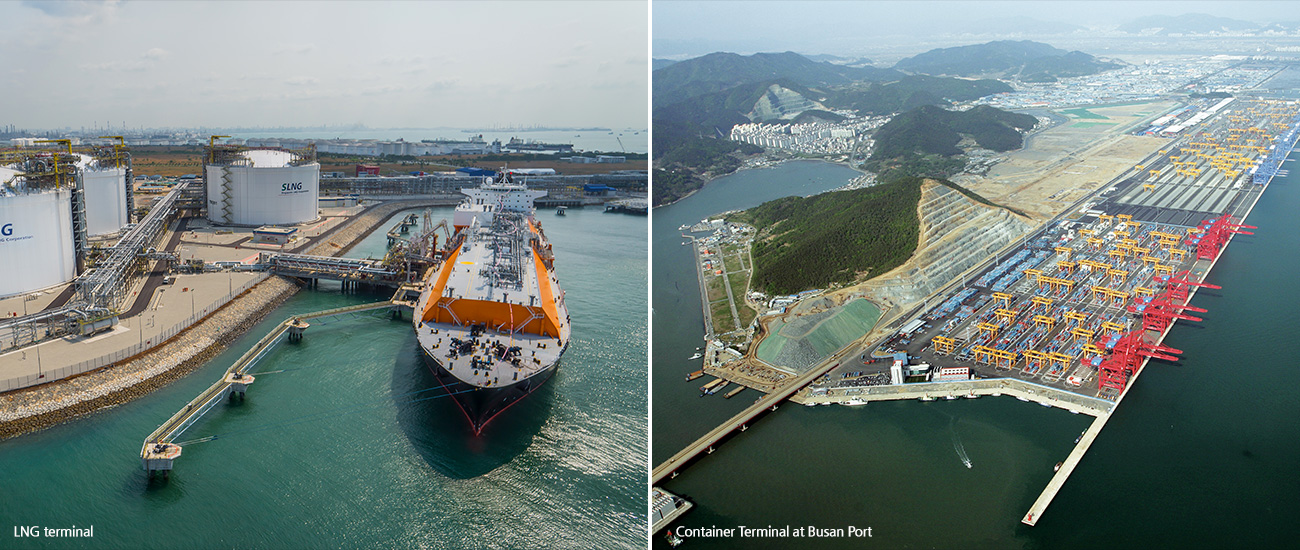 In Korea, a peninsular nation with a growing population and extensive mudflats to the west, land reclamation projects are particularly vital.
Google Earth's Aqua Monitor shows how extensive reclamation projects have been near Seoul and Incheon, Korea's third-largest city.
Incheon International Airport, Korea's biggest air transport hub, was built on reclaimed land by Samsung C&T. The company also built the Incheon Bridge, a 21.4km cable-stayed structure which connects Yeongjong Island (where Incheon International Airport is situated) to the mainland, as well as parts of the Port of Incheon.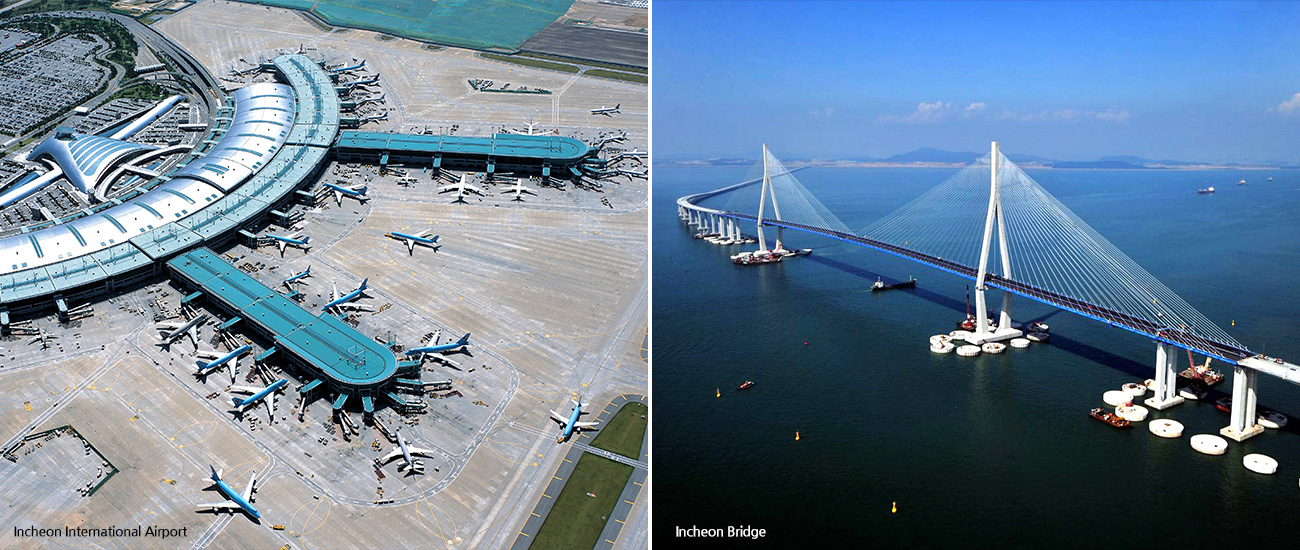 Kang explains that Samsung C&T has longstanding expertise in soil improvement, and uses a variety of land reclamation techniques. These include the Prefabricated Vertical Drain (PVD) and Deep Cement Mixing (DCM) methods.
PVD involves first filling an area with dredged soil (typically fine-grained soil such as silt and clay) and then injecting sand on top of the dredged soil layer. Once the surcharge on the top of the sand has been loaded, water is then drained from the lower dredged soil layer, causing the area to harden and expand.
"The PVD method was used for our recent land reclamation work in Singapore as part of the [award-winning] Tuas Finger One Port project, as well as for the construction of the New Port of Incheon," says Kang.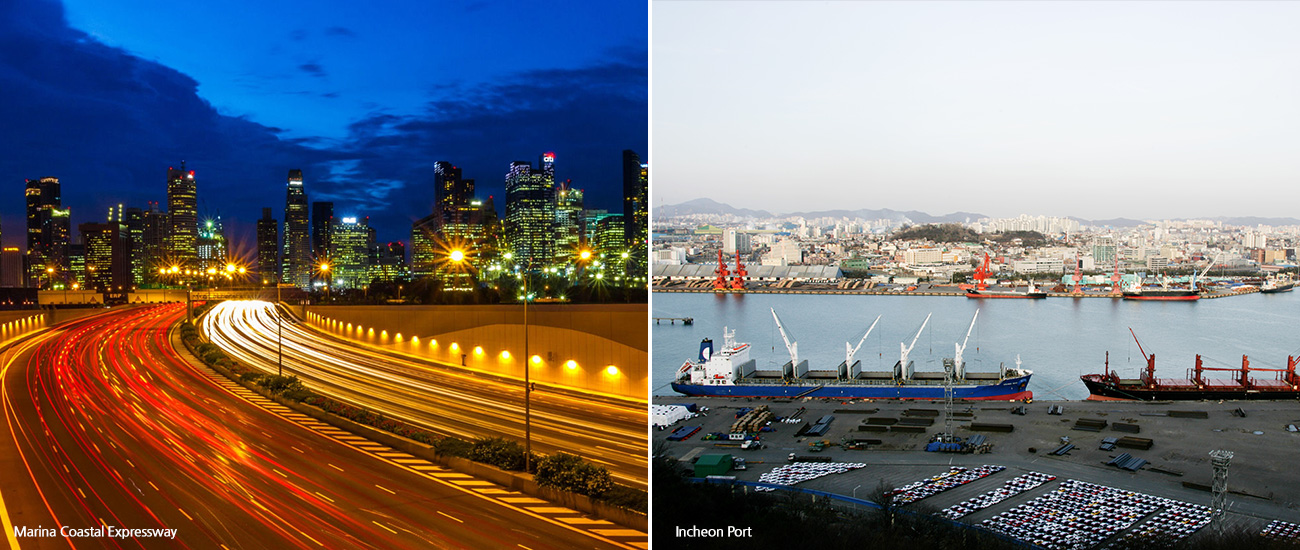 DCM soil improvement efforts, meanwhile, sees a binder material such as cement or lime injected into the ground to stabilize it. It is more expensive than sand replacement, compaction or draining, but in cases where constructors are trying to build on contaminated soil, DCM helps limit the spread of the contamination, and is ultimately better for the environment.
Earlier this year, Samsung C&T won a contract to expand Hong Kong International Airport, where it will make use of DCM techniques.
"DCM, of the kind we will use for the Hong Kong International Airport extension project, is particularly useful when the existing ground is in a poor condition, typically exhibiting low shear strength and high compressibility," says Kang. "In the past, builders used sand compaction methods used in Busan New Port project, but materials for this are no longer widely available, which is why we now tend to use DCM."
As the world's population continues to grow, so too does our need to improve and expand our cities. In a world where construction needs continue to diversify, it is important that urban populations make effective use of mudflats and coastal areas.
To meet the challenges of the future, construction professionals must continue to advance their expertise in this ever-evolving building method.