In order to meet the city-state's growing energy needs, the Singapore government in 2012 unveiled details of its plans to build a 35km subterranean network of cable tunnels, allowing for more effective energy distribution from power stations to Singapore's financial district, the downtown area and a whole host of residential areas. To get the job done effectively, Singapore officials turned to Samsung C&T's Engineering and Construction Group, a company with a proven track record in both subterranean tunnel boring and safe Singapore development.
Boring these tunnels is hard and precise work – and requires the expertise of people like Ho Myung Lee, Samsung C&T's head of construction at the Singapore Cable Tunnel, along with his team of Tunnel Boring Machine (TBM) specialists. Lee's group has been charged with building the Gambas-Mandai section, which is now around 70 percent complete.
Samsung C&T Newsroom met Lee to hear more about how his team works at depths of as low as 60m beneath the ground.
It is already over 33 degrees in Singapore on an early April morning. The rainy season has come to an end and the dry, hot weather is here. Is there any way to escape the heat? It takes 40 minutes to drive along the north highway off the busy city center. Here, Ho Myung Lee, the Head of Construction at the Singapore Cable Tunnel site, is hard at work on his latest project.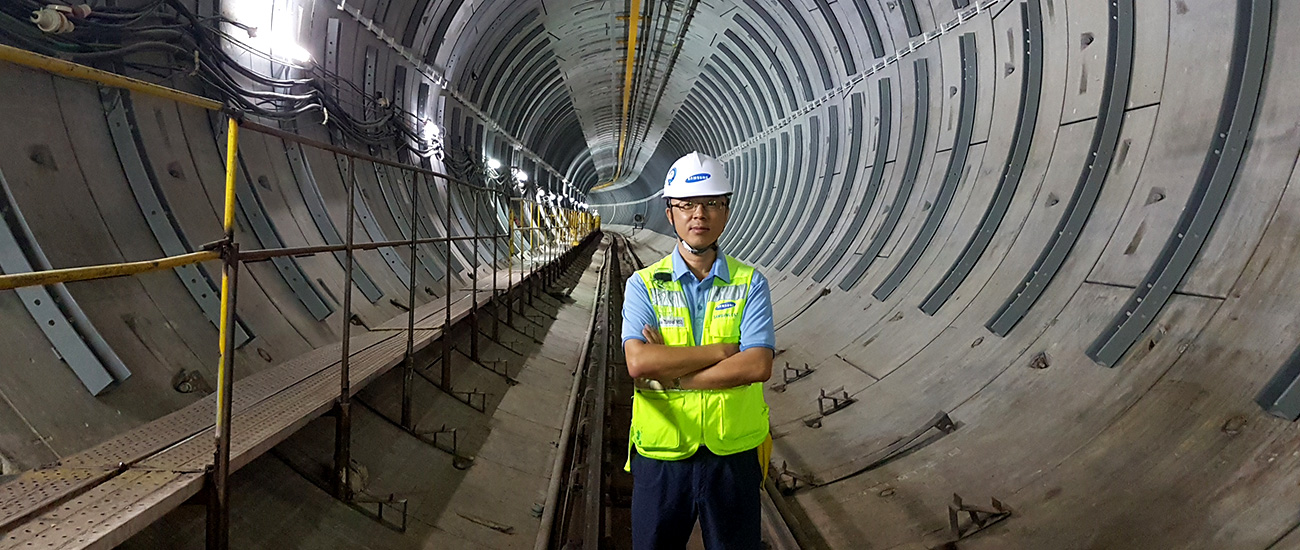 In Singapore, which is 1.2 times the size of Seoul, a long-term construction plan is currently underway, with a view to distributing electricity from Kowloon Island to locations all around Singapore.
Singapore's new electrical cable network has to be installed very deep in the ground. Above it, a subway line, underground arcades, an older powerline network and a draining pipeline have all been installed. Twenty meters below the ground there is an underground highway, and at 30m there is a subway tunnel. Seen from above, it looks as though it would be difficult to develop additional underground space here as a DTSS (Deep Tunnel Sewerage System) also runs at distance of 30m to 50m along the subway line.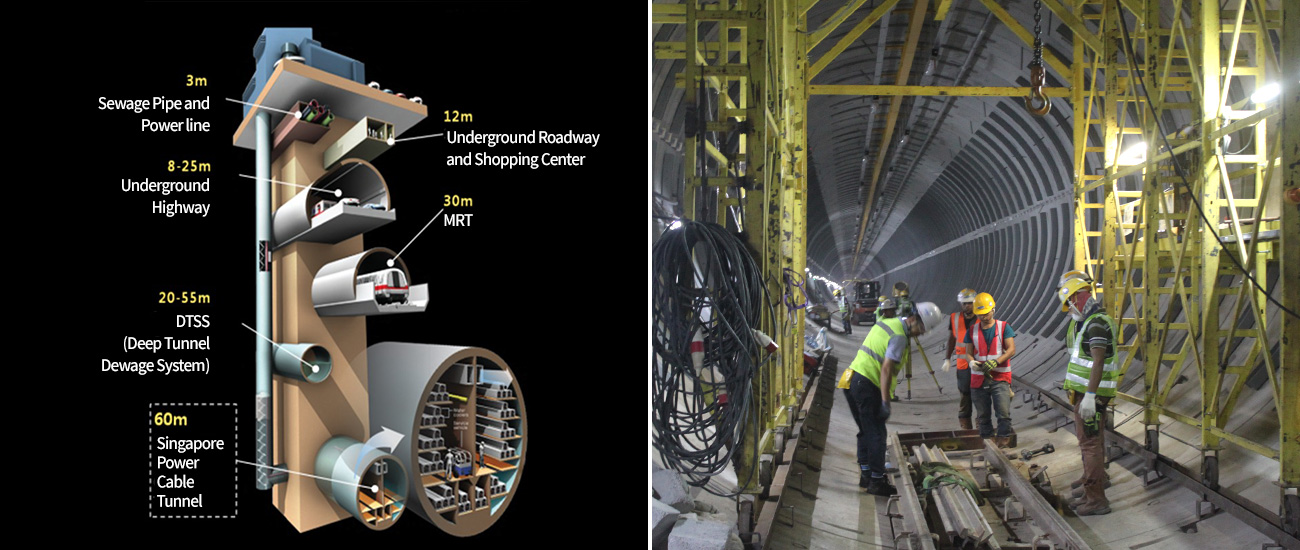 The underground power grid lies beneath the spot that most people believe to be the limit beyond which it is impossible to bore. Since very high levels of technology and professionality are needed to develop underground facilities like these, experienced companies from Korea and Japan were chosen to build the new cable tunnel network 60m underground.
"The Singaporean government has systematically managed its underground development over a long period of time. The underground boring techniques used to build high voltage power grids in Singapore are a long way ahead of those used in Seoul. The Shield method for Tunnel Boring Machines (TBMs), which is used only occasionally in Korea, has become universal in Singapore. Since the construction must be done under a complex ground structure to avoid existing tunnels, the government requires that contractors go through a strict approval process including ground research, design and construction."
Lee has 10 years of construction experience in Singapore. He has carefully studied Singapore's geological features for 10 years. He understands Singapore's soil environment like a surgeon diagnosing a patient after a long career in medicine.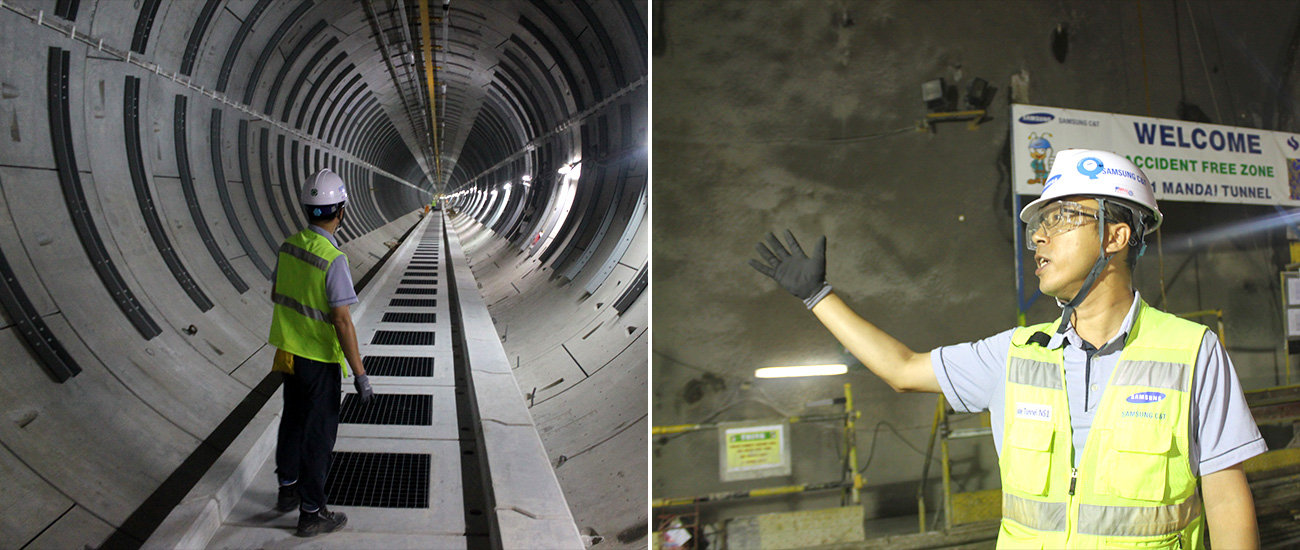 "As the head of our Shield TBM operations, I can say it is important that our team can adapt to the irregular underground conditions in Singapore. In the east of Singapore, heavily developed areas sit above hard sedimentary rock, while the west has a lot more sandstone. The southern part is mainly reclaimed land, while the north is also very developed, with layers of granite. If my team does not understand enough about the ground conditions, it could encounter unexpected delays and incur financial losses."
Lee boasts of his 20-year tunnel boring career – during which time TBM has become very important rapidly for urban communities. Lee has been in the field for 75 percent of that period, and spent the remainder of his time researching and perfecting TBM planning methodology at Samsung C&T's headquarters in Korea.
In fact, Lee first joined Samsung C&T in 1998, and was immediately asked to work on a Singapore subway station project – his first experience with the ultra-secure Shield TBM method that Singapore uses for its subterranean construction.
He went on to work as a TBM construction engineer on another Singapore subway project at the end of 2000. In 2005, he carried out a further TBM tunnel construction project – this time in Seoul. In fact, the Samsung C&T TBM team has gone on to successfully implement Shield TBM methods on several domestic projects for the Seoul Subway, largely thanks to Lee and his colleagues' experience.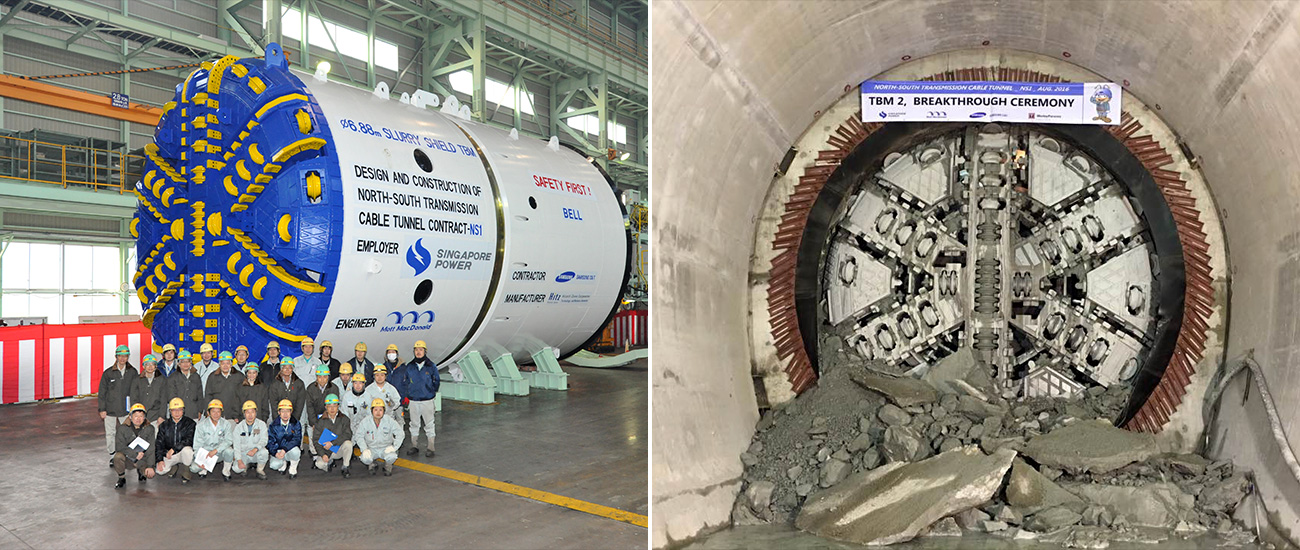 Thanks to his experience, Lee has established a scrupulous process planning system for TBM, which helped Samsung C&T win a contract for deep sewage tunnels in the UAE's Abu Dhabi – in addition to the current Singapore cable tunnel construction project.
"TBM construction becomes extremely challenging if you need to suddenly change the direction your tunnel is going in, or if construction plans require last-minute alterations. You need to plan ahead or you can incur additional costs. Since the geological characteristics of projects varies in every single case, there is often no precedent for what you do as a TBM engineer – every project is unique. Keeping up with technological developments also poses challenges. Shield equipment and construction methods are constantly being tweaked and improved. In fact, clients are often well aware of these developments, and want contractors to implement the latest tech advances. TBM professionals thus need to stay informed, and make sure their equipment is always up-to-date."
Lee says the project is about 70 percent done and that the excavation work is now complete. The TBM equipment has been disassembled and sent back above ground. Workers are now finishing the cradle and concrete block installation for the high voltage cable arrangement in the completed concrete tunnel. Even though it is 60m below the ground, the heat in the tunnels was high due to the construction efforts and hot machinery. Your whole body would be soaked in sweat even after a short walk in the tunnels during peak construction times.
"Getting a smooth, curved surface on a tunnel that deep is quite special. It has a certain aesthetic appeal. For me, a finished cable tunnel is almost like a work of art," says Lee.
Lee explains what he plans to do when he returns from the construction site.
"The Singaporean government creates a lot of business for a range of leading international companies through fair competition and transparent procedures. The government has considerable knowledge about how to use its underground space, so constructors need to abide by strict guidelines, and are constantly supervised. Although Singapore is a very competitive market for businesses, we have thrived here. Samsung C&T has been working on all sorts of projects in this environment for the past 20 years, and that is proof of Samsung C&T's high standard of technology and its performance."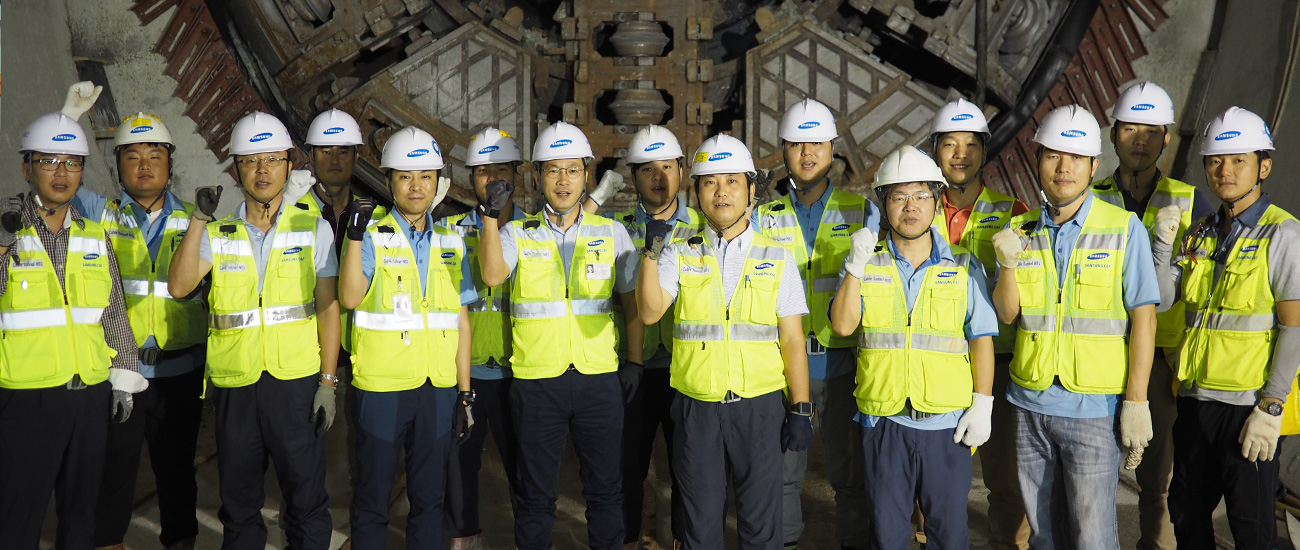 "We should be very proud of what we have achieved. I am happy that when I retire from field works, I will do so knowing that junior staff members are inheriting a well-organized system of tunnel technology. To enhance competitiveness, experience needs to be accumulated and shared, making a virtuous circle of knowledge that experts in every field can share."