With a booming global market for Liquefied Natural Gas (LNG), the challenge for construction companies has been keeping up, which involves building facilities such as LNG terminals and storage tanks to cope with the supply-demand cycle.
One of the very interesting focal points of LNG growth has been South and Southeast Asia. Indeed, LNG demand in those regions is expected to more than quintuple by 2040, while natural gas generally is set to meet around 40 percent of energy demand growth over the next 15 years.
Still, it takes feats of engineering and construction for LNG to serve as a source of energy thousands of kilometers from its origin.
Why and how is LNG stored?
The appeal of natural gas in liquefied form is that it can be shrunk to just 1/600th of its original volume, making it practical to transport and regasify where and when it is needed. For nations without direct access to natural gas, they can install LNG terminals to receive shipments and then handle storage and regasification.
Nevertheless, the process requires precision to eliminate the risk of fire and prevent unwanted leakage. Typically, a cargo vessel will arrive at an LNG terminal before mooring and sending liquefied gas at -160°C through pipes built to cope with such low temperatures. The non-toxic colorless liquid flows into storage tanks, which also have to be constructed to withstand the extreme cold needed to maintain LNG's liquefied state. This means building outer walls with reinforced concrete and insulation to limit any evaporation.
When desired, LNG can be regasified and piped onwards to satisfy local power needs. An advantage of this final product is that it is considered to be relatively clean energy, both because it emits far less carbon dioxide than other fossil fuels when burned, and because it contributes only negligibly to air pollution.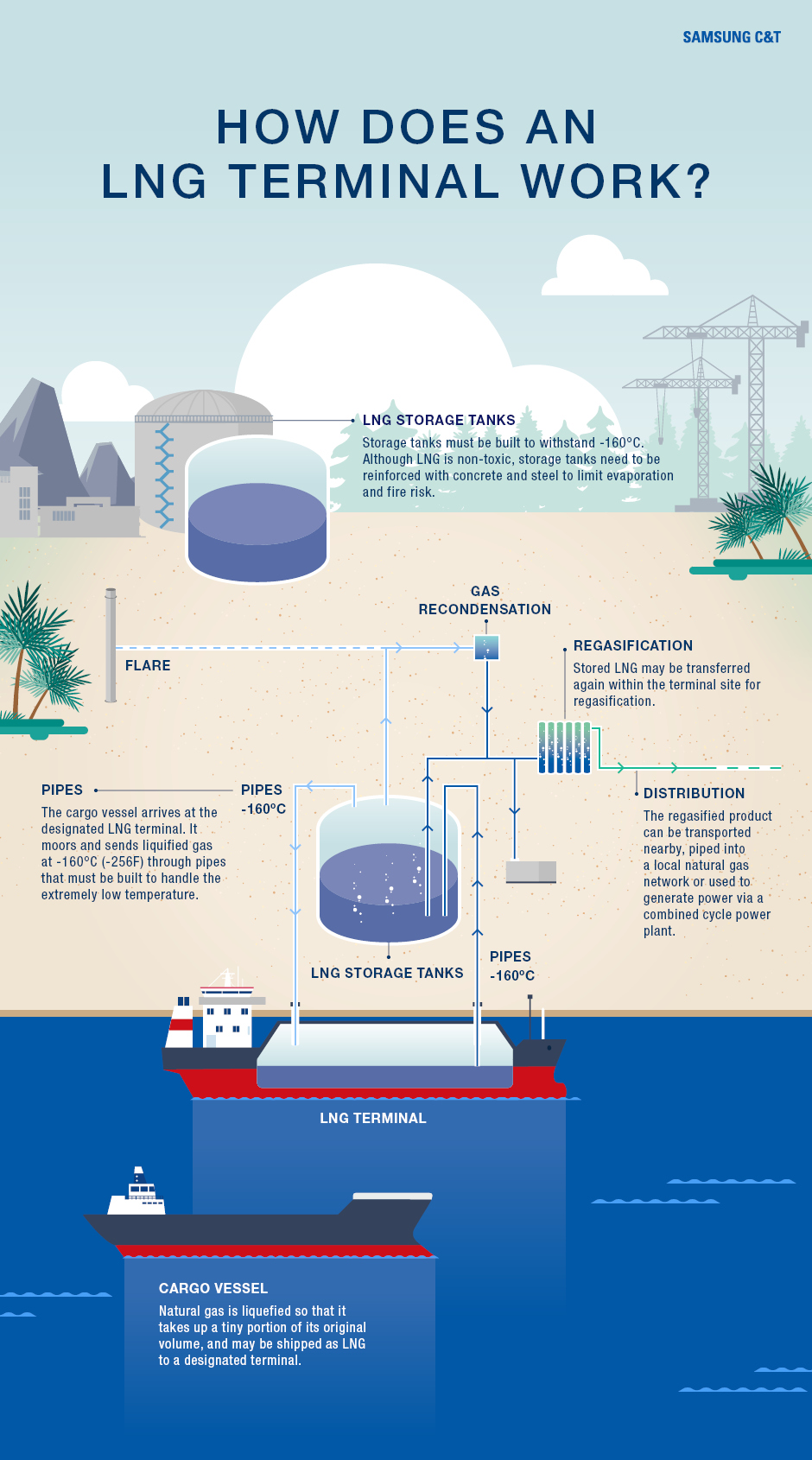 Rising demand for LNG in Southeast Asia
Given LNG's eco-friendly status, its rise in Asia is seen as a particularly important development for countries aiming to meet strict environmental targets while pursuing economic growth. With the rapid increase in LNG demand that is expected over the next 20 years, Samsung C&T is among those being called upon to build reliable facilities. Its Engineering & Construction Group already has a solid track record of doing so across Asia, the Middle East, Africa, Europe and North America.
Some of the company's most exciting recent developments have been taking place in Southeast Asia, including Vietnam where numerous regasification terminals have been proposed. In fact, Samsung C&T was awarded a contract to build the country's first ever LNG terminal last month. The Thi Vai LNG Terminal, which will feature a 180,000m3 LNG storage tank along with regasification and gas transfer facilities, is scheduled for completion in late October 2022 and will supply fuel to a new combined cycle power plant.
Samsung C&T was able to win the Vietnam bid on the back of other successes, such as successfully completing Singapore LNG Terminal Phases 1 through 3 and Malaysia RGT-2 LNG Terminal projects without any safety incidents.
The company's energy construction presence has been further boosted by its full acquisition in 2013 of British-based LNG specialist Whessoe, which boasts a 200-year engineering history. Samsung C&T's support combined with Whessoe's expertise promises to deliver a much-needed partnership against the backdrop of an exciting LNG future.