A ceremony was held in Ulaanbaatar, Mongolia, on July 5 to celebrate the completion of the second hospital building of the National Medical Center of Mongolia. Samsung C&T Trading Group completed this building project after receiving it from the Ministry of Health of Mongolia. President Khaltmaagiin Battulga of Mongolia attended the ceremony held ahead of the completion of the project, which will improve medical services in Mongolia by providing high-tech medical equipment in the second hospital of the National Medical Center of Mongolia.
This National Medical Center project is a US$50 million endeavor and includes not only providing 230 kinds of medical equipment during the design and construction of the hospital wing, but also introducing the latest hospital information system and training medical staff. This project, building an additional 103-bed wing as an extension of the existing second hospital of the National Medical Center of Mongolia, started in 2016.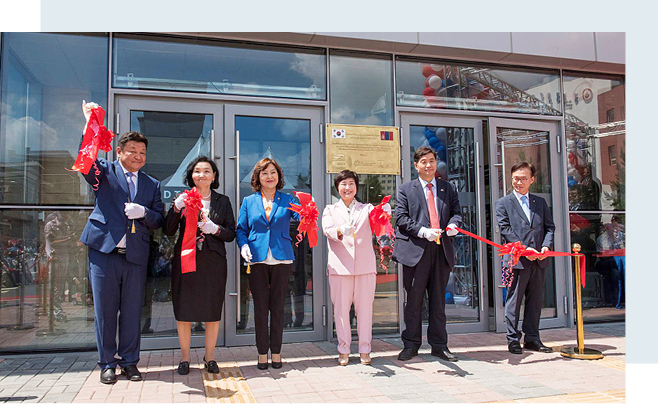 The ceremony for the completion of the project, which introduced several pieces of high-tech medical equipment for the first time in Mongolia, was held successfully with the participation of more than 150 distinguished guests including Khaltmaagiin Battulga, president of Mongolia; Davaajantsan Sarangerel, minister of health of Mongolia; Chung Jae-nam, ambassador of Korea to Mongolia; Shin Deok-yong, executive director of the Export-Import Bank of Korea; and Team Head Lee Beom-soon of the Samsung C&T Project Division.
Samsung C&T Trading Group has displayed its full capabilities in the consortium organized for the project, providing a high-tech medical appliances package and, at the same time, playing the role of project coordinator.
In addition to performing the construction work at the local site, Samsung C&T Trading Group invited government officials and medical staff from Mongolia to Korea to provide them with a systematic medical education on medical systems and administrative procedures at Severance Hospital in Seoul. Such specific education will not be a one-off event; additional education on the operation and management of the high-tech medical facilities is planned for the local Mongolian medical staff in the near future.

This project, which introduced the accumulated business performance to the overseas medical market, is expected to contribute to the improvement of medical services in Mongolia. In addition to Mongolia, Samsung C&T is endeavoring to reinforce medical infrastructure throughout the world, including a children's hospital construction project in Uzbekistan.