These days it seems like everything is becoming "smart"ified. For instance, there are "smart" cashierless grocery stores, "smart" wearable technology that marries digital devices to our clothing, and even note taking by hand has become smarter with tablets that instantly convert your scribble into computer text. Now construction, one of the most labor-intensive industries, is also transforming in a "smart" direction. To learn more, we interviewed Kim Hyo-hwan of the Smart Construction Group at Samsung C&T's Engineering and Construction Group, which is bringing smart technology to construction sites.
Kim has big dreams for the future of smart tech in construction. "There's a saying that the future of digital is analog," he says. "In other words, as digital advances and becomes more sophisticated, it will become indistinguishable from analog. A good example is a human being. Each single organ in our body is an aggregate of plants that consist of sophisticated micromachines, but the composite result is something very analog."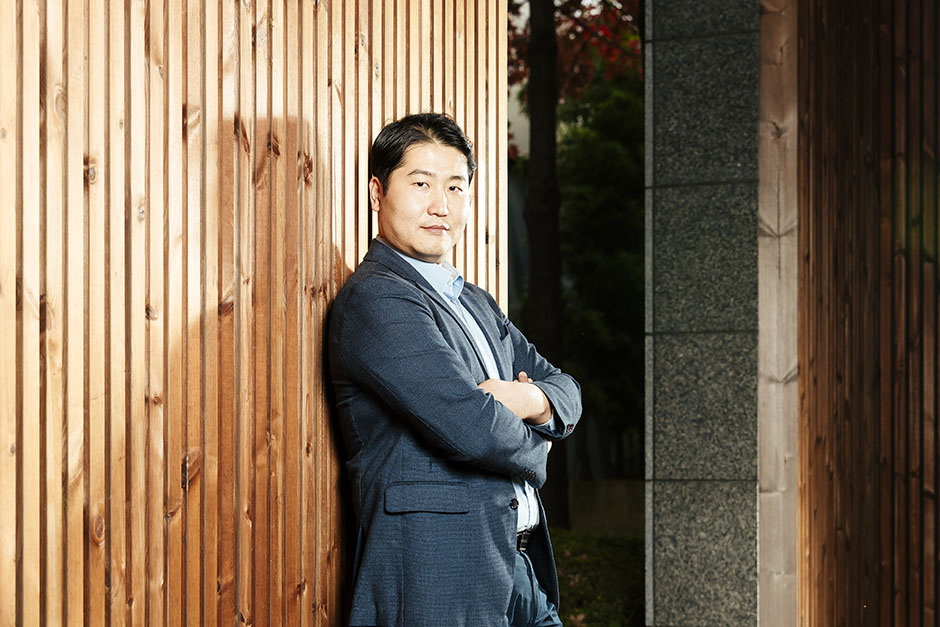 What is Smart Construction?
According to the Construction Leadership Council of the United Kingdom, 'smart construction' is building design, construction and operation that through collaborative partnerships makes full use of digital technologies and industrialized manufacturing techniques to improve productivity, minimize whole life cost, improve sustainability and maximize user benefits. Kim Hyo-hwan outlines the mission of his Smart Construction Group by saying, "We continuously develop, gauge, and review the incorporation of smart technology into the field of construction and then verify its actual application."
Overall, the application of smart technology is not yet widespread in the industry, but it's increasing worldwide. "Korea also started late," says Kim Hyo-hwan, "but the interest and perceived need to move in that direction is growing quickly, and in 2018 the Ministry of Land, Infrastructure and Transport announced a 'smart construction technology road map' for 2030." This last factor is seen as giving the transformation to smart construction a boost.
It's in the area of building information modeling (BIM) that Samsung C&T Engineering & Construction Group is really shining. Says Kim, "We have the best professionals in the BIM field." He explains, "BIM is taking a two-dimensional plan and turning it into a three-dimensional model, closer to real life. In the past, a two-dimensional plan was limited in terms of what information it provided, but now we can include details like quality, volume, manufacturer, quantity, and estimates of materials."
Drones – a big part of smart construction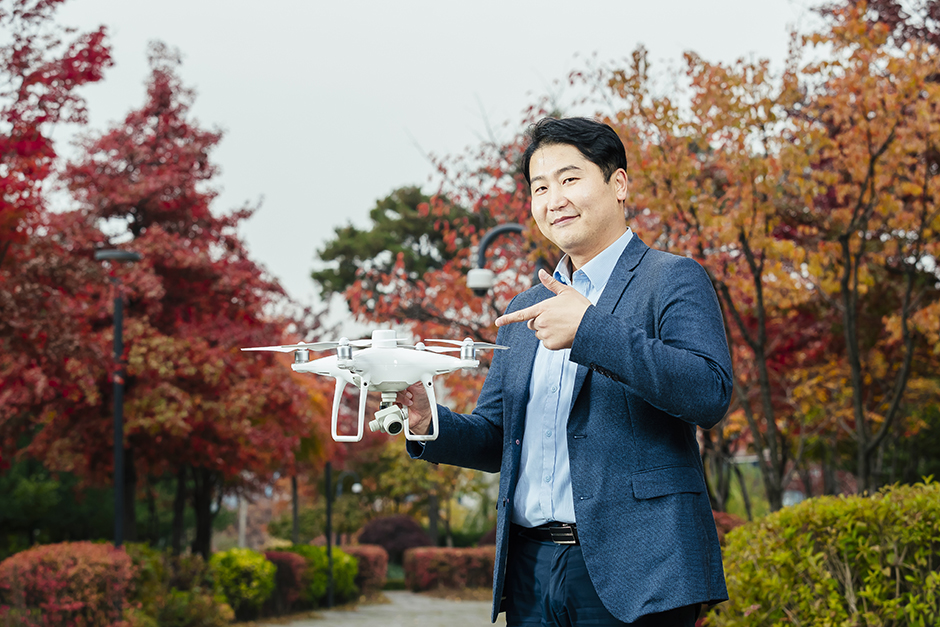 Kim Hyo-hwan's chief area of responsibility is the application of drones to scan construction sites by taking countless pictures and using those images to take measurements and creating three-dimensional models. "The creation of a 3D model by a drone now only takes hours when it used to take days of video processing work by a human," boasts Kim. These models are in turn applied to BIM.
With the advancement of technology, it's now theoretically possible to design, produce, and construct using BIM only, because the drones that Kim uses for this work are specially adapted to actually create three-dimensional models and then plug that data into BIM. However, Kim adds, "We're still in the transition period where there are some tasks that still need to be solved in order to apply the technology to actual sites."
Asked about his colleagues' enthusiasm to introduce drones to the construction of a residential apartment, Kim said, "They thought it could be good for scanning sections that are difficult for humans to inspect due to safety issues, like the tops of tower cranes. There is definitely a need to adopt drone and smart construction technologies in safety, and when it is adopted, it becomes highly utilized."
Future prospects of "smart construction"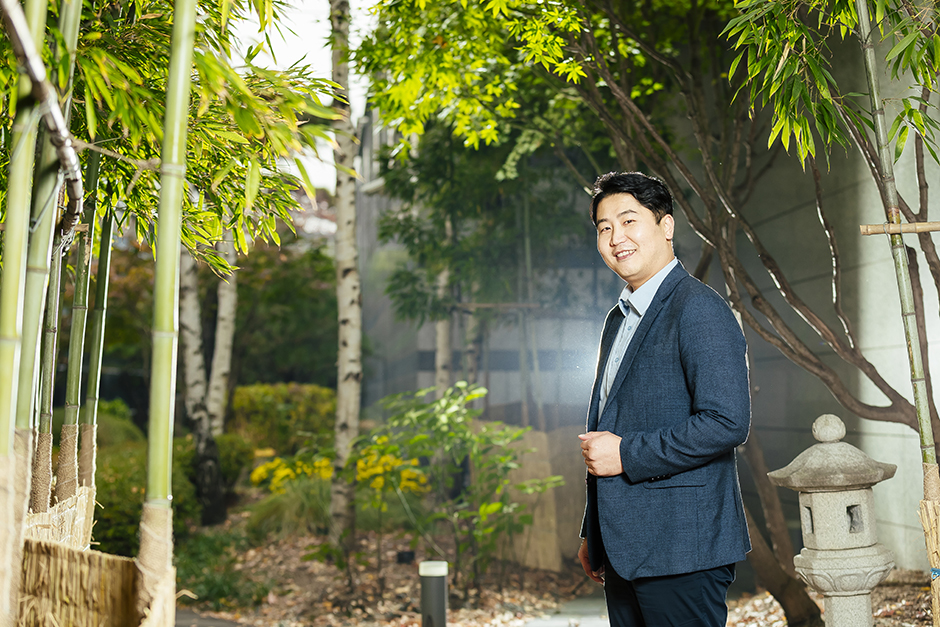 Construction sites are unlike manufacturing ones, where the same processes are repeated at the same location. This constantly changing characteristic of the industry makes it challenging to apply smart technologies all at once. However, as the technology continues to develop, Kim is confident that his industry will soon be able to incorporate smart tech to the same level as the manufacturing industry.
Interestingly, Kim sees one of the biggest challenges to the adoption of "smart construction" to be human resistance to change in how work is done, but he is positive about that. "I have always heard that what's necessary is a change of mind," he says. "This change will be somehow different from previous ones, and the innovation following a higher level of digitalization, which can embrace the whole construction industry, will lead to a comfortable and wonderful change. It will be like when we changed from clamshell phones to smartphones."