Dr. Kim Jong-hoon has the unique career of having joined Samsung C&T not once but twice. He first entered the company in 1995 and worked for about three years. He then left to attend Stanford University for further studies, eventually receiving his doctorate degree in Construction Engineering and Management, with a specialization in Building Information Modeling (BIM). Returning to Korea in 2014, Dr. Kim became the head of the BIM promotion team at Cheil Industries. When Cheil merged with Samsung C&T the following year, Dr. Kim Jong-hoon effectively joined the latter company for the second time. Let's meet Dr. Kim Jong-hoon, who has an inseparable link with Samsung C&T.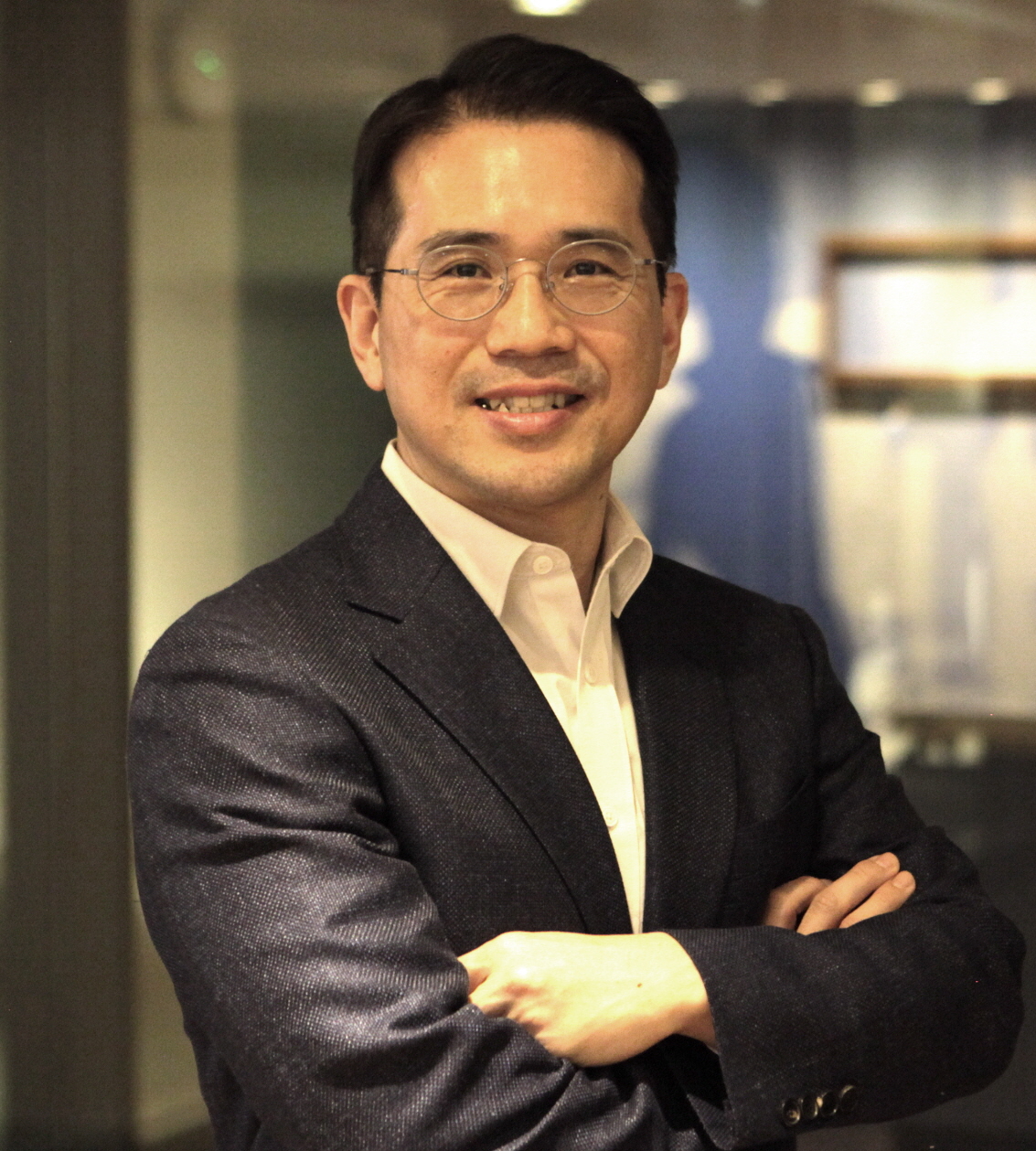 Leading BIM in Samsung C&T
Currently, Dr. Kim Jong-hoon is in Charge of BIM, Smart Construction team at Samsung C&T Engineering & Construction Group. This team is ramping up productivity in the construction sector through the application of Internet of Things (IoT) and robot technology, as well as BIM.
BIM is a technology that allows the integrated management of all the various information and data generated in construction process by using 3D architectural design tools. The benefits of this is that BIM makes it possible to identify building facility exchange cycles, manage energy consumption and insulation performance in a building, improve productivity and increase the speed of a construction, minimize errors of construction.
On a construction site, BIM plays a number of important roles. By designing and virtually constructing buildings in advance with BIM, errors and risks in design and construction plans can be effectively identified in advance before they are encountered in real construction process. And BIM plays a pivotal role in the digitalization of the construction industry. Because various technologies such as Internet of Things(IoT), artificial intelligence (AI), drones, and robots are connected based on BIM data. BIM is driving the shift from experience-driven to data-driven work.
As a relatively new technology, BIM is still unfamiliar to some people who have been in the construction industry for a long time. However, its rate of BIM application is increasing worldwide. For instance, the United Kingdom has been a leader in implementing BIM. UK mandates its use in central government-backed construction projects since 2011. Italy in 2019 introduced an initial plan that mandated BIM usage. Meanwhile, the United States was the first country to adopt BIM in the 1990s and has seen it applied to about 71 percent of architectural construction since 2012. And Singapore has mandated BIM application for building projects over 5,000 square feet since 2014.
There is a growing need for the application of BIM technology at construction sites. As architectural design becomes ever more complicated, BIM's usefulness is coming to the fore. Let's take a look at the most memorable scene among the projects that Master Kim Jong-hoon participated in, which showed the power of BIM technology.
For instance, construction of the Malaysia Star Residence Project was a large-scale complex development project to build apartments, hotels, and commercial facilities. The project had a unique design with commercial and parking facilities up to the sixth floor and transfer floor above it, and three towers rising up from the 8th to the 57th floors. Dr. Kim Jong-hoon used BIM to simulate the size, assembly order, and transportation method for all the sections of rebar needed for the site. Reviewing the appropriateness of the construction methods and deriving the construction plan with BIM managed to reduce the construction period by about two weeks compared to the original plan.
BIM also showed strength at the construction site of the KL 118 Tower in Malaysia. The Malaysia KL118 Tower Project was a five-basement and 118-floor high-rise complex facility that topped out with a double spire at a height of 556 meters. The construction of the spire was carried out by assembling structures from the ground and lifting them all the way up, using a 62-meter, 240-ton Jack-Up lifting device. With the use of BIM, Dr. Kim had reviewed the plan and improved the construction order, reinforcing safety facilities and finally completed the project. Upon completion, the site director said, "The project would not have been done successfully on time without BIM." This moment has stayed with Dr. Kim.
A proposal to maximize BIM's effectiveness
Dr. Kim Jong-hoon feels that a change is necessary in the perception of people in the construction industry. He believes that in order to maximize the effectiveness of BIM, all those participating in the construction industry, including designer companies, construction companies, and business partners, should familiarize themselves with BIM and learn to use it. This requires a change in the way of working, and people need to recognize that the construction industry should seek change, not avoid it. Dr. Kim believes that investment in BIM is necessary so that there is no deviation between regions and countries.
He says that BIM should be applied intensively to areas where problems are expected, even on small sites, because not all small sites are simple in design and trouble-free. In fact, the smaller the site, the more detailed the designs needed. Rather than applying BIM to the entire building, Dr. Kim Jong-hoon believes that applying BIM with focus on areas where problems are expected will have sufficient effect with less input.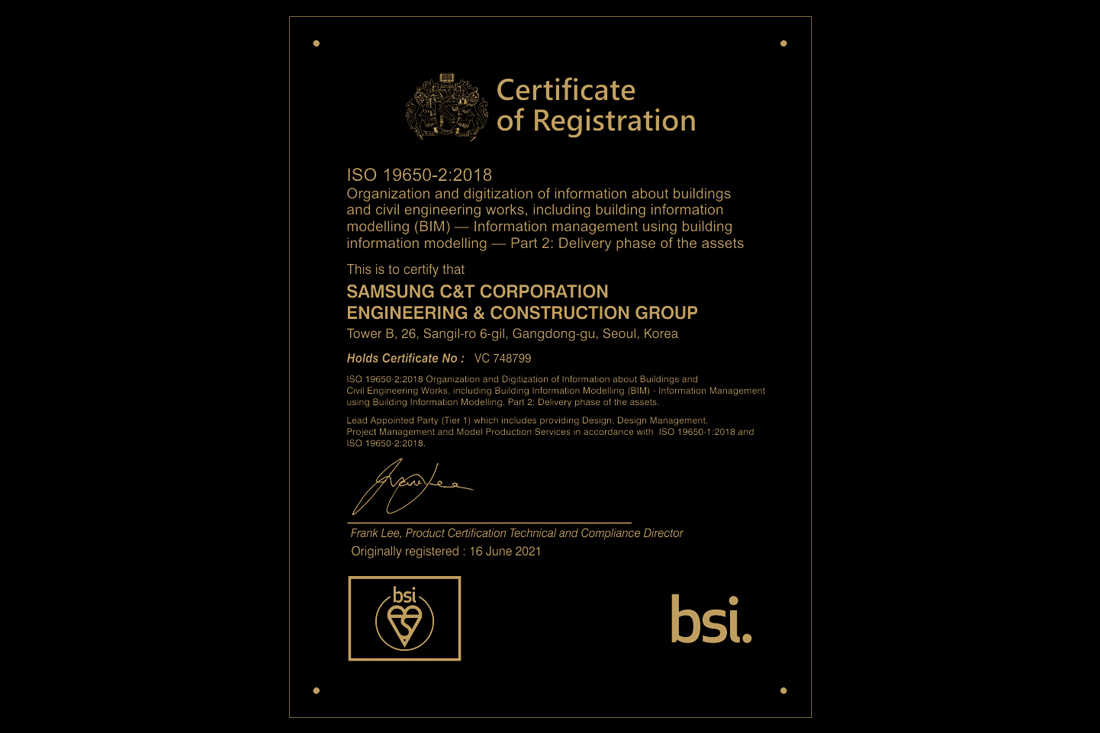 In 2021 June, Samsung C&T E&C acquired ISO 19650, an international standard for the organization and digitization of information, which has been working to strengthen BIM capabilities since 2010. Samsung C&T E&C has also applied BIM on projects at Taiwan International Airport, Bangladesh's Dhaka International Airport, and Singapore's Subway Cross Island Line CR112, and aims to incorporate it in all projects that it has received since 2021 regardless of size. Dr. Kim Jong-hoon will be an important leader in that process.