What if electricity were to disappear from our lives? Everything from televisions and refrigerators, which have been around for generations, to smartphones and home air purifiers, which are more recent additions, runs on electricity. Without it, our modern lifestyles would not be so modern anymore.
How does electrical energy come into our lives? In other words, by what process is it transmitted to our homes, schools, and workplaces? And what projects are Samsung C&T Engineering and Construction Group involved in that are related to electricity?
Sending electrical energy from A to B
There are two sorts of electricity – alternating current (AC) and direct current (DC). All batteries and dry cells are DC, while power that comes from a house's wall socket connected to the mains power supply is usually AC. The AC electricity produced in power plants is transmitted through substations, power transmitters, distribution buses, and pole transformers.
Power leaves a power plant in a high-voltage form, between 154,000 and 345,000 Volts, to compensate for any power loss on the way, and in a house or office it is lowered to 110V or 220V, or 330V in a factory. In the process of transmitting electricity from the generator to the user, the substation plays a major role in lowering the voltages. 
AC electricity has an advantage over DC in that it is easy to step down. However, due to recent increases in demand for electrical power and the growth in new and renewable forms of energy, the distance between power producers and their consumers has further increased, and direct current transmission through power cables is once again receiving attention.
As a result, high-voltage direct current (HVDC) transmission technology is emerging as a new and viable alternative. HVDC is a way of concerting the high-voltage AC power produced in a power plant into DC, transmitting it, and converting it back into AC before it reaches the consumer. This method can transmit power over longer distances, is relatively inexpensive, loses less power, and maximizes the efficiency of new and renewable power generation such as solar power, which creates DC electricity by default.
Constructing a high-voltage transmission network in the UAE
Samsung C&T Engineering & Construction Group has recently landed a high-voltage transmission network construction project worth 3.5 trillion won in the United Arab Emirates. The Group has signed an engineering, procurement and construction (EPC) contract to build an ultra-high-voltage direct current (HVDC) network that connects the UAE offshore oil production facility and Abu Dhabi's onshore power grid.
Two power converter stations will be constructed in two onshore areas near Abu Dhabi and another two on islands with offshore oil fields, and undersea power transmission networks will be built with a capacity of about 1,000 MW and 600 MW. The two transmission networks are 137 km and 122 km off of the mainland, respectively.
Samsung C&T E&C plans to form a consortium together with Jan De Nul, a Belgium-based construction company, to execute this project, with a total construction cost of $3 billion. Of this, the portion going to Samsung C&T is 2.27 billion dollars.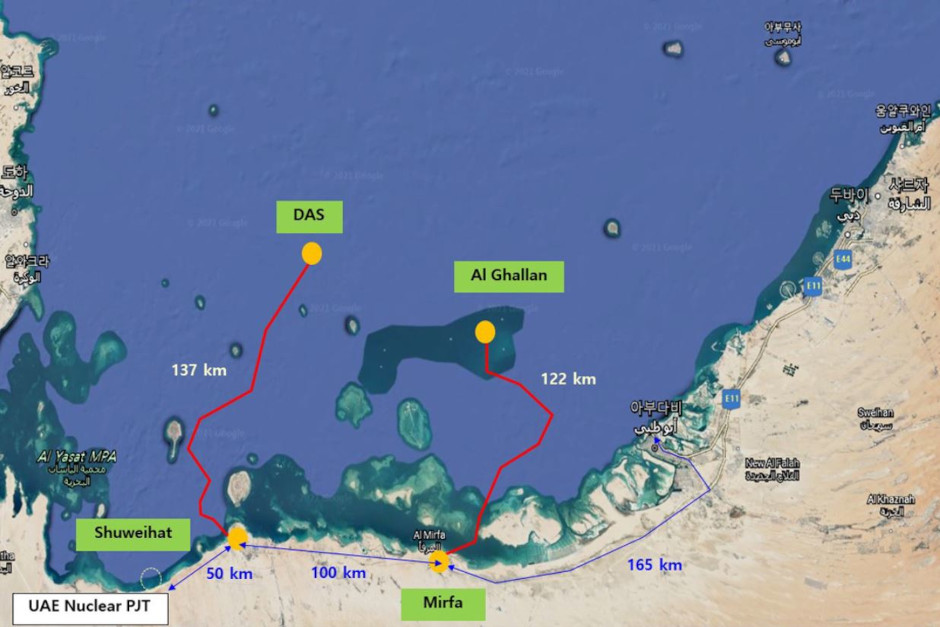 Accumulated experience in Middle Eastern power projects
Power generation projects and the construction of substations are two strengths of Samsung C&T E&C Group. The Group has experience with many different power projects such as nuclear power stations and substations in the UAE.
In fact, starting with the AL Shuweihat S2 Combined Thermal Power Project in the UAE, the group has participated in a total of four power generation facility projects in that country, including the Barakah Nuclear Power Plant, the 2nd phase of the Emal Combined Thermal Power Plant, and the Fujairah F3 Combined Thermal Power Plant.
Samsung C&T E&C has earned a high score from its clients particularly for its wide network of local UAE clients and its understanding of the specifics of the UAE power grid.
Going forward, Samsung C&T Engineering & Construction Group plans to participate more contracts to work on transmission projects linked to renewable power generation and power grid connection efforts between countries.