Can a safety helmet become something completely different? On construction sites around the world, workers wear safety helmets to protect their heads. For safety reasons, these helmets must be regularly replaced. Safety helmets are made out of several types of plastic, which has made recycling difficult, because the different materials are handled in different ways.
One creative approach was taken in 2011, when in Kuwait a 26-meter-long sculpture of a giant helmet was made from recycled ones. More practically, Samsung C&T Engineering & Construction Group has recently found a way to turn used safety helmets into cases for employee ID cards.
What to do with used helmets?
Samsung C&T E&C Group collects discarded safety helmets from its construction sites when they are re-placed. The used safety helmets are then taken apart and separated into recycled raw material. The group is working to find new directions for resource circulation in the construction industry, thereby contributing to solving environmental problems.
At Samsung C&T E&C's Pyeongtaek construction site, approximately 4 to 8 tons of safety helmets are dis-posed of annually, and after thinking about how to use them efficiently, the group found a way to convert them into employee ID cases. This is the first example in Korea of industrial waste being turned into pass holders.
Plastic from just one discarded safety helmet can be used to make 7 employee ID cases. Even the lanyards used to dangle the cases are also made of 100% recycled materials using fibers recycled from PET bottles, making this project even more significant.

How to recycle waste safety helmets?
The hard shell of a helmet is made from Acrylonitrile Butadiene Styrene (ABS), a type of plastic used because it is more resistant to impact and heat than others. ABS can be recycled after going through a process that changes only its physical form without altering its chemical structure.
In order for ABS-based plastic products to be recycled, the collection step comes first. After that, they are crushed and broken into small pieces. Then the pieces are washed and sorted into separate types before mixing them with new raw materials in an appropriate ratio. Because ABS can come in various colors, when mixed together during the recycling process, the recycled material usually turns out black or gray. Recycled ABS can also be used in automobile parts, home appliances, and cosmetics containers. Samsung C&T chose to make it into employee ID cases, which are always in demand at construction sites and other workplaces.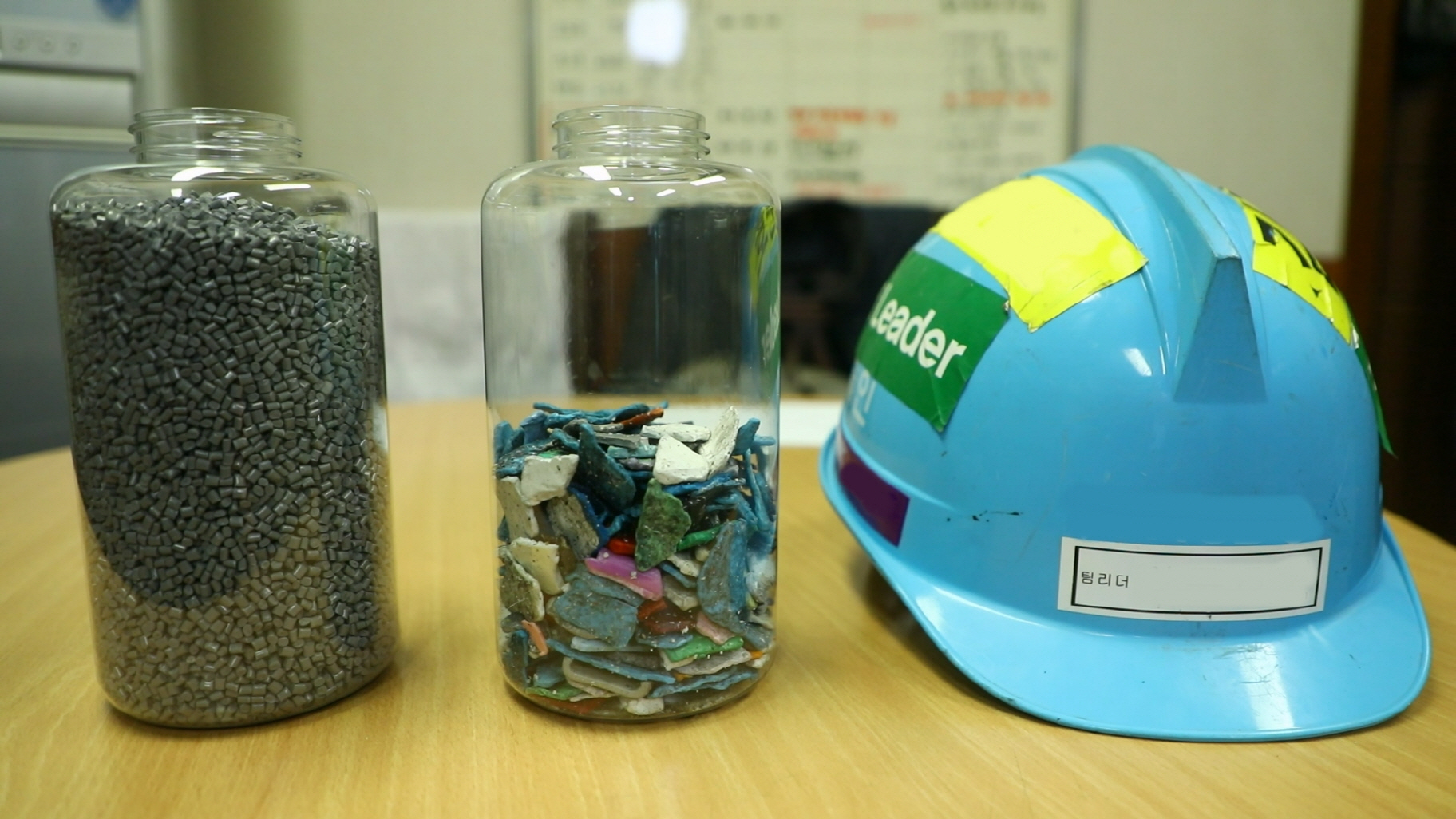 Moving towards an eco-friendly future
Samsung C&T E&C Group is striving to strengthen eco-friendly construction by managing its projects in more sustainable ways and putting efforts into environmental management.
For example, the group is leading efficient and eco-friendly construction by developing 3D printing technology and working to expand its applications. Similarly, it is incorporating modular construction techniques to bring innovation and raise efficiency in its projects while also lowering emissions. Globally, it is growing its collaboration with other firms to work on clean energy projects in efforts to combat climate change.
Through this latest project to recycle safety helmets, Samsung C&T hopes to spread awareness that some-thing need not simply be thrown away after use, but can instead be a resource that can be used some-where else. Beginning with this project, Samsung C&T E&C Group plans to contribute to building a circular economy and eco-friendly construction by utilizing various types of waste, including plastic.