The past year was a difficult and confusing one for many people, and its fog of uncertainty is still wrapped around us to some extent. But if there is one thing that we should not lose it is hope for a recovery. The Pantone Color Institute, world famous as a setter of professional color language standards, sends the same message for this year.
Two contrasting tones for 2021
For over 20 years, Pantone each year selects a Color of the Year after analyzing trends from the previous year in all fields of human life from industry and new lifestyle trends to even politics and socioeconomic conditions. This time, the chosen colors are Ultimate Gray and Illuminating, a shade of yellow; one neutral color and one as bright as the sun.
Ultimate Gray is described by Pantone as "emblematic of solid and dependable elements which are everlasting and provide a firm foundation" reflecting of a weathered beach pebble, and Illuminating as "bright and cheerful yellow sparkling with vivacity, a warming yellow shade imbued with solar power."
Naming two colors is unusual, and this is only the second time Pantone has done so, with the first being in 2016. "The union of an enduring Ultimate Gray with the vibrant yellow Illuminating expresses a message of positivity support by fortitude," explained Leatrice Eiseman, executive director of the Pantone Color Institute, adding, "Practical and rock solid but at the same time warming and optimistic, this is a color combination that gives us resilience and hope."
In choosing these two independent colors that somehow come together in a way that supports and highlights each other, Pantone joins many people around the world in hoping that 2021 will be a better year. "We need to feel encouraged and uplifted; this is essential to the human spirit," comments Leatrice Eiseman.
Ultimate Gray and Illuminating in life
If colors play a major role in shaping how we see and feel the world around us, then Fashion is one of the easiest ways to explore its effects. Ultimate Gray gives a peaceful, easy feeling, and can be applied to almost any look. Because it is achromatic, it might give the impression that it isn't a good match with a bright primary color, but the harmony created by matching Ultimate Gray with Illuminating is both novel and flattering. If you find a bright yellow to be a little intimidating at first, finding some accessories such as bags and shoes that have that hue would be a good place to start.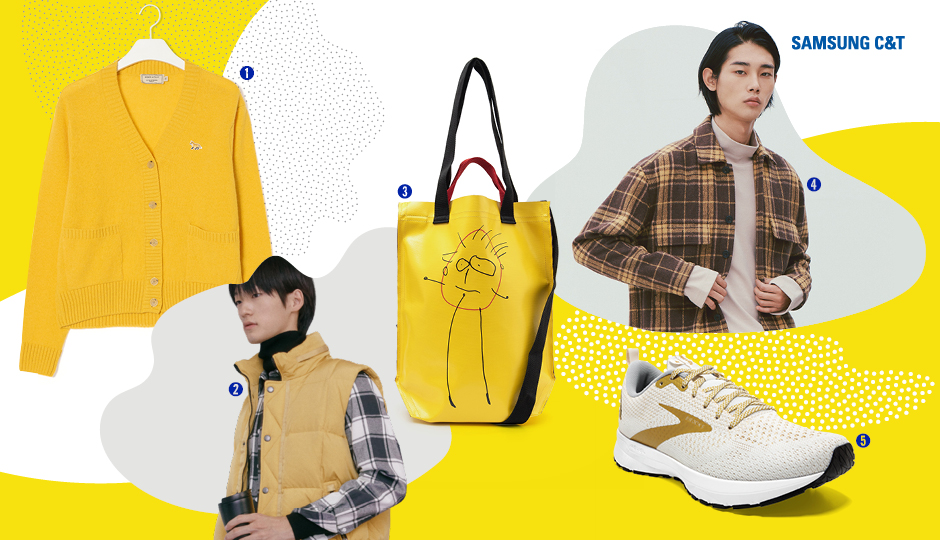 A bright yellow woolen sweater worn with a light gray suit gives a striking contrast, and a yellow bag paired with a gray hoodie can really catch one's eye. These days, a sunny face mask above an otherwise slate-like business suit would send a message of cheerfulness and hope to those around.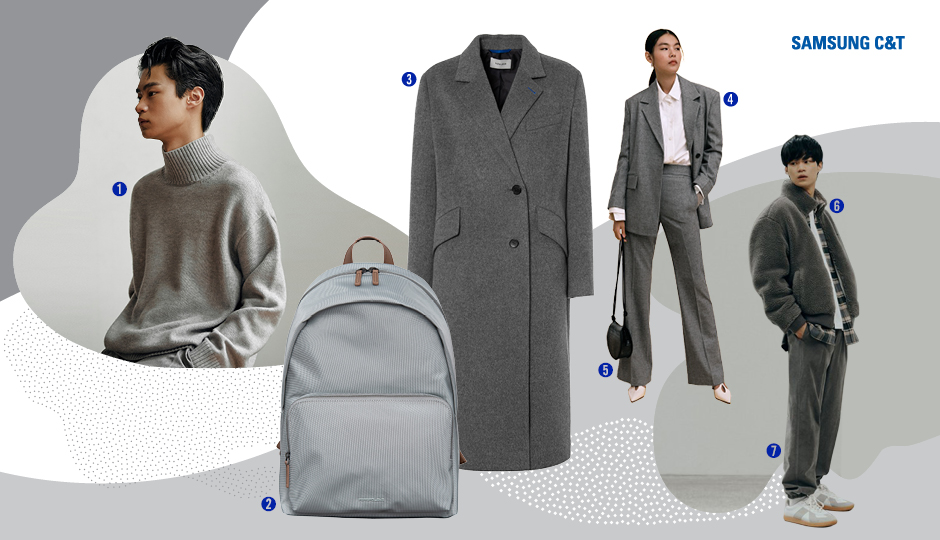 Incorporating the Colors of the Year into one's surroundings is also a good idea, especially as we spend more time than ever in our homes. As in fashion, the trick is to use gray as the base color and keep the yellow for highlights or accents. For example, instead of painting a whole room yellow, try gray but adding a yellow rug. Or a gray couch with some artfully placed yellow cushions. The calming gray will impart the necessary stability and peace of mind, while the yellow mimics warm sunlight, as Pantone describes, and will give off refreshing vibes.
You can find more ideas at SSF Shop, Samsung C&T Fashion Group's online shopping mall.