There is a large number of charities and foundations in the world that help people by funding necessary eye surgeries, so it is encouraging to see a company roll up its sleeves and work to give the precious gift of sight to those who need it.
Kim Na-yeon, a seven-year-old girl, is one of 379 children who received an eyesight recovery operation with the help of fashion label KUHO. Speaking about the surgery she said, "You made my eyes beautiful, so now I dream of becoming a world-class florist."
KUHO is Samsung C&T's Fashion Group's minimal-contemporary womenswear brand, and since 2006 it has been holding its "Heart for Eye" campaign, which seeks to share the beauty of fashion and the world with visually impaired children.
Each year, the brand makes special garments to raise funds for this campaign. All campaign items bearing the Heart for Eye's signature heart motif are designed, the proceeds paying for surgeries and treatment for visually impaired children from underprivileged families.
Wear your heart upon your shirt, not upon your sleeve
For its 18th campaign this year, a range of exciting new garments and bags are now available from KUHO. This year's major variation is a "drawing heart" motif that appears to have been doodled freehand. But not all the hearts are printed – they come in a whole range of types.
A number of different techniques have been used to apply hearts to garments in various ways, such as weaving heart shapes out of ribbons, or embroidering them. A heart designed with twists and stripes adds a touch of fun to the t-shirt.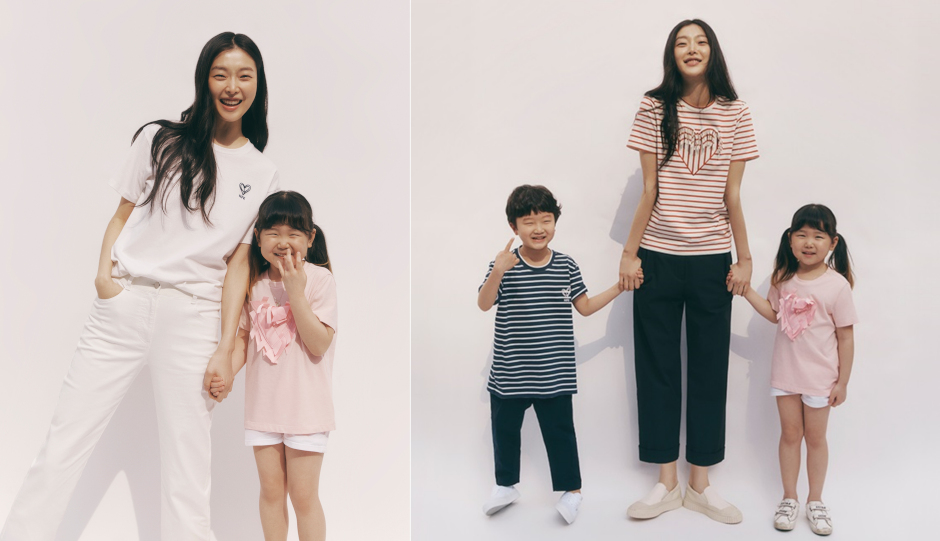 The Heart for Eye campaign helps children, but its clothes are for everyone. Heart-themed t-shirts are available in men's, women's and children's styles and sizes, so that the whole family can wear their hearts on their chests together.
Wet on wet: Collaboration with Kim Mee-young
The thing that makes the Heart for Eye campaign more special is collaboration with artists and celebrities. This year, locally and internationally renowned painter Kim Mee-young has donated her artistic talent to the project. Based in Seoul and having studied at prestigious schools in Korea and the U.K., Kim is famous for her "wet on wet" painting technique, adding new layers of paint on top of previous layers when they have not yet dried.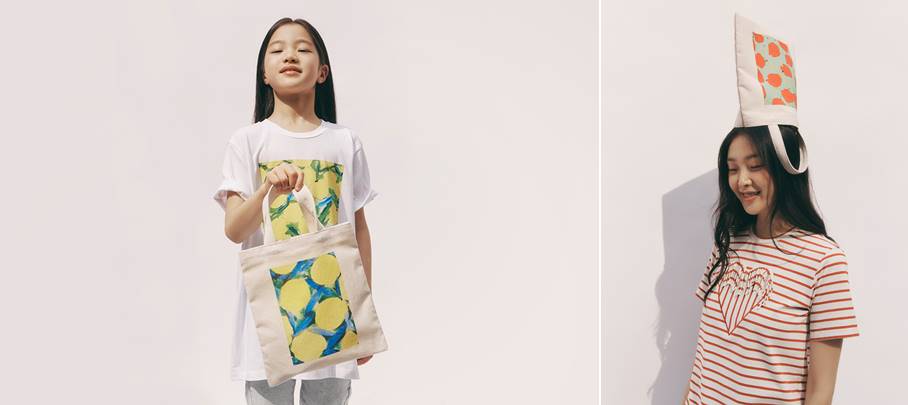 Her artworks that employ green and lemon and other invigorating, vivid colors were brought to the campaign items, expressing her hope that the children who will receive sight-giving surgeries will be able to grow up viewing the beautiful world with hope as well as vision in their eyes.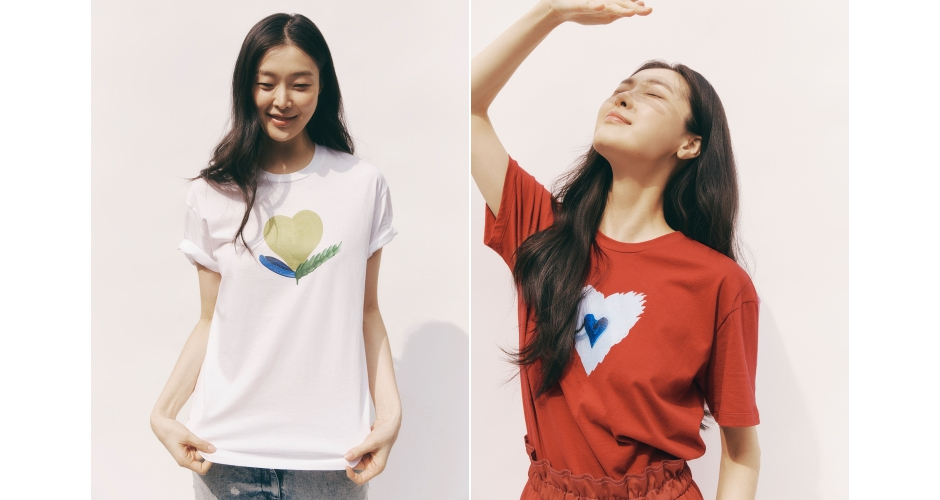 Head of KUHO Lee Hyun-joo explains that "We want to raise awareness of this year's Heart for Eye through the heart designs we have created through a variety of delicate techniques as well as Kim Mee-young's heart-filled artworks," adding, "We hope that whole families will participate in the good cause by wearing campaign t-shirts together."
Heart for Eye products are available at SSF Shop, Samsung C&T Fashion Group's online shopping mall.