Feeling hot under the collar in the sizzling summer heat? Sometimes a refreshing dip in the pool just isn't refreshing enough. One way to make a bigger splash is to join the estimated 85 million people a year who ride water slides.
Slides everywhere just keep getting bigger and better – and their allure is getting harder to resist. Boasting the likes of Mega Storm and other large-scale attractions, Caribbean Bay is no exception.
So with August already upon us, there is no better time than now to take the plunge into the exhilarating world of water slides.
Why Do People Love Water Slides?
Marine biologists such as renowned US expert Wallace J Nichols claim that merely being around water makes us happier. They claim that there is a neurological connection between water and human joy, and that experiences such as plunging into water can release dopamine – the brain's natural pleasure chemical.
Meanwhile, psychiatrists attest that many people are drawn to experiences like rollercoaster rides for similar neurological reasons. When our natural love of water meets the sensory stimulation of high-speed turns, twists and dives, it becomes clear why water slides often represent the ultimate thrill. 
There can be little doubting the water slide's global phenomenon status. Water parks only came into being in 1977, when the first water slide-based resort was built in Orlando, Florida. Less than four decades later, there are more water slides worldwide than anyone could care to count.
As any thrill-loving child would attest, you can reach relatively high speeds when going down a slide of the sort you might find in a typical playground. But traveling down a water slide allows you to feel like you are flying down at a much higher pace.
Physicists say that this is because water on a slide helps create a frictionless surface – the less friction is involved, the faster you can go, and the smoother your ride feels.
Water slides are often described as gravity-defying, and this is no exaggeration. Raft-based slides can send riders into brief, controlled bursts of free-fall. Periods like these are the closest most of us will ever come to experiencing weightlessness – perhaps the biggest thrill of all.
What Different Types of Water Slide Are Out There?
Resort experts and water slide developers are constantly working to create rides that excite. Here are a few of the most common types of water slides you are likely to encounter this summer.
These are possibly the most straightforward of water slides, but certainly one of the most common. While tube rides often involve multiple riders going down a slide at once, this type is strictly a one person-at-a-time thing.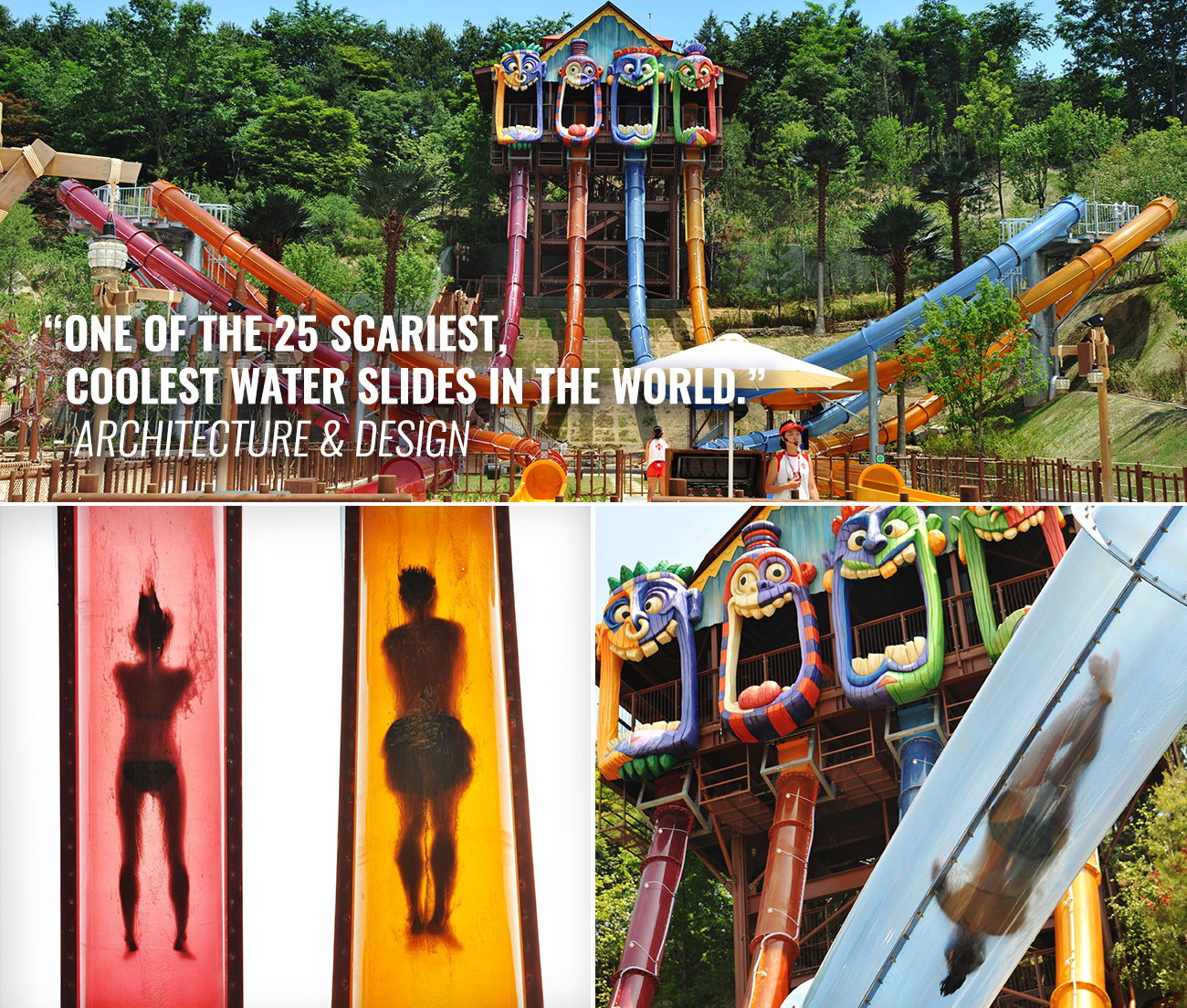 On Caribbean Bay's AquaLoop, for example, riders take their place in a launch capsule, facing forward with their arms crossed. Then the fun begins. A trap door springs open, launching thrill-seekers into an intense vertical free-fall and loop section.
Translucent fiberglass provides excitement not only for the riders, but also for anyone watching below.
It comes as little surprise then, that media outlet Architecture & Design picked AquaLoop as one of the 25 "scariest, coolest" water slides in the world.
Using tubes makes things easier for water slide developers. Rick Hunter, president and CEO of ProSlide Technology told National Geographic that in the case of tube rides, "We get very consistent speeds among riders because we know exactly how the tube is going to act."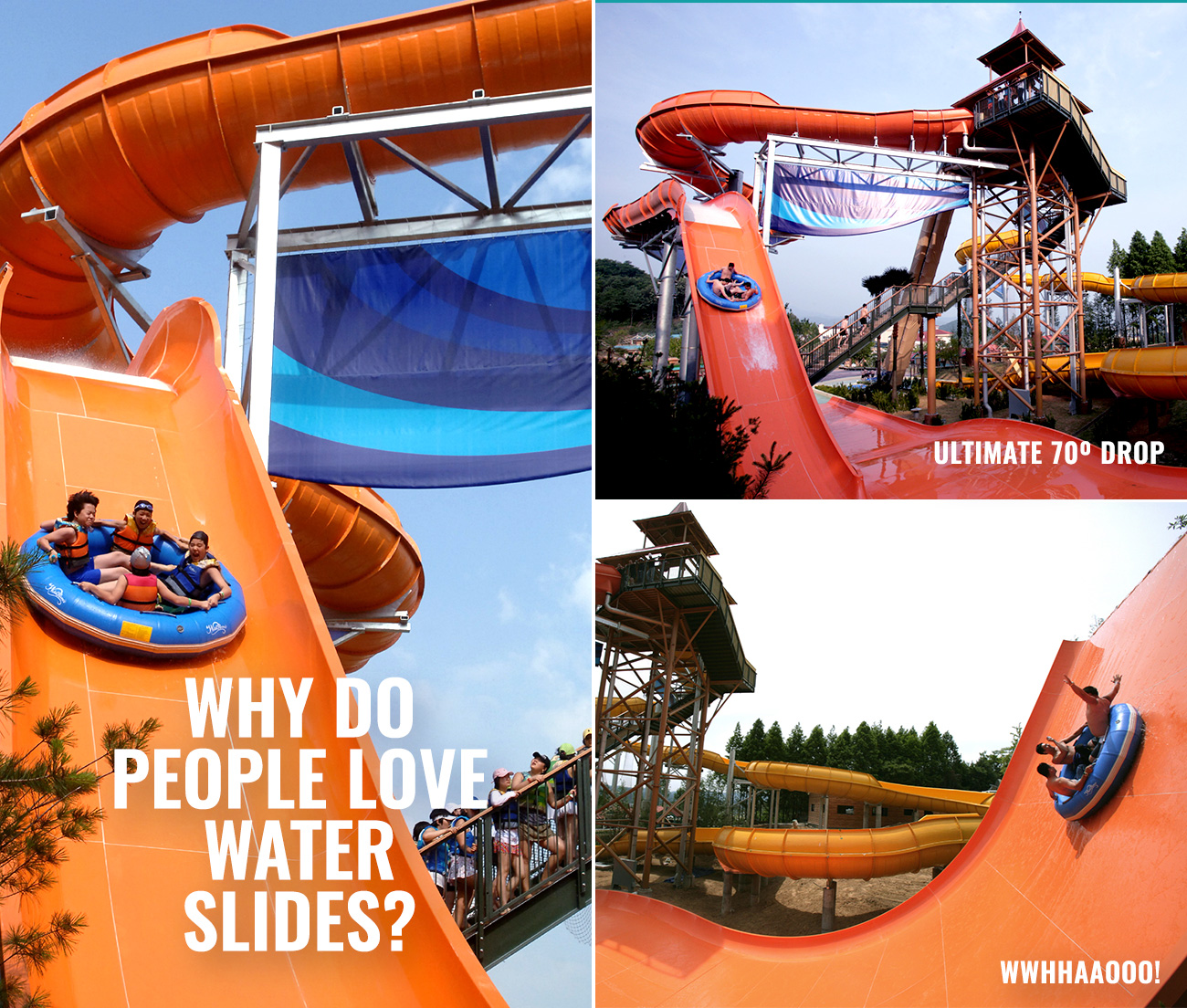 Tubes also enable multiple riders to experience the slide together. Whole families can raft, navigate mega drops, go vertical and even experience weightlessness on rides like this, which include Caribbean Bay's Tower Boomerang Go among their number – with the action coming to a breathtaking end in a splashdown pool below.
A lot of water slides use flumes, which are fast-moving chutes of water. These allow riders to travel faster, ideal for creating racing-like conditions. Some tube slide developers have created flume rides that let riders challenge each other around a course – here, riders "duel" other teams who depart parallel slides at the same time. Racing past other families on wild curves and drops offers a new dimension to the water park experience.
Two-person slides like Caribbean Bay's Wild Blaster offer the thrill of competition. When some of this action even takes the tubes uphill, adrenaline levels can soar as high as the riders.
And then there are the rides that have a little bit of every thrill you care to name.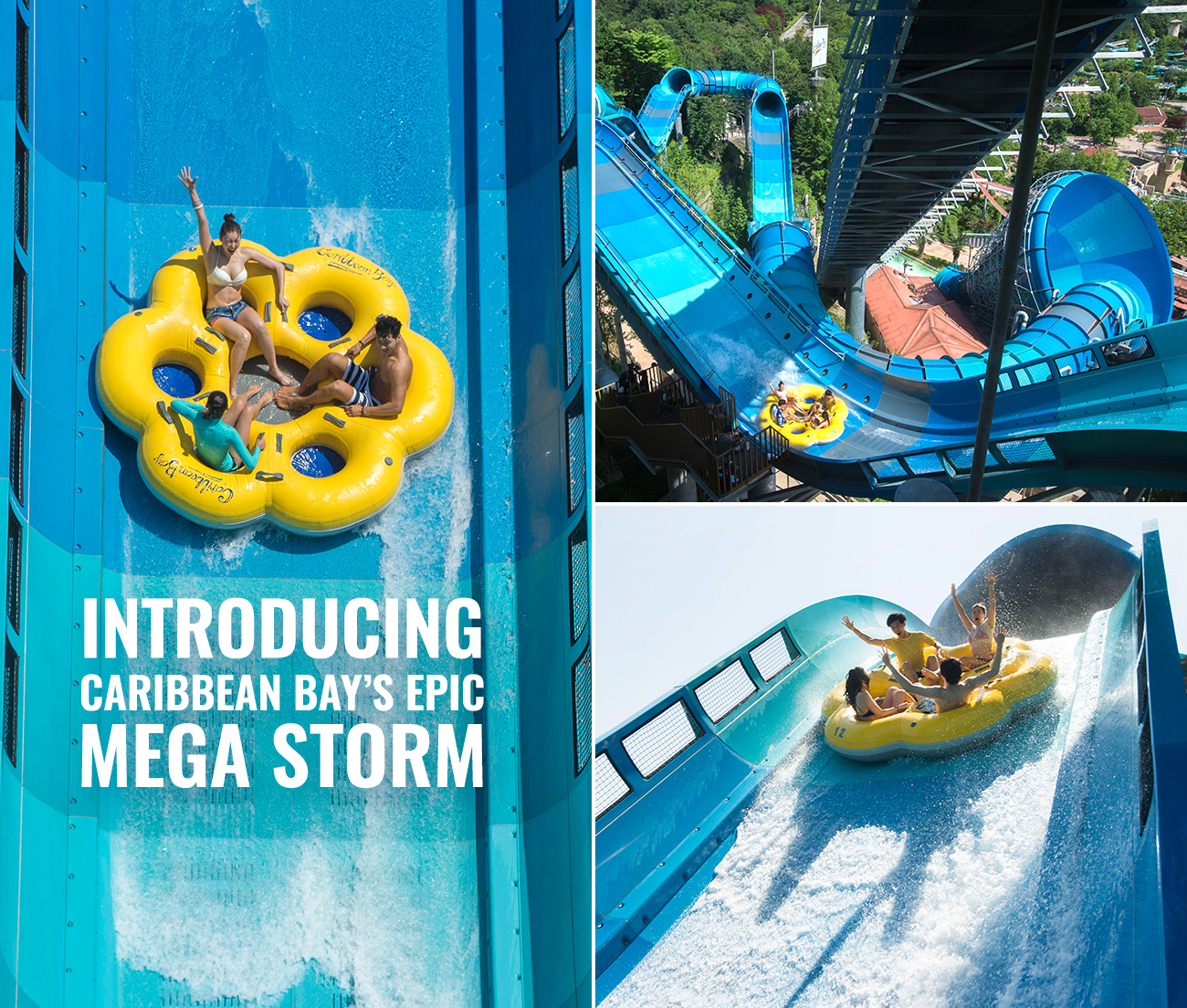 With the right funnel shape, rides like Caribbean Bay's epic Mega Storm can send a raft higher up the walls and slopes of a slide, all in absolute safety.
But that is not all. Incorporating linear induction motor technology and rafts that can hold up to six riders at once, Mega Storm sends the intrepid down a near-vertical drop, and into a state of near-vertical weightlessness, as well as a set of high-speed hills and turns. Little wonder, then, that the ride's return earlier this summer was met with such anticipation.
As thrilling as water slides are, riders need to be aware of safety rules before they use a slide. One of the most important roles of lifeguards is to inform riders about safety regulations and safe positions to be maintained during their ride experiences. At Caribbean Bay, all lifeguards must pass stringent safety tests created by Ellis & Associates, an international aquatic safety and risk management consulting firm based in the United States.
Water slides are getting bigger and more exciting than ever. Resorts like Caribbean Bay, named by CNN as one of the world's best water parks, are looking to add more innovations and thrills to their ever-expanding family of ­rides. If this is the case, it will be no surprise if the water slides of the future make an even­­ bigger splash.
And if you are looking for yet more reasons to get wet in the hot Korean summer, check out the video below to see what happens when an English priest heads to Caribbean Bay to experience the watery excitement on Korea's biggest water slide!