Snow is one of the most special parts of winter, and what better way to enjoy it during winter vacation than a day of sledding?
Panda Snow Buster is Everland's giant snow-covered sledding hill that's open to all visitors of the park. It's been mentioned as one of the top winter activities around Seoul, and for this year, the expansive slope is themed after the opening of another hit attraction, Panda World.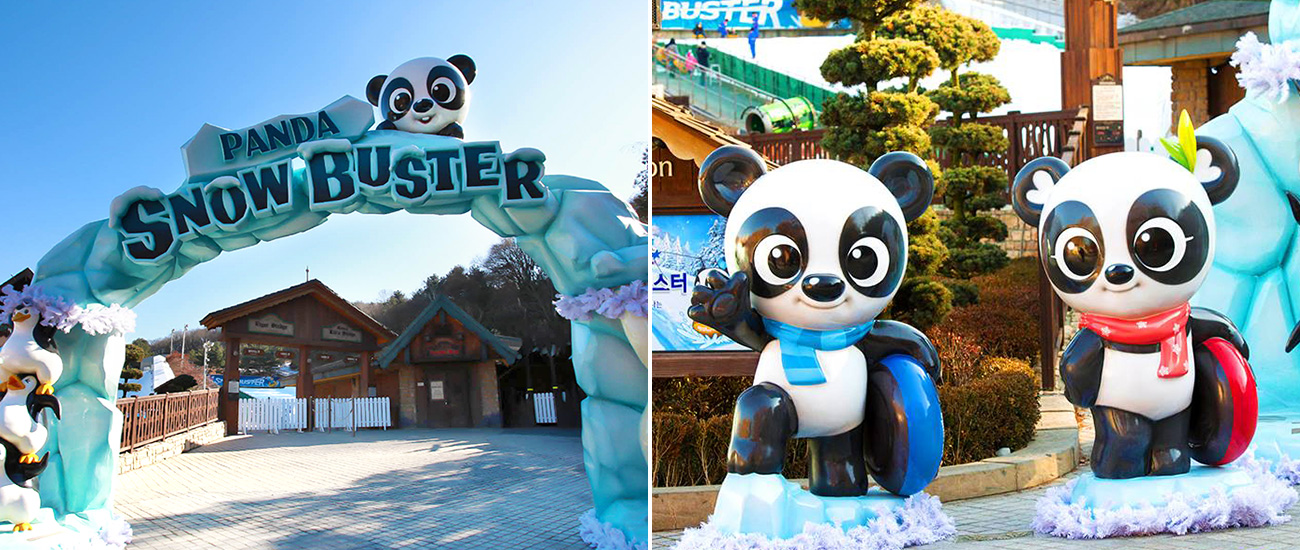 Located in the Alpine Village section of Everland, Panda Snow Buster offers free admission to all ticketholders of the theme park. Before entering the sledding area, figures of everyone's favorite Panda World friends, Ai-Bao and Le-Bao, greet newcomers at the entrance – a perfect photo spot to mark the start of a great sledding adventure.
Nearby, igloos surrounded by polar bears and penguins create a playful arctic visual for anyone interested in a fun photo opportunity. But the friendly entrance is just a warm-up for the real excitement that lies ahead, where some spectacular sledding awaits.
To make Panda Snow Buster a place for everyone, Everland created three different sledding courses based on level of difficulty. The Eiger course has the longest and steepest slope at 200 meters, followed by the family-friendly Jungfrau at 120 meters and the Mönch at 90 meters, which is designed for children.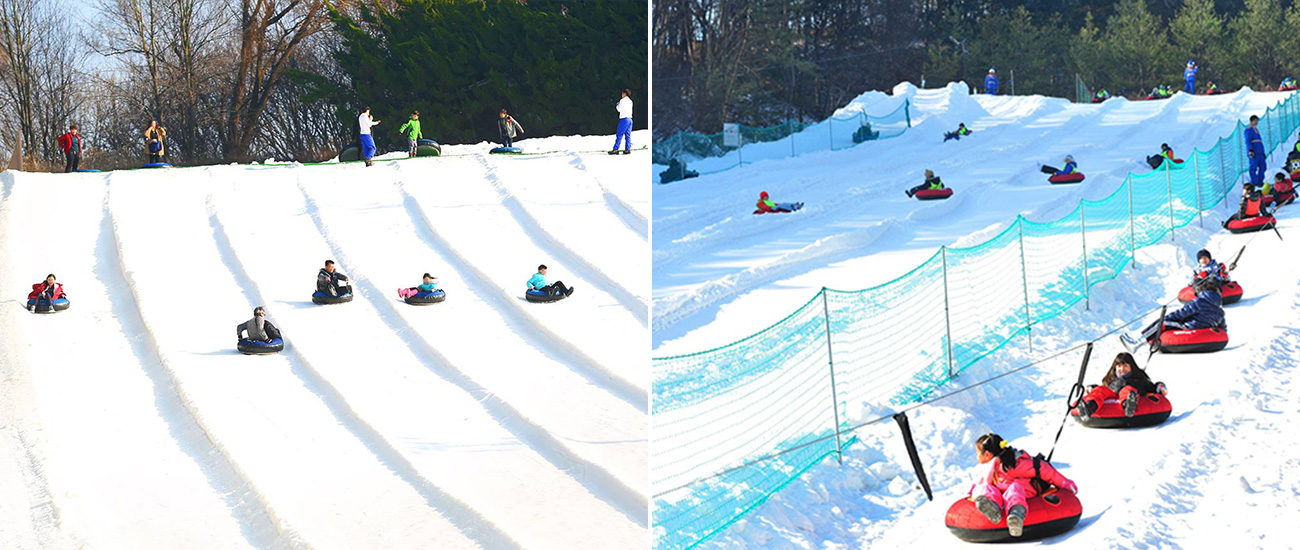 For those who seek an adrenaline rush, the advanced Jungfrau and Eiger courses allow sledders to reach speeds of 30-40 km/h while racing downhill. Sturdy snow barriers between lanes prevent riders from crashing into one another, just one of the ways the park ensures an enjoyable but safe sled ride.
A unique feature of Panda Snow Buster is the tube lift, which eliminates the tiring process of lugging tubes back up the mountain after a quick run on the Jungfrau and Eiger courses. Now, sledders can comfortably trek back up the hill without tiring out, thanks to the convenient tube lift.
Everland places safety as one of its top priorities, and before opening Panda Snow Buster to the public, more than 100 safety tests were conducted to thoroughly inspect and check the three courses and landing zones.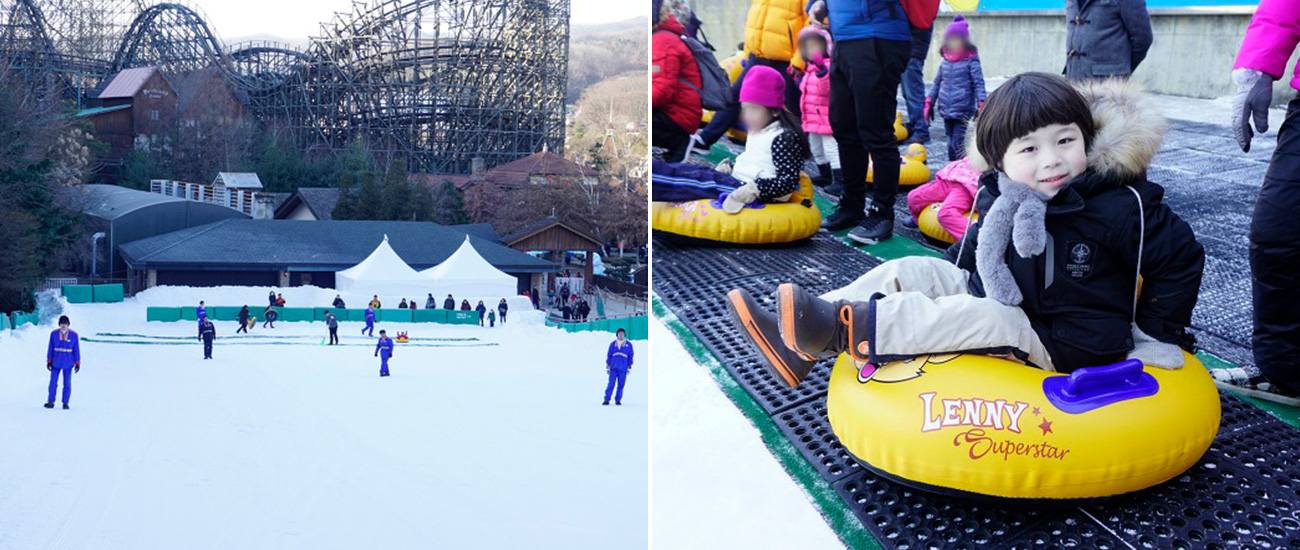 On-site, additional safety cushions and non-slip mats were installed to minimize slipping, and staff members completed a safety training course specifically to guide the visitors.
Post-Sledding Snacks and Relaxation
After sledding, people can warm up and get dry in the special resting area filled with heaters inside Panda Snow Buster. Heaters are scattered around the entire park, but designated parts have additional heat facilities to let visitors be extra warm during their trip.
Riders will probably be hungry at this point as well, and there are some delicious seasonal treats to snack on in and around the sledding hill. Just below Panda Snow Buster is the Alps Kuche restaurant, which serves seasonal fare such as the Snowman Udon (Japanese-style noodles). Diners can also find quick bites around other sections of Everland, including holiday-themed hotdogs and Panda World's popular hot cocoa.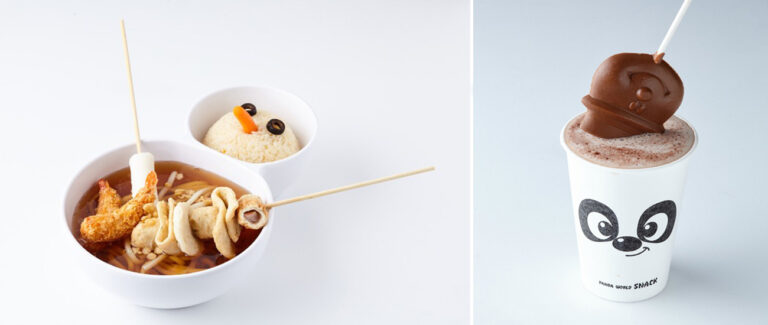 Family Winter Fun at Everland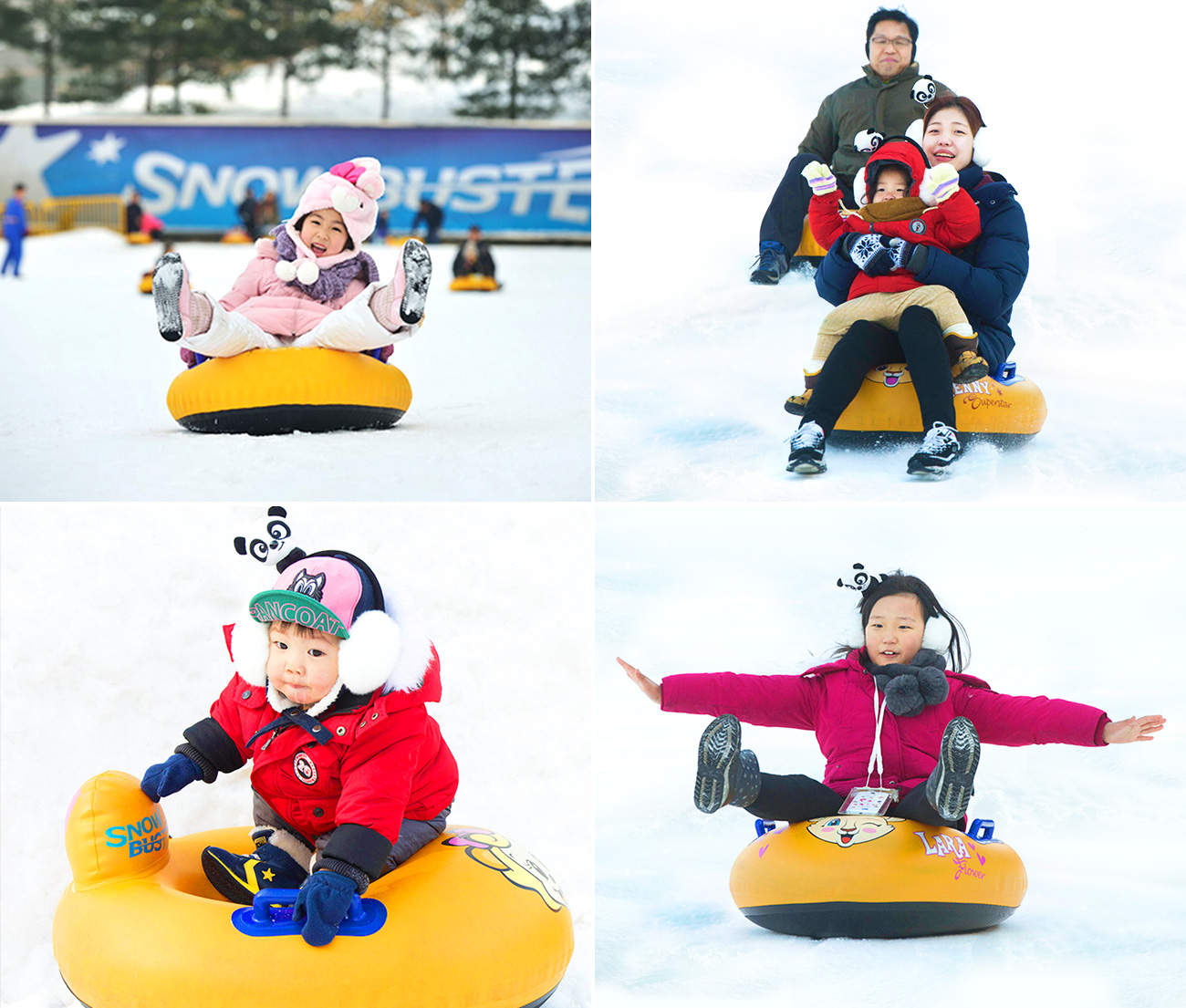 Winter lovers everywhere will be delighted to know that Panda Snow Buster is just the tip of the iceberg for Everland's seasonal offerings.  
Caribbean Bay, Everland's water park, also transforms into an indoor domain for relaxation and recreation for those who are looking for a more off-trail winter activity.
And while sledding is always a popular choice amongst families, the park also presents spectacular festivals, such as its joyous  "Romantic Illuminations" festival, which is always well worth seeing for everyone.