It's never been easier to grab a smartphone, shoot your own video, and publish it online. YouTube alone had more than 23 million channels as of last year, with people uploading videos every second of every day.
Out of this huge collection of Internet offerings, a particularly interesting genre has been blossoming in Korea: the "web drama."
Building on K-drama's vast global popularity, web dramas are a great example of the "snack culture" that seems to have grown alongside the Internet. The idea is that people – especially those in their teens to 20s – enjoy spending a few minutes wherever they are watching a short video intended to be viewed on a mobile device. And while the concept of a web series has been around since the mid-1990s, the term web drama has only really taken off in the last five years.
With web dramas strongly connecting with young people through the social media channels they're most familiar with, the genre seems here to stay. We're even seeing companies make their own web dramas – and what better backdrop than Everland or Caribbean Bay?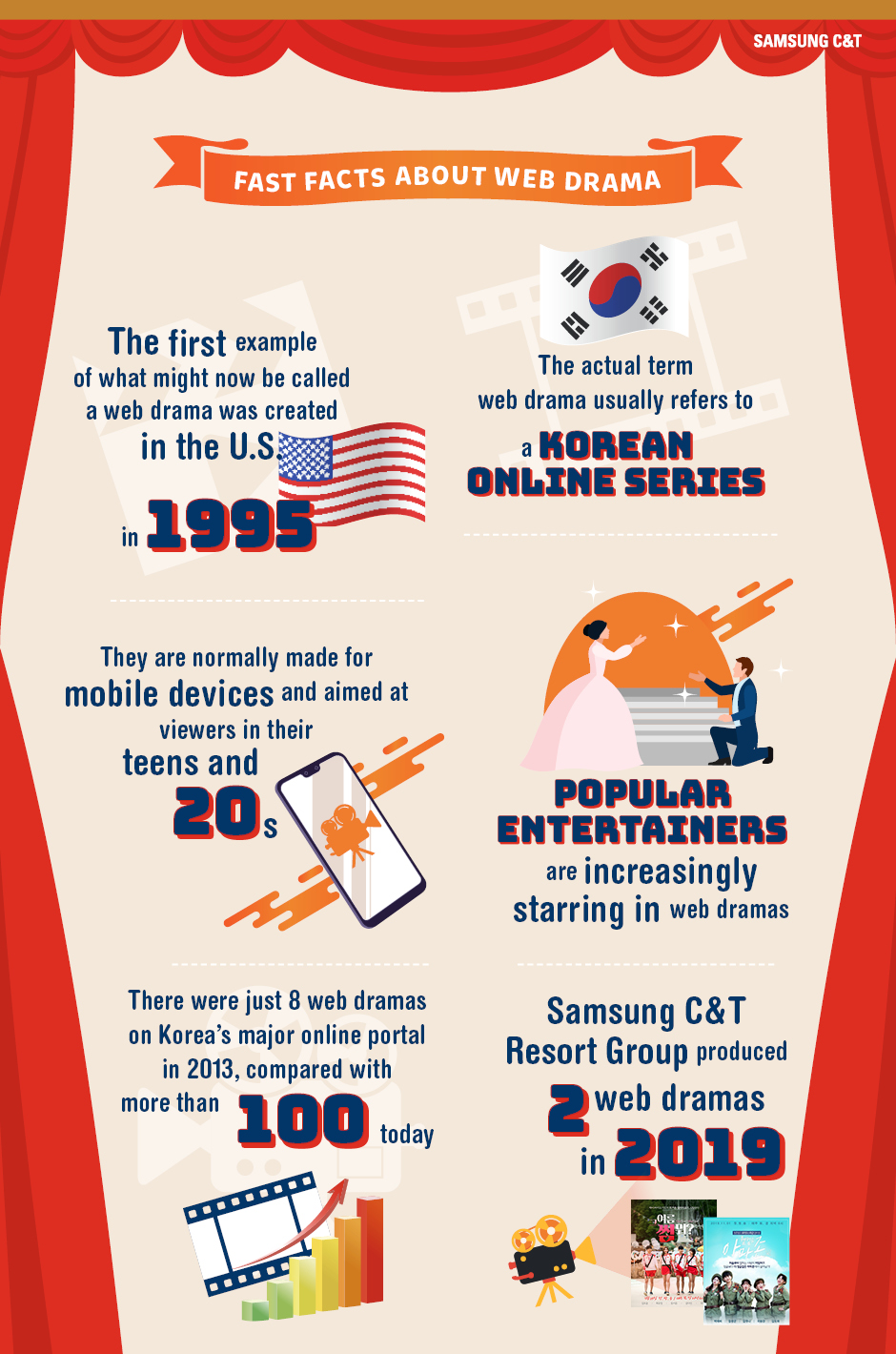 Love and friendship in summer
Samsung C&T Resort Group had never made a web drama before this year. But it had some great locations to choose from among the facilities it operates, and the company can now celebrate millions of views across various online platforms after releasing two series so far.
The first of those two web dramas was filmed at Caribbean Bay, South Korea's biggest and most popular water park. "That Summer" ran over six episodes released twice a week from late July on the group's official social media channels on YouTube, Facebook, and Instagram.
Featuring cameo appearances by some of Caribbean Bay's actual lifeguards, "That Summer" earned praise for its portrayal of love and friendship between young people. There were other themes, too, which were naturally associated with the water park setting – for example, safety and hygiene management. By showing how much lifeguards cared about the well-being of customers, the web drama also demonstrated some of Caribbean Bay's strengths.
Welcome to Amazon and beyond?
Following the success of "That Summer," Samsung C&T Resort Group turned its attention to South Korea's number one theme park, Everland, which is right next to Caribbean Bay in Gyeonggi Province.
The result was another hugely popular web drama, "Welcome to Amazon." Released twice a week throughout November, this eight-episode follow-up series was based on the real experience of an employee working on the Amazon Express attraction, which is particularly famous for its staff's entertaining dance moves and the way they give out instructions. It shows her journey from timid employee to outgoing performer – as Everland's staff are trained to become entertainers.
Clearly, "That Summer" and "Welcome to Amazon" made a connection with online viewers. The two series show how authentic web dramas based on real staff situations can be a great way for places like Everland and Caribbean Bay to reach members of the public who may be put off by traditional advertising.
So, what next? Samsung C&T Resort Group says it plans to further strengthen the production of its various social media content. For now, it's a case of watch this space!