If you need an antidote to the hot summer, Everland, operated by the Samsung C&T Resort Group, has a number of things that can help. You can try a summer garden decorated like a tropical resort, to an enchanted forest of laser lights, or even a water show. Any one of them can all blow away the fatigue that comes from the summer heat and help you relax under the beating sun. But you don't have to choose, because they're all happening at the same time and the same place!
The coolness of the garden
True to its name, Everland's best-known garden, the Four Seasons Garden, has been transformed for the summer into the Tropical Paradise Garden. In the 10,000 square meters of the space there are tropical plants like palm trees, banana trees, and alocasia with huge leaves to protect you from the sun. There are also colorful summer flowers like salvia, angelonia, and spider flowers, which are spread all around to make the Tropical Paradise Garden look even more fresh and overflowing with life.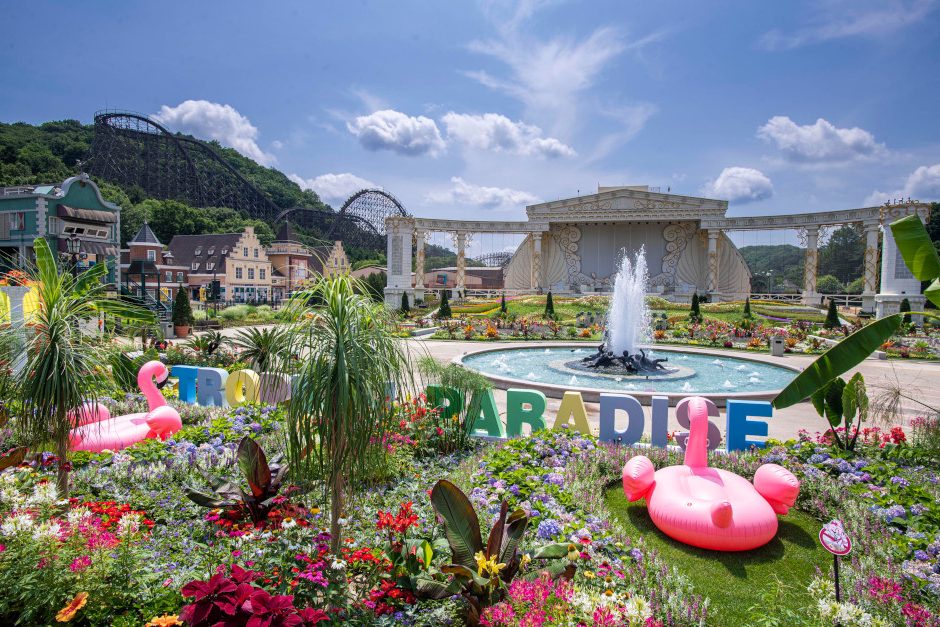 Most importantly are the hammocks, bean bags, day beds, and ample shade so that everyone can relax and take shelter from the summer heat in style. You can feel as if you are in a luxury resort in a hidden overseas vacation spot.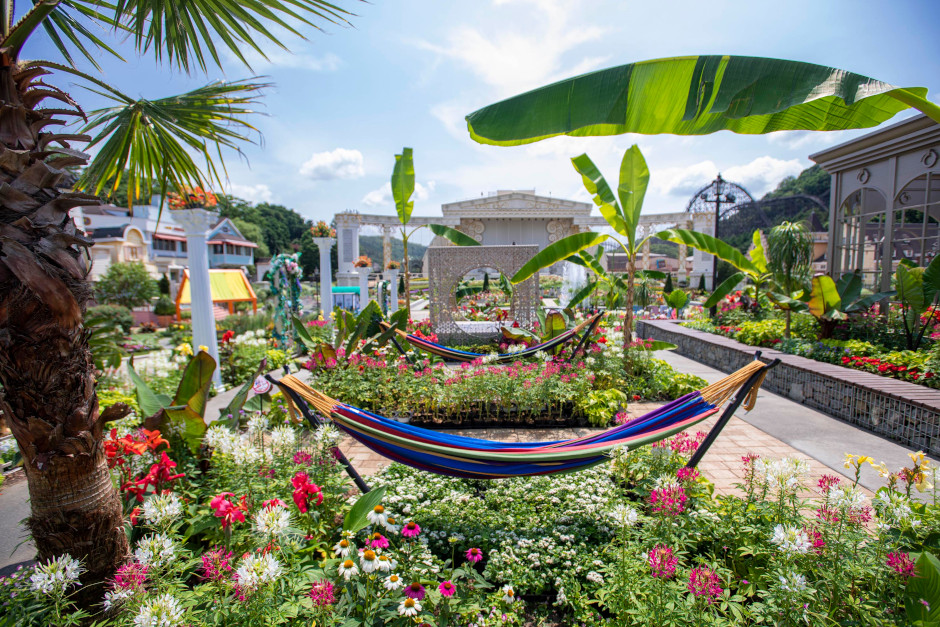 Cooling off with the coolest water
Let's not kid ourselves, no amount of flowers will make you feel as cool as straight, soothing water. That's why there is a lot of water-cooled content scattered around the park as well.
First, at the outdoor carnival square, one can find the Shooting Water Fun water show, which is held once or twice a day. This is where the famous Bomb Bomb men dance. Water pours out from everywhere during the show, like the music, and visitors can even get in on the action with a cool water gun fight.
That's not the only place to get wet, either. At Thunder Falls, water cannons on both the left and right soak everyone from head to toe after they fall down the 20-meter-tall falls. Also, at Amazon Express, visitors can ride the 580-meter-long rapids and get a good splash or two there as well.
If you'd rather stay in one place when getting wet, you can relax at the Castle Brencia event zone. The castle, built with large and colorful toy blocks, is a childhood dream, and is also filled with bean bags, parasols, and fans that spray water too.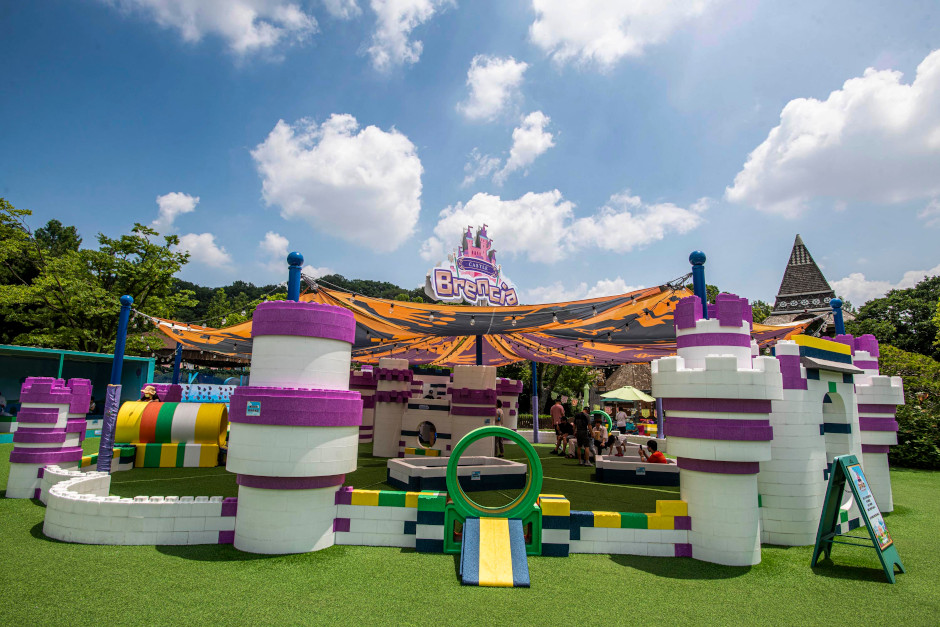 The enchantment of the forest
In the evening, the 33,000 square meter Sky Plum Blossom Trail transforms into a fantastic enchanted forest with millions of lights, giving off a unique charm that can't be seen during the day. It is the best view at Everland even on normal days, and now at night the trail looks like it is swarmed with fireflies. But the fireflies are only an illusion created using laser lights in a clever installation. Even so, when you stand on the observation deck and look down at the rest of Everland, you will not care to differentiate between fantasy and reality. You will only see beauty.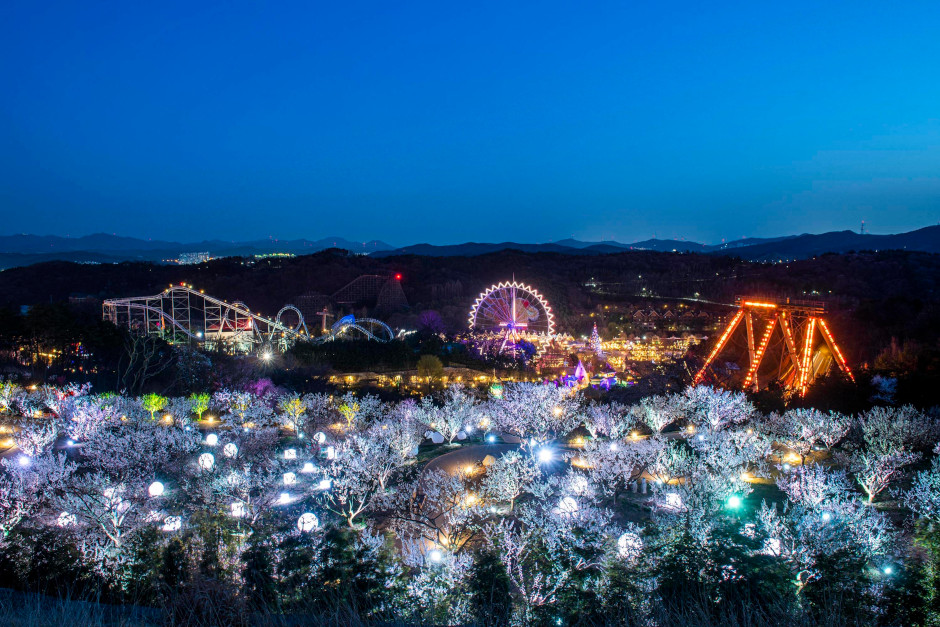 The twinkling Sky Plum Blossom Trail is open to all Everland visitors from sunset to closing time every day. There is also a real living firefly ecology experience every day at 6pm next to the Four Seasons Garden that can be seen to learn more about the magical bugs. But you should probably get there early, because its first-come, first-served.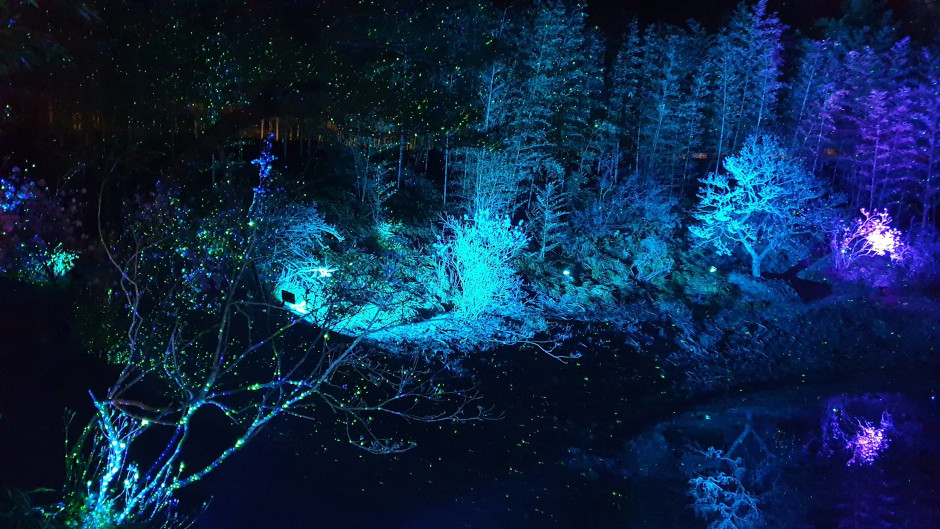 Visitors also have a variety of special summer menu items to choose from in order to beat the heat like the Tropical Sunset Shaved Ice, Dongchimi Buckwheat Noodles, and Hawaiian Garden Pepperoni Pizza.
It is important to note that Everland is currently requiring visitors to wear a mask and get their temperature checked before entering. Also, hand sanitizer is provided everywhere, and facilities are thoroughly sterilized.
In particular, areas that visitors touch a lot like handles are disinfected every time a ride finishes. Also the ride attendants practice strict quarantine guidelines by limiting the number of passengers at each ride and making sure they continue to practice social distancing.
For more information about Everland's Summer Holiday, please visit the Everland website.