As with most areas of the economy this year, the logistics business is having to evolve fast. We are seeing a kind of acceleration of the Fourth Industrial Revolution with demand for digitalization rising and harnessing the power of technology in every sector.
At the basic level, logistics involves the commercial activity of transporting goods to customers. For a trading company, logistics is clearly one of the key factors that decide its competitiveness. Naturally then, Samsung C&T pays close attention to any factors that affect the efficiency of logistics and timely delivery of items.
This article will take a look at the story of logistics so far before asking what the future of logistics might look like.

From logistikas to logistics
These days, almost anywhere in the world you can enjoy fresh fruit for breakfast or wear clothes designed and made thousands of kilometers away. But it was not always like this. The rapid development of logistics has opened up an array of choices for a truly global community.
In his book "The First of Everything: A History of Human Invention, Innovation and Discovery," author Stewart Ross traces logistics back to the word "logistikas," referring to ancient Roman military generals who managed human resources, food, and weapons. Logistics evolved from a military reference to include business activities during the 20th century. Not that the idea of trading and transporting goods was not already well established. Products from China were reaching Rome via the Silk Road as early as the 1st century B.C.
While there have been many technological leaps since then, perhaps the most revolutionary of these occurred in the 1950s. The invention of the shipping container changed both logistics and the world. Even ancient civilizations recognized the benefits of transporting items by water, but the standardization of shipping containers meant that all kinds of goods could be moved in a uniform way across seas and oceans before being conveniently loaded onto trains or trucks.
By the 1980s, there were so many purpose-built container ships that 90 percent of manufactured goods were moving via shipping containers – items like clothing, electronics, food, and heavy machinery. That has risen to 95 percent, or USD 4 trillion of goods, shipped in containers annually, as refrigerated shipping has further opened the way for fresh produce to move by ship rather than plane. Other big logistical breakthroughs include the opening of routes for even very large vessels due to the expansion of the Panama and Suez Canals.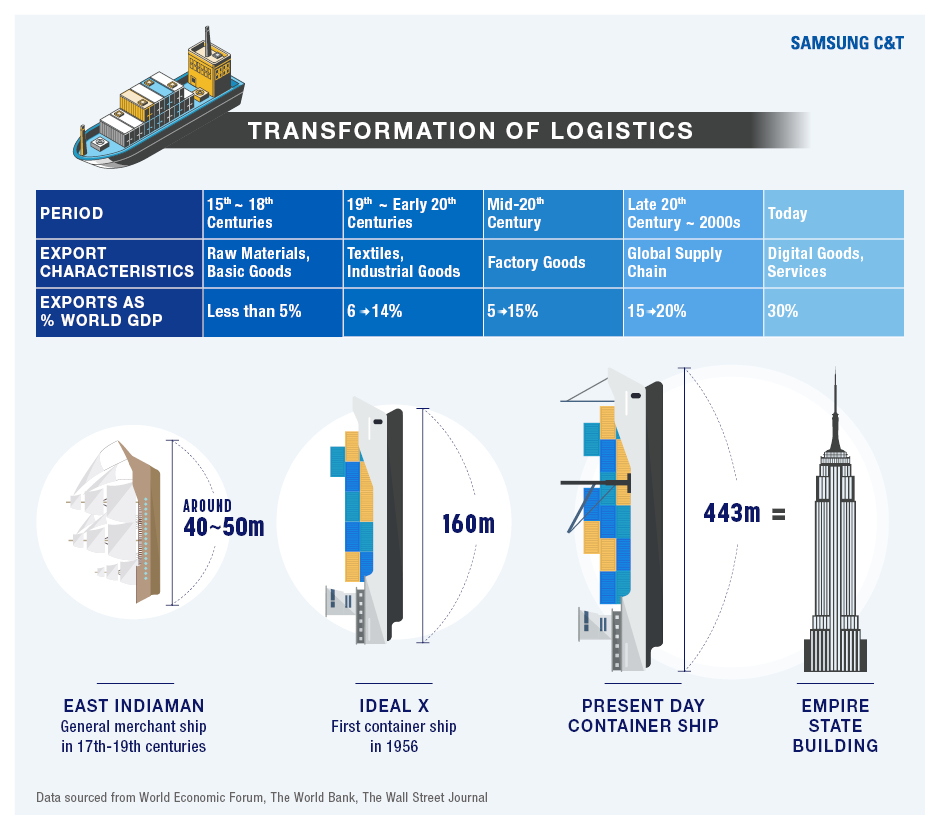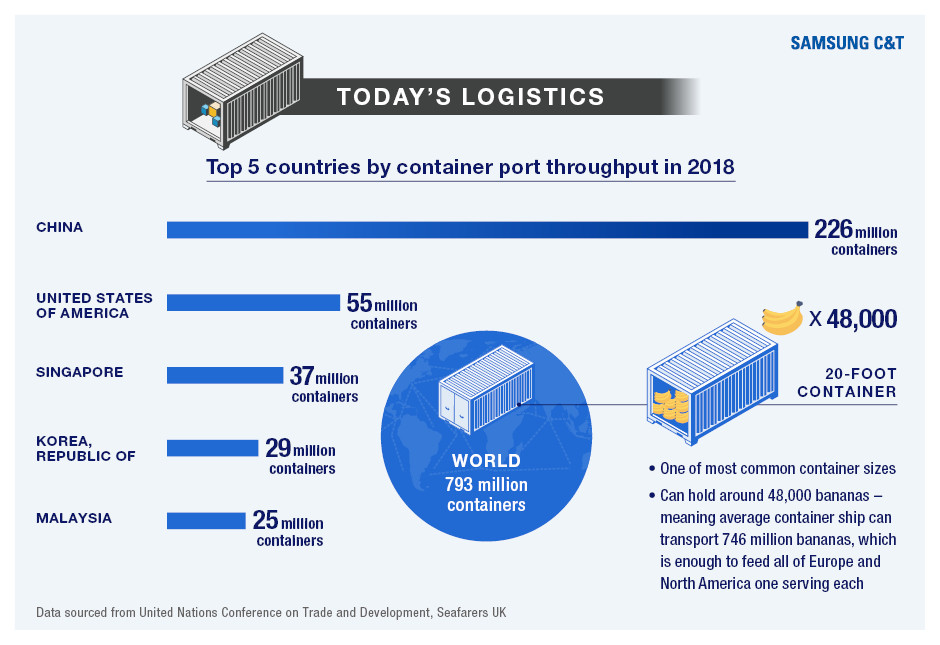 Amid all the changes of the 20th century, Samsung C&T was founded as a trading company in 1938. In line with the growth of logistics, the company has quickly expanded since then, now operating about 80 oversees offices across 45 countries and focusing on the key business areas of chemicals, steel, energy, and materials.
"By constantly striving to expand our expertise and logistics capabilities, we create value in a constantly changing market," explains Principal Professional Park Jeong-min of Samsung C&T Trading & Investment Group.
"Our global network is a significant part of our core competitiveness, as we secure a differentiated edge in the value chain while seeking comprehensive solutions for customers' needs," he adds. "And also in terms of the value chain of a trading company's sales activities we are focusing on developing new business areas with various logistics functions added."
Another revolution in progress?
As digitalization impacts ways of doing business across almost every sector, it is only to be expected that technological advances related to artificial intelligence (AI), the Internet of Things, big data, and blockchain will bring about significant changes to logistics.
In the same way that shipping containers made moving goods easier, the adoption of new technologies can foster further efficiency. Experts believe that machine learning and AI will become an essential next step for the logistics industry in the near future, anticipating greater supply transparency, sharper market awareness, and lower costs.
This need to move forward rapidly has only been underscored by the changing trade environment this year. In terms of what happens beyond that, it is not far-fetched to anticipate self-operating shipping vessels fueled by entirely clean energy.
Samsung C&T's place in a changing world
For trading companies like Samsung C&T, these technological steps are taken while keeping in mind the people who remain the most vital part of the process. This is true of suppliers and producers in the form of business relationships, as well as consumers who drive demand. If the next logistics revolution improves the process for all of those concerned, then let's welcome the brave new world.