When was the last time you enjoyed playing games with your family? If it's been a long while, then maybe it's time to do it again. Everland, Korea's premier theme park, is now holding a 2023 Game Culture Festival until Nov. 12.
Together with the Ministry of Culture, Sports and Tourism and the Korea Creative Content Agency (KOCCA), Everland has arranged an impressive suite of outdoor games and activities that people can play alone or families can enjoy together. There are story-type mission games, game exhibitions, and on-and-offline games too.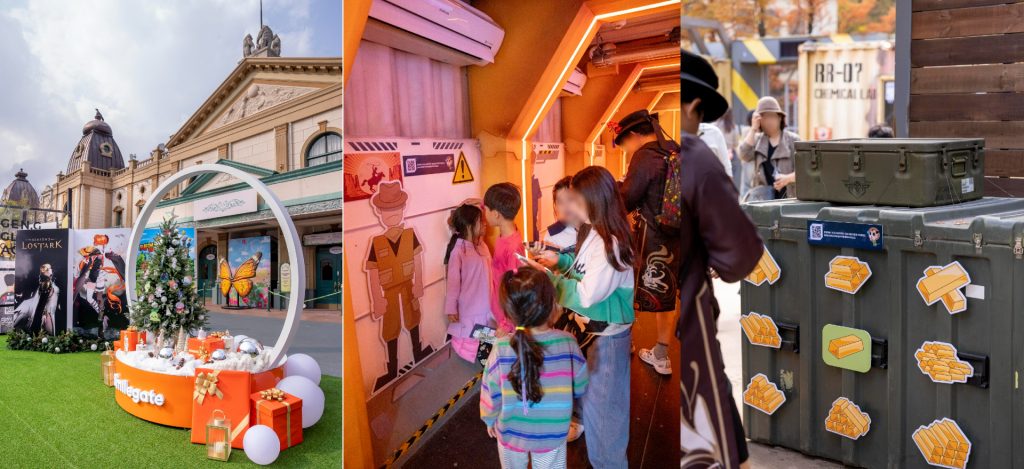 An expedition by Everland's own tiger mascot Hotam is the theme of this year's game culture festival, with visitors following Hotam the brave explorer on his journey to find hidden treasures throughout the theme park.
The most exciting places to experience this expedition are at the mission game spots at Aesop Village, Rocksville, and Raptor Rangers. Like escape room missions only outdoors, these challenges incorporate familiar stories like Aesop's fables and are designed to be enjoyed by the whole family. They also link the on- and offline worlds by using QR codes that take game players to a webtoon that poses a logic problem and clues found in the real world Everland.
When a group completes the mission, they receive an explorer badge on the spot. The Raptor Rangers' escape, the most dynamic of all three missions, will be available after the end of the festival until the end of this month.
Korean game companies are offering customer events and game experiences in dedicated promotional booths in the Global Fair zone, while the Association of Elementary Computing Teachers are showing off the education benefits of games, and another organization is offering career counseling to children who aspire to become professional e-sports players, something Korea is famous for.
Those who are looking to try a new game can head for the indie game zone near Kids Village to play 17 games created by graduates of KOCCA's Game Talent Center, including augmented reality games that combine real-world exercise with online narrative. Meanwhile, those who prefer old-style games can go to the retro-style game arcade near the Championship Rodeo attraction to play games popular in Korea and internationally like StarCraft: Remastered and Friends Popcorn.
Of course, a festival at Everland wouldn't be a festival without photo spots. There are many beautiful locations to take photos while at the 2023 Game Culture Festival, and people who upload their happy snaps to Instagram with essential hashtags that can be found on-site might find themselves winning prizes or gift certificates.
Everland hopes that this festival will become a place where people of all generations get together and have fun playing games and that, through it, more people will learn about Korea's game culture. Visit the Everland website for more information about the theme park.