This is the fifth installment in a series of articles profiling the people and the businesses at Samsung C&T's branch offices around the world. The following story focuses on Samsung C&T's office in Accra, Ghana. Please refer to the fourth installment for information about Samsung C&T's office in Lima, Peru.
Traveling the vast region of West Africa can take a lot of time. It's a big chunk of the African continent and includes more than a dozen countries. Now, think of that entire expanse as territory that you cover for business, and you'll get an idea of what challenges Samsung C&T Trading & Investment Group's Accra office is up against.
Accra is the capital of Ghana and a coastal city, opening up south toward the Gulf of Guinea. You might think that the Accra office would be quite sizeable given the giant market that it covers, but it's just eight employees who oversee West Africa as a whole, with additional support from two members at Senegal's Dakar office.

Accra's Foundational Blocks
At the helm of the Accra office is General Manager Kyung-gil Yi, who has been in Ghana since 2014. "Ghana is actually the first country that I visited on a business trip after joining the company in 1998. It left a lasting impression at the time, but I never imagined I would become the head of this office," Yi said. 
In addition to overseeing general operations, Yi also takes on large-scale infrastructure project organizing in the fields of power transmission, medical facilities, and transportation. Some of the recent projects include building a hospital in Cameroon, marine infrastructure in Senegal, irrigation dam in Mali, and a city hall building in Sierra Leone. These take Yi from one corner of West Africa to another.
The General Manager is tasked with the seemingly impossible job of developing and managing business in Ghana and its neighboring countries, and even beyond the boundaries of West Africa. Yi estimates he's typically on the road for about three weeks every month.
But the fruit of all this hard work is very tangible. It's what makes working on such massive projects attractive. "As a member of the project team, I feel very proud when something that starts out as a project idea becomes a reality, and we're awarded a contract," Assistant Manager Paul Bego said.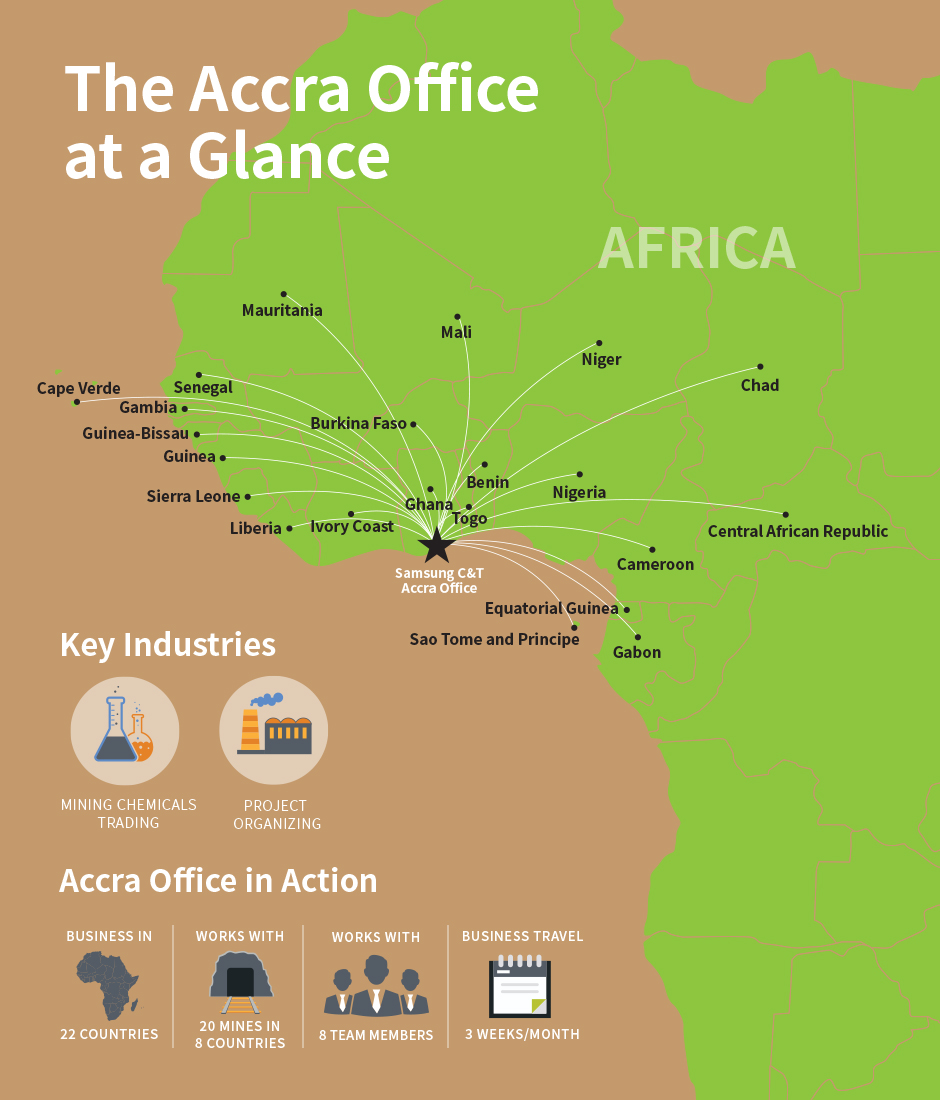 Extensive travel is part of everyone's regular routine due to the expansive area the office covers. Along with project organizing, trading mining chemicals is another key area of business for the Accra office. That's because West Africa boasts an abundance of natural resources, making it an optimal area for mining, which requires a constant supply of mining chemicals to extract precious metals and industrial minerals. Senior Manager Hyung-seok Kim handles the complicated planning and coordination process for the chemicals to ensure they get shipped to clients spread out across multiple countries.
Having nearly two dozen mines to deliver to, Kim works closely with logistics partners who will guarantee timely shipments of the volume requested. It's no easy feat, but attention to details is what has helped increase Samsung C&T's market share in Africa. The once latecomer has now secured a competitive edge not only with its supply system but safety management procedures provided along with its products. Business generated by the Accra office in mining chemicals now accounts for more than half of Samsung C&T's overall sales in this field.
"Now in the African market, I would say that other competitors recognize us, and clients have come to prefer Samsung C&T over other companies," Kim said. He's not the only one who's proud of the progress made.
"From the time that I joined up until now, we've seen a lot of increase in business. So I'm very proud. We've added a lot of mines, and it's great to see that a business I was part of for five years is growing," Richard Donkor, an assistant manager who works with Kim on chemicals trading, added.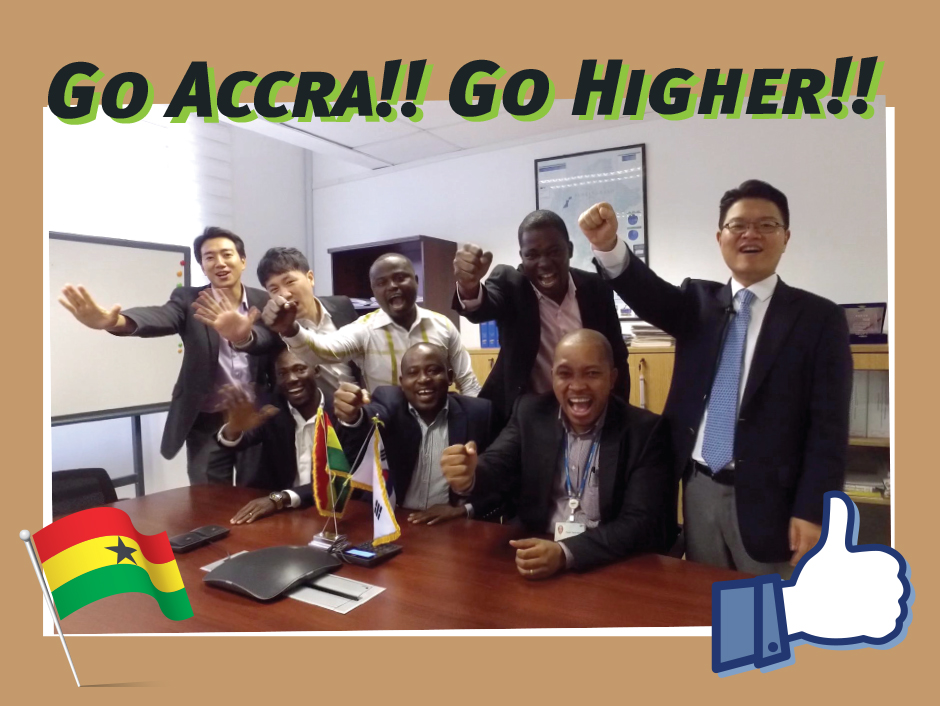 Getting everyone together in the same room is more difficult than expected at the Accra office. More often than not, employees are on business trips to different countries or out meeting clients. But that doesn't mean the office lacks a sense of solidarity.
Outside of the office, General Manager Yi and Senior Manager Kim are like close friends. They're also neighbors, and their families spend a lot of time together as well.
Under their leadership, other employees also share a joint vision. They all understand a plethora of opportunities are still waiting to be uncovered in the vast African market, and that they have the tools at their disposal to further cultivate promising industries.