Look around your home or workplace and you'll likely find plenty of petrochemical products. Take an ordinary ballpoint pen, for example. Its plastic body as well as ink ingredients, such as pigments, oils and surfactants, are made from petroleum, which is naturally occurring and widely known as crude oil.
It might seem surprising that various everyday objects start out as a black, sticky liquid bubbling up to the Earth's surface, but that highlights the importance of petrochemistry – a branch of chemistry concerned with refining and processing petroleum. Meanwhile, petrochemicals may be defined as chemicals obtained from petroleum. Over several decades of innovation, the petrochemical industry has developed various steps to turn unrefined petroleum into ordinary household products.
The petrochemical possessions we can't do without
Petrochemicals are the basis of numerous plastics, paint, clothing, cosmetics, medicine, and even food ingredients. Just as 70 percent of the human body consists of water, 70% of our belongings are derived from petrochemicals.
Crude oil extracted from the ground contains several impurities like sand and sulfur. But when it is refined, petroleum can produce petrochemicals like base oils and intermediary materials that become the raw materials for thousands of different processing industries.
Crude oil is purified in distilled form, which can produce different results depending on the heating point. For example, gasoline or diesel are petrochemicals extracted at different temperatures. For the purposes of the petrochemical industry, we are particularly interested in producing naphtha, which requires a temperature between 30-180 C, and can then be converted into some of the most common petrochemicals – base oils such as benzene, toluene, and xylene (BTX) as well as intermediary materials like para-xylene (P-X) and styrene monomer (SM).
These can then be used to create chemical chains that form well-known materials that are directly used by the plastic and textile industries, like polyester, nylon, and polyurethane.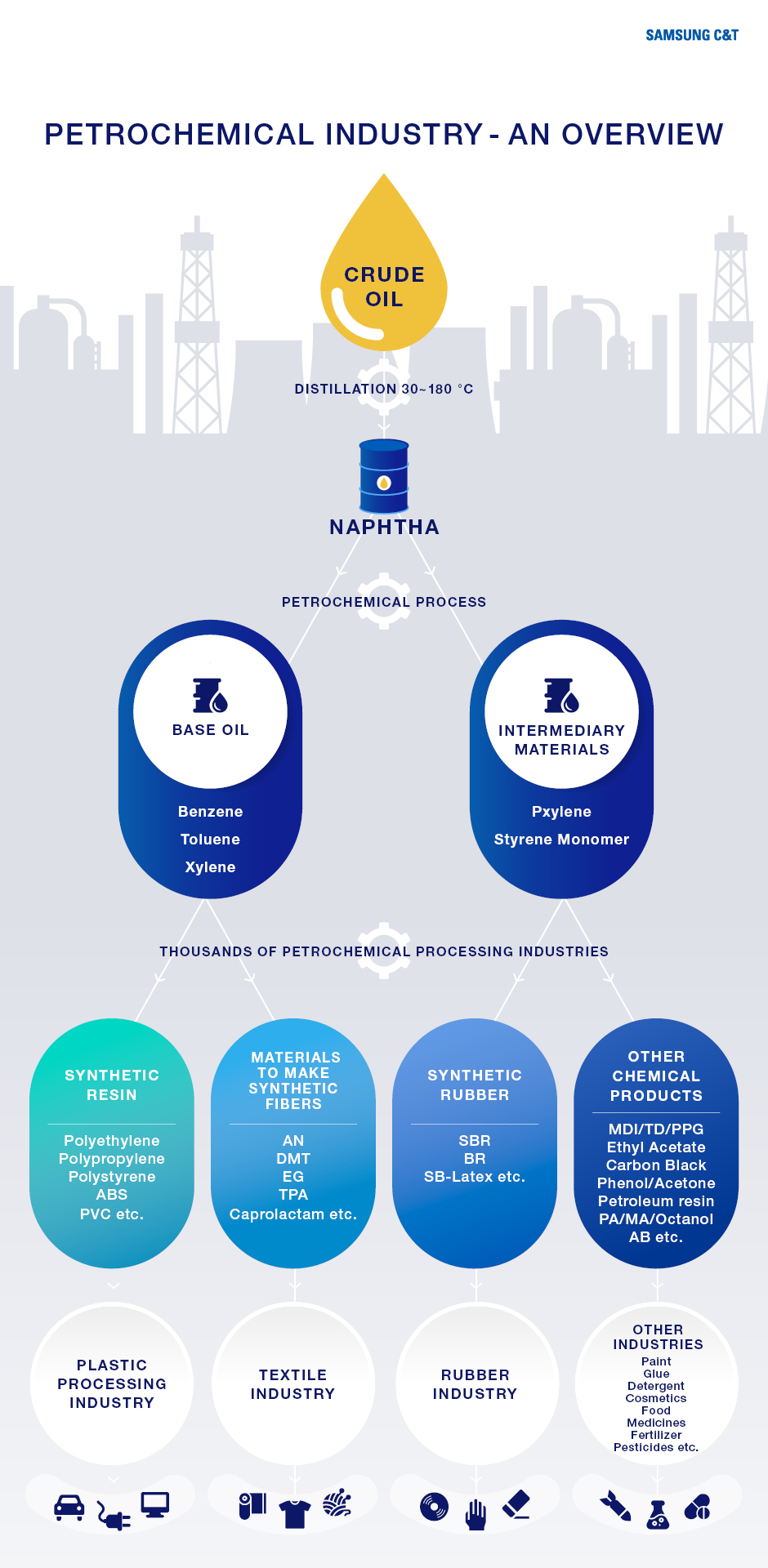 Are petrochemicals the future of oil?
As the world's energy sources continue to diversify away from fossil fuels, analysts are concluding the future of oil is in chemicals, not fuels.

The International Energy Agency (IEA) reports "petrochemicals are rapidly becoming the largest driver of global oil demand." The IEA forecasts petrochemicals will make up more than a third of oil demand growth to 2030 and almost 50 percent to 2050. The same report points out demand for plastics has almost doubled since 2000, outperforming all other bulk materials – and notes much of its consumption so far has been in developed nations, with "huge potential for growth worldwide."
BP's 2019 Energy Outlook supports the IEA's expectation, asserting that the use of oil as a feedstock for petrochemicals is the "largest source of oil demand growth" to 2040, even factoring in regulations to limit single-use plastics.
The global petrochemicals market was valued at USD 539.3 billion in 2018 and is set for a CAGR of 8.5 percent during the period 2019-25. Asia Pacific is expected to be responsible for two-thirds of international petrochemical demand due to strong economic growth, as well as the rise of manufacturing and consumption.
Samsung C&T Trading & Investment Group deals with various petrochemicals, from base oils such as benzene, toluene, and xylene (BTX) to intermediary materials like P-X, SM, mixed xylene (MX), and mono ethylene glycol (MEG). Samsung C&T both trades these items directly and finds solutions for suppliers and end-users, and is proud of its presence in all areas of the petrochemical business chain. As it deals with three million tons of petrochemical products annually, Samsung C&T's business activities are closely related to our lives.