Samsung C&T Trading & Investment Group has dozens of offices around the globe, each with their own areas of expertise and trading responsibilities. As part of a series, this feature will shine a spotlight on the Mexico Office.
Having launched 40 years ago, the office has risen alongside Mexico's expanding position in the Americas. The country became, for example, the United States' top trading partner last year with an enormous quantity of Mexican raw materials and finished goods entering the U.S. market. Geopolitically positioned between North and South America, Mexico plays a China-like role in Latin America. Its size of 1.9 million km2 and population of nearly 129 million are significantly larger than all of Mexico's seven Central American neighbors put together. Because of the country's appeal, Samsung C&T Trading & Investment Group has given its Mexico Office a major role as a regional base since starting operations there in 1980.
The office's focal businesses build on Samsung C&T's long history in the region as the company took on a pioneering role when it first entered the Central and South American markets. In addition to its significance as a trading hub for items such as steel, chemicals, fertilizer and concentrates, the Mexico Office has also conducted project organizing. Since Central and South America have abundant natural resources, various companies engaged in the energy and social overhead capital businesses have been paying attention to these regions. Based on its integrating and organizing ability as a general trading company, Samsung C&T Trading & Investment Group has carried out projects in Mexico such as Norte II, a combined cycle power plant in Chihuahua which opened in 2014, as well as Manzanillo LNG Terminal on the country's Pacific coast that started up in 2012.
This article will introduce in detail the areas of business that continue to push Samsung C&T's Mexico Office forward, which has operated in the heart of the Americas for four decades.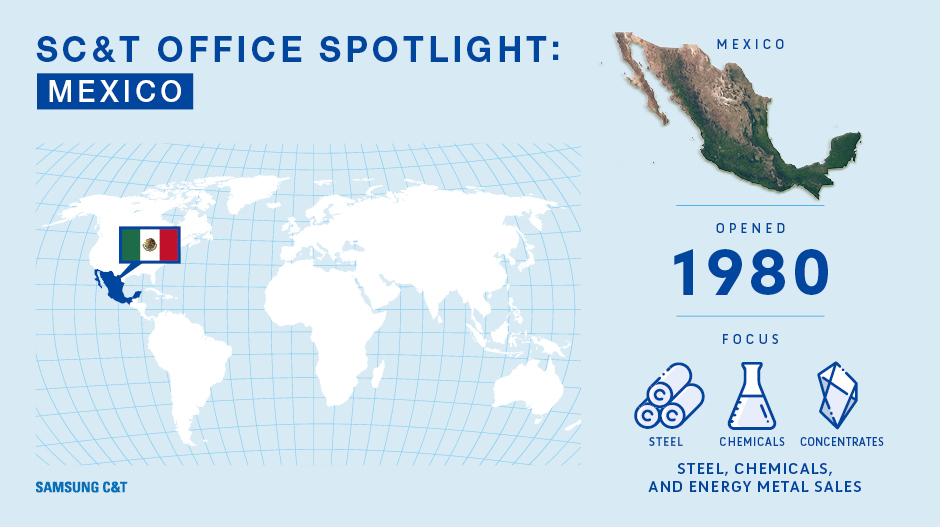 One of the Mexico Office's most significant commodities is steel, mainly in the form of products such as wire rods as well as hot-rolled and cold-rolled sheets.
In fact, the Mexican steel industry overall remains important despite the global economic challenges due to the ongoing novel coronavirus pandemic. Helping to offset the instability, Canada recently completed the adoption process of the new United States-Mexico-Canada Trade Agreement (USMCA), which also protects North American steel.
Meanwhile, the Mexico Office's steel business perseveres, acting as a hub for the wider region and doing business with several countries in Central and South America. And the staff there have no plans to sit back going forward.
"The steel business will focus on securing a credit line, strengthening its relationships with good existing partners, and developing new partners with the support of the headquarters in South Korea and the North America Regional Headquarters," says Senior Professional Aiden Yang, a rotational employee at the Mexico Office.

Chemicals have also become an increasingly important focus for the Mexico Office, particularly due to the development of business areas such as fertilizers and mining chemicals.
According to the Food and Agriculture Organization of the United Nations, the outlook is positive for fertilizer demand in the Americas to 2022. And while metal producers are having to wait out the coronavirus storm for now, there has been a trend towards increased demand for mining chemicals due to a surge in mining activity, including in Mexico.
Professional Julieta Gomez is working on the office's chemicals business, having been based in Seoul from 2011 to 2018, and she especially values her global network.
"I am convinced our success comes from the fruits of teamwork and wouldn't have been possible without the hard work and effort that each of us puts into our duties every day, along with the support of the offices in Seoul, the Americas and Latin America as well," Gomez insists. "Personally, I am committed to improving my performance of the tasks under my responsibility during the coming year, and I hope to continue delivering solid results and bring excellence to the Mexico Office and Samsung C&T."

Concentrates are another area of interest for the Mexico Office. These are concentrated materials of metals like silver and copper that are produced between the stages of mining and final manufacture.
As with other markets, the novel coronavirus outbreak has affected both silver and copper in recent days, but concentrates remain a priority in the longer run.
Another aspect of the concentrates business is that it has encouraged Samsung C&T to forge relationships with local mining companies. With such ties as a platform for success, Professional Gabriela Gonzalez Rios – who oversees concentrates within the Mexico Office – is optimistic about the year ahead even if she knows it will be challenging.
"I am sure we have all the elements required to become a big player in the market; however, we need to keep working hard as a team in order to achieve our goals and meet the company's expectations," she says.
40 years and going strong
Four decades into life at Samsung C&T's Mexico Office and it is clear that teamwork is the glue that keeps its various efforts on track.
"Since opening in 1980, the Mexico Office has adapted to local trends and expanded its focus despite having a compact team," reflects Mexico Office head Hong Bum-kon. "I believe this is possible because we all have clear goals, work well together, and liaise successfully with Samsung C&T headquarters and other affiliates abroad."
By harnessing the experience of staff members from all over the world, the Mexico Office is a perfect example of a global workplace with a strong local connection.
Related Articles: